Loews Resorts at Universal Orlando
Harbor Nights Romantico 2023 Menu Items and Prices
January 7th, 2023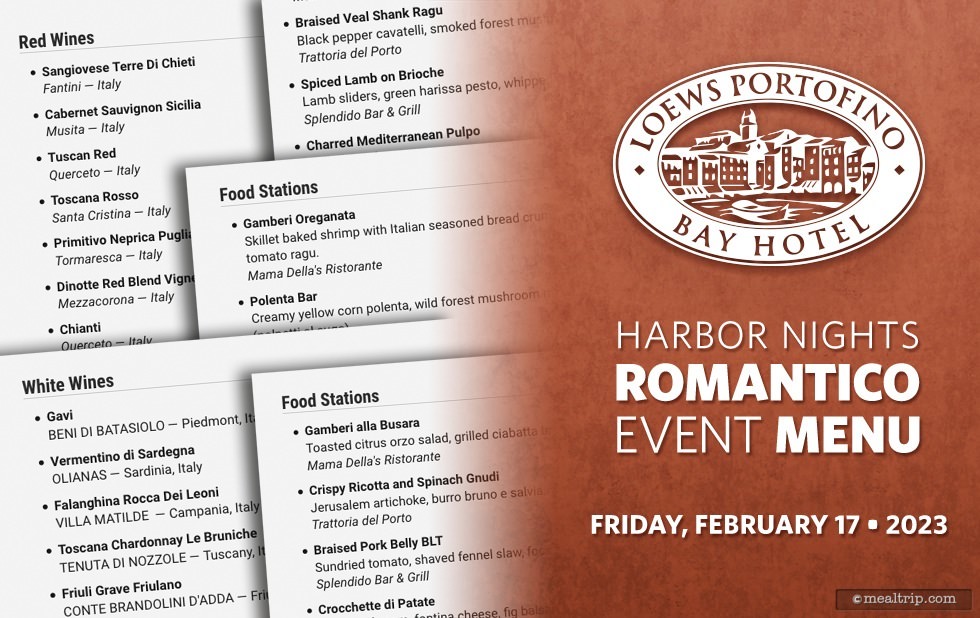 The Harbor Nights Romantico event
at the Loews Portofino Bay Hotel is taking place on
Friday, February 17th
this year, and it's one of those events that does sell out in advance… so if you want to go (especially if you want to sit in the VIP section), now is the time to start planning.
All of the
Harbor Nights
events follow a similar format… but each specific seasonal night features different decor, music, and food items. Each of the resort's restaurants bring a tapas style, plated version of a dish and wine that represents their location. Guests can eat and drink as much as they want for one ticket price from 5:30pm - 8:00pm.
If you would like to take a look at some
photos from one of the previous Harbor Nights La Dolce Vita events
that takes place in the fall,
click here
.
The Harbor Nights Romantico event takes place in the vast piazza (courtyard) behind the Loews Portofino Bay Hotel. In this photo, the VIP Tables are on the right (white tablecloths) and the General Ticket tables are on the left (black tablecloths with no chairs).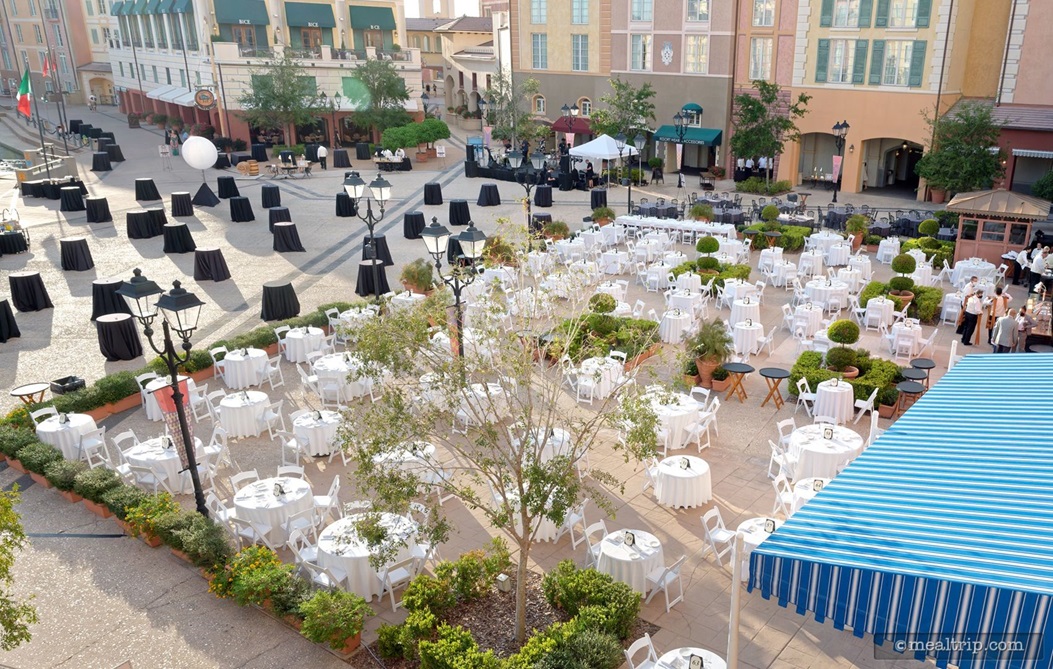 The Harbor Piazza at Portofino Bay is set up for a Harbor Nights event. The VIP Seating is on the right with the white table cloths and the general "Standing Ticket" area has a few high-boy style tables with black table cloths on the left.
The all-inclusive event features some great entertainment with a live band and dancing area, along with a couple of opera singers for good measure, free self-parking, and as many samples of the food and beverages listed on the menu below, for the duration of the event.
Standing Ticket : A $79 (per person, plus tax and ticket fee ends up being $91.74) "Standing Ticket" includes all of the above, but does not guarantee a table or a seat. Some "high boy" type of strolling tables are available, but are very limited — and there really are only a handful of chairs here and there.
VIP Ticket : A $109 per person, plus tax and ticket fee ends up being $125.83) "VIP Ticket" includes all of the above, plus gets you a reserved table and seating in a special area with an additional hors d'oeuvres plate — along with some exclusive food and wine sampling stations (where the lines aren't as long as they are in the general "standing" area).
Here's a look at the menu for the Harbor Nights Romantico 2023 event!
Food Stations
Lamb Brasato
Stewed lamb with coffee, cipollini, carrot, celery, polenta crouton, carrot and mint cremolata.
Mama Della's Ristorante
Strozzapreti Pasta
Wild mushroom smoked cream sauce, pancetta, parmesan cheese and micro basil.
Trattoria del Porto
Oxtail Meatballs
Sugo di pomodoro, green tomato salsa verde and pecorino romano.
Splendido Bar & Grill
Ciabatta Garlic Bread
Toasted bread, roasted garlic, fonduta cheese sauce and Italian parsley.
Splendido Bar & Grill
Pollo Milanese
Brown butter with sage and lemon, heirloom tomato salad and arugula pesto.
Sal's Market Deli
Smoked Salmon Cake
Salmon mixed with fresh herbs, caper and lemon, Calabrian tartar sauce, kale slaw, pickled mustard seeds.
The Thirsty Fish
Herb Roasted Pork Shoulder
Served with chickpea hummus.
Bice Ristorante
Desserts

Straciatella Gelato
Mango Sorbet
Triple Chocolate Mousse Cake
Lemon Strawberry Verrine

Sparkling Wine
Rosé Wine
Tocana Dogajolo Dry Rosé Table Wine
CARPINETO — Tuscany, Italy
White Wines
Pinot Grigio Delle Venezie DOC
CAPOSALDO — Italy
Gavi Principessa Gavia
CASTELLO BANFI — Piedmont, Italy
Orvieto Classico Superiore
TENUTA DI SALVIANO — Umbria, Italy
Strawberry Moscato
TROPICAL — Italy
Passione e Sentimento Romeo & Juliet's Wall Passimento Bianco
FAMIGLIA PASQUA — Veneto, Italy
Toscana Vermentino
TENUTA SANTA LUCIA — Tuscany, Italy
Red Wines
Vino Rosso Dolce Sweet Red Wine
TUTTO MIO — Emilia-Romagna, Italy
Vino Nobile di Montepulciano
POGGIO STELLA — Tuscany, Italy
Chianti Borghi d'Elsa
MELINI — Tuscany, Italy
Polvaro Nero
TENUTA POLVARO — Veneto, Italy
Terre Siciliane Pinot Noir
KRIS — Sicily, Italy
Lago di Corbara Turlò
TENUTA DI DSALVIANO — Umbria, Italy
Toscano Rosso
SELLA ANTICA — Tuscany, Italy
Zeroincondotta Barbera d'Asti
PAOLO MARCARINO — Piedmont, Italy
Cannonau di Sardegna Primo Scuro Red
MESA VINEYARDS — Sardinia, Italy
If you want to
read a review and see photos from a previous Harbor Nights event, click here
. We also have a
Guidebook page for the event
with lots of photos that outlines what and where everything happens, if you want to know before you go!
Click here to see our Guide for Harbor Nights.

More information and a direct link to purchase tickets is available directly from the
Harbor Nights Romantico 2023 official event page
—
click here
to open that in a new window.