What Does The Food at a Party for the Senses Look Like?
September 1st, 2015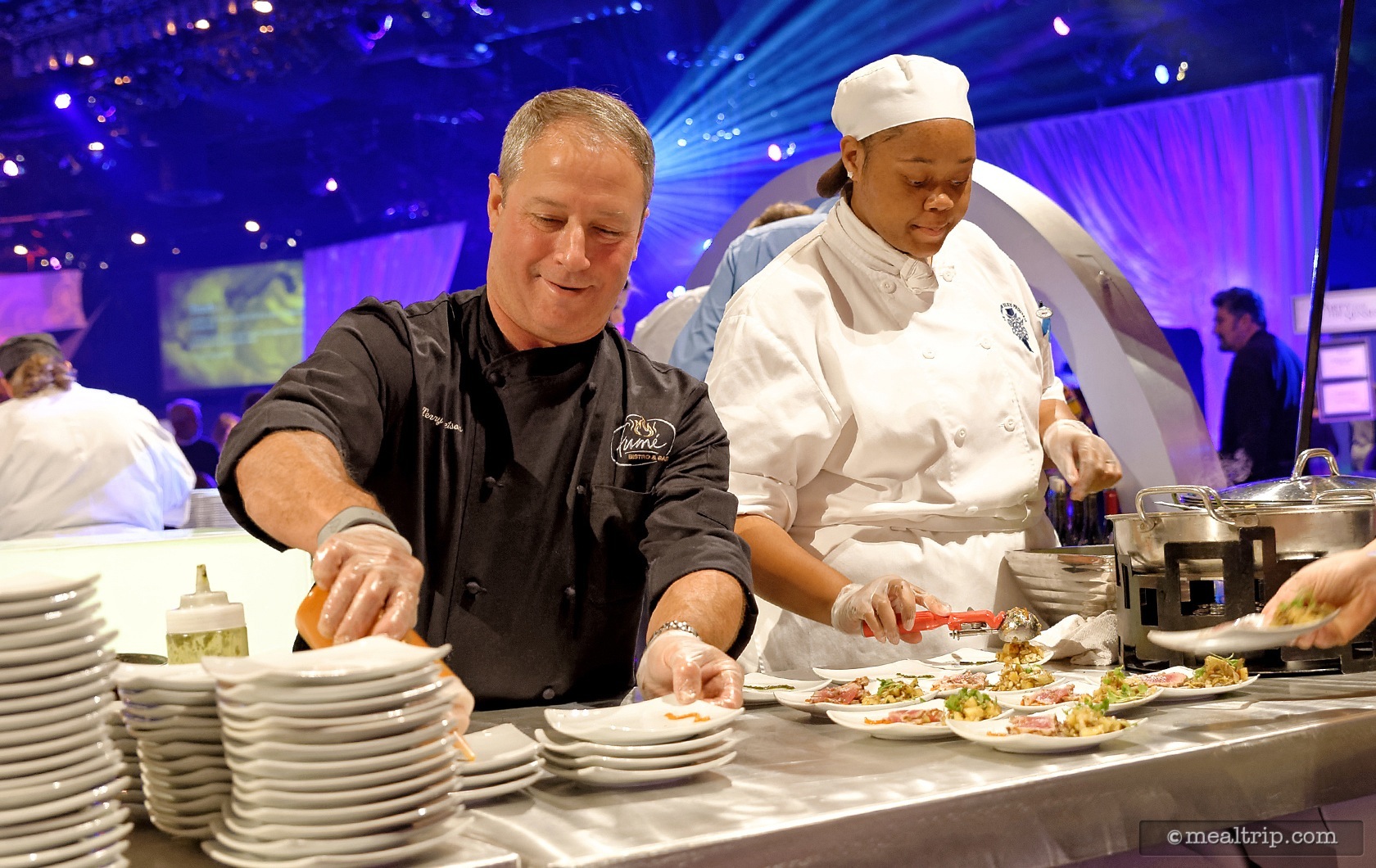 There are many different special events that take place during the
Epcot International Food and Wine Festival
, but the "crown jewel" of them all is the
Party for the Senses
event, that normally takes place on four or five different Saturday nights over the course of the festival.
The all-inclusive event combines amazing entertainment with amazing food and many wines, beers and other liquors to sample over the course of two and a half hours. It is an event that I hope everyone has a chance to do at some point, because the whole evening really is a memorable experience. Unraveling the mystique inside the WorldShowplace building is part of the fun, and so I don't want to give away all the details, but I do get asked from time to time, what kind of food do they offer at one of these events anyway?
It's a good question, and a quick search for photos on Google didn't really turn up anything that would help to answer that one. As it turns out, it's quite dark at a Party for the Senses. Too dark for handheld cameras it seems. Add to that, the sense of excitement from entering the space is just so great, that you just want to walk and eat and drink your way around the entire event without missing a second… that you don't really want to stop and futz with a finicky camera.
I however, love a good futz... especially when it comes to dark foodie events, and so I've put together a couple of photos that might help shed some light onto just what exactly it is that you're eating at a Party for the Senses.
First off, there are many stations set up all around the event space, and no two are offering the same food or beverage items. So if you want to see it all, you need to really work the room.
Some of the items being prepared are more complex than others and at larger stations, it's not uncommon to see many chefs constantly plating their dish, assembly line style.
You basically walk up to any of these stations, and the chef will hand you his or her dish for the night. Feel free to ask any questions that you might have about the item or the chef and restaurant that they represent. They may not stop what they're doing to chat, (chefs are quite accustomed to multi tasking), and many enjoy hearing that you are taking a quick interest in what they are doing.
Beverage stations are smaller but function in a similar manner. Just walk up with your wine glass for the evening (they will wash it out with bottled water if you're worried about one beverage effecting the characteristics of another) and they will pour a sample for you.
All you have to do after that, is repeat the process a couple dozen times! There are usually around 25 food items and 25 different beverage stations to visit over the course of the two and a half hour event.
And don't forget about dessert!
Another reason that you many not see to many photos or reviews from a Party for the Senses, is because no two events are alike! The food and beverages change every night the event is held. So you can't really review specific items and say things like "I'm going back again to have more of those next time". Sorry… it will all be different. Just as good… but different.
I have decided to add the Party for the Senses to our special "Epcot Food & Wine Festival Event Reviews" page, and our hope is… that you will leave a review that just briefly highlights what you liked and didn't like about your Party for the Senses experience. It's totally fine if you don't remember specific details about the food or beverages you tried. We would just like to know if you liked the event! That way, other readers can decide if a Party for the Senses is something they would or would not like to attend.
If you would like to read more about the Party for the Senses,
click here and check out our new Party for the Senses directory page
. The description text on that page has more details about the Party for the Senses, than what we covered here.