Brand New Ferrytale Wishes - A Fireworks Dessert Cruise (Party)
September 8th, 2015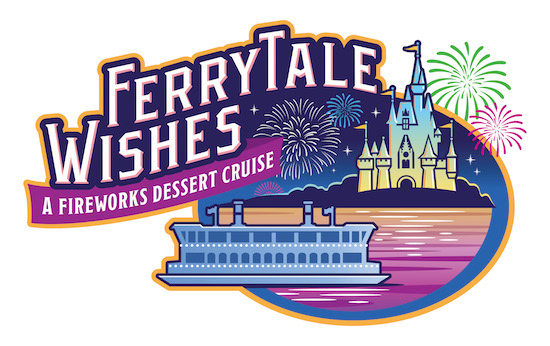 We have another brand new dessert party offering starting this fall at the Magic Kingdom! It's called the "FerryTale Wishes - A Fireworks Dessert Cruise" and I know it's going to be great because there's already a logo for it!
I mean come on, you're not going to create a logo if it's not going to be super awesome right? I'll link you to the official Disney release and booking info at the bottom of the article, but here's the basics… It's a dessert party, with "adult" beverages, on one of the Ferry Boats, in the middle of Seven Seas Lagoon!!!
We have no idea how this is going to play out, what it's going to look like, or even if we'll be able to stand up on a Ferry Boat after a few adult beverages, but we're willing to give it a go! Some of the desserts mentioned so far, sound like they have been taken from nearby resort menus, (i.e. restaurants that surround the Seven Seas Lagoon). For example…
"The Grand" Key Lime Tart
Polynesian De-constructed Pineapple Upside Down Cake
Contemporary "Traditional with a Twist" Spiced Flourless Chocolate Cake
"Main Street" Mickey Balloon Tart
Mini "Fireworks" Cupcakes with a Pop
Cinderella's Sugar Slipper with Orange Financier
Florida Mango Panna Cotta
Plus an assortment of beverages, including sparkling wine, coffee and "signature punch".
The event is said to be limited to 150 guest (which is about right for a "not too crowded" ferry boat), and you do need to be there on time… (i.e. there's no getting onto the boat once it's set sail). Guests can start checking in 75 minutes before the fireworks, the event officially starts 60 minutes before the fireworks, and the boat sails 45 minutes before the fireworks start… so don't miss the boat!
The cost for this new experience is $99 per adult and $69 per child, and we're sure… it will book out fast! You can make reservations by calling 407-WDW-DINE or visiting the official
Disney Booking Page at FerryTale Wishes Event
.
Also… it's worth mentioning, this is the first "big" dessert party event that we can think of… that does not require you to have a "park ticket" for the day… meaning, you'll get on the Ferry Boat at the Ticket and Transportation Center, therefore, you will never actually be "in" the park!
For more information, we have a couple of links for you…
Let us know what you think!!!! Too many dessert parties all over the place, or is another one welcome?