A Look Back at a 2014 Food & Wine Special Event, Dining Through the Decades - A Tribute to Walt Disney
August 4th, 2015
Food and Wine Festivals
ago, that the only big special event to take place in the giant World Showplace building, was the grand Party for the Senses. Over the years, we've seen a new, slimmer, and more tightly themed event take shape in this fabulous space.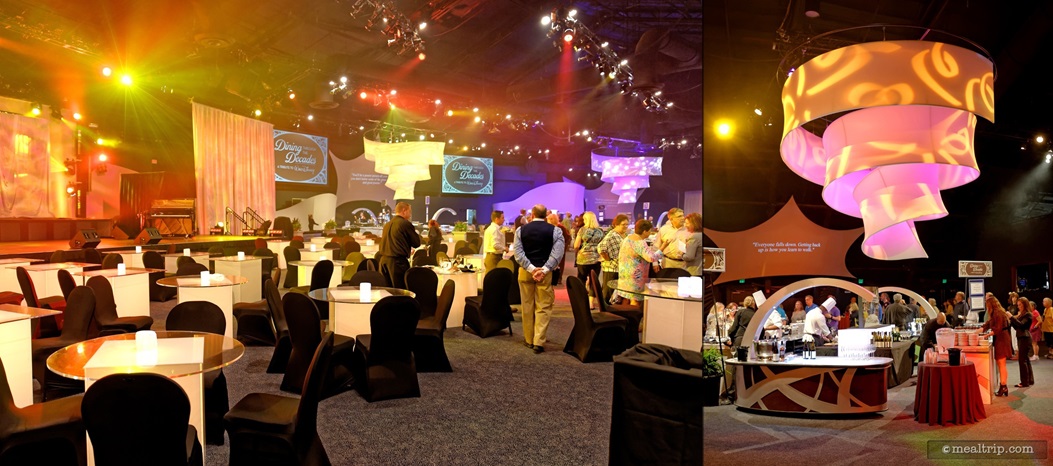 The colossal World Showplace building hosts several events during the Epcot Food and Wine Festival.
More accessible both in scope, and to our wallets, some of these events are thematically tweaked and repeated from year to year (2013's Scotland event and 2014's Puerto Rico events come to mind), while others have been one-shot gems.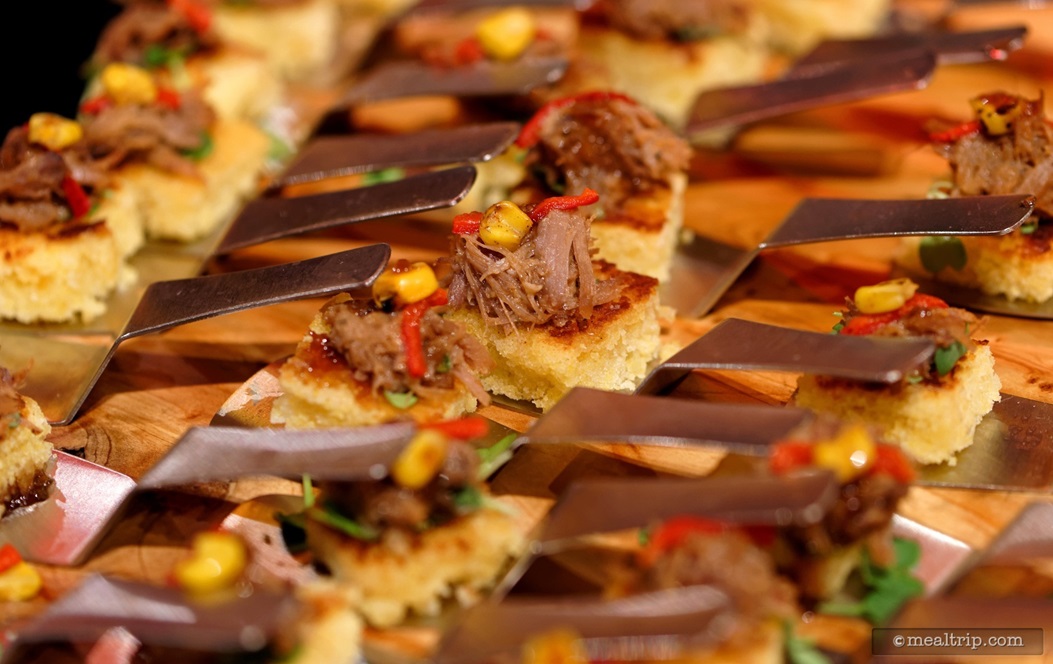 One of the fun items from the "Dining Through The Decades" event were these "tiny spatulas" from "The Golden Age - Late Night Snack Station". Pictured here are the Shredded Pork bites on a Corn Bread base with Apple Pear BBQ and Micro Greens.
Such is the case with a great event from 2014's Food & Wine Festival, called Dining Through the Decades, A Tribute to Walt Disney. The concept here was to discover and sample some of Walt's favorite meals and food items over the course of five themed decades. Specially selected wines and beverages were also available that had some tie-ins to Walt and the Disney company over the years.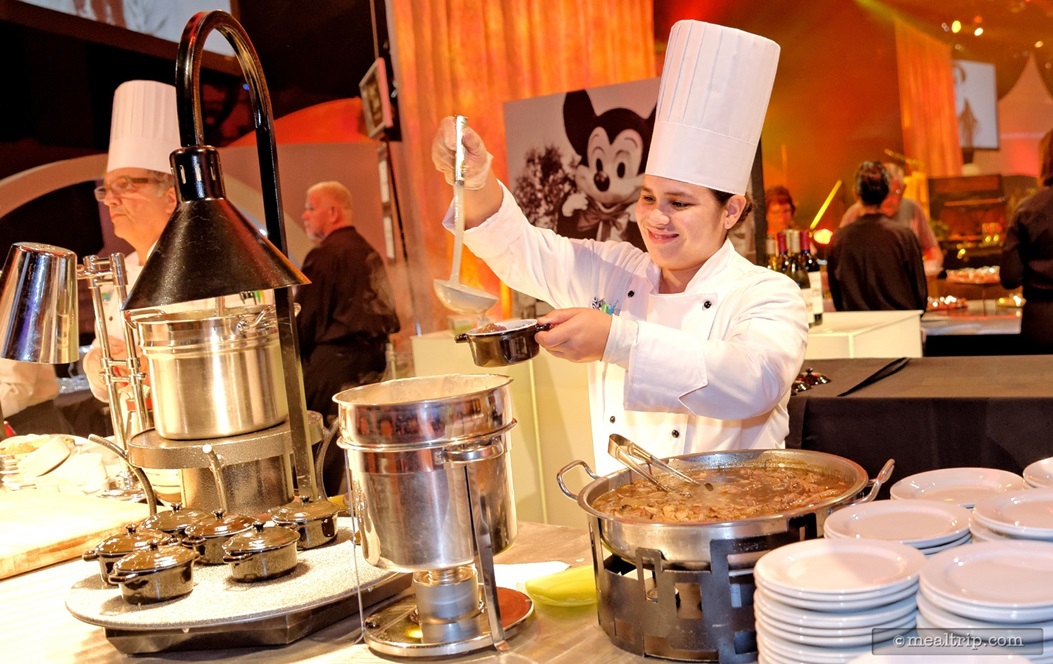 In the middle of each cooking station there was a backdrop photo from Walt Disney's life. The food being served at that station was similar to what Walt may have been eating during that decade.
In "what was it really like" terms… these events are a somewhat like a mini-party for the senses. I hear that description from guests quite frequently, but I hesitate to use it myself in describing these events. While it does help explain the format, in some ways, there's nothing "mini" about these parties. I'm always amazed at just how much the event planners and festival organizers are able to do, for a one-shot event.
Waldorf Salad served in a Martini Glass!
There are generally five or six stations (with different beverages available at each station as well), and these are duplicated on each side of the main "center stage" area in the massive event space. So while it's true that there's not 50+ made-to-dine items like you will find at a full scale Party for the Senses, in some ways, the smaller format really gets you into the theme more.
A cooking station at the Food and Wine Festival's "Dining Through The Decades" event with Walt looking over the chef's shoulder.
Without getting too deep into editorial, I added my own review of the event last year... which includes some of the descriptive content from the event program itself. Someone spent a lot of time writing that stuff, and at the very least, it deserves to live on across the internet, and not be confined to a printed event program which most guests have disposed of already. So please check out the review and photos if you would like to read more about the event.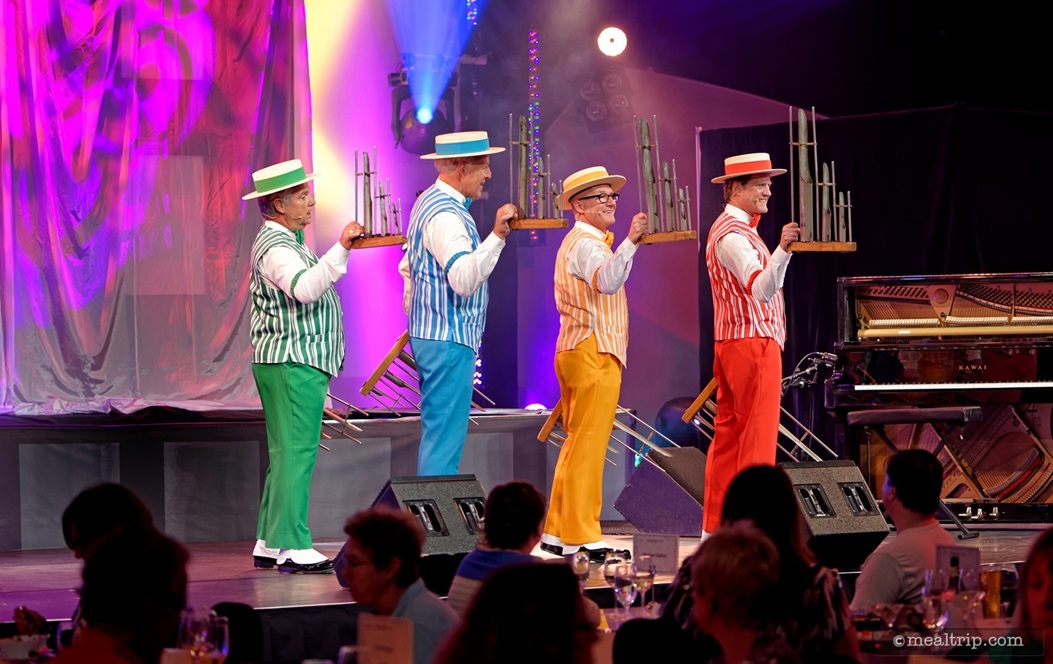 You never know who's going to show up to perform at an Epcot Food and Wine Festival special event. The Dapper Dan's played two sets during 2014's "Dining Through The Decade" event.
I would like to take a moment and mention that I've created a new category in our main menu tab... just for
Food and Wine Festival Special Event photos and reviews
.
Keeping them in the main "Epcot" category started getting a little hinky, as most all of these events are only available over a two month period each year. I've also added a "not currently scheduled" marker to certain events that are not available this year, but may once again be available in the future. There's a little button on top that will let you hide all "not current" events, if you're only interested in seeing what's available this year.
As always, feel free to leave a review for any of these events. We love hearing feedback from everyone about what you like and don't like about all of these special Food and Wine events, and the restaurants in general.
This year (2015) we have a brand new event to look forward to during the Food and Wine Festival… the Rockin' Burger Block Party. I can't wait to see what's in store for us at that one!