The Complete 2015 Epcot Flower and Garden Festival Food Items Page is Now Available
March 11th, 2015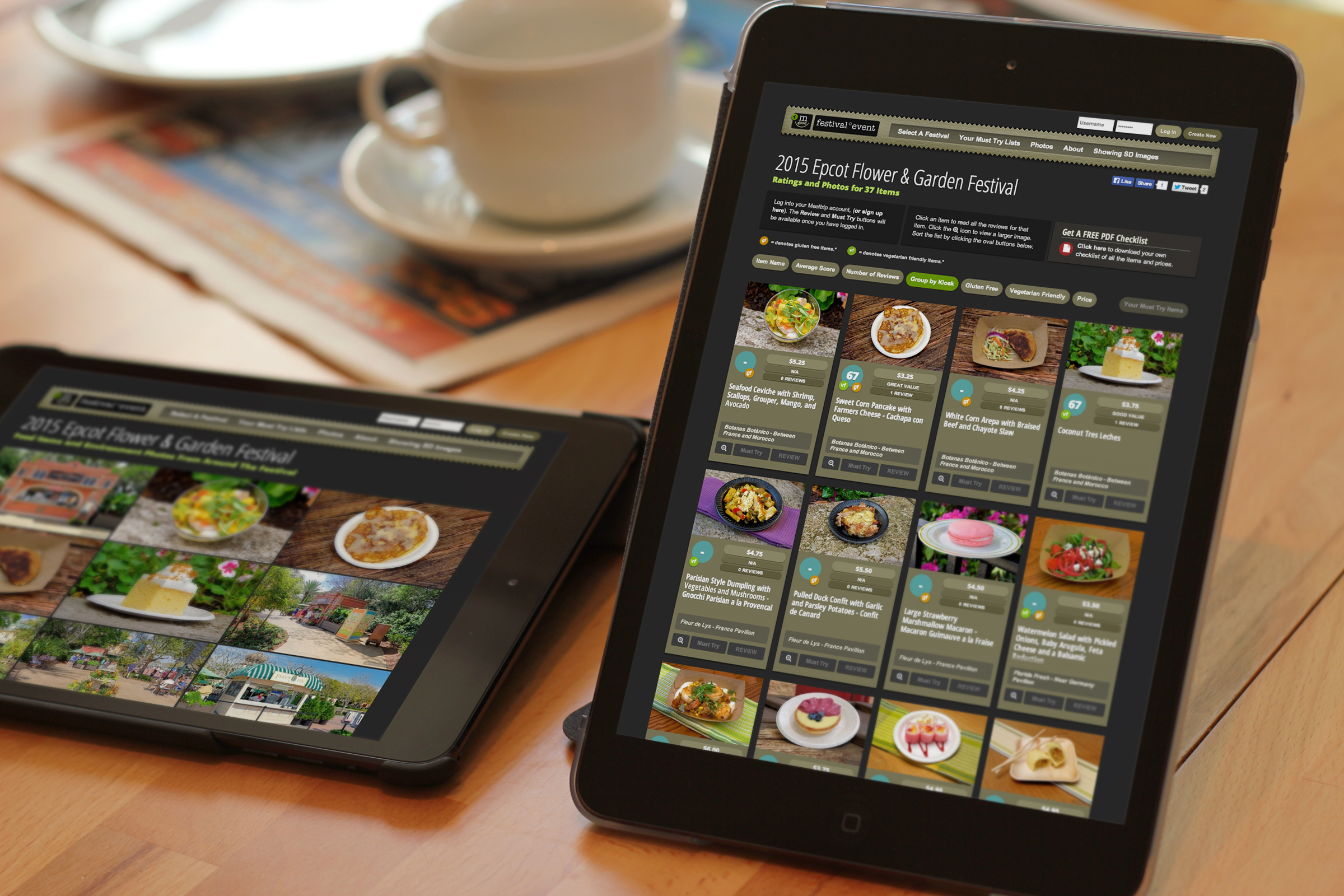 All of the food item photos and prices for the 2015 Epcot Flower and Garden Festival "Outdoor Kitchen" Kiosks are now in place, and the rating system has been turned on. Also for the first time this year, we have complete Gluten Free and Vegetarian Friendly markers in place as well.
From the main food item festival page for the Flower and Garden Festival, you can select Gluten Free or Vegetarian Friendly from the sort options, and those items will float to the top of the list, so you can see everything, all in one, convenient place. The popular Price, Name, and "by Score" sort options are still available, and still offer dual push sorting. You can click "by price" once to see the items priced highest to lowest, and then click the button again to see the items priced from lowest to highest. All of our sort option buttons feature dual push sorting.

From left to right, Seafood Ceviche (Botanas Botanico kiosk), Large Strawberry Marshmallow Macaron (Fleur de Lys - France kiosk), and Shrimp and Grits with Andouille Sausage (Florida Fresh kiosk).
Our Free PDF Checklist also contains all of the prices, gluten free, and vegetarian friendly information, organized by kiosk.
We will be adding our reviews of all the new and returning items over the next couple of days, but don't wait for us! You can review any and all of the items that you have sampled right now! Just log in or sign-up and you can start leaving reviews immediately. Once logged in, you will also have access to your "Must Try" items list, where you can create your own personal list of the items you want to sample, and the page will automatically calculate how much you will need to embark on your culinary journey around World Showcase!
If you are just looking for photos to share on Pinterest, our Festival Photos page has one click easy share links for each photo. Just click on an image from the "Photo" page, and in the caption area of the zoomed image, you'll find social sharing buttons.
As always, thank you so much for using Mealtrip to research, rate and review your festival experience at Epcot's Flower and Garden Festival!!!