What is an Interactive Demo at Food & Wine?
July 3rd, 2017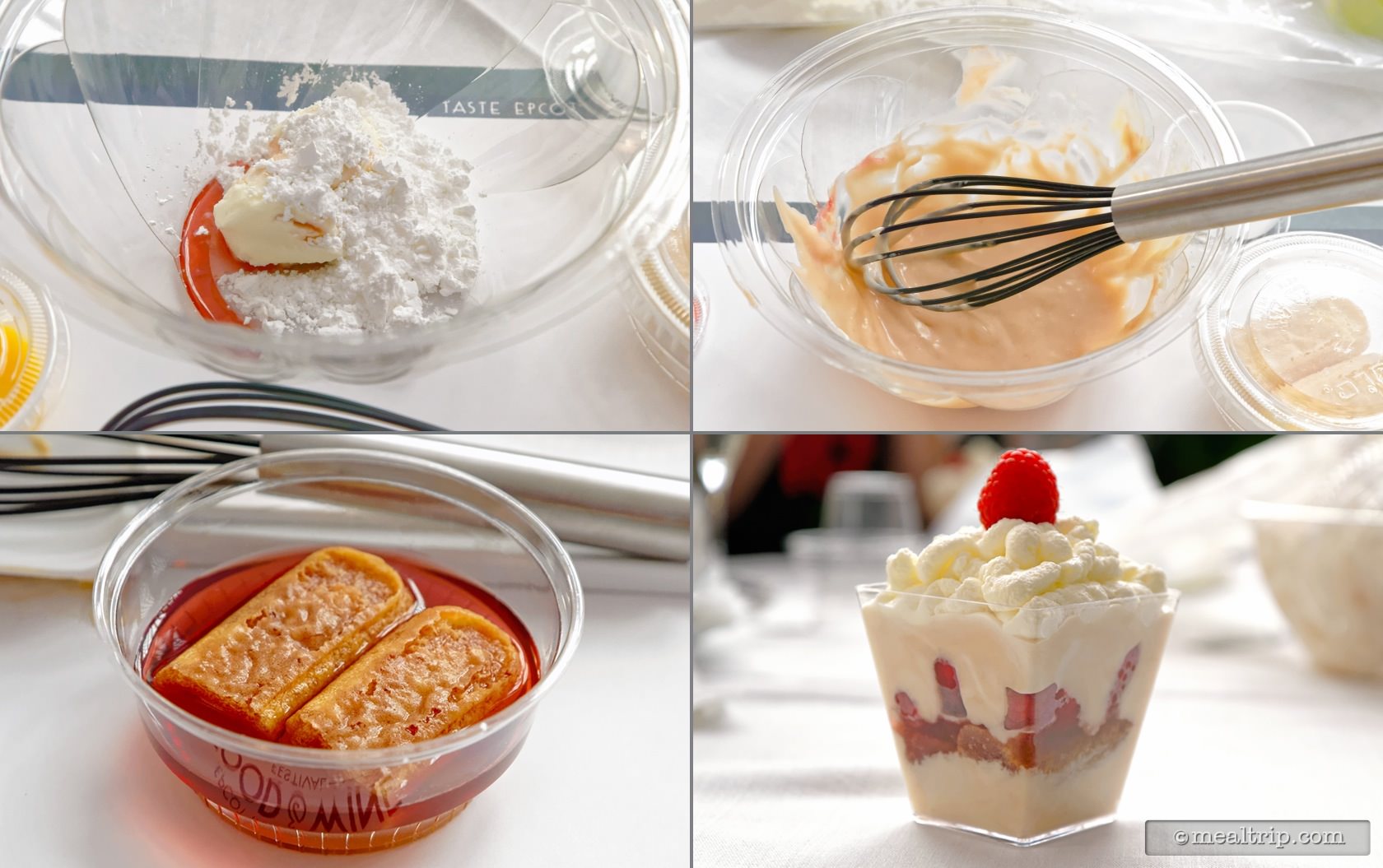 In 2016, guests were presented with a new opportunity at the
Epcot Food and Wine Festival
called the
"Mix It, Make It, Celebrate It"
demo series. The event took place in Epcot's Festival Center and had a somewhat small maximum occupancy of around 50 guests. In it's inaugural year, the cost was $49 per person.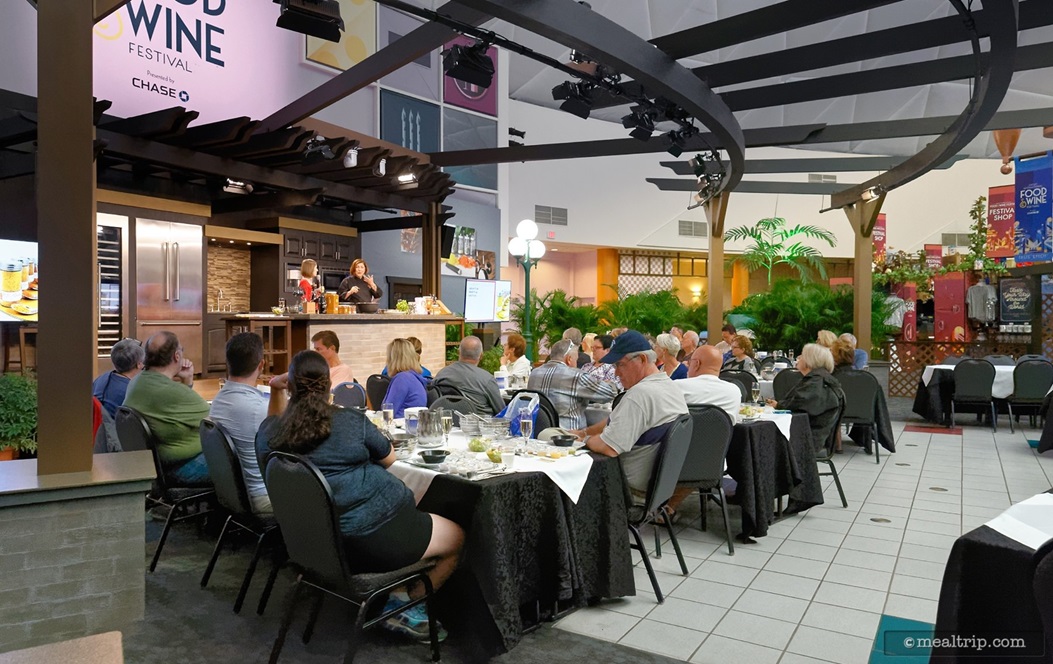 "Mix It, Make It, Celebrate It!" is an interactive demo series that is part of the Epcot International Food and Wine Festival.
While Disney has only "officially" released a skosh of information about the 2017 festival, I talked to a couple chefs that have told me they were doing "interactive demos" at the upcoming festival. So while we can't be sure if the series will get a name change, or price increase… I am fairly certain the nexus of the thing will be back in 2017. In 2016, the event took place at the end of the day, around 4pm… this year (2017), it looks like they will take place at 12:15pm.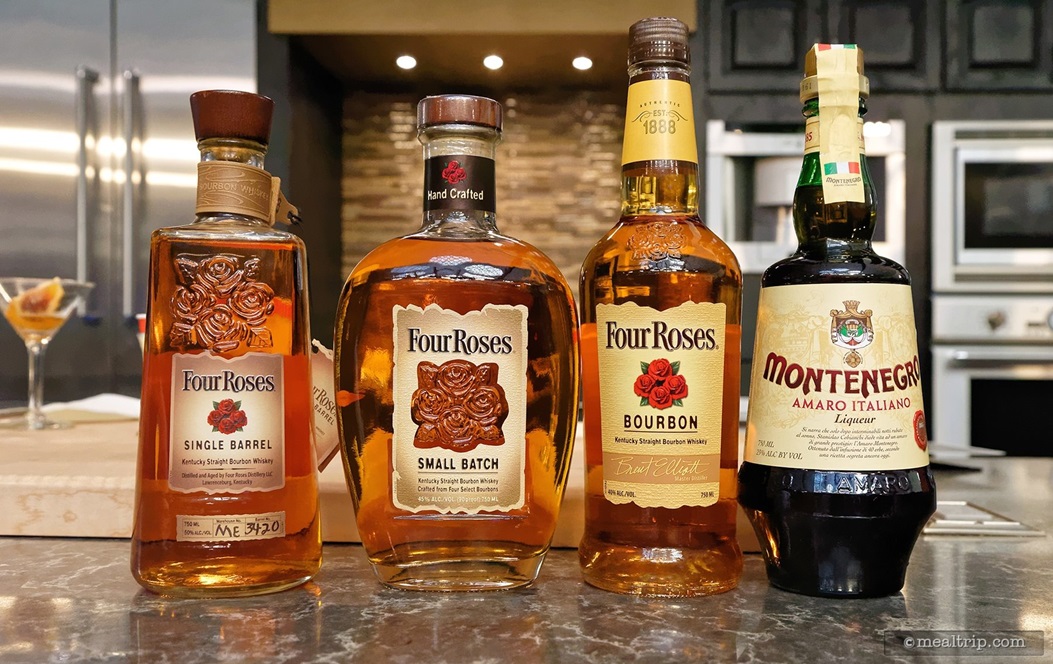 In 2017, it looks like at least some of the Interactive Demos will take place at 12:15pm... giving you plenty of time to walk off that Bourbon buzz.
So, I have added a
"Mix It, Make It, Celebrate It"
entry to our rating database in the
Special Event Reviews and Photos from the Epcot Food & Wine Festival
category (whew, that takes a lot of effort to type). I'm going to go over a bit about what these are in the next couple of paragraphs, but I've posted some photos and info on the event page as well. (As always, everyone can quick review the event by giving us a quick thumbs up or thumbs down if you attended the event last year. We're curious what everyone thought about this event series.)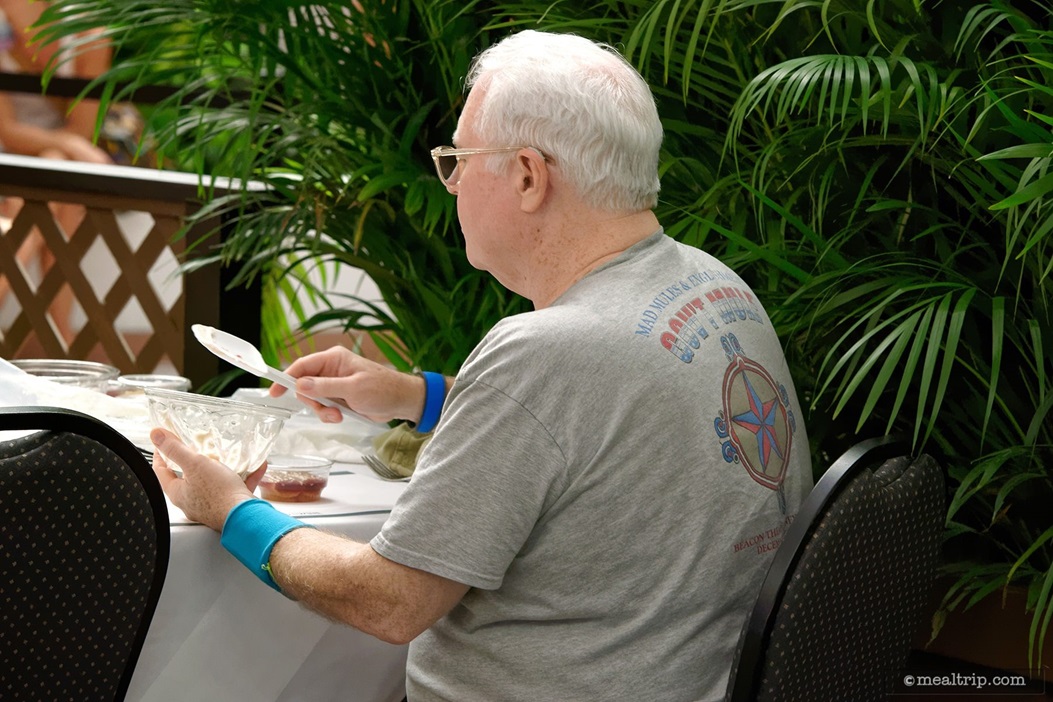 Everyone that we spoke to seemed to really enjoy the Mix It, Make It, Celebrate It series of interactive demos.
I was a little skeptical about the
Mix It, Make It, Celebrate It
demos when I first heard about them, but after I participated in a couple… I realized just how much fun they could be. The gist of the thing is this… you get to learn about something (insert topic beverage or food topic here)… and then hands-on make that thing.
There were basically two types of
Mix It, Make It's
(and they changed daily, so no two were alike)… beverage-based demos, where you got to mix one or more cocktails… and food-based demos, where you got to make a little food item. All of the components that you would need to make your item, were pre-set on the table before you got into the space.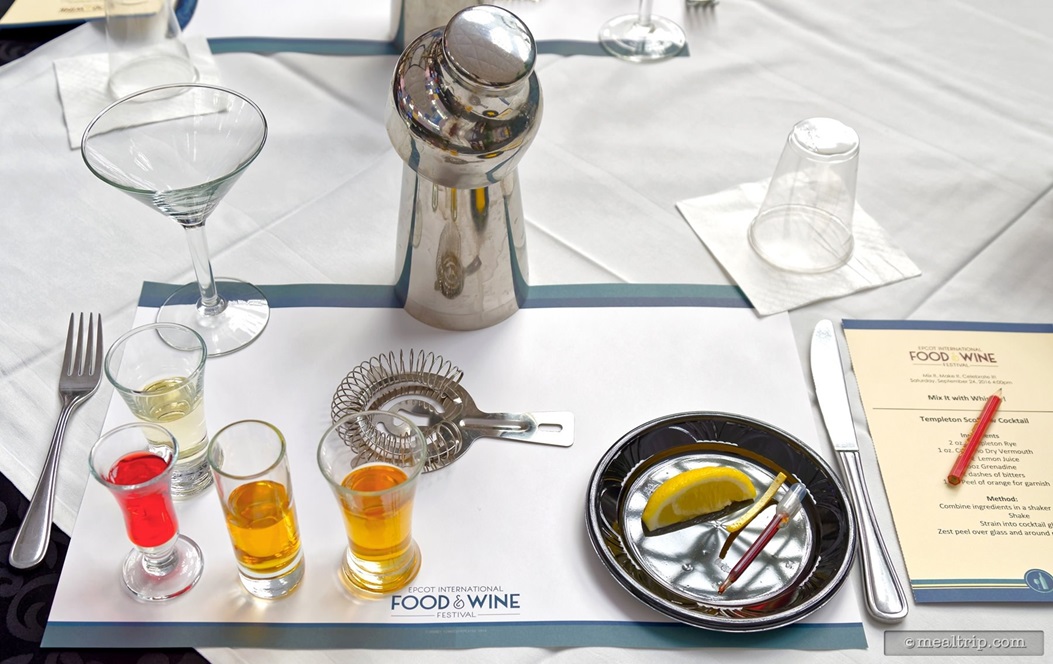 This setup was for one of the beverage-based Mix It, Make It, Celebrate It! demos. Each guest got this very same place setting, which contained everything you needed to mix your own cocktail.
Very similar to the
Culinary Demos
at the festival, the Mix It's were officiated by Pam Smith, RDN (and/or Katie Farmand) and so they are definitely "led" events… you don't have to worry about getting lost, being left out, or not understanding something the guest chef or beverage rep may be talking about. Pam Smith has the very adept at gracefully corralling any presentation so that it doesn't get too far off-track.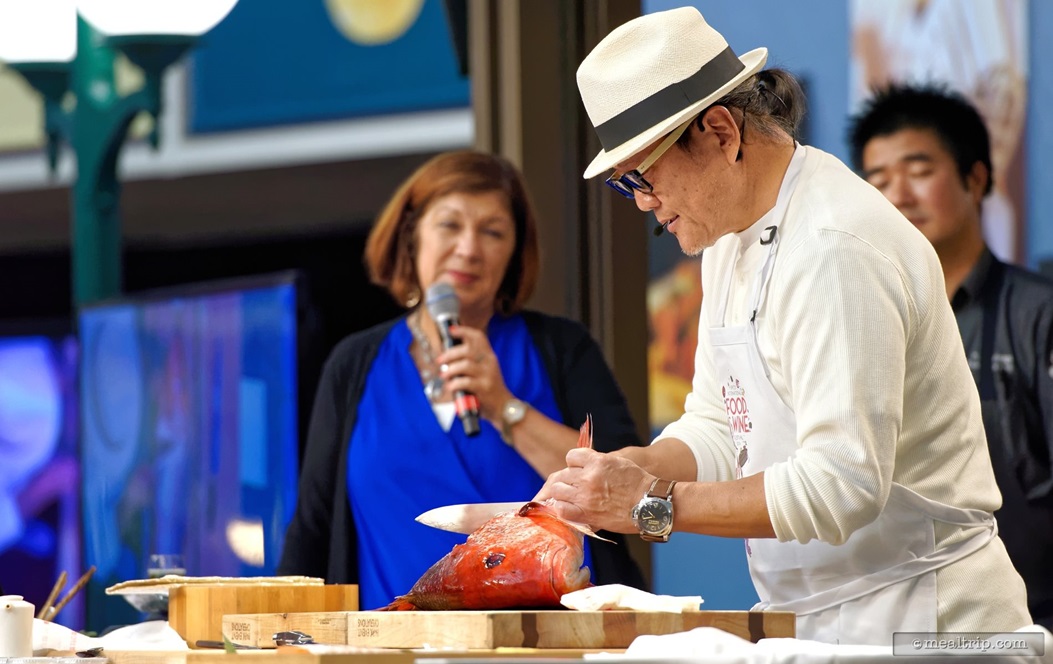 The very knowledgeable Pam Smith officiates as Iron Chef Morimoto breaks down a fish at his Interactive Sushi Demo. Guests had the opportunity to make their own sushi roll.
The 90 minute programs start off with some background information. For beverage-based events, this was product information… for example, if you were "mixing" margaritas, the Tequila being used was from a specific brand, and the guest presenter was a rep for that brand. They would give a presentation about their company and history of the beverage. For food-based events… the chef and host would talk about the chef's activities, what they're doing, and what thing you would be making.
Before long, the attention would turn to all of the little components that have been pre-measured and set up at each guest's place setting… and the "making" would begin.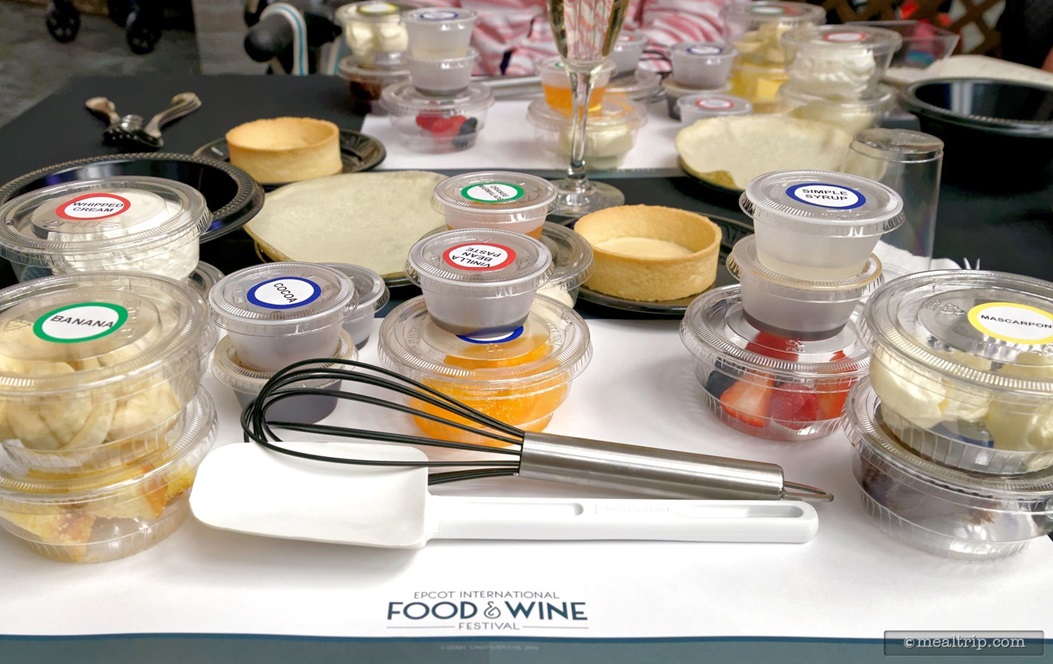 All the components that you would need to make your very own food item were pre-measured and in little sealed cups at each and every place setting.
For beverage-based demos, you usually had the opportunity to taste some of the "product" by itself… the brand's whisky, if you were making a Manhattan for example. Then (more times than not) you would be instructed on which of your glasses and components to pour into your very own cocktail shaker, (some information on how that works… and how you get the top off once you're done shaking), and then pour and garnish your very own cocktail!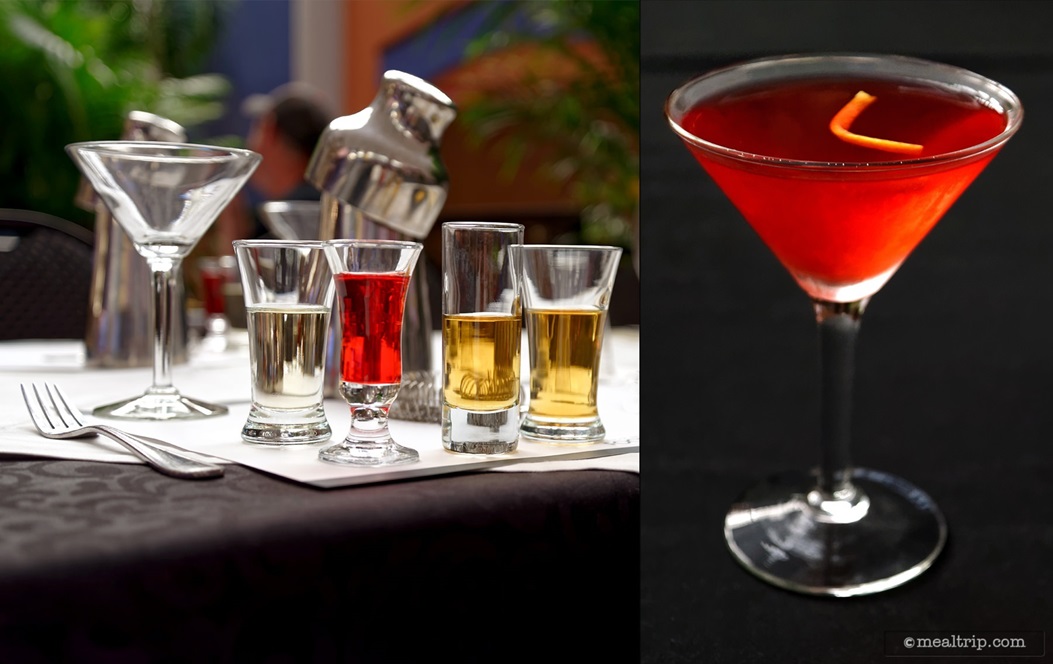 At one of the beverage-based interactive demos, you will learn and use all of the components at your setting to make a finished cocktail. (The "before" picture is on the left, and the "after" picture is on the right!)
Most of the beverage-based demos were a little less "hands on" (it really only takes a few minutes to make a cocktail), and so many of them also featured a professionally made tapas plate of food!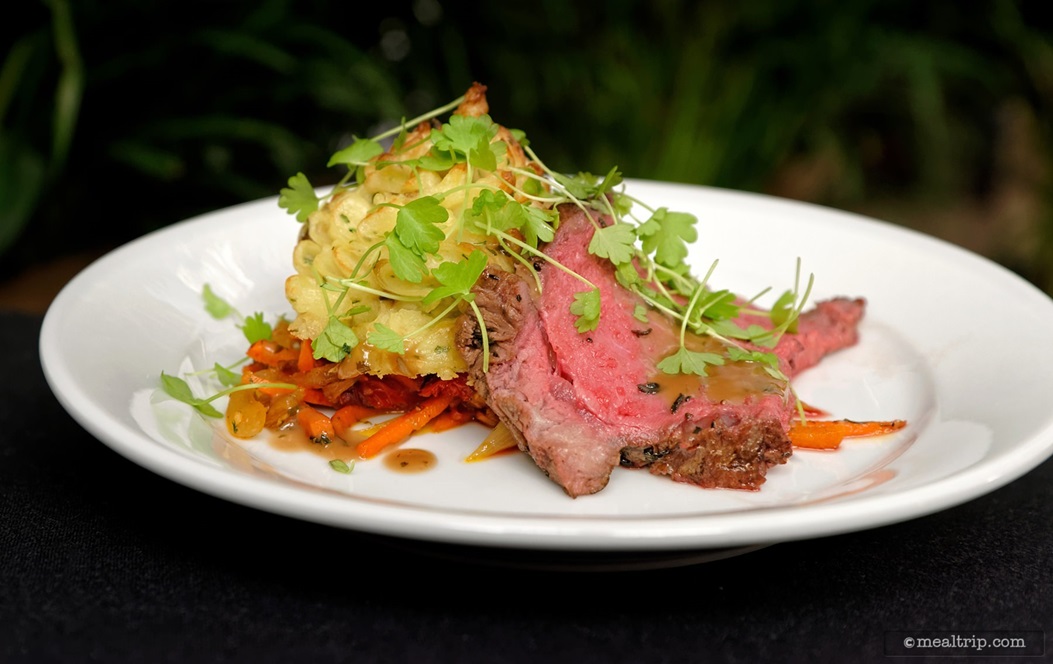 The beverage-based Mix It, Make It Interactive Demos usually also featured a tapas sized plate of food with a sauce or glaze that also contained the spirit that you were mixing your cocktail with!
The accompanying food seemed to be slightly larger than a "normal" culinary demo sample, and was a complete little dish… consisting of a small main entree sample, side, and sauce. The sauces or glaze on these items usually was also infused with the beverage that was being featured… so for example… you might get a small plate of prime-rib slices with a bourbon sauce, julienned carrots and a three cheese au gratin. I found the food at the beverage-based Mix It, Make It's… all pretty amazing! The Disney chefs that were creating these "bonus" dishes didn't get a lot of credit for what they were doing… but everything I tasted was off-the-charts delicious.
The food-based
Mix It, Make It demos
were more "hands on" because it takes quite a bit longer to create food from scratch. Now obviously, you're not going to get a knife or any kind of hot cooking apparatus here… but… that also makes it fun for the whole family!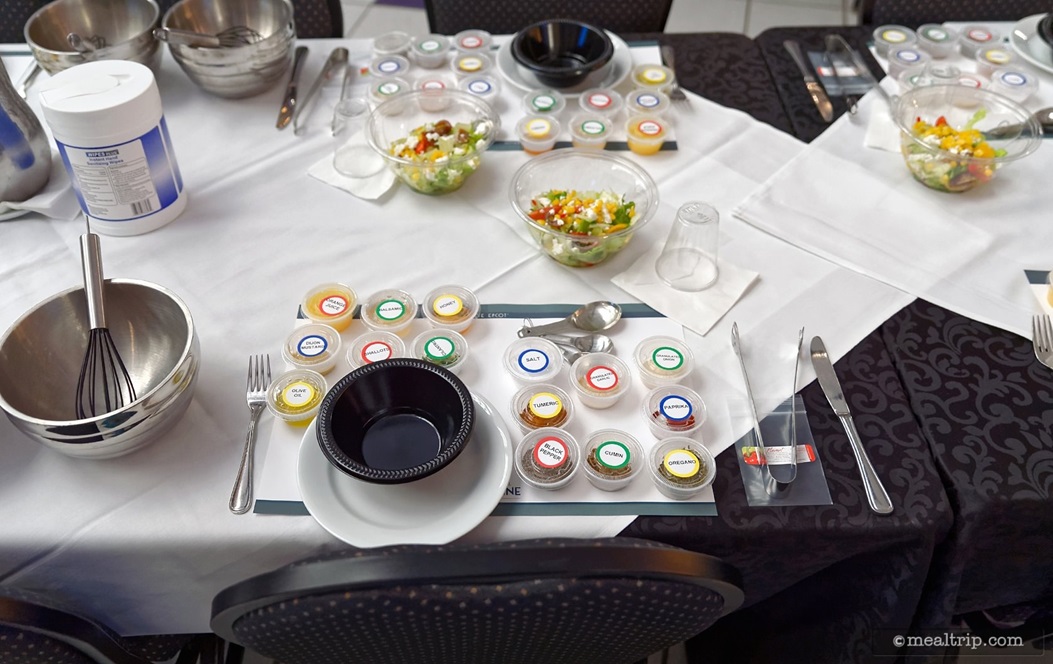 So many things! This was the place setting at Pam Smith's very own P.S.Flavor! Mix It, Make It presentation, featuring her own blend of spices.
I found most of demos to be very accessible for children who are old enough to follow instructions. So honestly, I think very astute and attentive 5-7 year olds and above would be fine here… and it's a great way to introduce someone new to the concept of preparing food. There's a very real, "all of the items are right there in front of you", and "yes… it really does take 10 minutes to make that dessert that you eat in less than a minute" fun lesson to be learned here.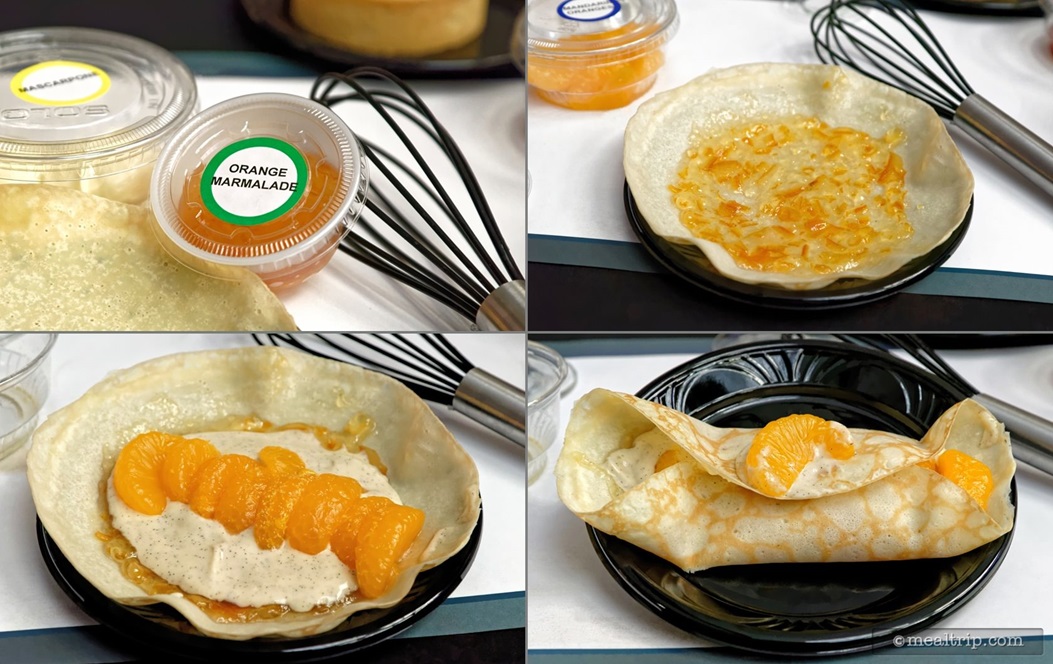 Step one, step two, step three, step four! Getting to build your own Orange Mascarpone
Crêpe is so much fun and educational. What a great way to introduce little chefs to the world of culinary!
An "adult beverage" was also part of the food-based
Mix It, Make It demos
… and this came in the form of a flute of sparkling wine or glass of "normal" wine. Sodas were also available.
Some guests are a little shocked at the high price of the event. You could enjoy a decent mid-range table-service meal for $49. I can tell you from watching the set up, there's a lot of man-hours involved in preparing all of those raw ingredients, in tiny little, pre-measured, astutely labeled cups, dishes, whisks and beverage shakers… that also all have to be cleaned up after the demo. This is why the event fee is more than double the cost of a normal culinary demo.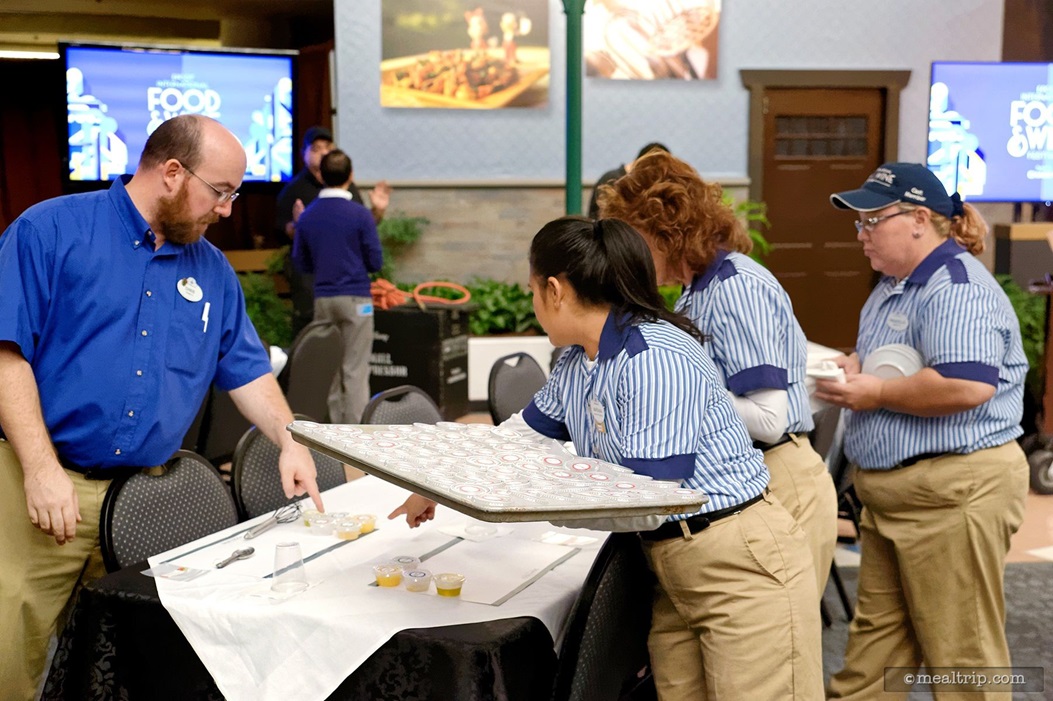 There is a lot of set up work that has to be done at any of the Mix It, Make It, Celebrate It demos... there really is a lot of organizational work that goes into each presentation.
There was only one little hiccup that I saw a few times… mostly with the beverage-based demos… the guest presenters occasionally didn't have a lot of experience leading "fun" interactive demos, and so their presentations were more like sales-pitches for their product… which either makes the demo seem extremely long, or extremely short. As skilled as Pam Smith is… you can't squeeze blood from a turnip… and if your presenter is dead set on showing a 10 minute PowerPoint presentation… there's not much you can do.
There really is no way to tell before hand (booking for these things starts months in advance, and many dates sell out quickly), which demos are going to be great fun, and which ones are going to be a little slow. My best advise here is… select something that really interests you… and you'll be fine with whatever happens.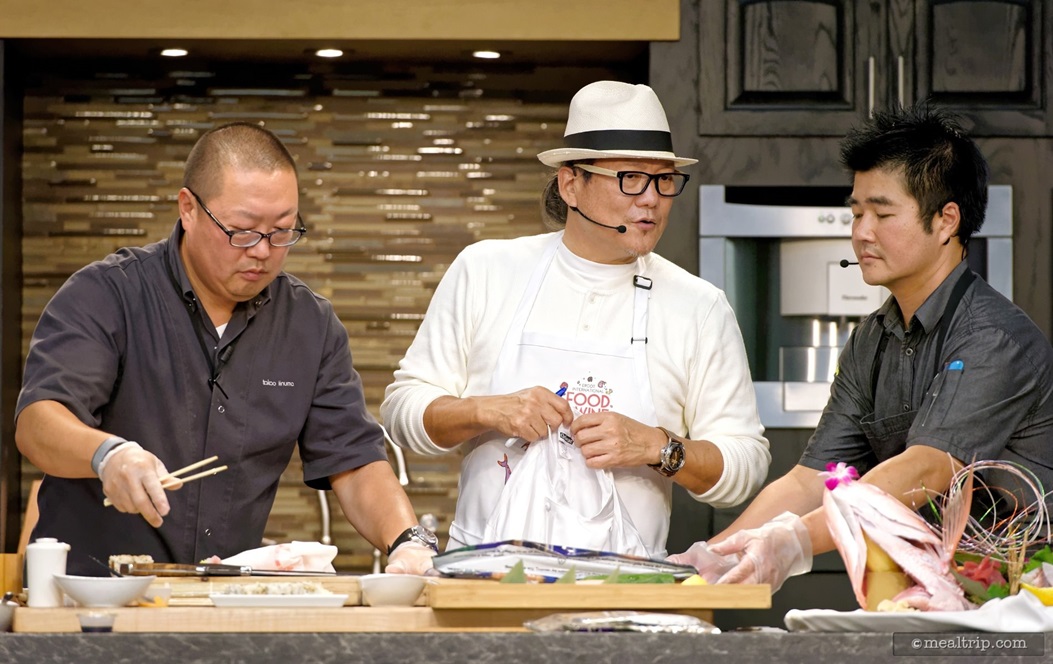 Iron Chef Morimoto was extremely entertaining and this is one demo I could highly recommend if you see his name on the list for upcoming demos. As you may have guessed, Morimoto's "Make It Sushi" event was very popular, and sold out within minutes of the initial booking period.
Again, the beverage-based demos were a little less hands-on, and more "information"… while the food-based demos were more hands-on and more "interactive".
All in all, it's an event I would definitely recommend doing once… or maybe even one beverage-based "Mix It", and one food-based "Make, It".
Now that a full year of events has taken place, I'm very interested in seeing how the Interactive Demos series grows over the next few years. Disney is very astute at interpreting guest comments that guests make about these about things, and I'm sure the "slower" presentation issues have been addressed.
Chefs and beverage reps can now also see what some of last year's events were like… and that will improve the pacing as well.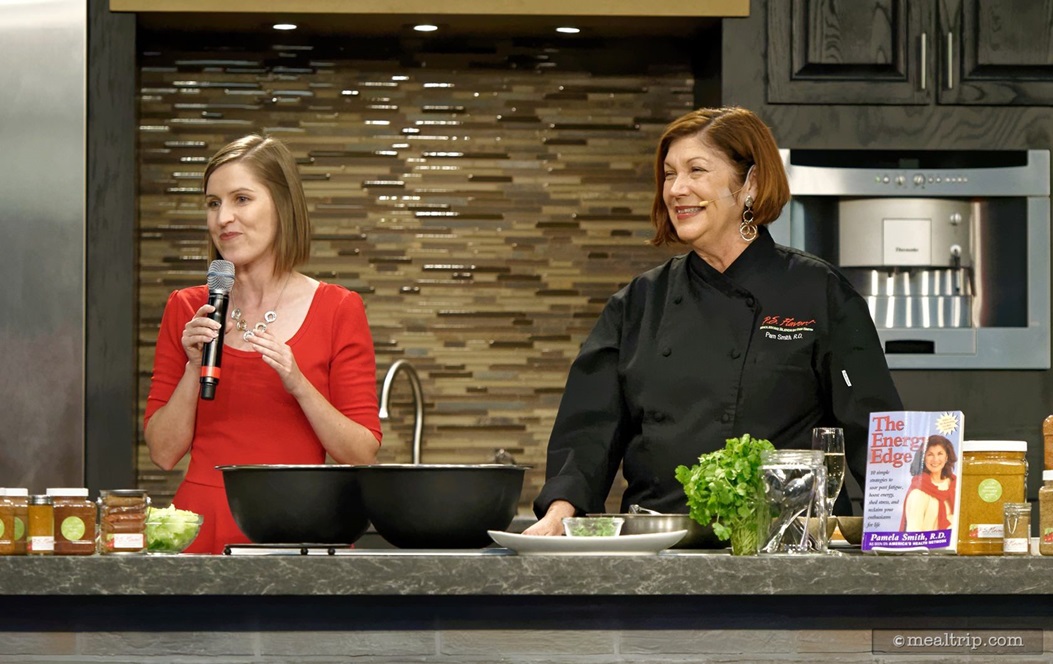 The "Mix It, Make It, Celebrate It" Interactive Demo series is a fun, new way to experience culinary and beverage offerings at the Epcot International Food and Wine Festival. (From left to right, Nicole Ramsland and Pam Smith, RDN featuring P.S. Flavor! Spice Blends.)
If one of the
"Mix It, Make It, Celebrate It"
events are taking place on a day that you'll be visiting the
Epcot International Food and Wine Festival
(and if the topic is of interest to you)… be sure to check them out. I had fun with them, and it made for some great photo opportunities with the friends and family you attend the event with. There's nothing better than a photo of your special someone, hard at work, whisking away some dish or shaking a cocktail from the Food & Wine Festival!