The Santaquila Sunrise
December 20th, 2015
Well, it looks like it's going to be a warm Christmas here in Central Florida. The Hot Toddies are just going to have to wait until January, but no worries… we found a great substitute on a recent Mealtrip to Portofino Bay's
Holiday Harbor Nights
.
The Santaquila Sunrise has a shockingly modern, bright green holiday appearance, and includes a small nod to the season thanks to the Jose Cuervo Cinge (which is a Cinnamon Infused Tequila). The drinking profile is most definitely tropical, but the Cinnamon Tequila does lend just a bit of warmth, if not a whole lot of depth to the Dr. Seuss colored cocktail.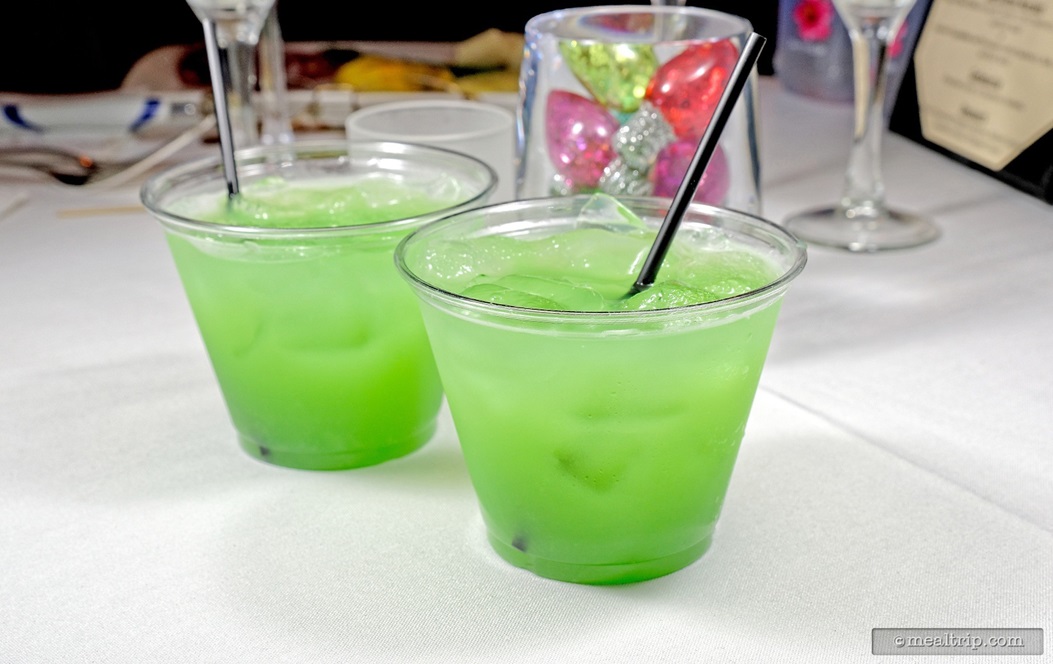 The Santaquila Sunrise is a combination of Orange and Pineapple Juice with a splash of Blue Curacao for color. It also features Jose Cuervo's Cinge which is a Cinnamon Infused Tequila.
While we still suspect the big jolly guy likes his spiced hot coco on cold winter nights, I like to think that the Santaquila Sunrise is his drink of choice while snow birding down here, after the big night.
Here's what you'll need to mix up two portions of Santaquila Sunrise (and no offense to the Portofino Bay Hotel, but I'd go for something a little cooler looking than a couple of plastic cups… I'm just saying).
• 6 oz. Orange Juice
• 6 oz. Pineapple Juice
• 2 oz. Jose Cuervo® Cinge™ (Cinnamon Infused Tequila)
• 1 oz. Blue Curacao
Unlike a normal Tequila Sunrise, these drinks were presented "well mixed". You could try layering the Blue Curacao on the bottom of the glass, but it's not going to be as pretty as a true Tequila Sunrise. These were poured over ice and not mixed in a shaker, but you know… theme park cocktails mostly come from giant plastic pre-mixed dispensers anyway. On the plus side, this would also look great in a party punch bowl! Happy Mealtripping!!!