A New Category for Special Events at Resorts
December 17th, 2015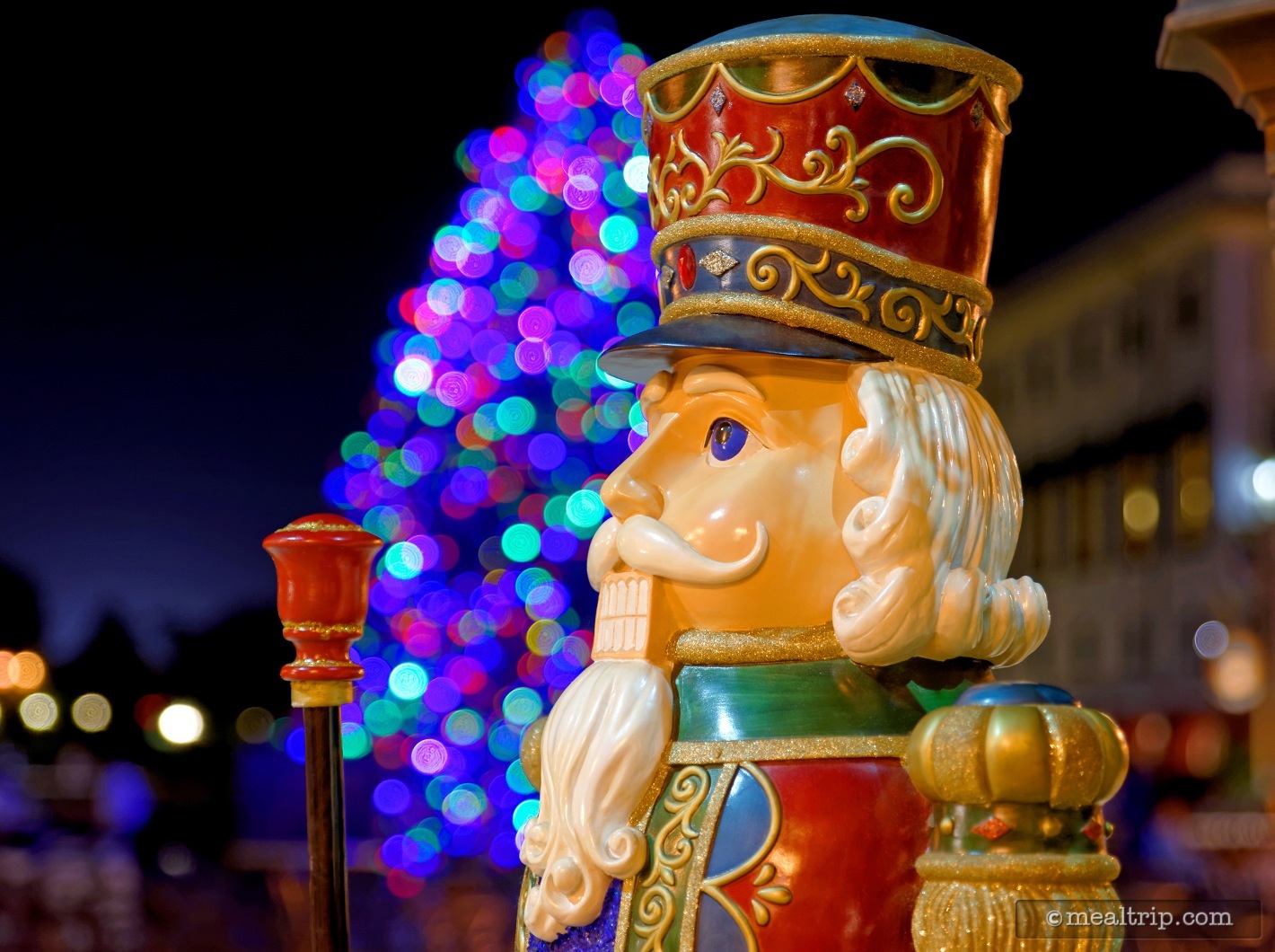 There's a great event series that takes place at the Loews Portofino Bay Hotel called Harbor Nights and we wanted to find a way to work it into our ever growing directory system somehow.
In the theme park and resort world, Disney hosts many themed special events that include dining elements. Most are in-park and a few are held at various resorts throughout the year. They are expensive splurges to be sure, but they are fun and most are executed at a very high level.
In commercial ventures, competition leads to more choices and better value for us (the guests) and the special event market is no different. Until now, there have been a smattering of events… SeaWorld Orlando's "Bands, Brew and BBQ" series and Universal Orlando's "Mardi Gras" events come to mind. While being great events, they don't really seem to have the focus or grander of
Epcot's massive Food and Wine Festival
, and they myriad of special dining events that is connected to that internationally recognized foodie event.
Busch Gardens Tampa introduced a Food and Wine Festival of their own in 2015, and it looks like the springtime weekend-only festival will be back for 2016, competing directly with the food and concert based events at Epcot's Flower and Garden Festival. The group that has put together the festival for Busch Garden did a great job the first year, and we're very much looking forward to seeing the festival mature and get better with age.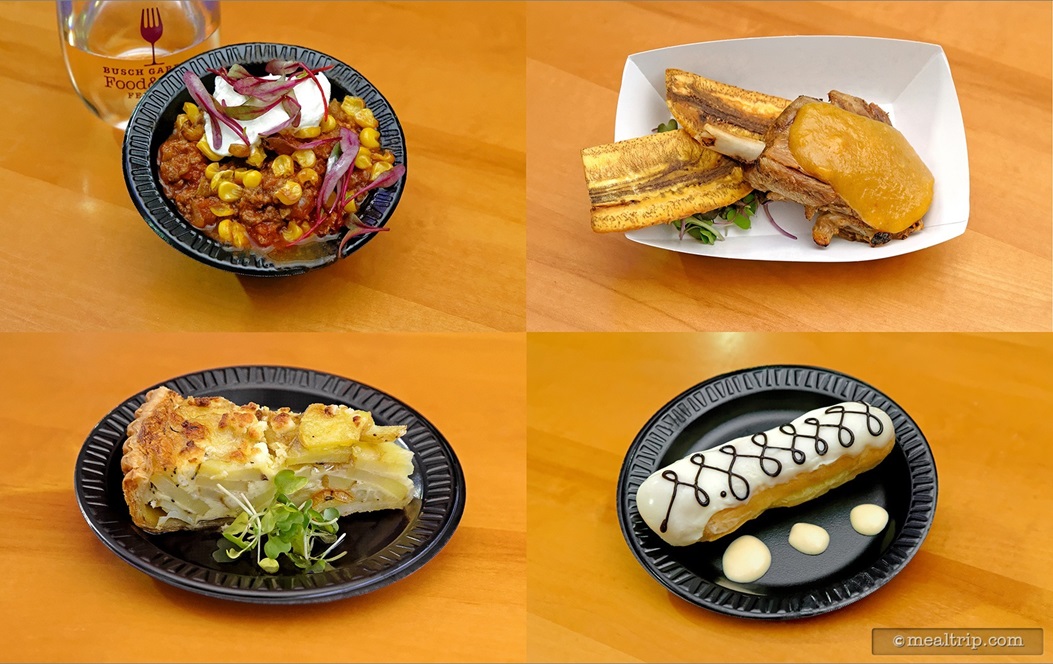 Just a few of the food items from the Busch Gardens Tampa Food and Wine Festival.
Getting better with age brings to mind the Swan and Dolphin's Food and Wine Classic that is (usually) held on the last weekend of October. This event just keeps getting larger and now soundly includes culinary demos prior to the grazing stroll on the main causeway between the two resort buildings.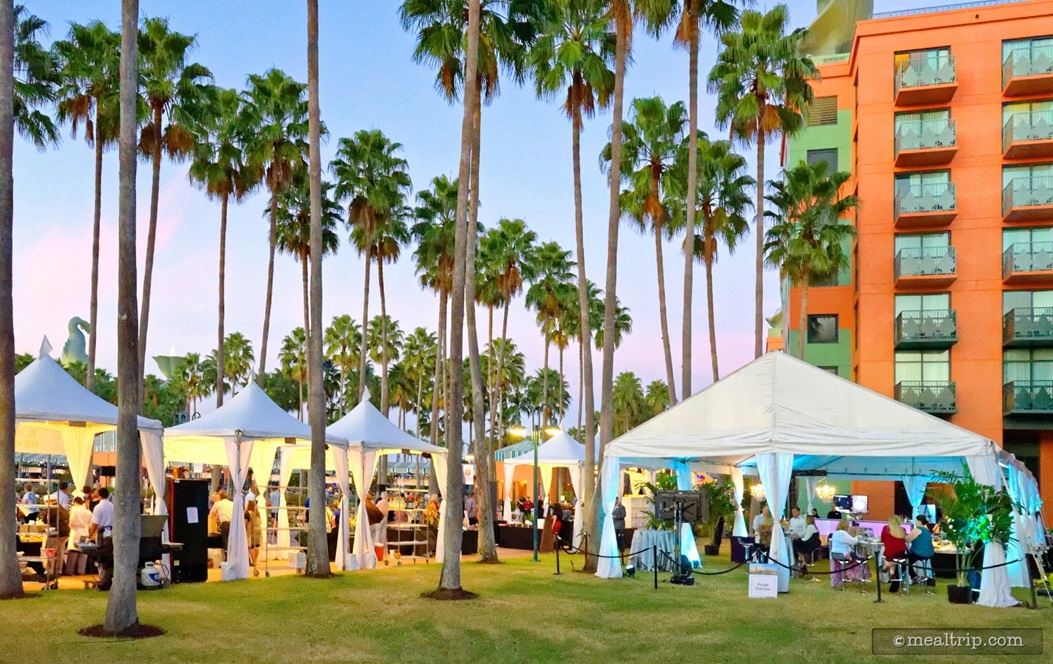 The Swan and Dolphin Food and Wine Classic takes place on the causeway between the two main resort buildings.
Surprisingly, the Loews Resort group has been hosting a couple different annual events, for quite a few years, that seem to fly under the radar. One such series is the Harbor Nights events, that take place several times over the course of the year.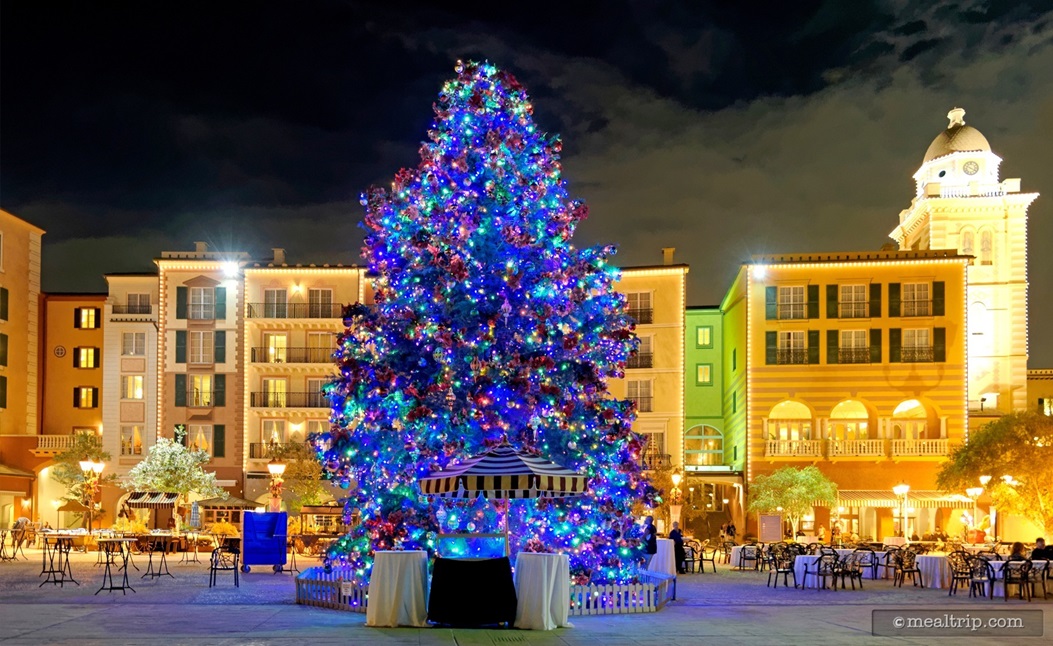 The Holiday Harbor Nights event at the Loews' Portofino Bay Hotel features a giant decorated tree in the middle of their piazza (main courtyard).
It would seem that there is enough special event activity at other non-Disney resorts for them to collectively have their own category in the Mealtrip directory, and so that's what we've done. Under the "Resort Dining" main menu item you will find a new "
Resort Special Events
" category. We don't really have enough of the Central Florida "Resort" dining options in our system to break it down further, so until we do… any resort-based special event info that we find, we'll put in that category.
Getting back to the Harbor Nights event series… each of the "Harbor Nights" gets an additional adverb or adjective tagged onto the name so you can tell them apart. Case in point, the
"Holiday" Harbor Nights event
takes place (usually) the day after Thanksgiving (yes, that's "Black Friday") and is themed to help kick off a season of holiday parties and celebrations.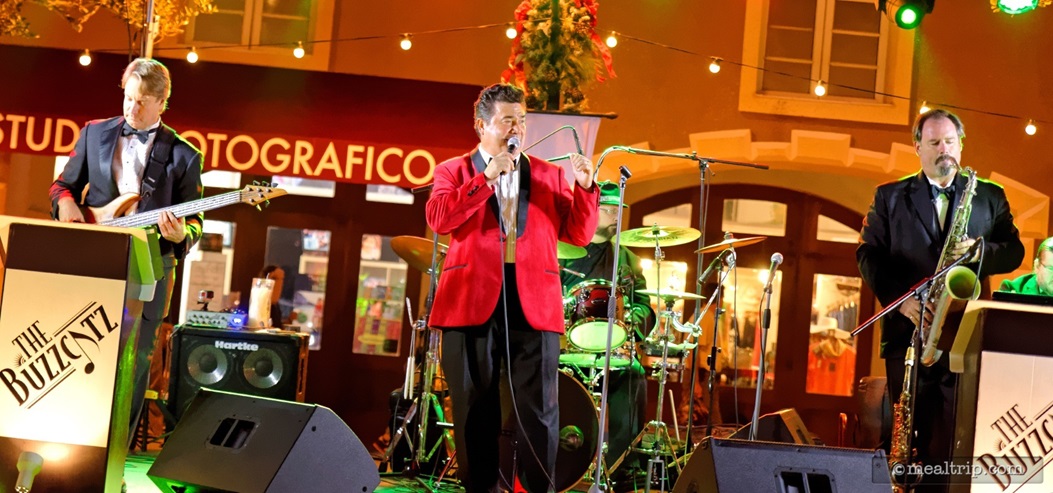 The BuzzCatz perform at the 2015 Holiday Harbor Nights usually held on the last Friday in November at the Loews Portofino Bay Hotel.
The 2015 Holiday Harbor Nights event has already taken place this year, but next year's event is just around the corner! It's never too early to start planning your next holiday trip!
Some have questioned the timing of this holiday event but personally, I'd rather be outdoors in a beautiful piazza, eating, drinking and listening to live music than I would be shopping for deals. Also very cool… there's no turkey here (or at least there hasn't been in my memory). In fact the somewhat Italian themed foods and wines are exactly what I'm craving after the starchy turkey, stuffing and mashed everything else, that occurred the day before.
Just a few of the beverage offerings from the Holiday Harbor Nights event.
The Harbor Night events themselves combine small plate food samples, mostly wine with a few other adult beverages, and live music in an open "pay once, enjoy all night" type of setting, where you can visit as many food and beverage stations over the course of the two and a half hour event as you like.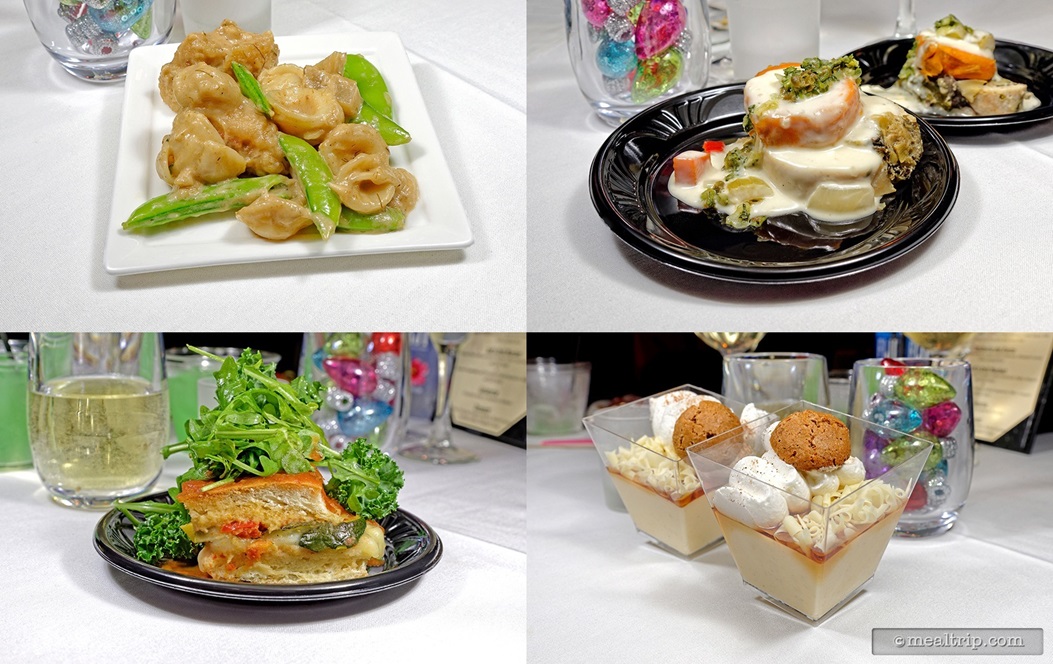 Just some of the small plate food items available the 2015 Holiday Harbor Nights event.
There are two price levels for the event, a "general" level ($45 per adult, plus tax and ticket fees for the 2015 event) which is a "strolling" experience (i.e. no guaranteed or reserved seating anywhere), and a VIP level ($75 per adult, plus tax and ticket fees for the 2015 event) which gets you a reserved table with a chair, along with additional passed appetizers (and everything else the "general" level has access to of course).
For those that have attended various events that are attached to the Disney Parks system, $45 per adult is going to seem like a "deal" for an all you can drink wine, beer, and small plate food event... with no less than two different bands performing live. Which is why we wanted to start adding a few of these to our database, even before the "normal" Loews Resort dining locations have been added.
These mini-events can't compete with the size and scope of something like the annual
Party for the Senses at Epcot
, but they're not supposed to. Instead, they seem to ask the question, do you really need everything the Party for the Senses has to offer? At a third of the cost (and very near to the cost of "dinner for one" at a Disney table service restaurant… if you are in town… the Harbor Nights events are worth checking out, even if you're not staying at any of the Loews Resorts.
If you have been to any of the Holiday Harbor Night events, we would love to hear what you think! - Happy Mealtripping!