Joffrey's and Sunshine Seasons Get In On The Foodie (and Beverage) Action at Epcot's 2016 Flower and Garden Festival
February 19th, 2016
A few years ago, we saw
Sunshine Seasons
(the giant food court located on the bottom level of the Land Pavilion), briefly get in on some of the Food and Wine action by serving up a few tasting-sized items during the annual Festival. An oak-grilled vegetarian sandwich and vegetarian flatbread were available if memory serves me right... and they were pretty good too!
This year during Epcot's Flower and Garden Festival is officially "in the books" with two items, an
Oak-Grilled Vegetable Flatbread
and a
Tomato and Cucumber Salad
(which are both said to be
vegetarian friendly
, as always check directly with whom you're purchasing the food from, for more details)!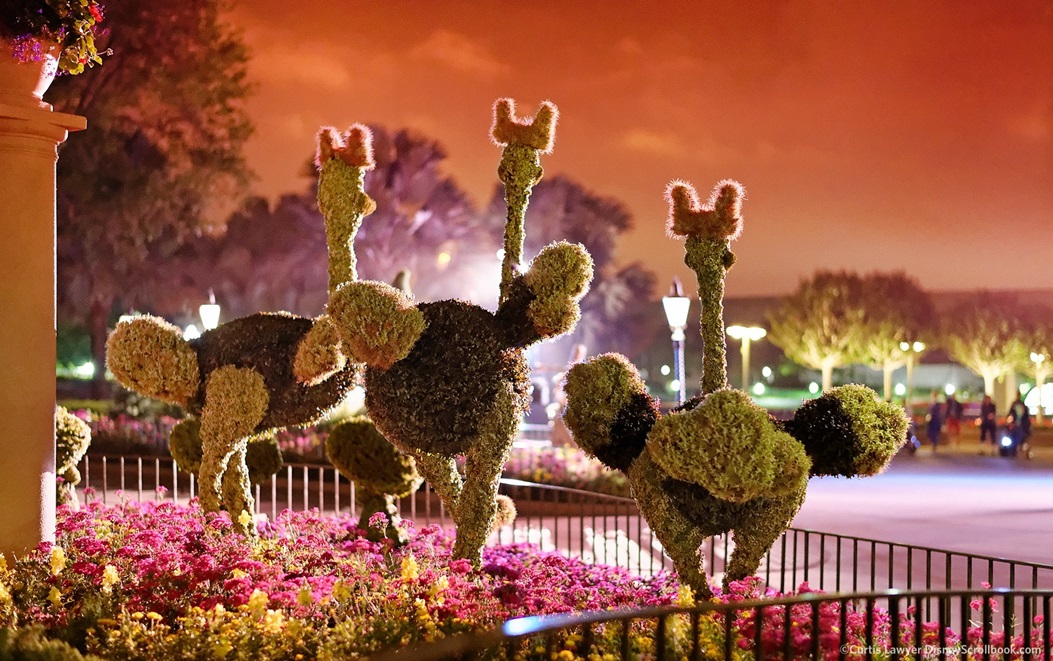 The Fantasia Ostriches are seeing pink as they gaze into Future World.
We love hearing about vegetarian friendly items being available at a Flower and Garden Festival (which surprisingly, aren't as numerous as you would think). While the Tomato and Cucumber Salad should be light and fresh, I can't wait to try the Oak-grilled Vegetable Flatbread.
The smokey char-grilled goodness really brings out the flavor of many different kinds of vegetables and Sunshine Seasons does a great job of oak-grilling some of their everyday offerings, like their salmon, pork, and chicken entrees. The Oak-grilled Vegetable Flatbread should not only be pretty amazing, but one of the few Flower and Garden Festival Food Items that you'll be able to sit down, in air-conditioning, to enjoy!
Joffrey's Coffee & Tea Company have been introducing more and more specialty beverages during both the
Food and Wine Festival
and the Flower and Garden Festival, and this year, they have four solid beverage items.
Right now it looks like one different beverage will be available and each of the four Joffrey's kiosks at Epcot during the Flower and Garden Festival, but I'm raising an eyebrow to that info. I would imagine (and hope) that any of the four kiosks, could make any of the four beverages. Each Joffrey's has their own special "stamp" in the "Festival Passport" this year as well (now those… may only be available at each specific kiosk).
Either way, I'm presenting the info that I have at this time… things change, it happens.
The four Joffrey's Beverages and their locations are…
Joffrey's Future World East - LemonRita
A frozen Lemon-Lime delight blended with 1800 Silver Tequila or Grey Goose Vodka (Located in between the Mission Space and Festival Center buildings, sort of… this may be a hard one to find, if you don't already know where it is)


Joffrey's Disney Traders - Tiki Torch
Frozen Passion Fruit thrills with juicy sweet flavors, a hint of tartness, blended with Grey Goose Vodka (This Joffrey's is on the outskirts of the Mexico Pavilion, next to the gift shop, across from the Daisy Duck (aka Duffy) meet and greet area)


Joffrey's The American Adventure - Frozen Strawberry-Lemon Sunset
Layered frozen Strawberry and Lemonade topped with Grey Goose Vodka (Joffrey's kiosk at the very back of the park, near the America Pavilion)


Joffrey's Canada - Spiked Chai Latte
Iced, Frozen or Hot Chai tea latte with Chai Spices, creamy Vanilla and blended with Bailey's Irish Crème or Grey Goose Vodka (This Joffrey's is directly between Canada and the UK Pavilions)

All in all, welcome additions to the Flower and Garden Festival Food line-up, and even greater evidence that the special seasonal food offerings will be pushing into the front-end of the park in years to come!