Menu Items for the 2022 Craft Beer Festival at SeaWorld, Orlando
July 29th, 2022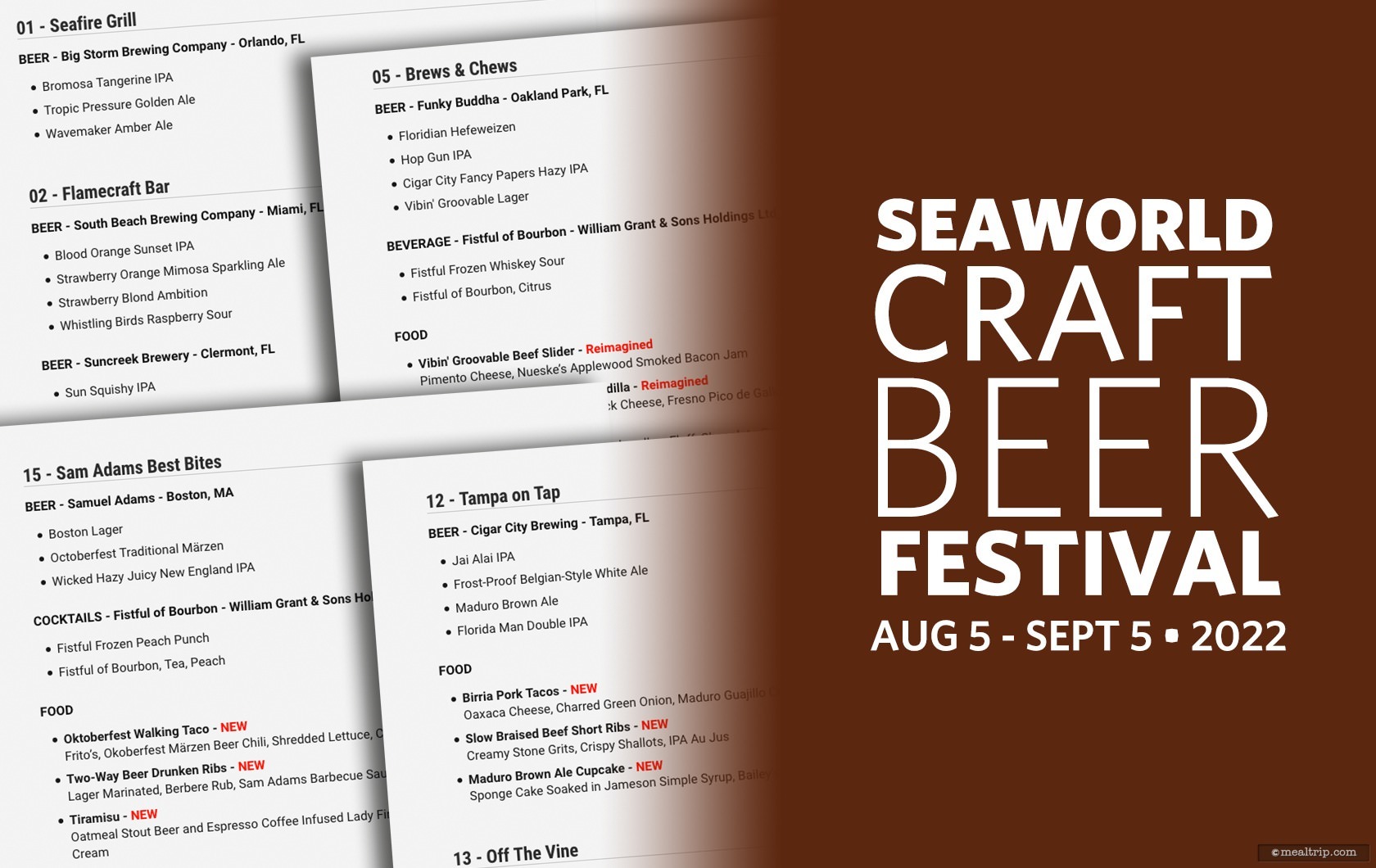 SeaWorld, Orlando's Fifth Annual Craft Beer Festival
kicks off on Friday, August 5th, 2022 and takes place on Fridays, Saturdays, and Sundays only, through Sunday, September 4th, 2022 — plus Labor Day, Monday, September 5th, 2022.
This year, there's "over 15 unique food items" (down 5 items from last year) and over 100 crafts brews, wines, seltzers, and cocktails.
Check out the map below for a great overhead look at where the festival kiosks are located. I've put names next to the booths that have food items — because beer is basically available, everywhere.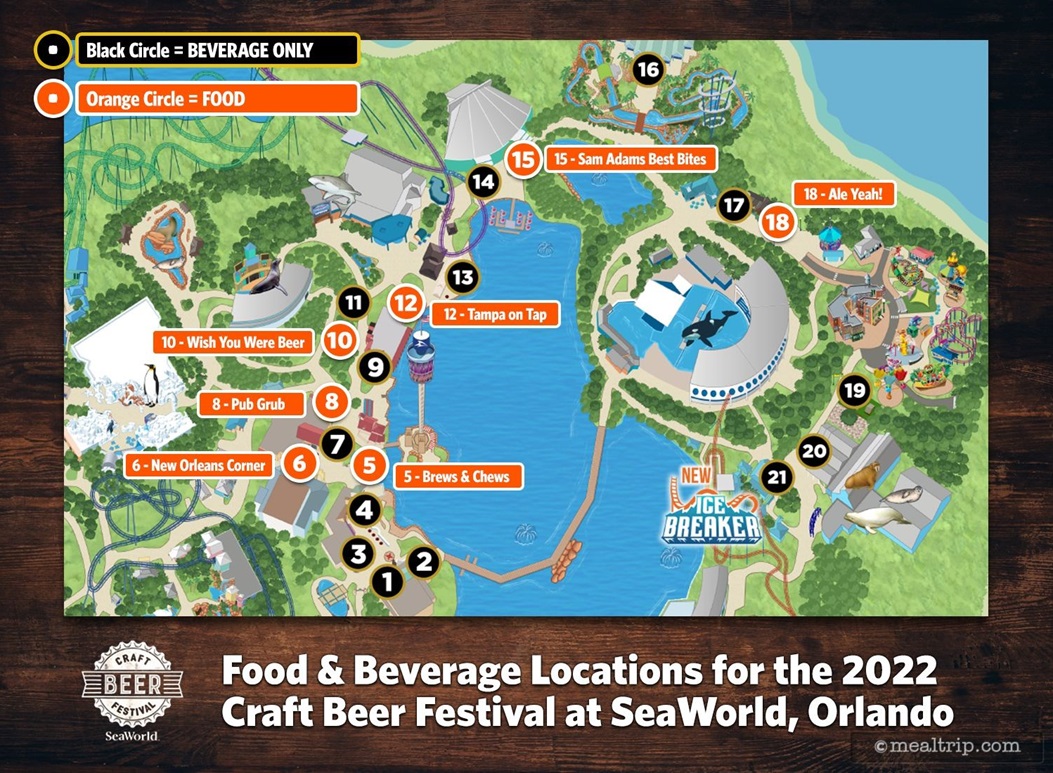 Here are the food and beverage Locations for the 2022 Craft Beer Festival at SeaWorld, Orlando. Orange circles have food items. Black circle have beverages only.
Sampler Lanyards are Back for 2022!
The popular Sampler Lanyard system is back this year, where guests can enjoy 8 or 12 samples of food, beer, or cocktail offerings at the Craft Beer Festival for a one-time purchase. The punch card lanyard system is a very convenient and speedy "way to pay" for the food and beverage samples. I'll dive more into how they work and what the price breakdowns are, once the festival starts.
The price of getting a Sampler Lanyard has gone up by $5 this year (all things considered, that's not too bad) — the 8-Item Sampler Lanyard is $55.00 (plus tax) and the 12-Item Sampler Lanyard is $70.00 (plus tax) for 2022. Annual Passholders can get a 15-Item Sampler Lanyard, also for $70.00 (plus tax), which basically is 3 additional samples for the same price as 12.
01 - Seafire Grill
BEER - Big Storm Brewing Company - Orlando, FL
Bromosa Tangerine IPA
Tropic Pressure Golden Ale
Wavemaker Amber Ale
02 - Flamecraft Bar
BEER - South Beach Brewing Company - Miami, FL
Blood Orange Sunset IPA
Strawberry Orange Mimosa Sparkling Ale
Strawberry Blond Ambition
Whistling Birds Raspberry Sour
BEER - Suncreek Brewery - Clermont, FLBEER - Additional Various Breweries
New Belgium Fat Tire Amber Ale
Crooked Can Oktoberfest
Wild Night Honey Cream Ale
Sailfish Brewing Co. Tag & Release Amber Ale
Sweetwater 420 Extra Pale Ale
Blue Moon Belgium White
Brew Hub Key Lime Pie
03 - Barley Barrel
BEER - Ivanhoe Park Brewing Company - Ivanhoe Park, FL
Joyland American IPA
Guavaction Sour - Berliner Weisse
Halftoberfest Vienna Lager
Tupac Shaporter American Porter
Manatee Margarita
04 - Café de Mar
BEVERAGE - Vermont, Cider Company - Middlebury, VT
Vermont Pumpkin Cider
Vermont Woodchuck Sangria Cider
Shark Bite Strawberry Daiquiri
Sea Breeze Piña Colada
(Traditionally, Café de Mar offers frozen cocktails. Although not specifically mentioned anywhere, I'm guessing the bottom two items are frozen drinks… the top two ciders… not sure at this point if they're frozen or not.)
05 - Brews & Chews
BEER - Funky Buddha - Oakland Park, FL
Floridian Hefeweizen
Hop Gun IPA
Cigar City Fancy Papers Hazy IPA
Vibin' Groovable Lager
BEVERAGE - Fistful of Bourbon - William Grant & Sons Holdings Ltd, UK
Fistful Frozen Whiskey Sour
Fistful of Bourbon, Citrus
FOOD
Vibin' Groovable Beef Slider - Reimagined
Pimento Cheese, Nueske's Applewood Smoked Bacon Jam
Smoked Drunken Chicken Quesadilla - Reimagined
Beer-Brined Smoked Chicken, Jack Cheese, Fresno Pico de Gallo Salsa, Sour Cream
Boozy S'mores - NEW
Graham Cracker, Hefeweizen Marshmallow Fluff, Chocolate Ganache
06 - New Orleans Corner
BEER - Abita - Covington, LA
Abita Turbodog Brown Ale
Abita Purple Haze Lager
COCKTAIL
Hurricane (Non-Frozen)
Bacardi Light, Sailor Jerry Spiced Rum, Passionfruit, Grenadine
FOOD
Beignets - NEW
Bananas Foster, Nutella, Bavarian Cream
07 - Voyager's Smokehouse
BEER - Yuengling - Pottsville, PA
Golden Pilsner (Available until mid-August)
Oktoberfest Pilsner (Available after mid-August)
Chesterfield Ale
Raging Eagle Mango Pilsner
08 - Pub Grub
BEER - Green Bench Brewing Company - St. Petersburg, FL
Bench Life Lager
Postcard Pilsner
Sunshine City IPA
FOOD
Sunshine City Dog - NEW
All Beef Hot Dog, Sunshine City Beer Infused Sauerkraut & Beer Cheese, Crispy Onions
09 - Lakeside Grill
BEER - Anheuser-Busch - St. Louis, Missouri
Shock Top
Bud Light
Michelob Ultra
10 - Wish You Were Beer
FOOD
Smoked Brisket Macaroni & Cheese - Returning Favorite
Hickory-Smoked Beef Brisket over Kraft Heinz White Cheddar Macaroni and Cheese
Beer-Battered Crispy Shrimp - Reimagined
Creamy Slaw, Kimchi Ranch
Chocolate Bourbon Pecan Pie - NEW
Milk Chocolate, Kentucky Bourbon, Caramelized Pecans
BEER - Sierra Nevada - Chico, CA
Pale Ale
Wild Little Thing Slightly Sour Ale
Hazy Little Thing Hazy IPA
Sunny Little Thing Citrus Wheat Ale
COCKTAIL
Antarctica Chiller
Orange Vodka, Peach Schnapps, Lemonade
11 - Distilled Delights
WHISKEY - Woodford Reserve - Versailles, KY
Kentucky Straight Bourbon Whiskey
Distiller's Select Rye Whiskey
Distiller's Select Malt Whiskey
Barrel Finish Select Double Oaked Whiskey
12 - Tampa on Tap
BEER - Cigar City Brewing - Tampa, FL
Jai Alai IPA
Frost-Proof Belgian-Style White Ale
Maduro Brown Ale
Florida Man Double IPA
FOOD
Birria Pork Tacos - NEW
Oaxaca Cheese, Charred Green Onion, Maduro Guajillo Chile Broth
Slow Braised Beef Short Ribs - NEW
Creamy Stone Grits, Crispy Shallots, IPA Au Jus
Maduro Brown Ale Cupcake - NEW
Sponge Cake Soaked in Jameson Simple Syrup, Bailey's Irish Buttercream Frosting
13 - Off The Vine
WINE - Various
Riesling – Chateau Ste Michelle
Moscato – Risata Moscato d'Asti
Rosé – The Beach Whispering Angel
Pinot Noir – Josh Cellars
14 - Sweet & Sour
COCKTAILS - Tito's - Austin, TX
Blackberry Peach Sangria
Tito's Vodka, White Wine, Blackberry, Peach
Strawberry Frosé
Tito's Vodka, Beso Del Sol Rosé Sangria, Strawberry
Mango Rush
Tito's Vodka, Mango, Citrus, Sparkling Water
15 - Sam Adams Best Bites
BEER - Samuel Adams - Boston, MA
Boston Lager
Octoberfest Traditional Märzen
Wicked Hazy Juicy New England IPA
COCKTAILS - Fistful of Bourbon - William Grant & Sons Holdings Ltd, UK
Fistful Frozen Peach Punch
Fistful of Bourbon, Tea, Peach
FOOD
Oktoberfest Walking Taco - NEW
Frito's, Okoberfest Märzen Beer Chili, Shredded Lettuce, Cheddar, Sour Cream
Two-Way Beer Drunken Ribs - NEW
Lager Marinated, Berbere Rub, Sam Adams Barbecue Sauce
Tiramisu - NEW
Oatmeal Stout Beer and Espresso Coffee Infused Lady Finger, Whipped Mascarpone Cream
16 - Waterway Bar
BEER - Orange Blossom Brewing Company - Orlando, FL
Orange Blossom Honey Pilsner
City Beautiful IPA
BEER - Sailfish Brewing Company - Fort Pierce, FL
Sunrise City American IPA
White Marlin WIT Wheat Beer
BEER - Additional Various Breweries
Yuengling Lager
Michelob Ultra Light Beer
Cigar City Jai Alai IPA
Anheuser-Busch Bud Light
Heineken Lager
Corona
Kona Gold Cliff IPA
Kona Big Wave Golden Ale
17 - Mama's Pretzel Kitchen
BEER - Florida Avenue Brewing Company - Tampa, FL
You're My Boy, Blue Blueberry Wheat Ale
Luminescence Hazy IPA
Brew Bus Pumpkin Spiced Latte
Breckenridge Avalanche Ale
Tangerine Splash Fruited Wheat Ale
BEER - 3 Daughters Brewing - St. Petersburg, FL
Tropical Hefe Hefeweizen
A Wake Coffee Blonde Ale
Maple Bacon Porter
Signature Apple Cider
18 - Ale Yeah!
BEER - Crooked Can Brewing Company - Orlando, FL
Crooked Can High Stepper American IPA
Crooked Can Florida Sunshine Pilsen Malt Lager
BEER - Shiner Beer - Shiner, TexasFOOD
SeaWorld Fin Pretzel - NEW
Served with Florida Sunshine American IPA Beer Cheese
Crispy Chicken Pretzel Slider - NEW
Sun-Dried Tomato Aioli, Crunchy Pickles
Pretzel Wrapped Bratwurst
Served with Beer Mustard
COCKTAIL
Featured Cocktail of the Week
19 - Beer Garden
BEER - Motorworks Brewing - Orlando, FL
Pulp Friction Grapefruit IPA
Midnight Espresso Coffee Porter
Octoberfest Märzen
Hiya Gourdie Pumpkin Ale
Hanalei IPA
Longboard Lager
20 - Glacier Bar
BEER - Elysian Brewing - Seattle, WA
Night Owl Pumpkin Ale
Space Dust IPA
Contact Haze Hazy IPA
Superfuzz Blood Orange Pale Ale
Cigar City Jai Alai IPA
Orange Blossom Brewing Honey Pilsner
COCKTAILS
Sparkling Mojito
Flor de Caña Rum, Fresh Mint, Lime
Spicy Pineapple Margarita
Milagro Silver Tequila, Fresh Lime, Spice, Pineapple
21 - Altitude Burger
BEER - Walking Tree Brewery - Vero Beach, FL
Sandy Feet American Wheat Ale
Babycakes Oatmeal Stout
COCKTAILS
Spicy Pineapple Margarita
Milagro Silver Tequila, Fresh Lime, Spice, Pineapple
Blackberry Bramble
Hendrick's Gin, Blackberry, Lemon
If you want to see some photos and read more about the
SeaWorld, Orlando Craft Beer Festival
— check out our
Craft Beer Festival event page
!