A Look Back at Last Year's Seven Seas Food Festival
February 3rd, 2020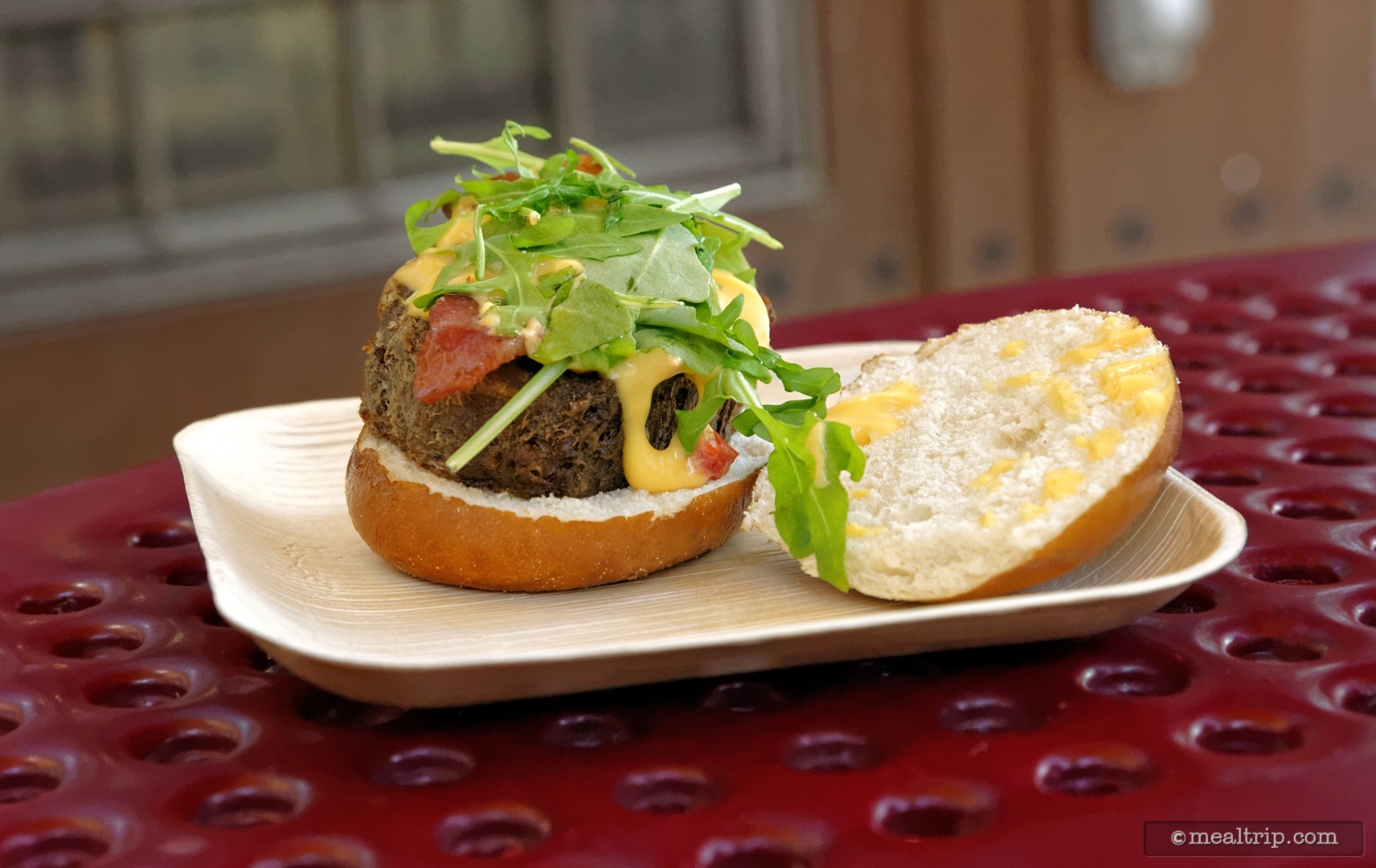 It's so hard to believe that
SeaWorld's 2020 Seven Seas Food Festival
is less than a week away! Last year, on the very last week of the festival, we took a stroll around the "food loop" at Seven Seas, and tried out a couple of "new for me" things and some old favorites. I never posted those photos because — well, it was the last week of the festival. But now — it seems relevant again, because this great annual street food inspired food and beverage fest starts this Friday (February 7th, 2020).
My first stop was over at the Mexican Market kiosk for a
Tinga de Res Taco
which features Slow Cooked Shredded Beef in a Tomato Chipotle Sauce. This taco was served with double tortillas, which is probably not normal, but hey… it's a bonus tortilla! The flavors here were great for pairing with a beer. Texture-wise, shredded beef can be a little hit and miss and mine had a few tough spots in it, and I wish there was more "tomato chipotle sauce" on this one.
Not too far away is the Italian kiosk, a food booth that I haven't sampled much at, in the past. Italian can be a challenging category at food festivals... because everyone already has a hometown favorite kind of Italian. We picked up two staples that are on most Italian menus… first, the garden fresh
Caprese Salad
, Drizzled with Balsamic Reduction and Olive Oil.
The flavors were all here on this one… nice, cool garden fresh tomatoes, creamy mozzarella and drizzled with a great "everyday" balsamic reduction and olive oil. A really good Balsamic can be expensive, so I wasn't really expecting a top-notch one here — but this dish does exactly what it's supposed to do — give someone that maybe hasn't tried a Caprese Salad, a really good idea of what it's all about.
Next up from Italy, a
Classic Lasagna
topped with Romano Cheese and Marinara Sauces. Honestly, I thought the portion size was a bit small here… but only by a little bit. The flavors were okay, but it was a very "safe" Lasagna intended for the masses. I personally like to see a lot of a very herbaceous sauce around — that way I can decide how much to put with each bite. The cup I received didn't really have a lot of sauce… and here again, with the word "sauce" in the menu… I really expect to see more sauce on or around the dish.
A quick hop over to the All-American Market booth I found a couple of my favorite items of the day! And they were both new for me… I had not tried either one of these before! First up, a
Buffalo Meatloaf Slider
.
This little guy had a lot of flavors and textures going on… and honestly… I've had a lot of luck with the sliders over the past couple of years here at Seven Seas. Sliders can sometimes end up being too much bread, and not too much else — but that hasn't been the case here — everything from Salmon Sliders to this Meatloaf Slider have been really well balanced. The Buffalo Meatloaf Slider was topped with Arugula, Smoked Bacon, and Pimento Cheese!
Also at the All-American Market booth was a great mini-dog! The
Bacon Hot Dog Slider
was topped with Creamy Coleslaw, Onions, and Spicy Mustard. While not quite being the large grain mustard that I like so much on the Wild Boar Cheddar Sausage — the bacon and creamy coleslaw were the real stars here — and the smooth mustard helped tied everything together quite nicely. I would totally get this one again and again!!!
That brings us to the first drink of the day, a
Hibiscus Flower Red Sangria
. Not too much in the way of diced or chopped fruit in this one (there usually are some fruit pieces in a traditional Sangria), but definitely red wine and hibiscus! All of the beverages at the festival are served in this size cup.
Moving over to the Mediterranean Market kiosk, I picked up what is usually one of my festival favorites. The
Mediterranean Couscous Salad
has been with the festival since it started and is a great taste of what the Mediterranean region has to offer. Served in a plastic martini glass, this one features Couscous tossed with Feta, Spinach, Olives, Sweet Red Onions, and Peppers, all in a White Balsamic Vinaigrette.
I've had fuller cups in the past, which is a little disappointing because this is one Instagram worthy item! This is also one of the few Vegetarian items at the festival.
I sampled two more "new to me" items over at the German Market booth, but both have been at the festival in previous years. The
Chocolate Dipped Footlong Pretzel
, was a little messy to eat… but it's definitely worthy of a photo or two.
Also at the German Market booth a
Frozen German Chocolate Cake
, which combines Chocolate and Caramel Vodka, Coconut Rum, Coconut, and Chocolate Almond Milk. Now this one just sort of looks like chocolate milk in a glass, but it had a little more punch to it than that! It was a really good, well balanced libation, that'd very, very easy to drink on a hot day!
Over at the Polynesian Market I tried out the
Lumpia
, which is basically a spring roll filled with pork and served with an edible seaweed (there's several types, not sure which one this was) and a pineapple chutney of sorts. The concept is great, and these are about the right size for a Lumpia — but I've always thought they could be stuffed with a lot more pork. Having more savory meat and less of the thin crepe pastry shell would have balanced things out better.
The
Spam Musubi
, on the other hand, gives you a good amount of everything! The Sliced Grilled Spam on top of a block of white rice, wrapped with nori — is exactly what it sounds like — and is a decent sized portion. Even though it's not in the description, this one was also topped with the pineapple chutney that came with the Lumpia.
My final drink of the day was from the Brazilian Market booth. The
Frozen Caipirinha
combines Cachaca (which is Brazilian Rum), Lime Juice, and Simple Syrup. These frozen beverages may be a little light on alcohol content compared to the "not frozen" cocktails you would get at a lounge, but they are very easy to drink at an outdoor festival, and pair with pretty much everything.
That brings us to the last two food items for our second stroll around day at the Seven Seas Food Festival, and both of these — I've had before.
I've had mixed experiences with the
Peking Duck Lo Mein
over at the Asian Market booth in the past, and this particular sample — only added to my mixed feelings about the dish. If I'm not mistaken, the Duck Lo Mein is one of the items that has been with the festival from the start.
The very first time I got it — there was no duck on it — anywhere. It was however, still really good… and other folks that tried it with the duck said it was good… and that's where everything stood for a couple years.
On this occasion, while tasting great, the Peking Duck Lo Mein wasn't very visually appealing.
There's obviously Teriyaki Sauce involved in the preparation of the noodles and the veggies that make up the Lo Mein — because it all takes on an orange hue. Now, cooked duck — is actually gray like that, so there's no food safety issue here — it just doesn't look great. While not being necessary for flavor — I would totally get some kind of Teriyaki Sauce, Hoisin Sauce, or even just a Tamarind Glaze on the pulled duck — just to get it some kind of coloring other than gray. That being said — the flavors of the dish — were pretty good.
Finally, the
Bingsu Salted Vanilla Ice Cream
has been a guest favorite since the beginning of the festival, and for good reason. You really can't go wrong with salted caramel popcorn with a vanilla ice cream ball in the center. The portion size may have shrunk a bit from the first year, but it still tastes great — and looks great in photos!
The
Seven Seas Food Festival at SeaWorld, Orlando
takes place on Fridays, Saturdays, and Sundays this year — from February 7th, 2020 until May 3rd, 2020. The very popular "Sampler Lanyards" are back this year as well, in 10 and 15 sample sizes — and are a great way to enjoy the festival.
The 10 Item Sampler Lanyard is $52.00 plus tax, which breaks down to just over $5.20 per item. While the 15 Item Sampler Lanyard is $67.00 plus tax, which breaks down to just over $4.47 per item!