Menu Items & Cabin Names for the 2020 Busch Gardens Food and Wine Festival
February 6th, 2020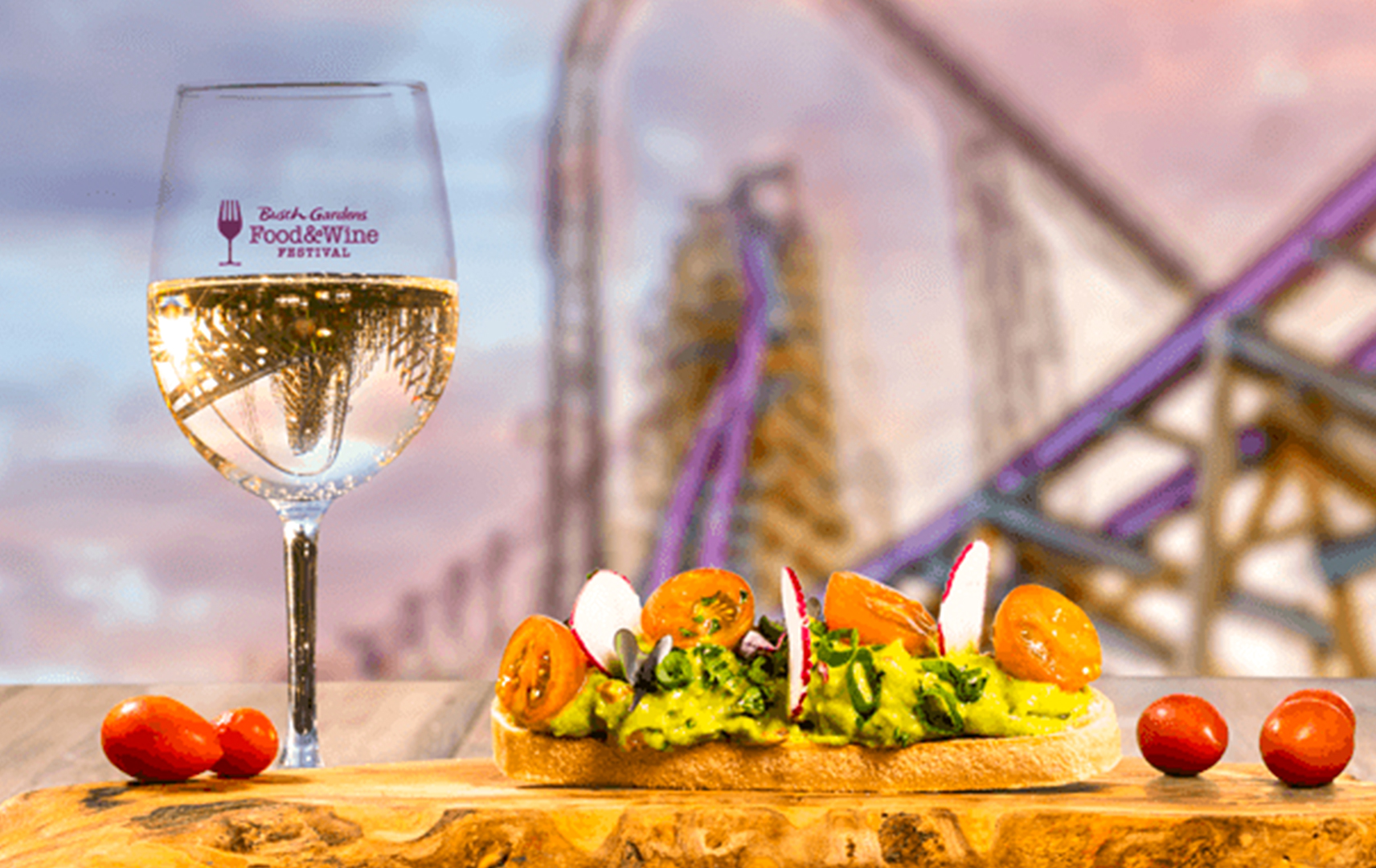 Here is a text-based line-up for the food booths (called "Cabins" at the festival), and the food items that will be available for this year's Busch Gardens Food & Wine Festival. The festival takes place on weekends only between February 29th, 2020 and April 26th, 2020.
Pricing for all items won't be available until the first day of the festival. But — The Sampler Lanyards are back (yay!!!), and one of the better deals is the 12-item Sampler for $57.00 (plus tax) which would break-down to just a little over $4.75 per item.
This year's festival features over 25 new items along with many returning favorites. Together with more than 80 wines, craft brews and featured cocktails to choose from… the pairings are endless!
The Butchery
Hand Carved Espresso-Rubbed Beef Tenderloin – NEW!
served over White Truffle Mash
Artisan Fries cooked in Duck Fat
with Parmesan and White Truffle Aioli
Achiote-Rubbed Pork Tenderloin – NEW!
with Sweet Plantain Mash and Chimchurri
Sweet Sips
Handmade Cannoli – NEW!
Italian pastry, filled with handmade Cannoli Cream, Chocolate Chips and Pistachios
Hummingbird Cupcake – NEW!
Traditional Southern Cupcake with Pineapple, Banana and Nuts
Nola Eats
Red Beans & Rice – NEW!
with Sausage
Chicken Gumbo
Creole Flavored Stew with Chicken and Andouille Sausage over Rice
Bananas Foster Cheesecake
Sweet and smooth Banana Cheesecake made with Infused Bananas and a Rum Caramel Sauce and Whipped Cream
Southern Kitchen
Southern Fried Chicken & Biscuit
with Bourbon Blackberry Jam
Blackened Catfish – NEW!
Pan-Seared Blackened Catfish served over Sweet Corn Pudding
Shrimp & Grits
Shrimp Sautéed in Seasoned Butter, Over Southern Style Cheese Grits
Seasonally Inspired
Impossible™ Slider
with Fresh Pico de Gallo and Guacamole
Charcuterie Salad
Roasted Tomatoes, Country Olives, Cured Meats & Cheeses
Avocado Toast – NEW!
Thick-Cut Ciabatta Bread with Fresh Smashed Avocado, Red Radishes, Green Onions and Marinated Tomatoes
Hog Heaven
Kung Pao Ribs – NEW!
Slow Roasted Ribs, tossed in Kung Pao Sauce
Charred Brussels Sprouts – NEW!
With a Warm Bacon Vinaigrette
Maple Bacon Cinnamon Roll – NEW!
Soft, sweet Cinnamon Roll with crispy and sweet Crumbled Bacon and topped with Maple Cream
Heartland
Homemade Bacon Mac & Cheese
Four-Cheese Sauce topped with Bacon
Bison Slider
With a sweet and spicy Bacon Onion Jam
Griddled Cheese Cake Handheld
Griddled Pound Cake with Cream Cheese Filling and topped with Raspberry Coulis
West Coast Catch
Baja Fish Tacos
Beer Battered Fish topped with Citrus Slaw, Crema Fresca and Cotija Cheese
Shrimp Salad Stuffed Avocado – NEW!
Avocado filled with Seasoned Shrimp, Red Onions, Celery, Peppers and Cilantro-Lime Aioli
Sesame Crusted Tuna – NEW!
Wakame Salad with Sweet Thai Chili and topped with Peach Sauce and Crispy Wonton
Wave Shack
Shrimp Bacon Fritters – NEW!
Fluffy Fritters fried to a Golden Brown with Key Lime Aioli
Fried Clams – NEW!
Crispy and tender Fried Clams with Tangy Yuzu Remoulade
Key Lime Pie Waffle Cone – NEW!
Chef's Corner
Pork Belly Taco – NEW!
Crispy Pork Belly, Kimchi Slaw and Mango Salsa
Arroz con Pollo – NEW!
Sautéed Adobo-Seasoned Chicken with Sofrito, Avocado and Platanutres
Pork Tenderloin with Champagne Watercress Sauce – NEW!
Seared Pork Tenderloin with a velvety Champagne Watercress Sauce
Coke® Fusion
Cherry Coke® Pulled Pork Slider
Slow-Braised BBQ Pulled Pork, Fried Onions and Slider Bun
Sticky Coke® Wings
Fried Chicken Wings, Tossed in a Sticky Coke® Sauce
Coke® Infused Chocolate Cupcake
Topped with Pop Rocks™ Candy
The Cantina
Short Rib & Cheddar Tostadas – NEW!
Tender Braised Short Rib with Peppers, Onions, Fresh Pico and Sour Cream
Grilled Shrimp Elote – NEW!
Shaved off the Cob, Fire-Roasted Street Corn, Lime Shrimp, Spicy Crema and Cheese
Pork Tamale – NEW!
Soft "Masa", Perfectly Seasoned Pork, Salsa Roja, Crema and Cotija Cheese
Garden Gate Café
Grilled Skirt Steak Flatbread – NEW!
Fresh Chimichurri Pesto
Fig and Cheese Flatbread – NEW!
Fig Preserves, Baby Arugula, Caramelized Onions, Goat and Mozzarella Cheese
Caprese Salad – NEW!
Baby Heirloom Tomatoes with Bocconcini Cheese, Basil, Balsamic Glaze and Extra Virgin Olive Oil
Berry Nice
Strawberry Shortcake Sundae – NEW!
Vanilla Ice Cream served with Pound Cake and fresh Strawberries in glaze
Strawberry Shortcake Thrill Shake – NEW!
Strawberry Shake topped with Pound Cake, Strawberry Sauce, Whipped Cream and a fresh Strawberry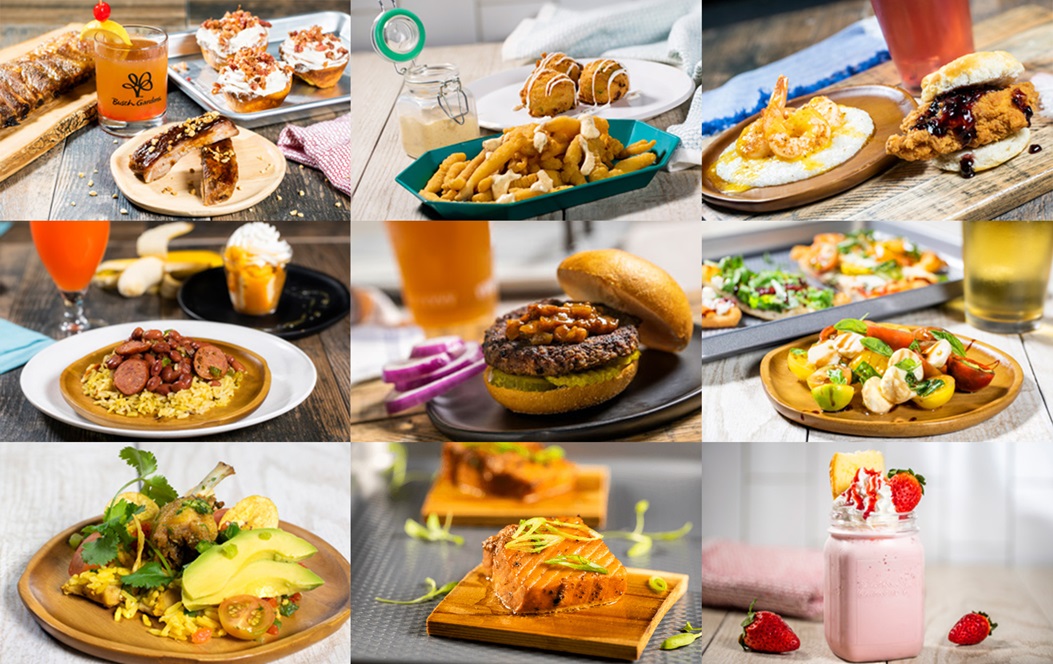 This year's festival features over 25 new items along with many returning favorites!