Menu Items & Booth Names for the 2019 Seven Seas Food Festival (Text List)
January 25th, 2019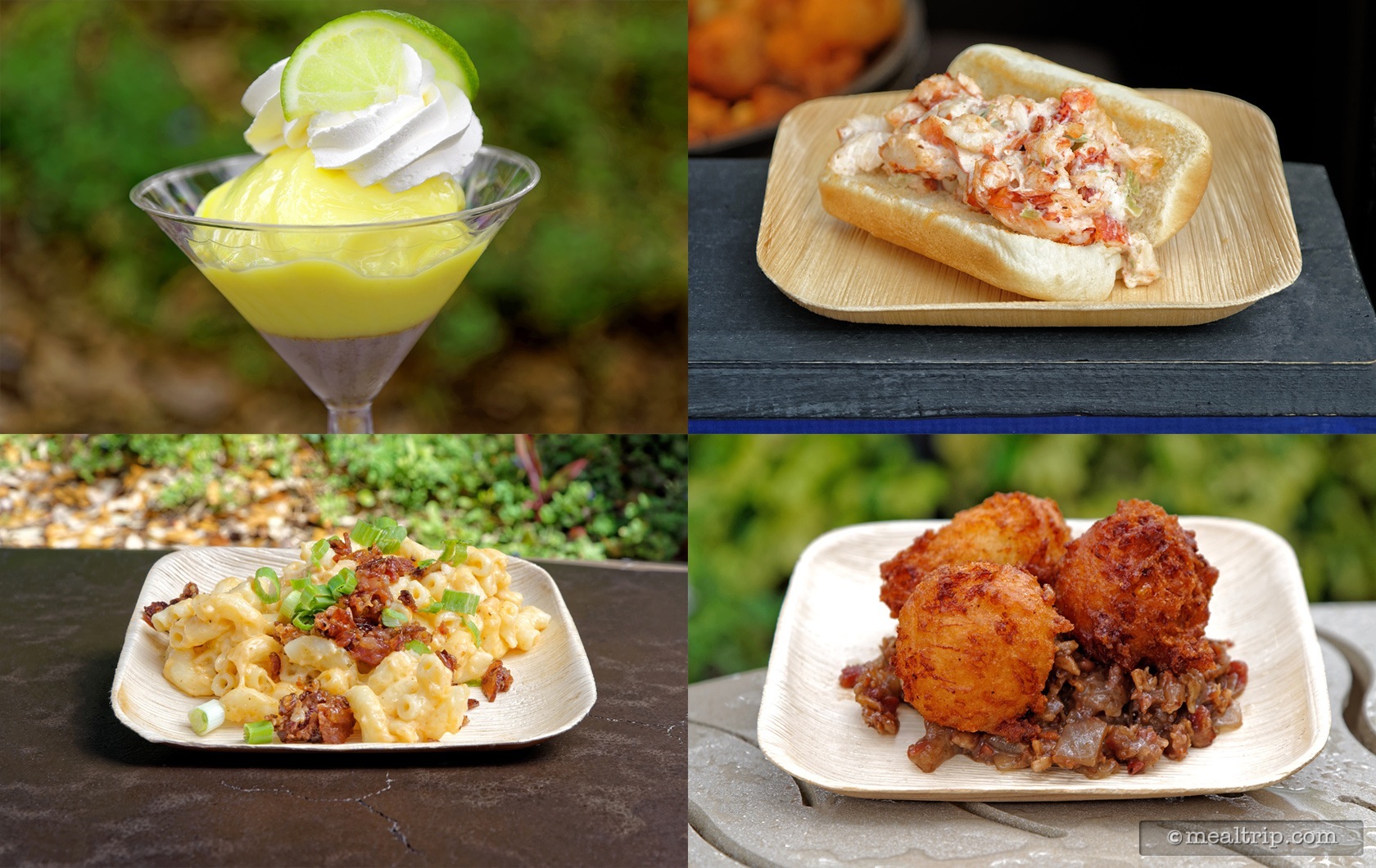 Here is a text-based line-up for most of the food booths, and the food items that will be available for the 2019 SeaWorld Orlando Seven Seas Food Festival. This list is for the "Global Marketplaces" that are at the heart of the annual festival. The festival takes place on weekends only between February 9th, 2019 and May 5th, 2019.
There are "Event Guide" booklets available to help guests find the various food and beverage kiosks which are located throughout the park. That booklet also highlight the Gluten-free, "Veg-friendly" items at the festival. Pricing for all items won't be available until the first day of the festival. This list will be updated with pricing information at that time.
All-American Market
FOOD
Bacon Hot Dog Slider — Topped with Creamy Coleslaw, Onions, and Spicy Mustard
Buffalo Meatloaf Slider — Topped with Arugula, Smoked Bacon, and Pimento Cheese
Bacon and Blue Mac-n-Cheese — Topped with Blue Cheese Crumbles and Bacon
Cinnamon Donut Bread Pudding — Topped with Caramel Sauce
BEVERAGES
Dukes Cold Nose
Killer Whale
Jack Daniel's Cowboy Punch — Jack Daniel's Tennessee Honey Whiskey, Sweet Tea, Orange Juice, and Cranberry Juice
Asian Market
FOOD
Peking Duck Lo Mein — Noodles with Crispy Duck, Oriental Vegetables and Teriyaki Sauce
Char Siu Bao — Steamed Pork Buns with Gingered Grilled Pineapple & Hoisin Sauce
Skewered Pork Wrapped in Bacon — with Hoisin Sauce
Bingsu Salted Vanilla Ice Cream — Topped with Caramel Popcorn
Gluten Free & Veg-friendly
BEVERAGES
Sapporo Rice Lager
Sake — Ty Ku Sake Junmai Silver & Momokawa Sake Pearl Nigori
Frozen Lagoon Punch — Lychee Liqueur, Blue Curacao, and Club Soda
Sparkling Pear (Non-Alcoholic) — Pear Nectar, Ginger Ale, Simple Syrup, and Lemon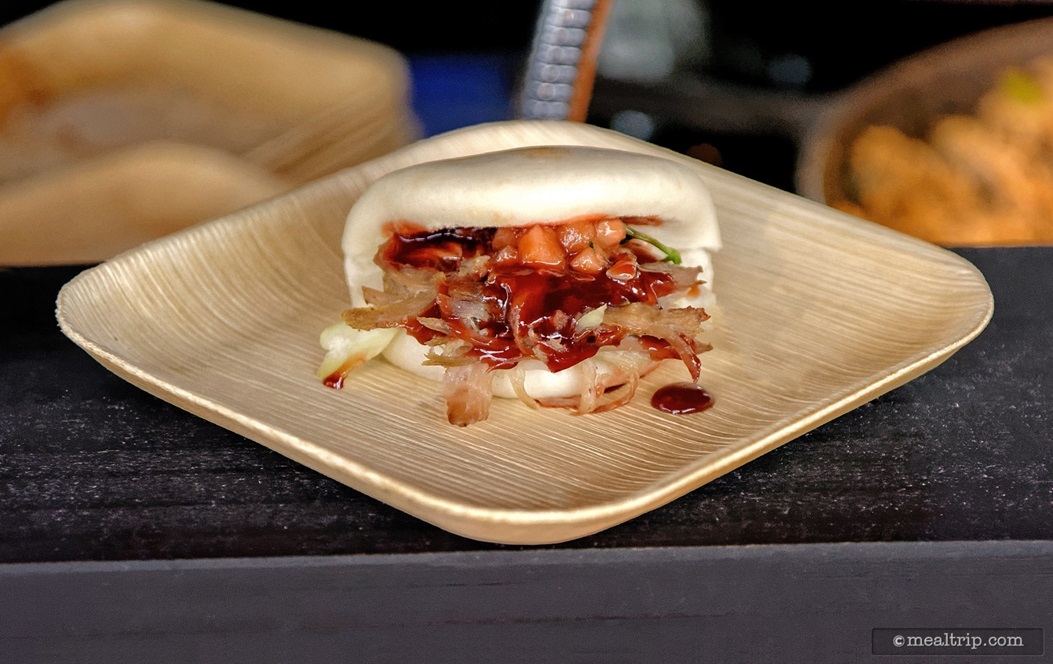 The Char Siu Bao features a Steamed Pork Bun with Gingered Grilled Pineapple & Hoisin Sauce from the Asian Market.
Brazilian Market
FOOD

Brazilian Picanha Steak — Served with Oven Roasted Potatoes and Tomato Chimichurri
Bacon Wrapped Sweet Plantain — with Guava Horseradish Sauce
Gluten Free

Acaraje — Brazilian Black-Eyed Pea and Shrimp Fritters
Pão de Queijo — Brazilian Cheese Bread
Gluten Free & Veg-friendly

Mousse De Maracuja — Passion Fruit Mousse with Fresh Passion Fruit Coulis
Veg-friendly

BEVERAGES
Torres Ibericos Crianza
Torres Verdeo Rueda
Frozen Caipirinha — Cachaca (Brazilian Rum), Lime Juice, and Simple Syrup
Bacon Wrapped Sweet Plantain with Guava Horseradish Sauce from the Brazilian Market.
Coca-Cola Market
FOOD

Turkey Pretzel Slider — Turkey Breast, Aged White Cheddar, and Cranberry Chutney infused with Coca-Cola on a Pretzel Roll
Pastrami Pretzel Slider — Pastrami, Aged White Cheddar, and Barbecue Sauce infused with Coke Zero Sugar on a Pretzel Roll
Cuban Market
FOOD

Traditional Cuban Slider — Served with Plantain Chips and Mojo
Cinnamon Slow Roasted Pork Belly — with Sweet Plantain Mash and a Red Wine Reduction
Gluten Free

Coconut Flan
BEVERAGES
Pacifico
Rum Runner — Coconut Rum, Spiced Rum, Blackberry Brandy, Banana Liquor, Orange and Pineapple Juices
Caribbean Sunset (Non-Alcoholic) — House Made with Lemonade, Orange Juice, Grenadine, and Sprite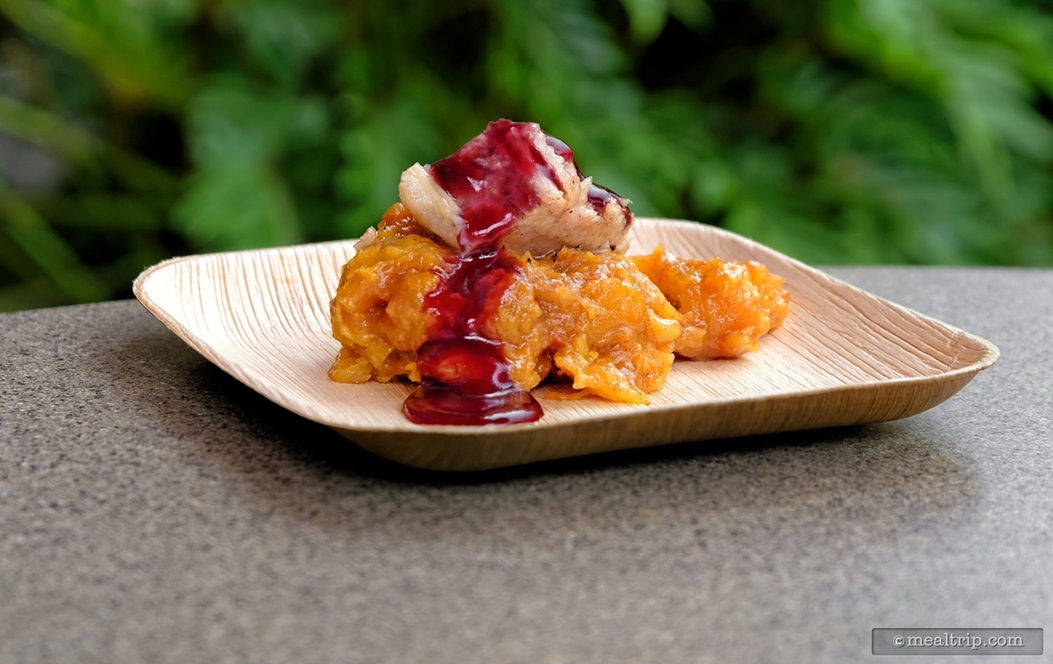 Cinnamon Slow Roasted Pork Belly with Sweet Plantain Mash and a Red Wine Reduction. This is a Gluten Free item for 2019!
Dominican Republic Market
FOOD

Chicken Pinchos — Served with Tostones
Fried Cheese — with Guava Sauce
Coconut Cookie Drops — Homemade Coconut Cookies
BEVERAGES
Dona Paula Sauvignon Blanc "Los Cardos"
"Right Wave" Pinot Noir
Toro Loco Superior Red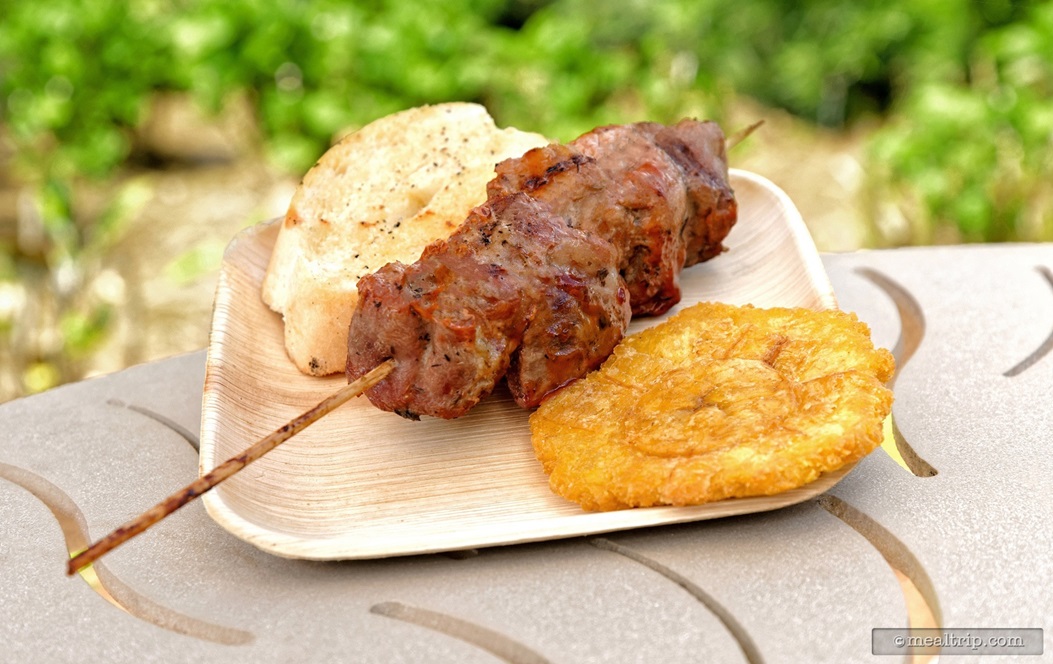 This is a Pork Pincho con Tostones from a previous Seven Seas Food Festival, but we're pretty sure that 2019's Chicken Pinchos with Tostones will look and taste just as authenic as this pork version!
Florida Market
FOOD

Shrimp Cake — with Jicama Slaw and Key Lime Mustard
Wild Boar Smoked Cheddar Sausage — Red Onion Balsamic Chutney and Minorcan Mustard on a Crusty Roll
Shrimp Mac & Cheese — Sustainable Local Shrimp, Bacon Bits, and Green Onion
Key Lime Pie Fritters — Topped with Mango Whipped Cream
BEVERAGES
Freedom Tower
La Finca Miami
Lakeridge Winery Cabernet Sauvignon
Lakeridge Winery Southern White
Lakeridge Winery Southern Red
Frozen Key Lime Martini — Vanilla Vodka, Melon Liquor, Pineapple, Lime Juices, and Heavy Cream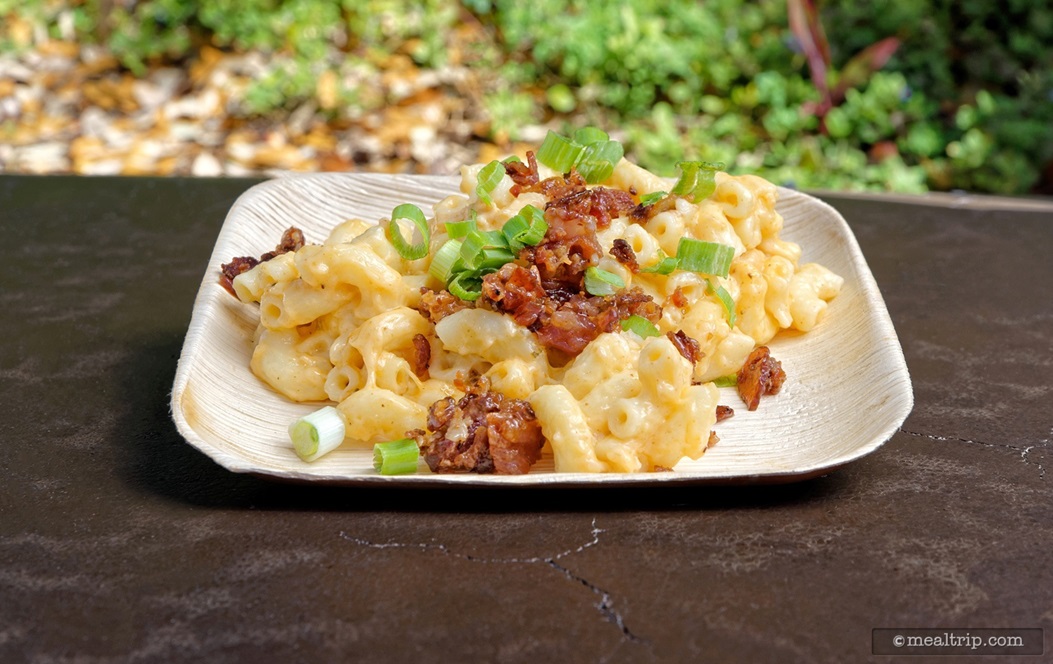 Mmmmm the Shrimp Mac and Cheese features Sustainable Local Shrimp, Bacon Bits, and Green Onion and will be available at the Florida Market for 2019.
German Market
FOOD

Wiener Schnitzel Slider — Breaded Pork Cutlet Topped with Beer Sauerkraut and German Mustard
Pretzel Wrapped Bratwurst — Served with Beer Cheese Fondue
Knockwurst — Served with Red Cabbage and German Potato Salad
Chocolate Dipped Footlong Pretzel
Veg-friendly

BEVERAGES
Paulaner Hefe-Weizen
Henkell Rose
S.A. Prum Essence Riesling
Frozen German Chocolate Cake — Chocolate and Caramel Vodka, Coconut Rum, Coconut, and Chocolate Almond Milk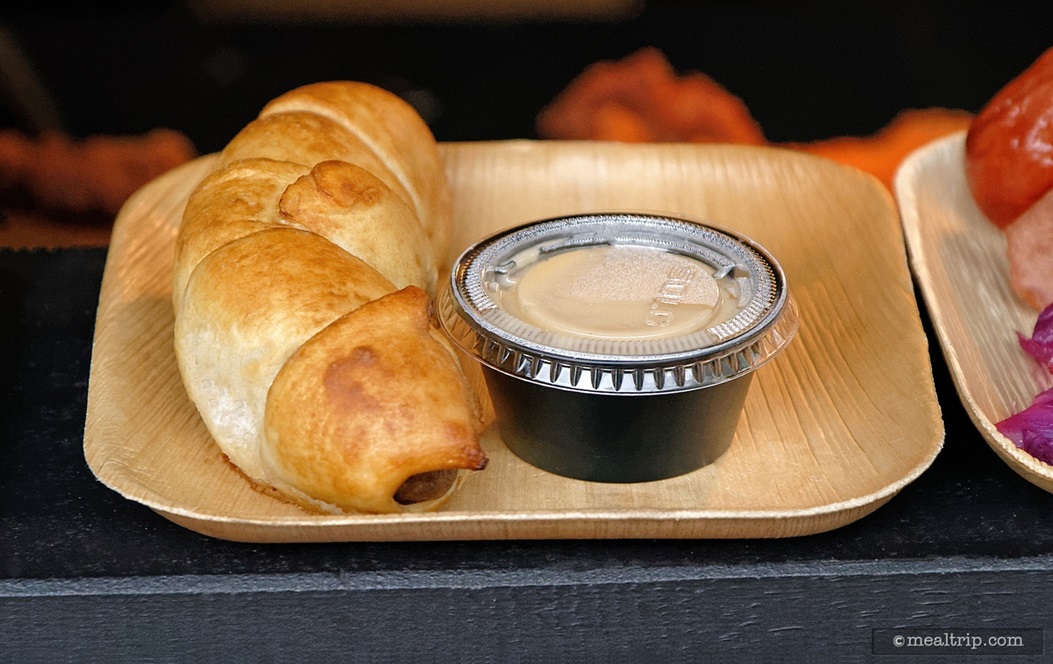 This Pretzel Wrapped Bratwurst was served with Beer Cheese Fondue and will be available at the German Market at the 2019 Seven Seas Food Festival.
Gulf Coast Market
FOOD

Jambalaya — Andouille Sausage and Chicken
Shrimp Po Boy — Smaller Version of a New Orleans Traditional Sandwich
New Orleans Crawfish Boil — Cajun Seasoned with Corn on the Cob and Potatoes
Cajun Lobster Cheesecake — Drizzled with Lingonberry Sauce
BEVERAGES
Mayport Red
Clearwater Honey Cream
Handcraft Petit Syrah
Three Pears Pinot Grigio
Pomelo Rose
Hurricane — Rum, Passion Fruit, Orange and Lime Juices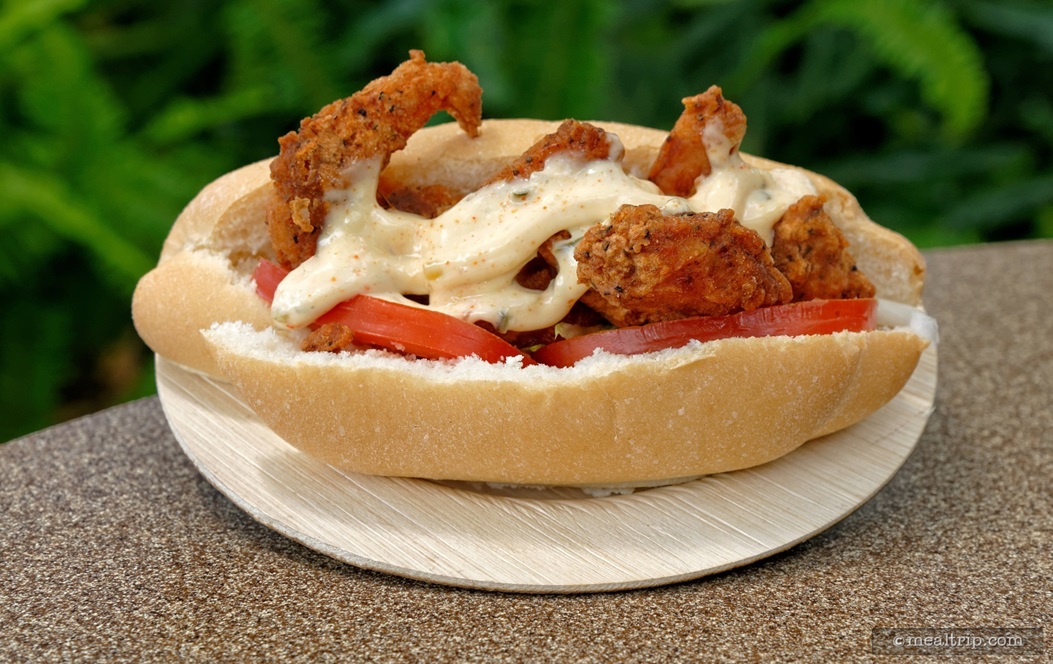 This Shrimp Po Boy was a smaller new twist of the traditional New Orleans classic, and it was oooooh so good! It will be available at the Gulf Coast Market at the 2019 Seven Seas Food Festival at SeaWorld Orlando.
Italian Market
FOOD

Melanzane Alla Milanese — Grilled Eggplant Topped with Prosciutto and Fresh Buffalo Mozzarella
Lasagna — Topped with Romano Cheese Sauce and Marinara Sauce
Caprese Salad — Drizzled with Balsamic Reduction and Olive Oil
Cannolis — Filled with Italian Cream and Mascarpone Cheese, dipped in Pistachios
BEVERAGES
Moretti Lager
Caposaldo Pinot Grigio
Ruffino Chianti
Italian Sunset — Amaretto Liqueur, Orange Juice, Club Soda, and Grenadine
Jamaican Market
FOOD

Jamaican Beef Patty — Flaky Crust Stuffed with Savory Beef (Spicy or Mild)
Curry Goat Stew — Served over Caribbean Coconut Rice
Conch Salad — with Fried Green Plantain
BEVERAGES
Red Stripe
Noble Vine 181 Merlot
Silvan Ridge Early Muscat
Mediterranean Market
FOOD

Sea Scallops Provençal — Served with Wild Mushroom Risotto
Gluten Free

Grilled Lamb Chop — Marinated with Rosemary Mint and Served with Roasted Potatoes and Greek Tzatziki Sauce
Gluten Free

Mediterranean Couscous Salad — Tossed with Feta, Spinach, Olives, Sweet Red Onions, and Peppers in a White Balsamic Vinaigrette
Veg-friendly

Dark Chocolate Guinness Mousse Parfait — Topped with Baileys Infused Whipped Cream
Veg-friendly

BEVERAGES
Peroni Original Lager
Gancia Prosecco
Arinzano Hacienda Chardonnay
Ouzo Lemonade — Ouzo, Lemon, Honey, and Mint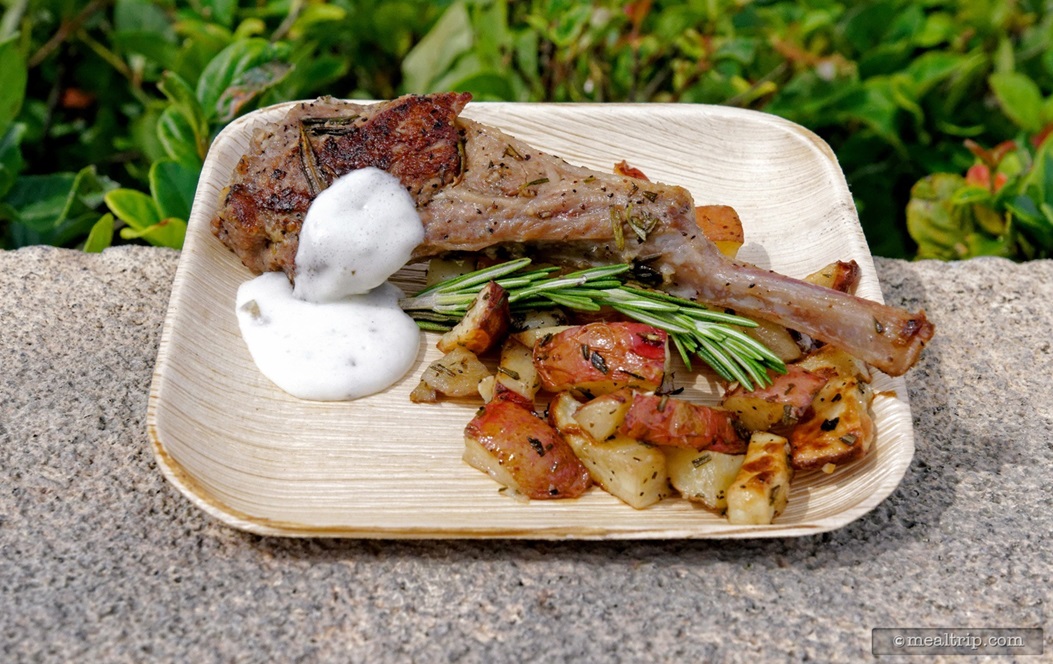 This Grilled Lamb Chop Marinated with Rosemary Mint is a Gluten Free item at 2019's Seven Seas Food Festival and will be available at the Mediterranean Market kiosk.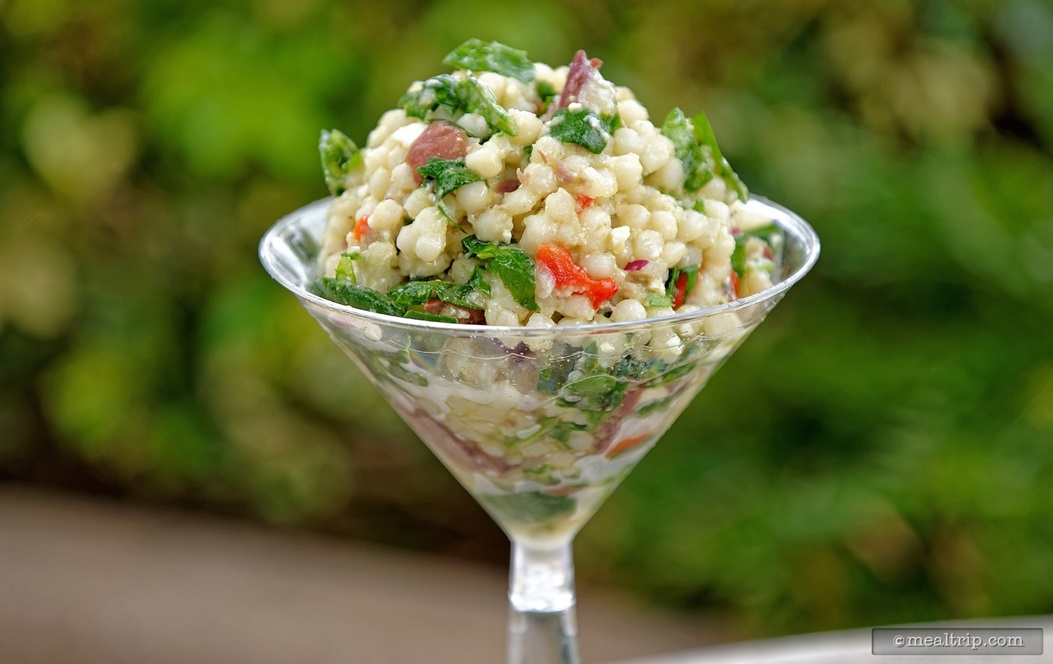 There's so many yummy things at the Mediterranean Market Booth we had to show this one too! This Mediterranean Couscous Salad tossed with Feta, Spinach, Olives, Sweet Red Onions, and Peppers in a White Balsamic Vinaigrette is one of the Veg-Friendly options at the 2019 festival.
Mexican Market
FOOD

Tinga de Res Taco — Slow Cooked Shredded Beef in a Tomato Chipotle Sauce
Esquites — Mexican Street Corn Salad Topped with Mayo, Cheese, Chili Powder, and Fresh Lime
Chile Relleno — Green Chile Stuffed with Mexican Cheese and Topped with Ranchero Sauce
Paletas Frescas — Authentic Frozen Fruit Pops
BEVERAGES
Corona Light Draft
Dos Equis Lager
Colores Del Sol Torrontes RSV
9 Lives Malbec RSV
Frozen Watermelon Lime Margarita
Michelada — Michelada Juice, Beer, and Lime
North Atlantic Market
FOOD

New England Lobster Roll — Served on a Buttered Roll
Bacon & Cheddar Hushpuppies — Cornmeal Fritters Served with Honey Butter
Poutine — French Fries Topped with Hot Gravy and Melted Cheese Curds
Banana Foster Cheesecake Cones — Banana & Caramel Cheesecake Served in a Waffle Cone Topped with Whipped Cream & Caramelized Bananas
Veg-friendly

BEVERAGES
Copper Tail Free Dive
Line of Sight Lager
White Marlin Witber
Riptide — Spiced Rum, Amaretto, Blue Curacao, Lime, and Apple Juice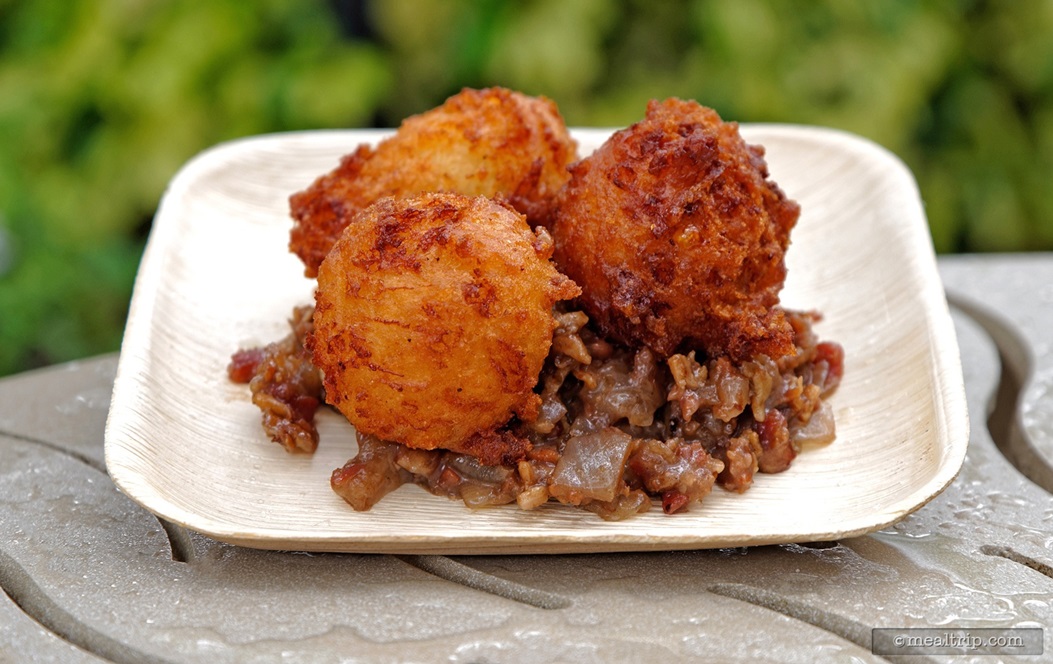 The perfect street-food — these Bacon and Cheddar Hushpuppies are great for drinking beer with (just a suggestion). They will be available at the North Atlantic Market at the 2019 Seven Seas Food Festival.
Pacific Coast Market
FOOD

Salmon Burger Slider — Topped with Lemon Dill Cream and Arugula on a Mini Brioche Bun
Baja Fish Taco — with Cilantro Coleslaw, Fresh Pico de Gallo, and Avocado Cream
Teriyaki Beef and Avocado Salad — Half of an Avocado Topped with Teriyaki Beef and Cheese
Tres Leche Parfait
BEVERAGES
McKenzies Original Cider
3 Daughters Beach Blonde
North by Northwest Riesling
North by Northwest Red Blend
Drumheller Chardonnay
West Coast Festival Sangria — White Wine, Elderflower Liquor, Pineapple, and Lemon
Polynesian Market
FOOD

Lumpias — Spring Roll filled with Pork and Served with Thai Pineapple Sauce
Spam Musubi — Sliced Grilled Spam on Top of a Block of Rice, Wrapped with Nori
Oahu Poke Bowl — Hawaiian Style Smoked Salmon and Seared Tuna over Seaweed Salad and Steamed Rice, Topped with Sweet Thai Chili Sauce
Hawaiian Pineapple Dream Cake — Pineapple Cake Topped with Cream Cheese, Whipped Cream and Pineapple
Veg-friendly

BEVERAGES
Kona Big Wave Golden Ale
Kona Fire Rock Pale Ale
Frozen Pina Colada — Pineapple, Coconut, and Rum
Puerto Rican Market
FOOD

Mofongo
Bacalaitos — Thin, Crispy Salted Codfish Pancake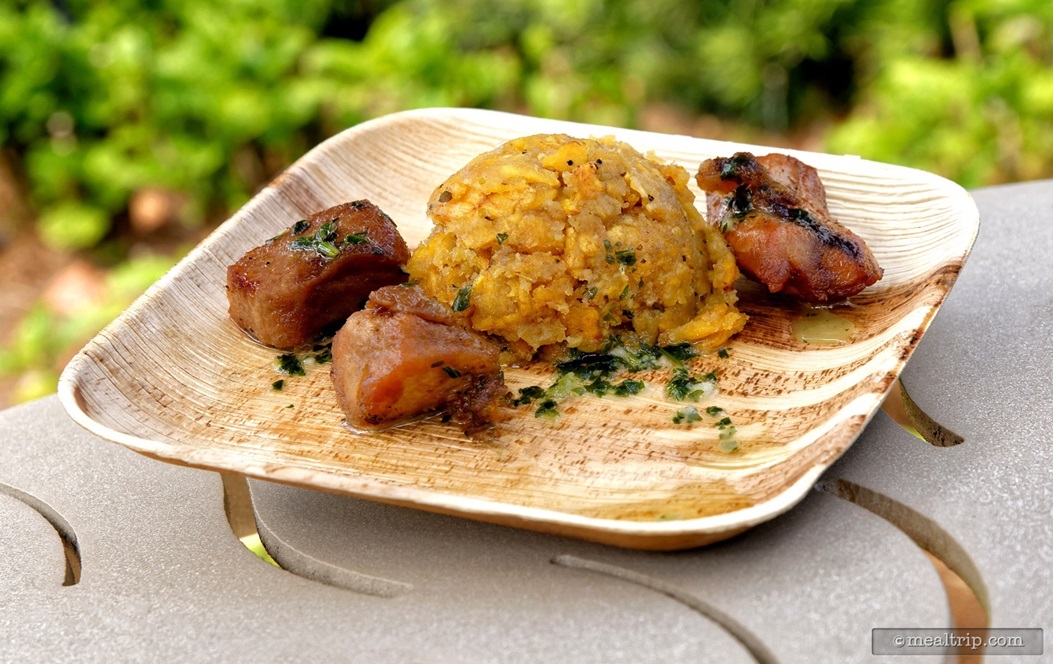 Mofongo with Carne Frita will be featured at the Puerto Rican Market at SeaWorld Orlando's Seven Seas Food Festival for 2019.
Sweets Market
FOOD

Donut Ice Cream Sandwich — Cinnamon Dusted Donut Stuffed with Vanilla Ice Cream and Rolled in your Favorite Topping
Loaded Mini Donut Bites — Chocolate, Caramel, Whipped Cream, Nuts, and a Cherry
A Baker's Dozen : Warm Cinnamon and Sugar Mini Donuts
Vegan Market
FOOD

Impossible Meat Slider — Caramelized Balsanic Onions, Jalapeno Ketchup, and Fresh Arugula on a Mini Pretzel Bun
Veg-friendly

Avocado Corn Tostadas — Crispy Corn Tostada Topped with Homemade Guacamole, Pico de Gallo, and Vegan Cream
Veg-friendly

Homemade Nutty Butter Protein Bar — Vegan Brown Rice, Peanut Butter, Caramel, and Nuts drizzled with Chocolate
Veg-friendly

BEVERAGES
Magners Pear Cider
Accomplice Black Cherry
Keel and Curley Mango Cider
Finca El Portillo Malbec
Portillo Sauvignon Blanc
Portillo Malbec Rose
Hibiscus Flower Red Sangria — Red Wine, Fruit, and Hibiscus