Food & Craft Beer Menu Items for the 2018 Craft Beer Festival at SeaWorld Orlando
November 2nd, 2018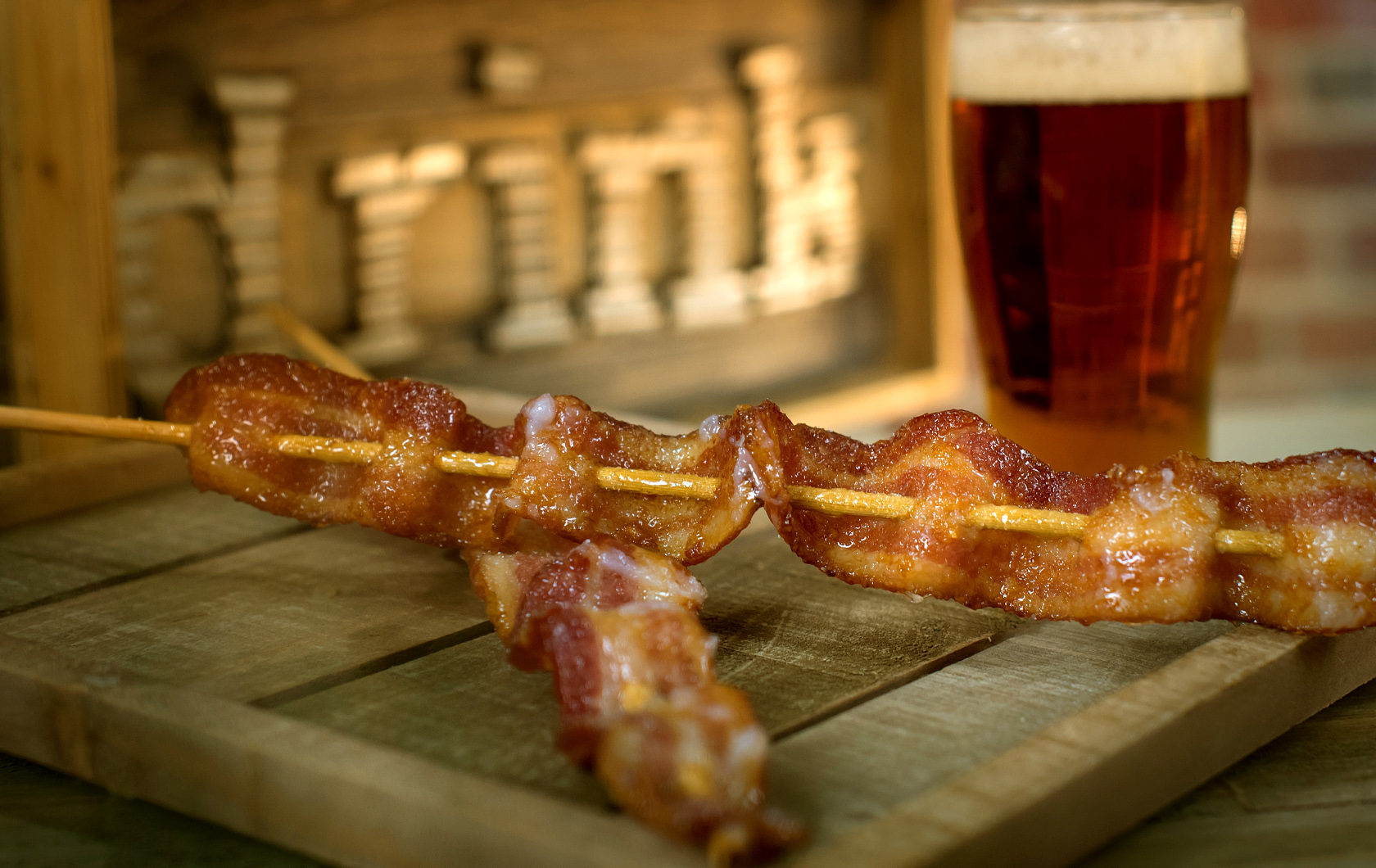 We have a more complete list today of the food items, beer selection, and their locations throughout the park for the upcoming Craft Beer Festival at SeaWorld Orlando.
Because the park's normal "festival area" is transitioning from Halloween to Christmastime activities, the Craft Beer Festival booths and sampling locations are being offered at kiosk and other permanent dining locations around the park (or more like, around the large lake on the right-hand-ish side of the park).
Here's a text-based list of the food items and their locations for the first ever 2018 SeaWorld Craft Beer Festival. (For beer locations, it gets a little more complicated… scroll down under the food list to read more about the beer selections and locations.)
Christmas Market (in front of Voyagers)
Candied Bacon Lollipops - Sweet and Savory Candied Bacon Served on a Wood Skewer
Beer Brats - Served with Onions and Kraut and topped with Whole Grain Mustard
Christmas Market and Beverage Hut (across from Spice Mill)
Chorizo Potato Skins - Topped with Quesa Fresco, Onion, Cilantro and Avocado Crema
Beer Corn Fritters - Served with a Sriracha Aioli
Flamecraft Bar
Jumbo Chicken Wings - Chicken Wings tossed in a Pilsner Buffalo Sauce served with Tangy Slaw
Buffalo Burger Quesadilla - Pepper jack cheddar cheese blend, balsamic onions, baby arugula crème fraiche, and a roasted tomato salsa
Mama's Pretzel Kitchen Patio Bar
Infused Bacon Cheddar Pretzel
Nutella Pretzel
Shark's Bar
Shark's Deep Fried Pickles - Deep Fried Breaded Spears served with Horseradish Remoulade Sauce and Ranch Dressing
Roasted Red Pepper Hummus - Kalamata Olives, Tomatoes, Green Onions and Feta Cheese served with Naan Flatbread Dippers
Shark's Kiosk
Poutine - Fries, Brown Gravy, and Cheese Curds
Bison Slider - Served with Lager Bacon Onion Jam and Minorcan Mustard
Shark's Treat Market
Fish and Chips - Traditional Fish and Chips, Beer-Battered Haddock served with Sea Salt Fries
Sea Harbor Soft Serve Market
Beer Floats - Your choice of Brew served over Vanilla or Chocolate ice cream with whip topping, maraschino cherry, choice of chocolate, nutter butter or caramel sauce

Brown Sugar Brown Cow Mocha Brown Ale
Nutter Butter Cup Peanut Butter Porter
Black Cherry Candy
Brekenridge Vanilla Porter
Dead Lizard Komodo "Koko" Dragon Chocolate Stout
Golden Road Tart Mango
Waterway Bar
"Sweet & Spicy" Maple Chili Kettle Corn
BBQ Brisket Mac-N-Cheese - Jalapeno Cheddar Pepper Jack Cheese Sauce, BBQ Brisket, topped with Spiked BBQ Sauce and Parmesan Garlic Crust

Craft Beer Selections
Okay… the craft beer. It's still not clear if all of these will be "on tap" or not. If it's similar to Busch Gardens Beer Festival that took place earlier this year, probably not… there will be mix of cans and taps throughout the park. However, some of the locations that have been selected as having "festival craft beer", are permanent dining locations… that do in fact, have draught beer lines installed… so there does seem to be an effort to get as many of these craft beers being served from as cask or keg as possible.
Here's a text-based list of the craft beers and their locations for the first ever 2018 SeaWorld Craft Beer Festival.
Beverage Hut (near Cafe De Mar)
Crooked Can Barrel Breaker
Funky Buddha Floridian
Highland Mandarina
Intuition People's Pale
New Belgium Ranger
New Belgium Fat Tire
Beverage Market (in front of Voyagers)
Lagunitas IPA
Orlando Brewing I4 IPA
Orange Blossom Back in the Day IPA
Captain Pete's Island Hot Dogs
Florida Avenue
Key West Sunset Ale
Flamecraft Bar
White Walking Tree IPA
Captain Ron
Sam Adam's Summer Ale
Wailua Wheat
People's Pale Ale
Awake Coffee Blonde
Winewood Brewing Co. Pop's Porter
Hazelnut Brow
Brew Hub Rome City
Wavemaker Amber Ale
Freedom Rider
Key Lime Chamelon
Infinite Ale Raspberry Wheat
Intuition Easy on the Eye
Stella Artois
Pineapple Beach
Bold City Killer Whale Cream Ale
Sea Dog Blueberry
3 Daughters Key Lime Apple Cider
East West IPA
Mango Joe's
Crooked Can Bliss
Pairdice Honey Cream
Mama's Pretzel Kitchen
Keel and Curley Mango Hard Cider
Blue Moon Belgian White
Sam Adams Seasonal
Deja Moo Stout
3 Daughters Bimini Twist IPA
Orlando Blonde Ale
Big Top Conch Republic
Mako
Mama's Pretzel Kitchen Patio Bar
Fat Point Brewing Ryeght Angle IPA
Big Storm Tropic Pressure
Bold City Mad Manatee IPA
Deadly Sins The Grove
Winwood Brewing La Rubia
Ocean Sun Brewing Bumby Blonde
Seafire Grill
Jai Lai
Kirin Ichiban
Florida Lager
Shark Treats
Caribe Cider Company Caribe Blood Orange
Caribe Cider Company Caribe Keylime
Shark's Bar
Magic Hat #9
Stella Artois
Shark's Market (Spicemill Backyard)
Traveler Seasonal Shandy
Nosh Tangerine
Shark's Plaza Market (in front of Fins)
"You're My Boy Blue" Blueberry Wheat Ale
Orange Crush Wheat
Lucky Lucy Strawberry Blonde
BabyCakes Oatmeal Stout
Karbach Brewing Lemon Ginger
Florida Beer Company Sunshine State Florida Larger
Sea Harbor Soft Serve Market
Brown Sugar Brown Cow Mocha Brown Ale
Nutter Butter Cup Peanut Butter Porter
Black Cherry Candy
Breckenridge Vanilla Porter
Dead Lizard Komodo "Koko" Dragon Chocolate Stout
Golden Road Tart Mango
Spice Mill
Duke's Bold City
Infinite Trails Pale Ale
Orlando Brewing Pale Ale
Spicemill Market and Hut
Salt Water Sea Cow
New England IPA
Sam Adams 76
Sierra Nevada Torpedo
Midnight Swamphead
Ocean Sun Brewing Conch Cruiser
Voyager's Smokehouse
Night Swim
Shock Top
Guayabera
Waterway Bar
Yuengling
Cigar City
Big Nose Swamp Head
Wild Night Swamp Head
Midnight Espresso Motorworks Brewery
Wailua Ale Tropical Passion Fruit Kona Brewing
Shock Top Belgian White
Stella Artois
IPA 1A
Ale with Citrus Zest Florida Avenue
Accomplice Brewery and Cider Works
Fresh Catch Tag and Release Sailfish Brewing Company
Welcome Center
Abita Purple Haze
Ace Blood Orange Cider
Boulevard Tropical Pale
Blue Moon Mango
Cigar City Florida Cracker
Coppertail Wheat Stroke
The brand new SeaWorld Craft Beer Festival for 2018 takes place on November 3rd (Sat), 4th (Sun), 10th (Sat), and 11th (Sun). Be sure to check back with us for some reviews and photos as the festival gets underway!
To check out SeaWorld's official information page for the 2018 Craft Beer Festival,
click here
.