Penguin Trek - A New Family Coaster Set to Open at SeaWorld
A Cool New Snowmobile Themed Adventure Coaster for 2024
September 28th, 2023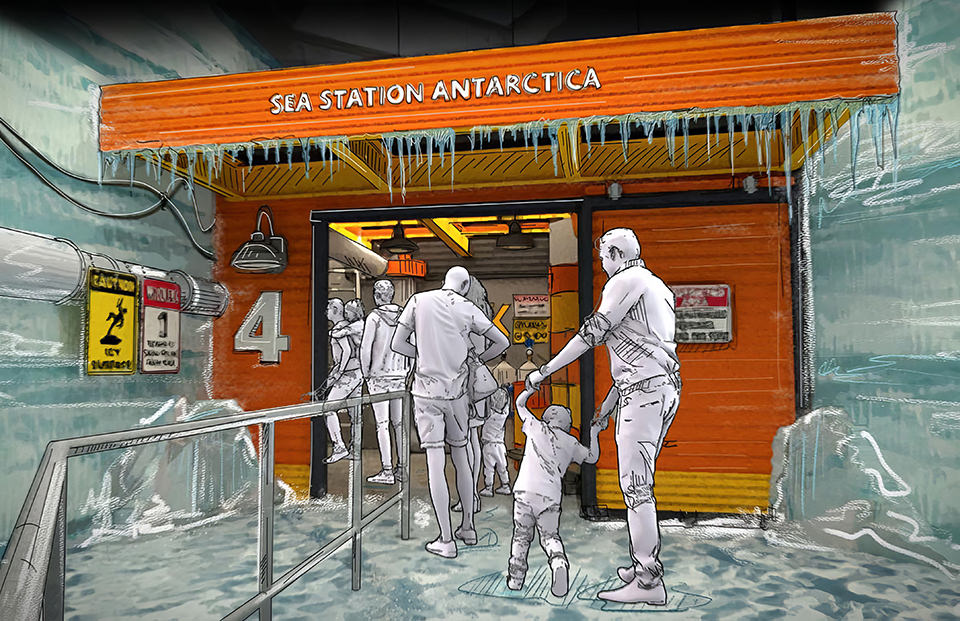 One of the main attractions in the Antarctica section at SeaWorld, Orlando is a really cool penguin habitat — that used to have a ride (Antarctica: Empire of the Penguin), that was set up a bit like a "pre show" journey into the cold depths of Antarctica. At some point though, the ride part — disappeared and the empty trail-o-missing-ride became a walk-through path, and sometimes even a walk-around, past and skip entirely.
While this is totally an editorial comment on my part — I suspect, the very cool and complex, track-less penguin ride vehicle that used to be here — ended up being a little expensive to maintain.
Fortunately, it sounds like the space won't be empty for much longer. SeaWorld has announced that they are building a "family style" coaster with a minimum ride height of just 42 inches.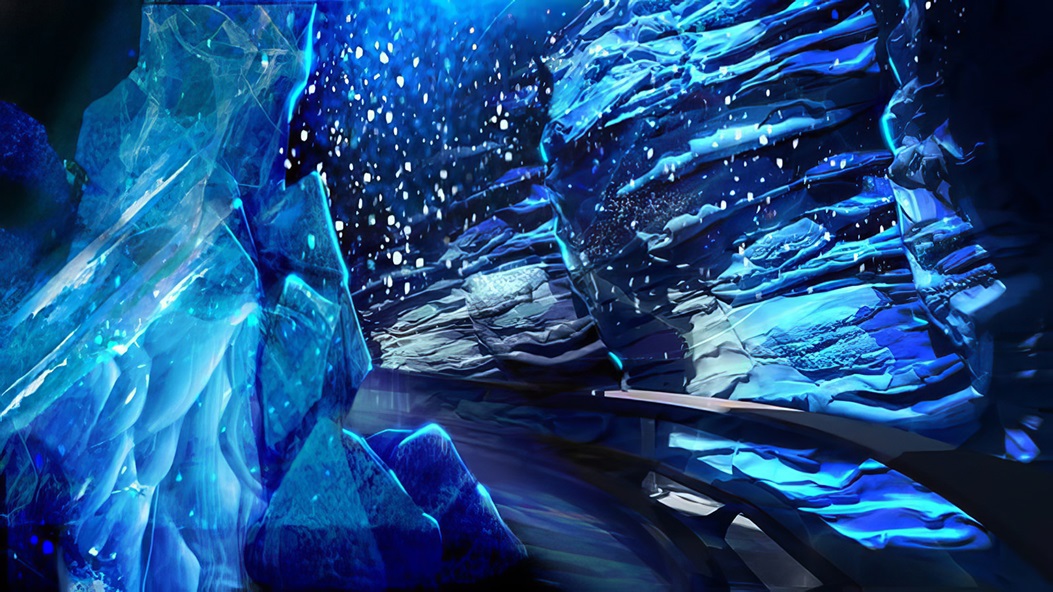 One of the concept art pieces for SeaWorld's new Penguin Trek coaster show a snowstorm in one of the interior scenes.
The indoor and outdoor coaster will be called "Penguin Trek" and it's set to open in the Spring of 2024.
I'll paste in the marketing copy that I have from them, so you can read it for yourself — but it sounds pretty cool to me. Again, this is just editorial commenting from me — but they do mention the ride will get up to 40+ miles per hour at some point — so this isn't going to be a "kiddy coaster".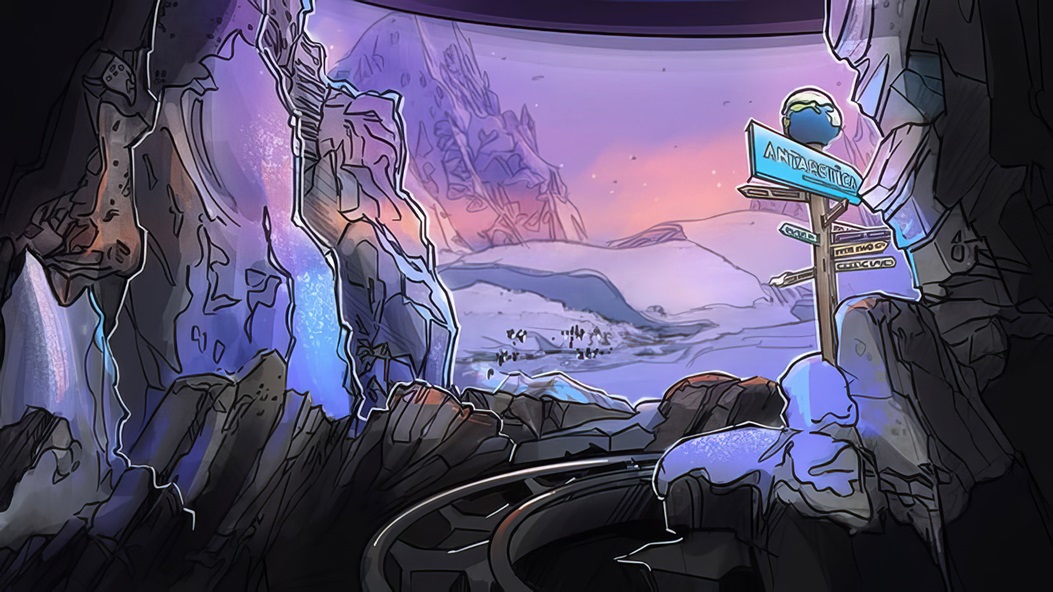 A concept drawing for one of the interior scene from SeaWorld's new Penguin Trek family coaster.
There's also an interesting ride height maximum of 77 inches — which might suggest this is going to be more than just a long outdoor track. SeaWorld's concept art for the new attraction shows a good amount of indoor theming, so there's probably going to be some indoor twists and turns in tight spaces. The Bolliger & Mabillard designed coaster is said to have 3,020 feet of track, includes two launches with cars that look a bit like snowmobiles.
Here's the official words from SeaWorld…
This will be the coolest research mission you've ever joined! Prepare for Penguin Trek, an unforgettable family launch coaster adventure through the breathtaking vastness of Antarctica.
Board your snowmobile and race along with your expedition team at up to 43 miles per hour, navigating twists and turns and narrowly escaping the crumbling hazards of an icy cavern.
Reach the end and you'll make the ultimate discovery: a real penguin habitat! This new indoor/outdoor family ride is the most immersive addition to the Coaster Capital of Orlando, and with a height requirement of just 42", it's the perfect journey for families to share.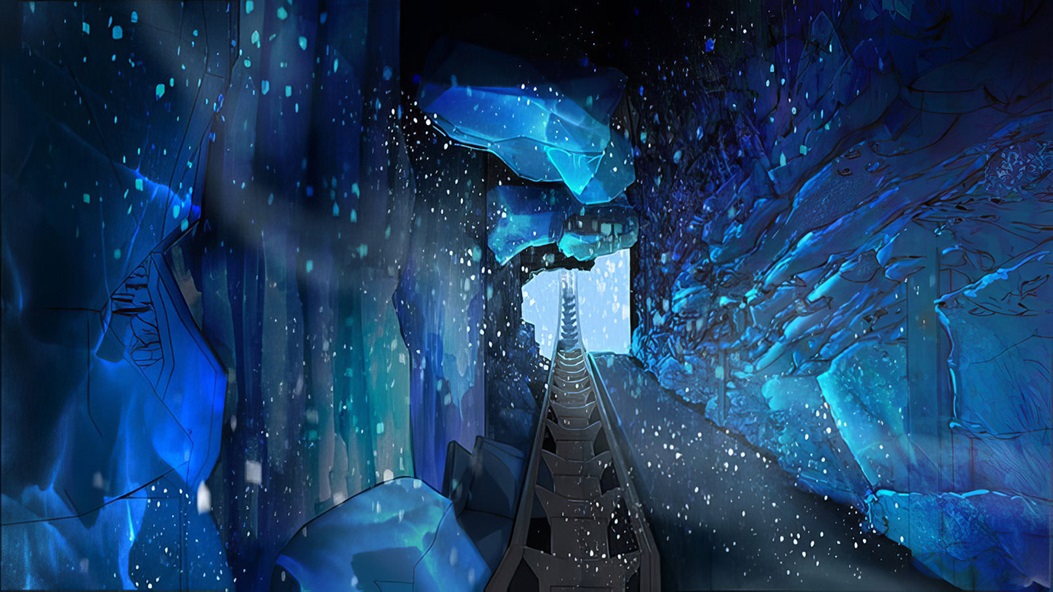 This is concept art for SeaWorld's new Penguin Trek — and one of the launches that takes riders from the inside to the outside — where the coaster will hit speeds just above 40mph (for a short period of time).
… SeaWorld is really good about giving their annual passholders different levels of previews when we get closer to the ride's opening date. If you're interested in being the first to ride, and/or getting a dedicated preview time slot — any of SeaWorld Annual Passes would be a good way to do just that.
We'll keep you posted if we hear anything else on this one — like a menu or theme refresh at this area's main dining location
Expedition Cafè
— which has fallen a bit off from the high marks that it had opened with. Hopefully, that's not just wishful thinking on my part... it would seem to be a great time to make some changes here as well.