Loews Resorts at Universal Orlando
Harbor Nights Romantico 2022 Menu Items and Prices
February 8th, 2022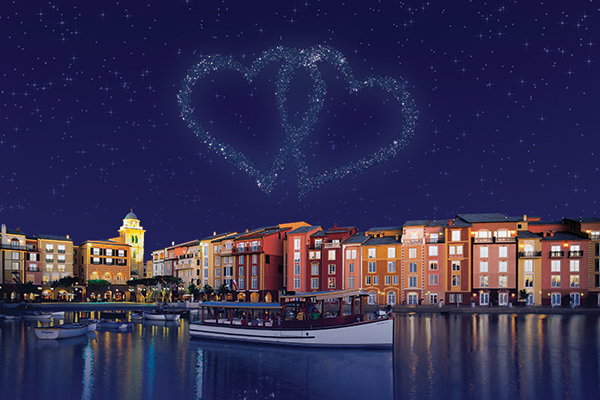 The Harbor Nights Romantico event the Loews Portofino Bay Hotel
is just days away (Friday, February 11th, to be exact)! It's probably too late at this point to get a "VIP Ticket" (they sell out extremely quickly) but I'm sure some "Standing Tickets" are still available.
All of the Harbor Nights events follow a similar format… but each specific seasonal night features different decor, music, and food items. Each of the resort's restaurants bring a tapas style, plated version of a dish that represents their location.
If you would like to take a look at some photos from one of the previous
Harbor Nights Primavera
events that takes place in the spring,
click here
.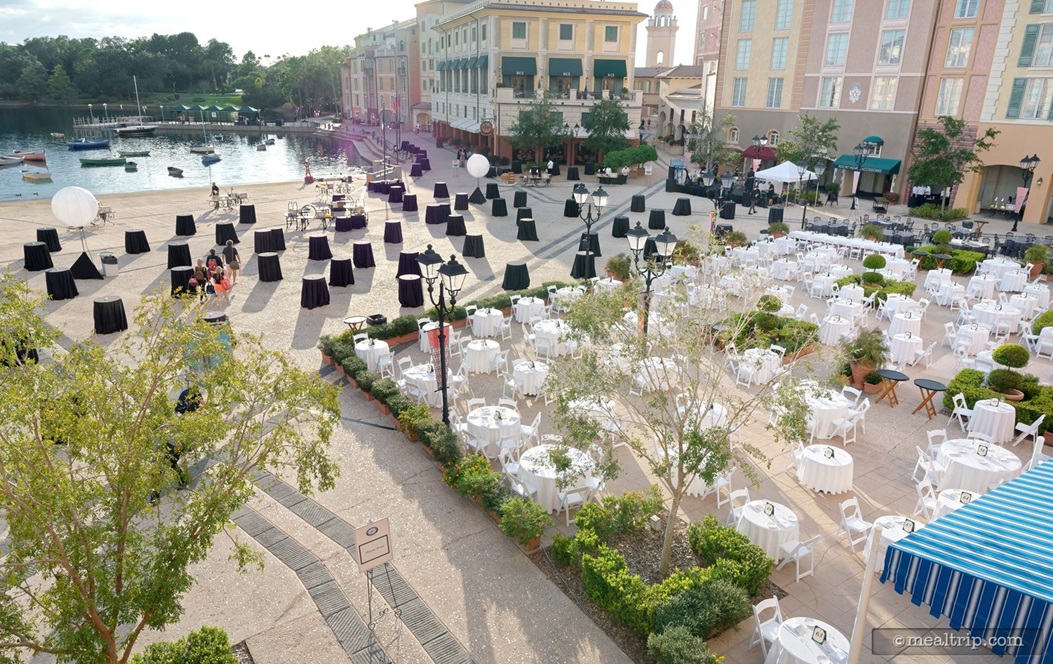 The Harbor Nights Romantico event takes place in the vast piazza (courtyard) behind the Loews Portofino Bay Hotel. In this photo, the VIP Tables are on the right (white tablecloths) and the General Ticket tables are on the left (black tablecloths with no chairs).
The all-inclusive event features some great entertainment with a live band and dancing area, along with a couple of opera singers for good measure, free self-parking, and as many samples of the food and beverages listed on the menu below, for the duration of the event.
A $69 (per person, plus tax and ticket fee ends up being $79.70) "Standing Ticket" includes all of the above, but does not guarantee a table or a seat. Some "high boy" type of strolling tables are available, but are very limited — and there really are only a handful of chairs here and there.
A $99 per person, plus tax and ticket fee ends up being $113.59) "VIP Ticket" includes all of the above, plus gets you a reserved table and seating in a special area with an additional hors d'oeuvres plate — along with some exclusive food and wine sampling stations (where the lines aren't as long as they are in the general "standing" area).
Here's a look at the menu for the Harbor Nights Romantico 2022 event!
Food Stations
Gamberi alla Busara
Toasted citrus orzo salad, grilled ciabatta bread.
Mama Della's Ristorante
Crispy Ricotta and Spinach Gnudi
Jerusalem artichoke, burro bruno e salvia.
Trattoria del Porto
Braised Pork Belly BLT
Sundried tomato, shaved fennel slaw, focaccia.
Splendido Bar & Grill
Crocchette di Patate
Wild mushroom, fontina cheese, fig balsamic reduction.
Sal's Market Deli
Honey Pistachio Crusted Salmon
Barley Vegetable Salad
Bice Ristorante
Desserts


Raspberry Sorbet
Mint Chocolate Chip Gelato
Chocolate Ganache Cake
White chocolate strawberry graham cracker crumble verrine.
Sparkling Wines
Prosecco Brut
Lunetta — Italy
White Wines
Valdadige Pinot Grigio
Barone Fini — Italy
Chardonnay Sicilia
Stemmari — Italy
Chardonnay Puglia
Tormaresca — Italy
Orvieto Classico Campogrande
Santa Cristina — Italy
Moscato Terre Siciliane
Stemmari — Italy
Red Wines
Sangiovese Terre Di Chieti
Fantini — Italy
Cabernet Sauvignon Sicilia
Musita — Italy
Tuscan Red
Querceto — Italy
Toscana Rosso
Santa Cristina — Italy
Primitivo Neprica Puglia
Tormaresca — Italy
Dinotte Red Blend Vigneti Delle Dolomiti
Mezzacorona — Italy
Chianti
Querceto — Italy
Chianti Superiore
Ruffino — Italy
Cabernet Sauvignon Sicilia
Stemmari — Italy
More information and a direct link to purchase tickets is available directly from the Harbor Nights Romantico 2022 official event page —
click here
to open that in a new window.