A Closer Look at the Bauernmarkt Outdoor Kitchen Food Kiosk
March 11th, 2016
For this year's Outdoor Kitchens, I'll just be visiting a couple of the kiosks, and writing about what I've found. Up first… the "Bauernmarkt : Farmer's Market" kiosk (which is new for 2016).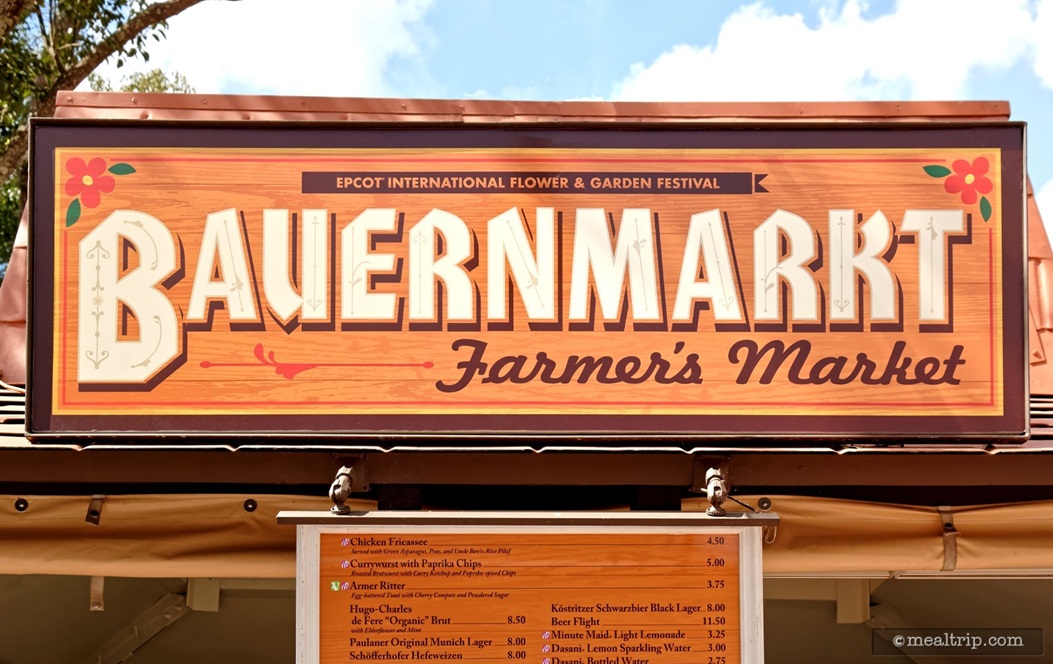 The Bauernmarkt sign above the kiosk.
The Flower and Garden Festival food kiosks aren't tied into specific countries per say, but are more regional… as such the Bauernmarkt kiosk is close to the Germany pavilion, but the food items could also take cues from neighboring countries such as Belgium, Austria, and Poland.
The booth's physical location, isn't where I was expecting it to be. For those of you that are familiar with festival kiosk placement, it's sort of where the Poland kiosk is located during the Food & Wine Festival. There is a really nice area that has been sculpted out of the landscape (beside the Snow White meet and greet on the inside of the World Showcase walkway), that is used for a make shift mini-beer garden during Food & Wine… that is sitting empty at the moment. Strange, but true. Perhaps there's more plans for that area, later in the festival.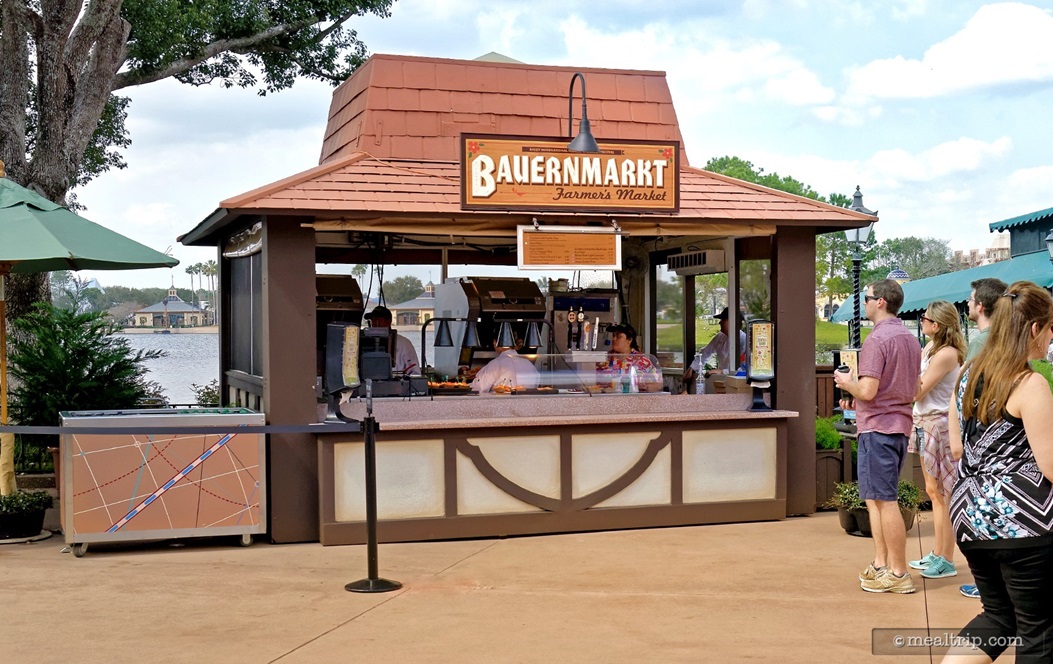 The Bauernmarkt kiosk at Epcot's 2016 Flower and Garden Festival.
The price -vs- portion size is pretty good at the Bauernmarkt, as is the case for the Flower and Garden Outdoor Kitchen kiosks in general (compared to the Food and Wine Festival that is).
The kiosk's first item, "Chicken Fricassee" would easily appeal to a broad range of guests, there's nothing "crazy new or risky" about this dish. That's okay though, because it's a really good take on Chicken Fricassee. The best way to describe it would be chicken in a white wine sauce that's a bit heavier than a sauté, but not to the point where it's stewed chicken (and in Epcot's case, pretty light the white wine sauce too… slightly salty white sauce, yes… white wine… not so much.) The vegetables are fresh, and you can taste each and every component of the dish.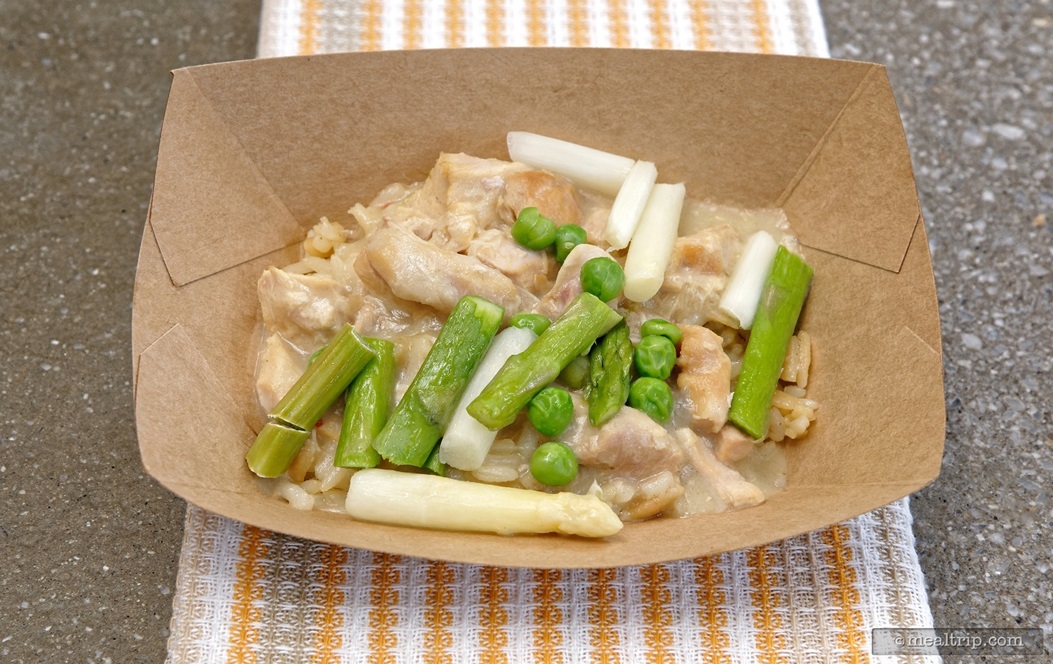 Chicken Fricassee from the Flower and Garden Festival's Bauernmarkt food booth features green and white asparagus.
The "wow" item (for some) in this one is the addition of White Asparagus to the mix. Many are familiar with the green version of this stalky vegetable, and may not even know about it's colorless sibling. It's flavor is milder than green asparagus and if cooked properly, has a bit more of a Water Chestnut texture (but not flavor) to it, than traditional Asparagus. White Asparagus, is grown underground (if you were wondering), or in more modern gardens, in tubes. It's the lack of sunlight that causes them to be white, and more root-like.
At $4.50, the Chicken Fricassee is a great item that even the less adventurous eaters will enjoy.
Next up, the Gluten-friendly Currywurst with Paprika Chips. The Curry Ketchup is sweeter than I thought it would be, almost to the point of being fruit-like… almost. When it's combined with the Roasted Bratwurst, something odd happens. You get about 2 seconds of happy eating, and then end up saying to yourself "wow, this is a really fatty practically unseasoned Bratwurst". I don't think it's the Bratwurst's fault. It may pair extremely well with say, mustard… but because it's so very opposite of what the fruity Curry Ketchup is… the wrong parts of the Bratwurst experience is highlighted.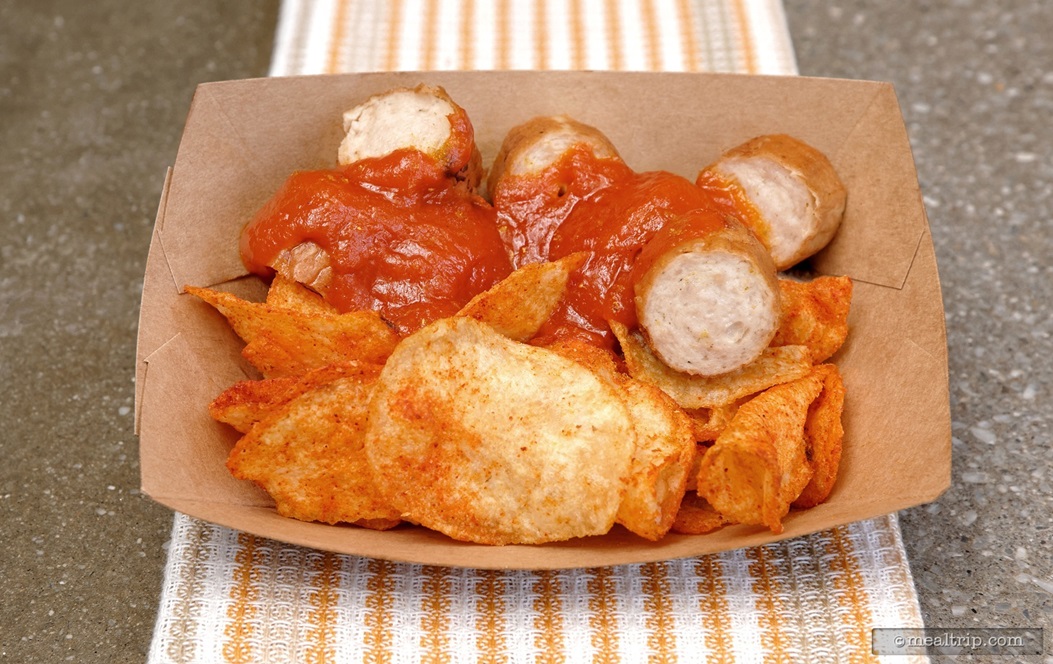 Currywurst with Paprika Chips with Curry Ketchup is sure to be a favorite at the 2016 Bauernmarkt kiosk.
The Paprika Chips with the Curry Ketchup however… are amazing. I was kind of glad when all the Bratwurst was gone, and only had chips and ketchup left. As odd as it may sound… that's your dish right there… chips and ketchup. You just can't stop eating them!
Even though this is the most expensive item on the menu ($5.00) I'm sure it will be the most purchased thing at the kiosk. It just "reads" well on the menu board… and seems like the best thing to pair beer with.
Finally, the Armer Ritter. At $3.75, it gets a Must-Try vote from me… it's a great dish at a great price… if you like cherries. Arme Ritter is basically Egg-battered French Toast from Germany. Epcot added an "r" to the mix and came up with Armer Ritter which is French Toast from… Epcot apparently??? I don't know… I couldn't find anybody that could explain the addition of the "r" to me.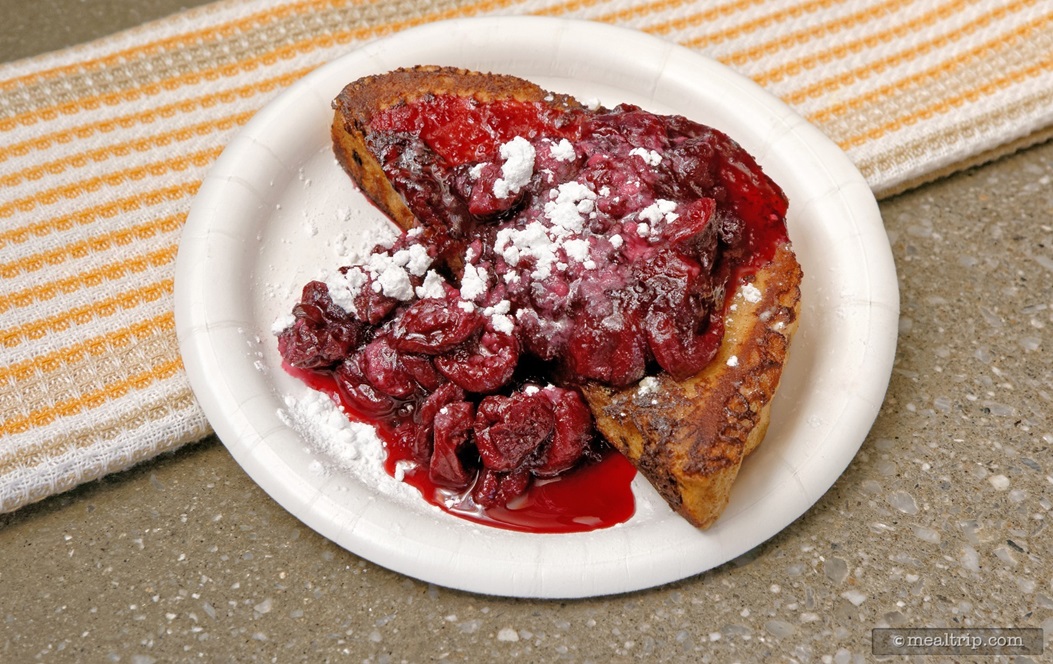 A great "dessert" item at $3.75 the "Armer Ritter" shouldn't be missed... if you like cherries that is. This one tastes way better than it looks.
There is the addition a punchy, cold Cherry Compote on top, (that I would guess was cooked down with a red wine before maceration… or at least that's what I would do)… and some powdered sugar. Now, just as a style note… you guys have to stop adding the powdered sugar, and then let the dish sit there for 10 minutes under a heat lamp. Sure, it tastes fine, but powered sugar disappears pretty quick when it comes in contact with any sauce. Our photos of the poor dish… don't look nearly as good as it tastes!
If you're willing to do a little leg work… there's a Shipyard Maple Bacon Stout over at "The Smokehouse: Barbecue and Brews" kiosk that pairs perfectly with the Bauernmarkt's Armer Ritter. I just wish they were closer together!
All in all, the Bauernmarkt kiosk is a great addition to the festival. There's something to like about each of the food items that are available, and a couple of good beers too, (if you're okay with medium to dark weighted beers). The Hugo-Charles Brut with Elderflower and Mint… well, if it's got Brut in it, I'll drink it but the beer flight is going to provide you with more flavor profiles.
The Epcot International Flower and Garden Festival is super long, running from March 2nd to May 30th, 2016... and the 13 Outdoor Kitchen food kiosks are open every single day, from 11am until the fireworks start. Monday through Thursday is an especially great time to visit the kiosks because crowd levels are a little lower than they are on the weekends.