Candlelight Processional Celebrity Narrator List for 2021
November 10th, 2021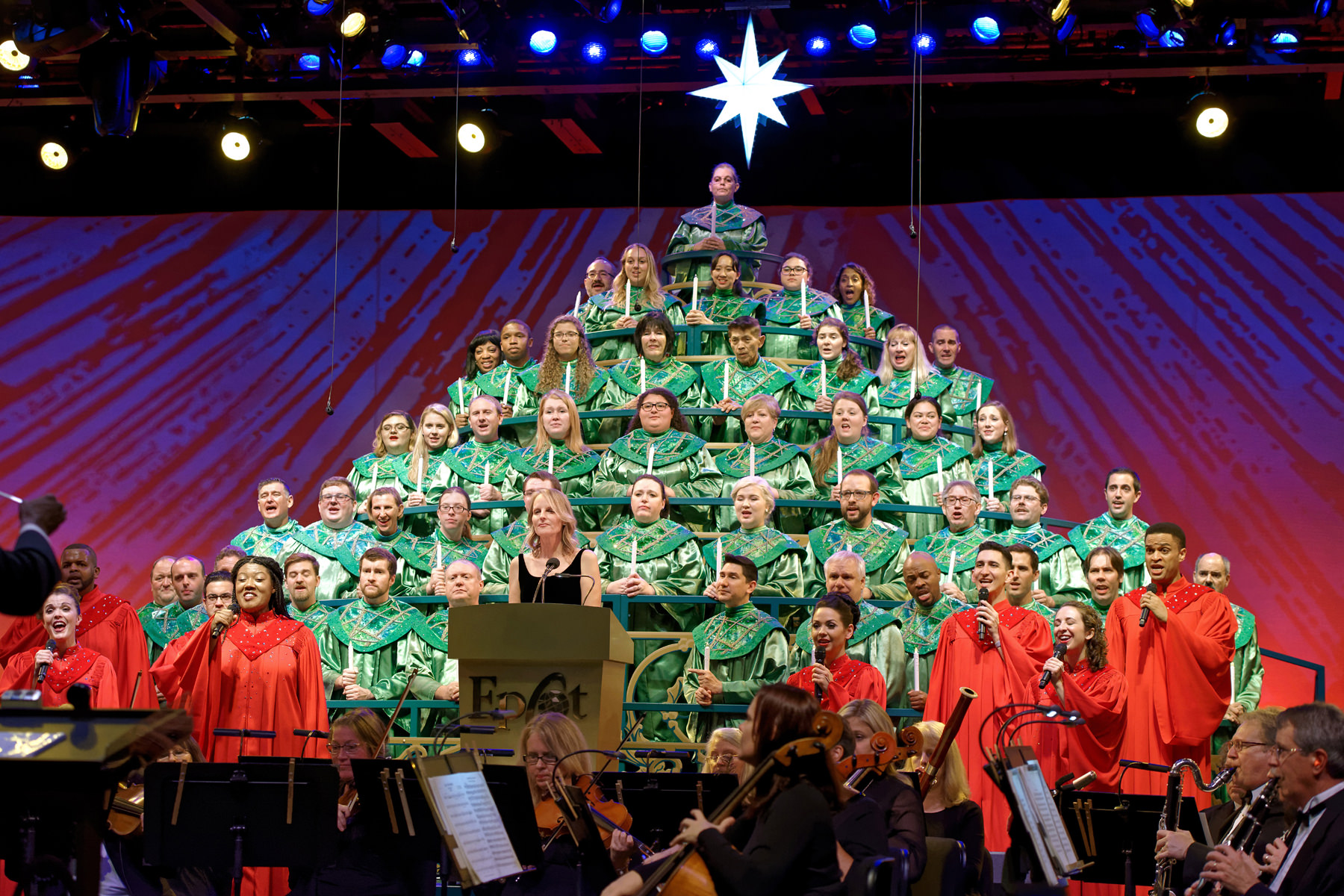 The Candlelight Processional
is a holiday tradition at Epcot that takes place during the park's Festival of the Holidays. It's a full-scale 40 minute production where a celebrity narrator tells the story of Christmas — recounting the biblical tale of a savior born in Bethlehem. The production features a 50-piece orchestra and a large choir.
This year, the following celebrity lineup will lend their talents to the performance:
Auli'i Cravalho
November 26 through November 28 (Friday, Saturday, Sunday)
Chita Rivera
November 29 through December 1 (Monday, Tuesday, Wednesday)
Jodi Benson
December 2 through December 4 (Thursday, Friday, Saturday)
Alton Fitzgerald White
December 5 through December 7 (Sunday, Monday, Tuesday)
Bart Millard
December 8 through December 10 (Wednesday, Thursday, Friday)
Lisa Ling
December 11 through December 13 (Saturday, Sunday, Monday)
Andy Garcia
December 14 through December 16 (Tuesday, Wednesday, Thursday)
Ana Gasteyer
December 17 through December 19 (Friday, Saturday, Sunday)
Courtney B. Vance
December 20 through December 22 (Monday, Tuesday, Wednesday)
Steven Curtis Chapman
December 23 through December 25 (Thursday, Friday, Saturday)
Blair Underwood
December 26 through December 28 (Sunday, Monday, Tuesday)
Pat Sajak
December 29 through December 30 (Wednesday, Thursday, Friday)
Celebrity narrators, dates and other entertainment are subject to change or cancellation without notice.
Oh, There's Dining Packages
Technically, the Candlelight Processional is seated on a first-come, first-served basis. However, guests that have purchased a "Candlelight Processional Dining Package" get to wait in a special line on the side of the American Gardens Theater, while guests that did not purchase a dining package have to wait on the opposite side of the theater.
Before show time, all of the Candlelight Processional Dining Package guests are let into the theater first. Once all of the dining package guests are seated — any other guests in the "stand by" line are let in. Since capacity is limited, just getting into the "stand by" line, does not guarantee you'll get into the theatre to see the show on any given night. Guests that have purchased the Dining Package are guaranteed a seat.
Dining Packages and Prices
Choose from 4 unique eateries at EPCOT offering Candlelight Processional Dining Packages at lunch and dinner. Each package includes:
An appetizer, entrée and dessert or one (1) full buffet (where applicable), along with a non-alcoholic beverage
One (1) guaranteed seat per person to the Candlelight Processional held on the same day
Participating Restaurants for 2021
Biergarten Restaurant – Germany Pavilion

Adult $62.00
Child $35.00 (3-9)

Coral Reef Restaurant – The Living Seas

Adult $74.00
Child $25.00 (3-9)

Garden Grill Restaurant – The Land Pavilion

Adult $71.00
Child $46.00 (3-9)

Rose & Crown Dining Room – United Kingdom Pavilion

Adult $63.00
Child $25.00 (3-9)
Advance reservations are
highly
recommended, as Dining Packages normally sell-out weeks in advance of any given show. Reservations can be made up to 60 days in advance. Reservations require a credit card guarantee. To enter EPCOT, both a theme park reservation and valid theme park admission are required. EPCOT admission is not included in the price of the dining package.
For more information, or to purchase a Candlelight Processional Dining Package, please click here to visit the official Disney site page.