Food Booth and Kiosk Items for 2018
July 30th, 2018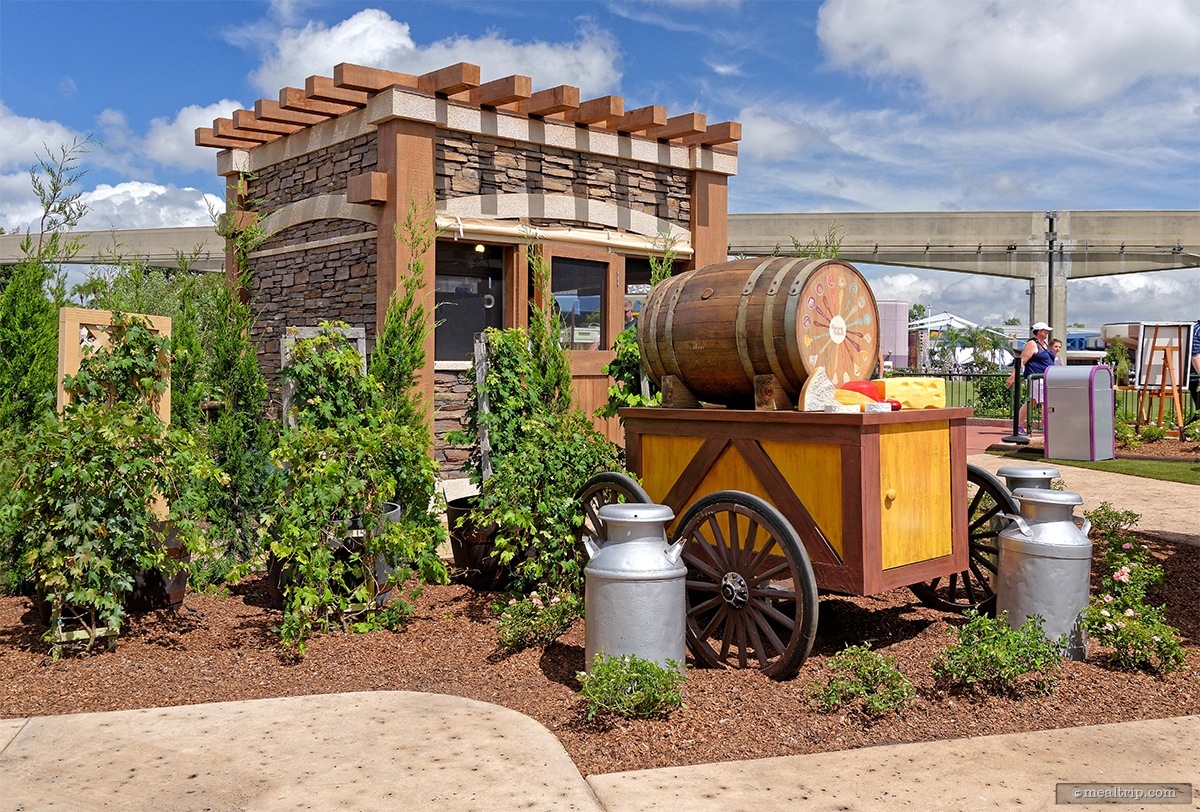 The food booths and kiosks located around World Showcase (and now other areas as well) during Epcot's International Food and Wine Festival are called "Global Marketplaces".
There are (around) 34 food booths for the 2018 festival (a slight drop from 2017 — we lost one booth — "Scotland"), which runs from August 30th, 2018 to November 12th, 2018.
Items marked with
(KA)
mean "Kid-approved" or something that adults think children will like.
(V)
indicates "Vegetarian Friendly".
(GF)
indicates Gluten/wheat-friendly. New things are marked with a red
NEW
— Oooooo.
Here's everything we know about the kiosks, beverages, and food items for the 2018 Epcot International Food and Wine Festival...
Active Eats

Please your palate with these healthy, action-packed bites for pure taste bud bliss.
(The salmon gets a slight modification from 2018, last year it had Chimichurri, this year it's "spiced" — and the Avocado Crema item has been replaced with "Energy Bar Bites".)
FOOD :
Loaded Mac 'n' Cheese with Nueske's® Pepper Bacon, Cheddar Cheese, Peppers and Green Onions (KA)
Spice-crusted Verlasso® Salmon with Warm Lentil Power Salad, Crushed Avocado and Sherry Vinegar (GF)
NEW for 2018 — Active Eats Energy Bar Bites: a mixture of Chocolate, Nuts, Dried Fruit and Dates (V) (KA)
BEVERAGE :
M.I.A. Beer Company HRD WTR Pineapple Coconut Hard Sparkling Water, Doral, FL
L'Ecole No. 41 Chenin Blanc Old Vines, Columbia Valley, WA
Evolution by Sokol Blosser Pinot Noir, Willamette Valley, OR
Africa
Delve into a delectable menu inspired by countries abundant with history, mystery and cultural diversity.
(There were three food items here in 2017, we've lost the Spinach and Paneer Cheese Pockets.)
FOOD :
Berbere-style Beef Tenderloin Tips with Onions, Jalapeños, Tomato and Pap (GF)
Spicy Ethiopian Red Lentil Stew with Vegan Yogurt and Quinoa (V)
BEVERAGE :
Cederberg Chenin Blanc
Jam Jar Sweet Shiraz
Groot Constantia Pinotage
The Almond Orchard Hosted by Blue Diamond Almond Breeze®

Go nuts for tasty plates and beverages created with one of the world's most popular snacks.
(We've picked up two items here for 2018, there was only one for the 2017 festival.)
FOOD :
NEW for 2018 — Creamy Spinach and Artichoke Dip with Pulled Chicken, Toasted Blue Diamond Almonds and Parmesan Cheese served with Nut Thins® Crackers
NEW for 2018 — Fire-roasted Tomato Hummus topped with Blue Diamond Lightly Salted Roasted Almonds and served with Blue Diamond Artisan Nut Thins® Multi-seeds Crackers
Banana Almond Soft-serve Sundae with Fresh Berries and Chocolate Almond Streusel (KA) (V)
BEVERAGE :
Almond Breeze Strawberry Smoothie (Non-alcoholic) (KA)
Moët & Chandon Imperial Brut Champagne
Dom Pérignon Brut Champagne
Veuve Clicquot Ponsardin Brut Rosé Champagne
Australia
Explore an exotic array of food and drink options from the Land Down Under.
(The menu items here are more or less identical to the 2017 items.)
FOOD :
Grilled Sweet and Spicy Bush Berry Shrimp with Pineapple, Pepper, Onion and Snap Peas (GF)
Grilled Lamb Chop with Mint Pesto and Potato Crunchies (GF)
Lamington: Yellow Cake Dipped in Chocolate and Shredded Coconut (V)
BEVERAGE :
Coopers Brewery Original Pale Ale
Hope Estate "Wollombi Brook" Semillon, Hunter Valley
Franklin Tate Estates Chardonnay, Margaret River
Yangarra Shiraz, McLaren Vale
Belgium
Indulge in dessert-like waffles, savory treats and thirst-quenchers with a kick—courtesy of the Kingdom of Belgium!
(Food items same as 2017.)
FOOD :
Beer-braised Beef served with Smoked Gouda Mashed Potatoes
Belgian Waffle with Warm Chocolate Ganache and Whipped Cream (V) (KA)
Belgian Waffle with Berry Compote and Whipped Cream (V) (KA)
BEVERAGE :
Leffe Blonde Belgian Pale Ale (Flight)
St. Bernardus Witbier (Flight)
St. Bernardus Abt 12 (Flight)
Stella Artois Hard Cider
Chilled Coffee featuring Godiva Chocolate Liqueur
Brazil
Dig into South American cuisine and culture with the Land of the Palms' finest fare.
(Here we lost 2017's Layered Meat Pie with Yucca, and picked up the Seafood Stew.)
FOOD :
NEW for 2018 — Moqueca: Brazilian Seafood Stew featuring Scallops, Shrimp and White Fish with Coconut-lime Sauce and Steamed Rice
Crispy Pork Belly with Black Beans, Tomato and Onions (GF)
Pão de Queijo: Brazilian Cheese Bread (GF) (V) (KA)
BEVERAGE :
M.I.A. Beer Company Barbossa Black Beer, Doral, FL
Casa Valduga Brut Rosé
Quinta do Crasto Duoro Red
Frozen Caipirinha featuring LeBlon Cachaça
Brewer's Collection
Wet your whistle with a glass or flight of Europe's best brews—from Pilsners to wheat beers.
(Oh no, we lost "the" food item that was at this kiosk in 2017, a Gingerbead Heart.)
BEVERAGE :
Radeberger Zwickel Pilsner (Unfiltered)
Hacker-Pschorr Hefe Weisse Naturtrüb
Schöfferhofer Hefeweizen Pomegranate Beer

Canada
Take your taste buds to the Yukon, with delightful dishes, lagers and wines from the Great White North.
FOOD :
Canadian Cheddar Cheese and Bacon Soup served with a Pretzel Roll
"Le Cellier" Wild Mushroom Beef Filet Mignon with Truffle-Butter Sauce (GF)
BEVERAGE :
Moosehead Radler: Lager infused with Grapefruit, Grape and Lemon Juices
Neige Premiere "Apple Ice Wine", Québec
Fielding Estate Red Conception, Niagara Peninsula

The Cheese Studio, Hosted by Boursin® Cheese
Nibble delish cheesy dishes paired with the perfect vintage for an unforgettable nosh stop!
(Here, we've lost a Salad from 2017 and picked up a Maple Bourbon Cheesecake. Win!!!)
FOOD :
Braised Beef Stroganoff with Tiny Egg Noodles, Wild Mushroom and Boursin Garlic with Fine Herbs Cheese Sauce (KA)
Cheese Trio: Profiterole topped with Boursin Garlic and Fine Herbs Cheese and Orange Apricot Jam; Smoked Salmon Pinwheel with Boursin Shallot and Chive Cheese and Everything Seasoning; Strawberry Macaron with Boursin Pepper Cheese
NEW for 2018 — Maple Bourbon Boursin Cheesecake with Maple Bourbon Cream, Caramel and Pecan Crunch (V)
BEVERAGE :
Florida Orange Groves Winery Sparkling Blueberry Wine, St. Petersburg, FL
La Crema Pinot Gris, Monterey
Domaine Saint André de Figuière Rosé, Côtes de Provence
Alta Vista Estate Malbec, Mendoza
China
Introduce your palate to a diverse variety of popular plates and potables from one of the world's greatest cuisines!
(I think these two replacements are more "modifications" than anything, but what the heck, let's mark them as "new" anyway! Technically, we're loosing a "Chicken Bao Bun" and the "Chicken Potstickers" from 2017, and picking up a "Pancake with Beef" and "Chicken Dumplings".)
FOOD :
NEW for 2018 — Xi'an Pancake with Beef
NEW for 2018 — Chicken Dumplings with Chinese Slaw (KA)
Beijing Roasted Duck Bao Bun with Hoisin Sauce
Black Pepper Shrimp with Garlic Noodles
BEVERAGE :
Mango Bubble Tea with Assam Black Tea and Milk (Non-alcoholic)
Jasmine Draft Beer
Happy Peach: Peach Liqueur and Dark Rum
Kung Fu Punch: Vodka and Triple Sec
Byejoe Punch: Chinese Bai Jiu Spirit, Lychee, Coconut and Pineapple Juice
Honeydew Bai Jiu Cocktail: Chinese Bai Jiu Spirit and Honeydew Syrup
The Chocolate Studio
Satisfy confectionery cravings with a trip to our one-stop chocolate shop for delectably dark and milky sweet treats!
(Basically the same as 2017, the "Raspberry Torte" is now a "Raspberry Tart" and the"Raspberry Dust" that had been sprinkled on top of the Whipped Cream has been removed.)
FOOD :
Liquid Nitro Chocolate-Almond Truffle with Warm Whiskey-Caramel (GF) (KA)
Sweet Dark Chocolate Raspberry Tart with Whipped Cream (V)
BEVERAGE :
Twinings® Pumpkin Spice Chai Tea and Chocolate Shake (Non-alcoholic) (KA)
Banfi Rosa Regale Sparkling Red, Piedmont
Daou Vineyards Cabernet Sauvignon, Paso Robles
Croft 10 Year Tawny
Twinings® Pumpkin Spice Chai Tea Frozen Cocktail with Caramel Vodka
Coastal Eats

Savor the ocean's finest flavors along with wines grown near the Pacific coastline—you can almost feel the sea breeze!
(Food the same as 2017.)
FOOD :
Lump Crab Cake with Napa Cabbage Slaw and Avocado-lemongrass Cream
Baked Shrimp Scampi Dip with Sourdough Baguette
Seared Scallops with Roasted Corn, Butterbean Succotash and Chili-chipotle Butter Sauce
BEVERAGE :
A to Z Wineworks Pinot Gris, Oregon
ROCO Gravel Road Pinot Noir, Oregon
Craft Beers
Elevate your tastes with cool brews or a refreshing flight of American craft beer from some of Florida's best breweries!
(Oh no, all the food items have gone missing!)
BEVERAGE :
Flight 1 — Central 28 Beer Company Waff-Ale, DeBary, FL; Bold City Brewing 1901 Roasted Red Ale, Jacksonville, FL; Florida Beer Company Passport Triple Chocolate Milk Stout, Cape Canaveral, FL

Flight 2 — First Magnitude Brewing Co. Lemongrass Saison, Gainesville, FL; JDub's Brewing Company Honeydew Melon Kölsch, Sarasota, FL; Shipyard Brewing Company Monkey Fist IPA, Clearwater, FL

Earth Eats

Turn your taste buds upside down with a medley of flavors that add a delish twist to healthy, hearty fare!
(In 2017, this was the "Chew" kiosk. In 2018, there's two sliders — one is half beef, and the other is zero beef. Kurt Russell's Wine has also left the booth and been replaced with fermented tea.)
FOOD :
NEW for 2018 — The Steakhouse Blended Burger: Blended Beef and Wild Mushroom Slider with Brie Cheese Fondue, Arugula, Truffle and Blue Cheese Potato Chip on a Brioche Bun
NEW for 2018 — The IMPOSSIBLE™ Burger Slider with Wasabi Cream and Spicy Asian Slaw on a Sesame Seed Bun (V)
BEVERAGE :
Health-Ade Kombucha Pink Lady Apple
Health-Ade Kombucha Pomegranate
Health-Ade Kombucha Beet-Lime
The Festival Center Wine Shop -
NEW for 2018!
Swirl, sniff and sip some of the finest wines from California—pair with delish dishes that complement each note.
FOOD :
Charcuterie Plate: Chefs Selection of Artisanal Meats and Accompaniments
La Bottega di BelGioioso® Cheese Plate: Crescenza-Stracchino®, CreamyGorg® Gorgonzola Dolce, and Artigiano® Vino Rosso Cheeses
Bloody Mary Seafood Cocktail: Shrimp, Bay Scallops, Mussels, Olive Salad and Crisp Lettuce in a Bloody Mary Vinaigrette
BEVERAGE :
White Wine Flight — Fess Parker Riesling, Santa Barbara County; MacMurray Estate Vineyards Pinot Gris, Russian River Valley; Silverado Vineyards Sauvignon Blanc, Napa Valley
Pinot Noir Flight — MacMurray Estate Vineyards Pinot Noir, Russian River Valley; Kurt Russell's Gogi Wines "Birdie" Pinot Noir, Santa Rita Hills; Skywalker Vineyards Sommita Pinot Noir, Marin County
Red Wine Flight — Silverado Vineyards Fantasia Sangiovese Blend, Napa Valley; Chappellet Mountain Cuvée Bordeaux Blend, Napa Valley; Fess Parker Rodney's Vineyard Syrah, Santa Barbara County
Silverado Vineyards Chardonnay, Carneros
Kurt Russell's Gogi Wines "Goldie" Chardonnay, Santa Rita Hills
Flavors from Fire

Add some heat to your epicurean adventure with these spicy bites and specialty beverages that pair perfectly.
(Three items return from 2017 and we pick up a new "Charred Chimichurri Skirt Steak".)
FOOD :
Piggy Wings: Roasted Pork Wings with Korean BBQ Sauce and Sesame Seeds (KA)
Smoked Corned Beef with Warm Crispy Potatoes, Pickled Onions and Blonde Ale Beer Fondue featuring BelGioioso® Romano and American Grana Cheeses
NEW for 2018 — Charred Chimichurri Skirt Steak on a Smoked Corn Cake with Pickled Vegetable Slaw and Cilantro Aïoli
Chocolate Picante: Dark Chocolate Mousse with Cayenne Pepper, Chili Powder and Mango
BEVERAGE :
Orlando Brewery Smokin' Blackwater Porter
Michael David Winery 7 Deadly Zins Zinfandel, Lodi
Swine Brine featuring Jim Beam Bourbon
France
Fall in ooo-la-la-love with the classic cuisine and finest wines of France—bon appétit!
(We loose one item here from 2017, the "Warm Goat Cheese Pudding".)
FOOD :
Escargot Croissant with Garlic and Parsley
Beer-braised Beef with Bacon, Onion and Mashed Potatoes
Crème Brûlée à la Confiture de Framboises: Crème Brûlée with House-made Raspberry Jam (V) (GF) (KA)
BEVERAGE :
La Passion Martini Slush: Vodka, Grey Goose Le Citron, Cranberry and Passion Fruit Juice
Chardonnay, Le Vieux Manoir
Cabernet Sauvignon, Village la Tourelle, Bordeaux
St-Germain Sparkling Kir: Sparkling Wine and St-Germain Elderflower Liqueur
Kronenbourg Blanc 1664 Pale Lager
Germany
Embark on an epicurean adventure to Deutschland, home of the heartiest food, drinks and appetites in the world!
(Basically the same as 2017, but we loose the pre-made "Gingerbread Heart".)
FOOD :
Schinkennudeln: Pasta Gratin with Ham, Onions and Cheese (KA)
Roast Bratwurst in a Pretzel Roll (KA)
Apple Strudel with Vanilla Sauce (V) (KA)
BEVERAGE :
Radeberger Zwickel Pilsner (Unfiltered)
Riesling Flight — Carl Graff Graacher Himmelreich Riesling Spätlese, Mosel; J&H Selbach Bernkasteler Kurfürstlay Riesling Kabinett, Mosel; Selbach-Oster Zeltinger Himmelreich Riesling Kabinett Halbtrocken, Mosel
Villa Wolf Pinot Noir, Pfalz
Greece
Bask in the Mediterranean flavors of traditional dishes and heavenly drinks popular in the Land of the Gods!
(Same as 2017.)
FOOD :
Loaded Greek "Nachos": Pita Chips, Meatless Sausage Crumbles and Vegan Tzatziki (V) (KA)
Taste of Greece: Chicken Souvlaki, Feta Cheese Dip with Warm Pita and Lamb Sausage with a Dill Tomato Ragu
Spanakopita: Greek Spinach Pie (V)
Bougatsa: Warm Phyllo Dough Strudel with Sweet Vanilla Custard, Lemon Honey Syrup and Cinnamon (V) (KA)
BEVERAGE :
Domaine Skouras Moscofilero, Peloponnese
Domaine Sigalas Assyrtiko, Santorini
Argyros Atlantis Red Blend, Santorini
Hawai'i
Traverse the Pacific for tropical flavors and island faves—sweet or savory, these mouthwatering morsels scream aloha!
(Same as 2017.)
FOOD :
Kalua Pork Slider with Sweet and Sour DOLE® Pineapple Chutney and Spicy Mayonnaise (KA)
Grilled Tuna Tataki with Seaweed Salad, Pickled Cucumbers and Wasabi Cream
Teriyaki-glazed SPAM® Hash with Potatoes, Peppers, Onions and Spicy Mayonnaise
Passion Fruit Cheesecake with Toasted Macadamia Nuts (V)
BEVERAGE :
Maui Brewing Company Bikini Blonde Lager
Florida Orange Groves Sparkling Pineapple Wine, St. Petersburg, FL
Mai Tai with Sailor Jerry Spiced Rum and DOLE Pineapple Juice
Hops & Barley
Stay stateside for all-American craft beer, wines and the hottest tastes from coast-to-coast!
(We get a modification here... the Beef Brisket and Pimento Cheese on Garlic Toast from 2017 is replaced with a Beef Brisket Slider with Horseradish Cream.)
FOOD :
New England Lobster Roll: Warm Lobster with Fresh Herb Mayonnaise and Griddled Roll
New Brunswick Slider: Slow-braised Beef Brisket "Pot Roast Style" with Horseradish Cream and Crispy Fried Onions on a Potato Roll with Pickled Vegetables on the side
Freshly Baked Carrot Cake and Cream Cheese Icing (V) (KA)
BEVERAGE :
Flight — North Coast Bewing Co. Blue Star Wheat, Fort Bragg, CA; 3 Daughters Brewing A Wake Coffee Blonde Ale, St. Petersburg, FL; Heavy Seas AmeriCannon APA, Baltimore, MD
Angry Orchard Rosé Hard Cider, Walden, NY
Mer Soleil Reserve Chardonnay, Santa Lucia Highlands
Broadside Cabernet Sauvignon, Paso Robles
India
Introduce yourself to new flavors with ancient origins—the smorgasbord of Indian spices will whisk you off to faraway worlds!
(We loose one item here, the "Pistachio Cardamom Bundt Cake" has gone missing from the 2017 menu.)
FOOD :
Warm Indian Bread with Pickled Garlic, Mango Salsa and Coriander Pesto Dips (V) (KA)
Madras Red Curry with Roasted Cauliflower, Baby Carrots, Chickpeas and Basmati Rice (V) (GF)
Korma Chicken with Cucumber Tomato Salad, Almonds, Cashews and Warm Naan Bread
BEVERAGE :
Mango Lassi (Non-alcoholic) (KA)
Godfather Lager
Sula Chenin Blanc, Nashik
Sula Shiraz, Nashik
Mango Lassi with Indian Cream Liqueur
Ireland
Escape to the Emerald Isle for a wee bit o' ale, wine and authentic Irish fare to warm the cockles of y'er heart!
(Same as 2017.)
FOOD :
Roasted Irish Sausage with Colcannon Potatoes and Onion Gravy
Warm Irish Cheddar Cheese and Stout Dip with Irish Brown Bread (V)
Warm Chocolate Pudding with Irish Cream Liqueur Custard
BEVERAGE :
Guinness Foreign Extra Stout
Bunratty Meade Honey Wine
Guinness Baileys Shake
Islands of the Caribbean
Journey to the islands of the Caribbean, where the fusion of food and cultures create a melody in your mouth!
(Two food items from the 2017 menu have been replaced with two new items!)

FOOD :
NEW for 2018 — Ropa Vieja Empanada with Tomato Aïoli (KA)
NEW for 2018 — Jerk-spiced Chicken Lollipop with Roasted Sweet Plantain Salad and Mango Chutney Yogurt
Quesito: Puff Pastry with Sweetened Cream Cheese and Guava Sauce (V) (KA)
BEVERAGE :
Red Stripe Lager
Caribbean White Sangria
Frozen Mojito
Italy
Mangiare
… savor the simple elegance of
cucina italiana
, with some of the world's best-loved food and wine.
(Variations on a theme, only the dessert item is the same from 2017.)
FOOD :
NEW for 2018 — Crispy Shrimp, Zucchini and Sweet Potatoes with a Spicy Sauce
NEW for 2018 — Braised Chicken Thigh, Mushrooms, Tomatoes and Parmesan Polenta
NEW for 2018 — Vodka Sauce, Crispy Pancetta and Parmesan Cheese (KA)
Cannoli filled with Sweet Ricotta, Chocolate and Candied Fruit (KA)
BEVERAGE :
Moretti Lager
Moretti La Rossa Double Malt
Placido Pinot Grigio
Placido Chianti
Villa Sandi Prosecco
Montegrande Corbinello Spumante Dolce
Fior d'Arancio Montegrande Moscato
Frozen Margarita with Limoncello and Tequila
Japan
Delight your appetite with sushi and other delish dishes as well as libations from the Land of the Rising Sun! (More variations on a theme, these are all more or less, "new" for 2018.)
FOOD :
NEW for 2018 — Teriyaki Chicken Bun: Steamed bun filled with Chicken, Vegetables and a Sweet Teriyaki Sauce (KA)
NEW for 2018 — Beef Nigiri topped with Shrimp Sauce and Diced Pickled Jalapeños (GF)
NEW for 2018 — Spicy Roll: Tuna and Salmon topped with Volcano Sauce
BEVERAGE :
Kirin Ichiban Lager
Ozeki Rai Sake
Fuji Apple Cocktail: Sake, Peach Schnapps and Green Apple Syrup
Light Lab

Stay light on your feet throughout the day with a refreshing array of bubbly drafts and spirited concoctions.
BEVERAGE :
Phosphorescent Phreeze (KA)
InfraRED (KA)
UltraVIOLET (KA)
Bleu Spectrum: Blanc de Bleu Cuvée Mousseux with Boba Pearls
Cider Flight — Original Sin Dry Rosé Hard Cider, New York, NY; 3 Daughters Brewing Blueberry Peppercorn Hard Cider, St. Petersburg, FL; Ciderboys Zen Berry Hard Cider, Stevens Point, WI
RGB Flight — Playalinda Brewing Co. Red Cherry Tart, Titusville, FL; GrassLands Brewing Company Green Kiwi Blonde, Tallahassee, FL; M.I.A. Beer Company Blue-berry Golden Ale, Doral, FL
Mexico
Spice up your fiesta-lovin' palate with some south-of-the-border history, culture and cuisine—olé!
(Variations on a theme, there are no "exactly the same" items returning from 2017.)
FOOD :
NEW for 2018 — Short Rib Tostada: Corn Tortilla topped with Short Ribs, Black Beans, Salsa Verde and Spring Onion
NEW for 2018 — Shrimp Quesadilla: Corn Tortilla with Shrimp, Oaxaca Cheese and topped with Spicy Guajillo Sauce and Sesame Seeds
NEW for 2018 — Coconut Rice Pudding served with Mango Coulis (GF) (V)
BEVERAGE :
Dos Equis Draft Beer with a hint of Almond
Margarita with Libelula Tequila Joven, Mango Purée and Chamoy
Smoky Margarita with Gracias A Dios Mezcal, Lime Juice and Ancho Reyes Chile Liqueur
Red Wine Sangria mixed with Fruit Juice
Blackberry Mexican Punch with Velo Blanco Tequila
Morocco
Relish an inspired array of exotic flavors—this north African region is a mecca of intriguing cuisine.
(Same as 2017.)
FOOD :
Kefta Pocket: Seasoned Ground Beef in a Pita Pocket (KA)
Hummus Fries with Cucumber, Tomato, Onions and Tzatziki Sauce (V)
Chocolate Baklava: Rolled Phyllo Dough with Toasted Almonds and Dark Chocolate Sauce
BEVERAGE :
Casa Pale Lager
Kasbah Prestige Red Wine
Mimosa Royale: Sparkling Wine and Orange Juice topped with Orange Liqueur
Red Organic Sangria
New Zealand
Head south of the equator for quintessential Kiwi meals, including savory plates and award-winning wines. (Same as 2017, except the "Seared Venison Loin" is now a "Seared Venison Sausage".)
FOOD :
Steamed Green Lip Mussels with Garlic Butter and Toasted Breadcrumbs
Lamb Meatball with Spicy Tomato Chutney
Seared Venison Sausage with Kumara Purée and Wild Mushroom Marsala Sauce
BEVERAGE :
Kim Crawford Sauvignon Blanc, Marlborough
Antmoore Wineworks MOKOblack Pinot Noir, Marlborough
Frozen Wine Cocktail featuring Kim Crawford Sauvignon Blanc
Shimmering Sips Mimosa Bar — New for 2018

Get the brunch party started—sample fresh-baked goods and mimosas mixed with the perfect twist!
FOOD :
Chocolate Croissant: Flaky Croissant stuffed with Chocolate
Almond Croissant: Flaky Croissant topped with Toasted Almonds
Jumbo Blueberry Muffin with Streusel Topping
Cheese Danish with Sweet Icing
BEVERAGE :
Frozen Apple Pie (Non-alcoholic) (KA)
Tropical Mimosa with Sparkling Wine and Pomegranate, Orange and Grapefruit Juices
Key Lime Mimosa with Key Lime Sparkling Wine and Cranberry Juice
Blood Orange Mimosa with Sparkling Wine and Blood Orange Juice
Madras Mimosa with Cranberry Sparkling Wine and Orange Juice
Fromosa: Frozen Mimosa featuring White Claw Lime Hard Seltzer
Joffrey's Cold Brew Coffee
Spain
Travel to España for pleasing cuisine that's unrivaled — from paella to seafood that's straight from Basque Country. (We loose one item here from the 2017 menu, the "Sweet Olive Oil Cake with Powdered Sugar and Lemon Curd" is gone. The other food items are the same.)
FOOD :
Charcuterie in a Cone with imported Spanish Meats, Cheeses and Olives with an Herb Vinaigrette
Spanish-style Paella with Chorizo and Roasted Chicken
Seafood Salad with Shrimp, Bay Scallops, Mussels, Extra Virgin Olive Oil, White Balsamic Vinegar and Smoked Paprika (GF)
BEVERAGE :
Lagar de Bouza Albariño, Rías Baixas
Casa Castillo Monastrell, Jumilla
Espelt Garnacha Old Vines, Catalonia

Thailand
Exotic specialties from Southeast Asia await as the Land of Smiles serves up a flavorful foodie phenom!
(Food items are the same as 2017.)
FOOD :
Marinated Chicken with Peanut Sauce and Stir-fried Vegetables (KA)
Seared Shrimp and Scallop Cake with Cold Noodle Salad
Red Hot Spicy Thai Curry Beef with Steamed Rice
BEVERAGE :
Singha Lager
Maison Willm Gewürztraminer, Alsace
The Wine & Dine Studio
Sample signature dishes along with an elegant medley of wines hailing from the Golden State's renowned vineyards.
(We've picked up the "Butternut Squash Ravioli" from a different booth last year, and the cheeses on the "Trio" have changed.)
FOOD :
Seared Scallops, Truffled Celery Root Purée, Brussels Sprouts and Wild Mushrooms featuring Melissa's Produce
Butternut Squash Ravioli with Brown Butter Vinaigrette, Parmesan Cheese and Pumpkin Seeds (V) (KA)
Trio of Artisan Cheese featuring La Bottega di BelGioioso® Cheeses (V)

La Bottega di BelGioioso Crescenza-Stracchino®
La Bottega di BelGioioso CreamyGorg® Gorgonzola Dolce
La Bottega di BelGioioso Artigiano® Vino Rosso

Artist Palette Wine and Cheese


Trio of Artisan Cheese (above) paired with Rainstorm Silver Linings Pinot Noir Rosé, Reata Chardonnay and Spellbound Petite Sirah
BEVERAGE :
Reata Chardonnay, Sonoma Coast
Rainstorm Silver Linings Pinot Noir Rosé, Oregon
Spellbound Petite Sirah, California