Bier Fest Walkaround Day One with Food Photos!
September 10th, 2018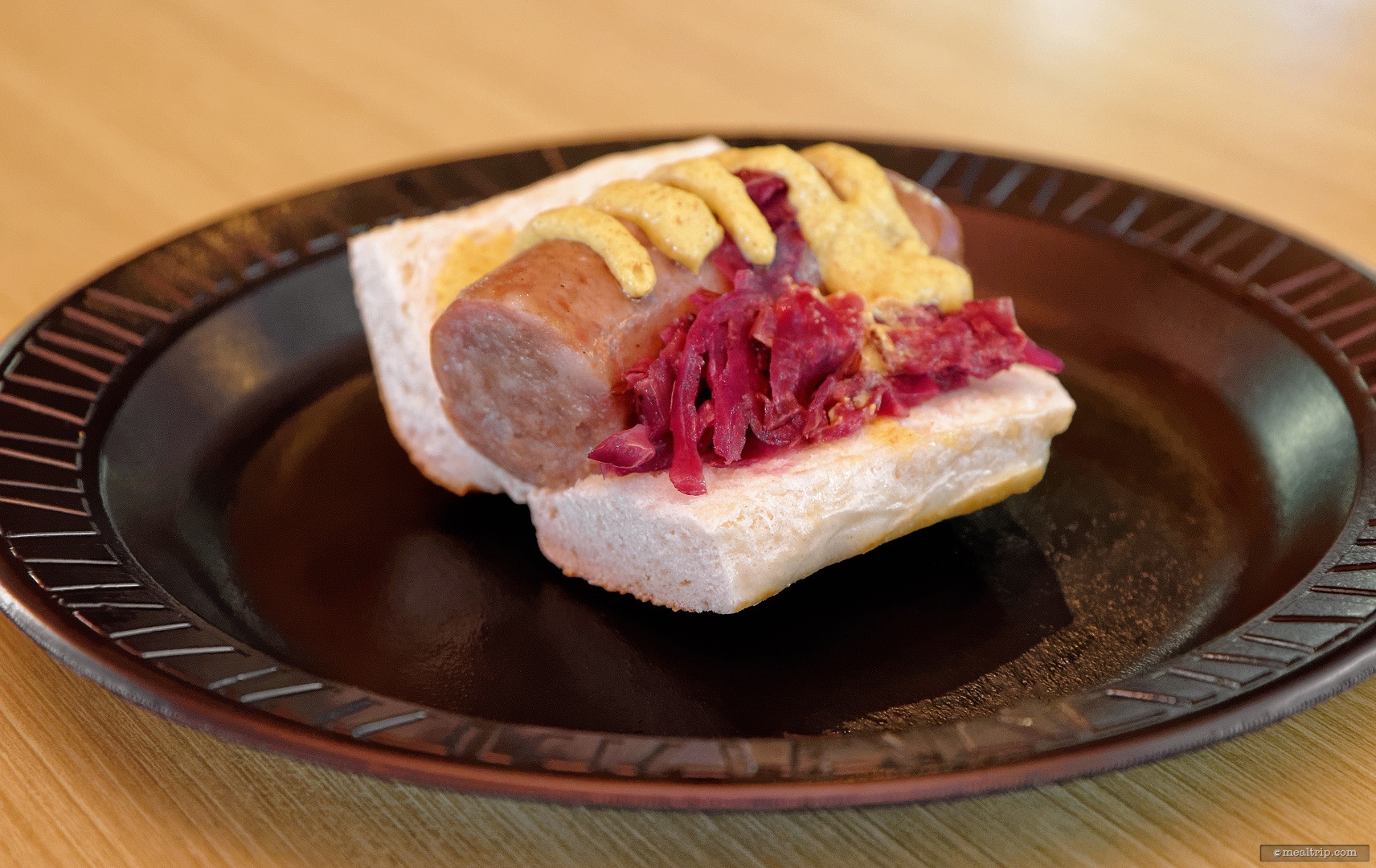 Busch Garden's new 2018 Bier Fest
is a craft beer and mini food festival taking place on and around Labor Day Weekend (mostly Saturday's and Sunday's from August 25th, 2018 until September 16th, 2018).
I'm calling Bier Fest a mini-festival mostly because of the amount of square footage it gets. If you're familiar with the event space that some of Busch Garden's larger, seasonal events take place in — such as Howl-O-Scream, Christmas Town or even the Springtime Food and Wine Festival… the new Bier Fest is mostly contained to the trail that leads into that larger event area. Truth be told, the larger event space is being set up for Howl-O-Scream while the Bier Fest is going on!
It's all good though, I actually kind of like the set up and it's a great use of the space, which would otherwise just be a walkway leading from one themed area to another.
I do wish, I had found the map (below) a little sooner. The photo of the map that I'm including here was taken on a large sign located at the start of the Bier Fest walkway. If they printed this on a handout or something, I never did find it.
I'm going to start my day one walk about right at the event logo sign (imagine that) — where I encountered a couple of stilt walkers!
The format of the festival is like most — there are 13 kiosks set up throughout the event area with each kiosk offering food and/or craft beer samples, and a couple of additional locations for a wine tasting activity and a bourbon sampling activity.
The very first thing I'd recommend doing is getting a Sampling Lanyard at the festival's Welcome Center kiosk.
Most of the 7oz craft beer samples are priced at $8.99 and the food samples averaging around $6.00 per item. The Sampling Lanyards allow you to purchase a pre-determined number of samples at a flat-rate, and with a pretty big discount. You then show your lanyard at any of the festival kiosks where you can trade one of your sampling entitlements for either a 7oz craft beer sample or one of the food samples.
A 5-Sample Lanyard is $30 (plus tax) making any item you choose just over $6.00 each. If you get a 10-Sample Lanyard for $50 (plus tax), each item (beer or food sample) would end up costing just over $5.00 each. The sampling lanyard can be used by anyone in your party.
Before we get to the food, I wanted to show the giant beer board, which is located just to the right of the Welcome Center Kioks.
Here's where you'll find a listing of all the craft beers that are available at the festival that day (and in some cases, that hour)… the board is updated as needed throughout the festival. I know, everyone may be wondering what a 7oz sample of beer looks like, so here's a photo of the plastic cups they're using. This is a 7oz sample of the Schoenhofer Grapefruit Beer.
Because samples of beer (more or less) all look the same, I'm going to highlight some of the food offings that were available, starting at kiosk number one — Hops and Handhelds.
As the name suggests, this food booth features food items that you don't need a fork for!
I tried out the "Truffle Mac n' Cheese Fritters" … who doesn't love mac n' cheese? This item was served with truffle aioli dipping sauce. Any "truffle" flavor (as you may have guessed at this price level) isn't going to be real pronounced (truffles and truffle oil are quite expensive), so perhaps the white dipping sauce is more of a… truffle inspired aioli.
They've basically taken a small amount of mac n' cheese and found some way to bread it and then deep fry it, so it's basically a mac n' cheese hush puppy!
The next item from the same booth was the real star for me though… the "Ruben Croquettes with Mustard & Honey Dipping Sauce" were basically the same thing… but instead of being filled with Mac and Cheese, these little bites were full of all the things you normal find in a Ruben sandwich — corned beef, a swiss cheese, sauerkraut and a little russian dressing!
The flavors were all there and these were super creamy inside… a great little bar-food type popper that pairs so well with a cold brew!
Kiosks two, three, four, and five are beverage-only booths that feature craft beers that exhibit the character of the booth name — as you might imagine, this is somewhat hard to do — so if you don't think too much about it — it's all good. For example, over at the "Barley and Barrel" booth, you'll find a "Kentucky Vanilla Barrel" Cream Ale from Alltech — etc.
For my next food stop, I wanted to find out just how far down the path this festival went, so I headed all the way down to food booth 12 (this one is named "Seasonally Inspired") and picked up a really refreshing Watermelon & Heirloom Tomato Salad — and it was just so good!
I do wish there would have been just a little balsamic drizzle on the salad somewhere. I think the Heirloom Tomatoes are intended to be the main acidic element in this dish and provide the umami that we crave, but there's just aren't enough free glutamates in those little tomatoes (and feta) to do the trick against the sweet watermelon. Still, this salad is just so different than the other options available, and it really is a good, "natural garden" kind of salad.
This "Seasonally Inspired" food booth really is "the" booth for foodies because all four of their items were more complex and "off the beaten path" when compared to the other items at the festival — we'll be back to sample a couple more items in my "walk about - day two" post.
Closing out our first look around at some of the food offerings, we walk up to food kiosk number eight, "The Best of the Wurst" (these booths have the best names).
Here I sampled a standard go-to beer-time food pairing — the Bratwurst Sandwich on a Pretzel Hot Dog Roll.
As pretty as this one was, I hate to say it… but the flavor profile of the Bratwurst kind of got lost under the mustard. This is a hard one to implement correctly — finding that balance between pretzel bread, Brat, and mustard (and pickled onions in this case) — those things all seem to work better when their full-size. Most mini-sized food festival versions I've come across are kind of hit and miss.
I'll take a look at some more food items (including my festival favorites) in my next "Walkaround - Day Two" post from the 2018 Bier Fest!
There's still one weekend left this year if you would like to check out the new Busch Gardens, Tampa festival for yourself! (The festival runs on Saturday and Sunday only until September 16th, 2018.)
Here's a direct link to all the festival information on the Busch Gardens web site… click here!