I had a chance to spend a couple of days at Epcot recently and stopped in to check out the new Regal Eagle Smokehouse located in the American Adventure pavilion. It's a counter service restaurant that replaced the older "Liberty Inn" counter service location.

I definitely want to get back there again and spend a little more time looking at the various wall art, room ambiance, and trying out a couple more food items. I had always thought the older "Liberty Inn" was an okay place to eat… but I never really found myself saying "I'd like to go back and try a few more of the items"… so the new Regal Eagle is a step in the right direction.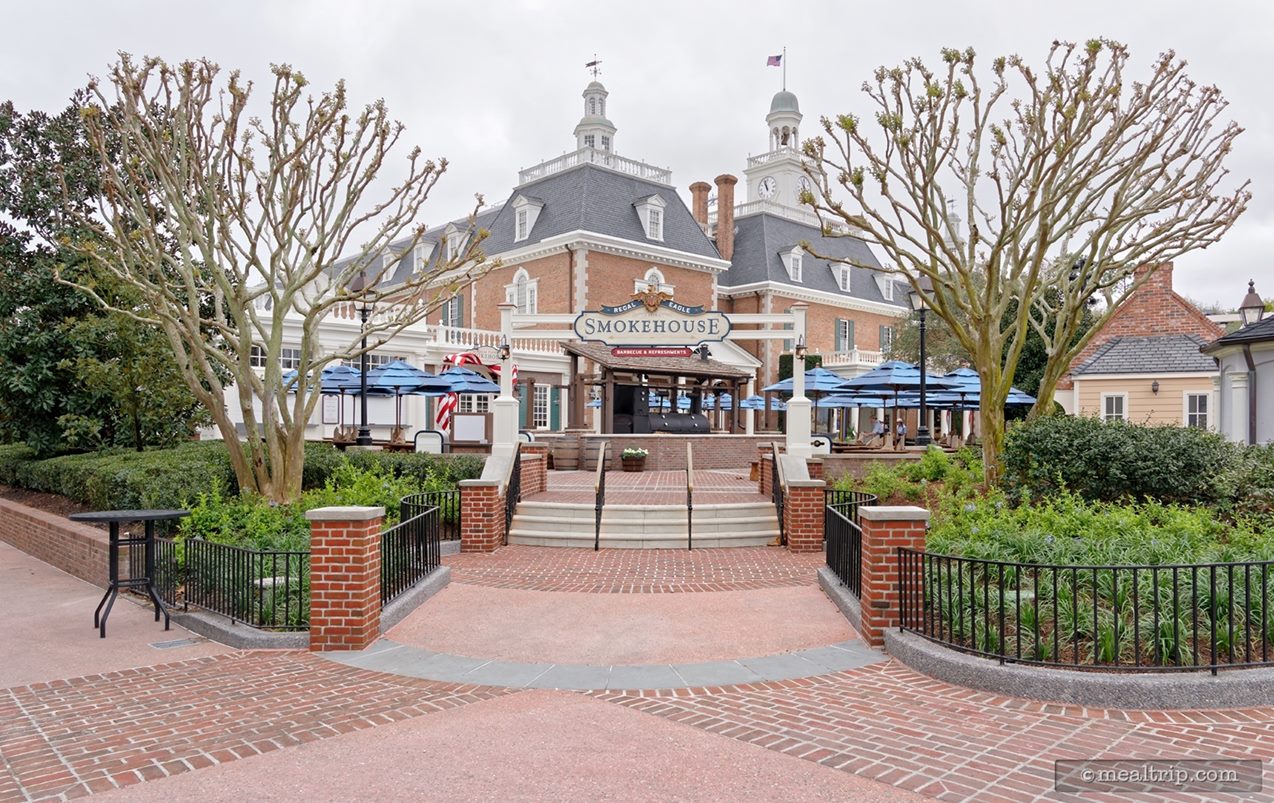 Walking up to the Regal Eagle Smokehouse from the east side, you'll have to make your way up a couple of steps into the main courtyard, which is where the on-stage smoker/grill is located, along with some outdoor seating options.



From the couple of times I've been in and around the area, without looking too hard — the character of the place has been retained. I was a little concerned when I saw that "Sam Eagle" from the Muppets was attached to the dining theme here. I like Sam Eagle — I just didn't want to loose the character and charm of the America Pavilion. This is not "PizzeRizzo" at Hollywood Studios — and I'm glad.



I'll get more into the environment in another article I'm sure, after I get a chance to take a few more pictures — but for now I can pretty much say that unless you're specifically looking for Muppets at the Regal Eagle Smokehouse, you're probably not going to notice any. It just looks like a quaint, turn of the century themed smokehouse. There's real wood dining tables and chairs, rolls of towels on each table, and Americana banners, signs, and little chachkies attached to the walls here and there. Actually, it a little more authentic looking now, than it had been.



Now all of that — is based on the indoor dining space. Outside, there's a giant on-stage wood fired grill where the meats are barbecued. I haven't really spent any time in that area — yet. But I will say this, the wind... is always blowing in one direction or another… and unless you reeeeealy like the smell of burning wood, hot embers, and roasting meat — there are some seats that are going to be better than others, I would imagine.



Also outside, is where the "Craft Drafts" part of the restaurant's title comes into play a bit more. There's a full, two counter, walkup bar (for the lack of a better word), that offers draft beers, wine, and specialty cocktails that are only available at this location. That, is the subject for a different article though.



Food wise, the concept here is to feature different barbecue styles from across America, although at the moment it's more like four different barbecue style from two parts of America. My gut feeling is that will not change too much.



The meats (and some veggies) are grilled and smoked over oak wood, so the barbecue itself is juicy, and a good example of proper barbecue — without any sauce. However, there is also sauce available, and this is where the regional differences come into play. The sauces are "pump yourself" into small cups at various condiment stations located around the dining area. For the purpose of this review though, I didn't try any of them.

A really good barbecued meat shouldn't need any sauce, and so I wanted to find out how well it held up on it's own. I'm pleased to report, that the smoked pork in the "North Carolina Chopped Smoked Pork Butt Platter" — was really great — and honestly, was about as authentic as you're going to get at a high-volume counter service restaurant, without actually going to North Carolina.

The food here, does still have to appeal to the masses — and so I've found most spice and flavor notes to be on the safe side. That's not always a bad thing though, it's just important to remember when you see the word "authentic". There's enough authenticity to give you an idea what the region or cuisine is about… in this case, a "nod" to North Carolina barbecue — but still, a really good barbecue on it's own.



The North Carolina Chopped Smoked Pork Butt Platter is served with a little of the Regal Eagle's own "North Carolina Vinegar Sauce" on top of the meat — and I found the amount to be perfect actually, but if you want more — it is one of the options at the self-serve sauce stations around the room.

The pork itself was served moderately warm to hot (it was the warmest thing on the little metal serving platter), was juicy to the point where I really didn't "need" any more sauce, and the grilled oak wood flavors had been slow cooked into the meat (as opposed to being some form of smoke flavored quick rub). So for me, it gets high marks.

The Garlic Toast that is served with the entree is an American barbecue staple, and I was glad to see it on there. It's a great take on your basic garlic toast, and I actually think I enjoyed the garlic toast more than the "side" of Beer-battered Onion Rings that accompanied the platter.

The Onion Rings were served cool-warm, there was just enough heat left in them for you to get the impression that they were supposed to be served hot — but they just weren't any more. The heavy take on "beer batter" isn't really my favorite either, as it has a tendency to get mushy when cooled too much. I'd rather have a lighter, high crunch batter, even if it's not beer based. Either way, that may be more my preference than anything — but it was also clear after biting into one of the onion rings, that it was time to change the frying oil.

Some of the other sides I saw with different entrees looked good though, so I'm not discouraged — I'll just probably not get the onion rings here again.

The cleanliness was actually pretty great and the service was great as well. I was visited by three cast members over the course of my short dining experience, all wanting to make sure everything was good — the final cast member even asked if he could take away my empty platter. Not sure if that's the norm at Regal Eagle or not, I did see some guests taking their own platters to drop-off/trash areas once they were done — but I very much appreciated being asked, and it was a nice little perk!

As I mentioned at the top — there's a couple other things on the menu I'd like to try out here, and hopefully I'll get a chance to do just that over the next couple months. At the moment, I'd say the Regal Eagle is a positive step up from the restaurant that had been at this location, and I wouldn't hesitate recommending it to anyone looking for a good selection of at least four popular barbecue styles.