Seven Seas Food Festival Concert List for 2023
February 16th, 2023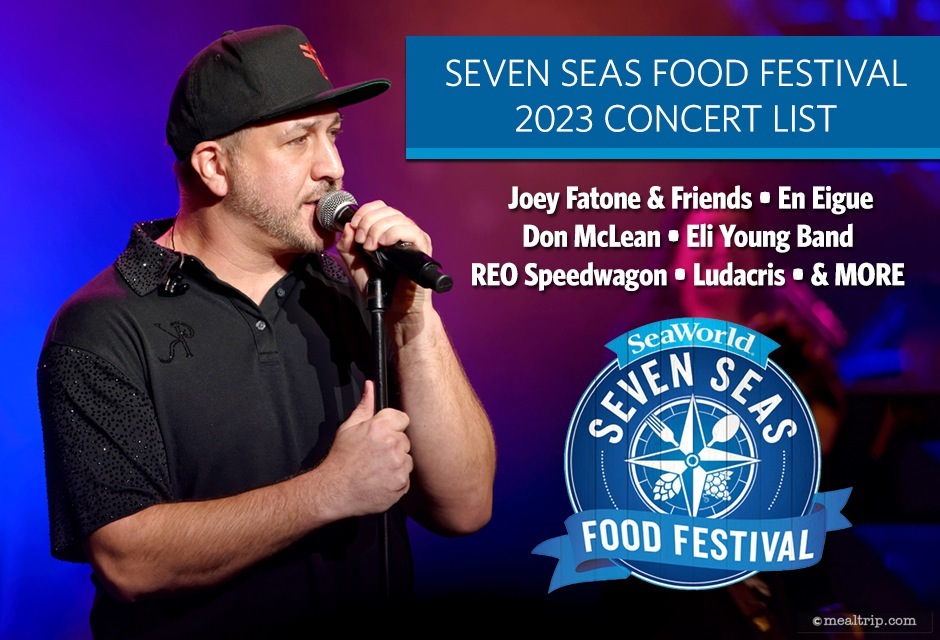 We now have a couple more bands to put on the 2023 Concert Series schedule from SeaWorld's Seven Seas Food Festival. SeaWorld publishes concert info in little batches here and there, so please check back on this page for the most recent updates.
The popular annual festival brings performers into the park's "Bayside Stadium" for one performance on each Saturday or Sunday during the festival. The "food and beverage" parts of the festival are available Thursday through Sunday — but concerts are on the weekends only. These are full-length shows that are performed only once per day, like a traditional concert.
While the concerts are free once you're in the park, you do still need to purchase a day-pass or use an annual pass, etc., in order to get into SeaWorld. Different levels of premium seating are available again this year. Scroll down to under the list, for more information on those.
En Vogue
Saturday, February 4 at 7:00pm
REO Speedwagon
Sunday, February 5 at 7:00pm
The Commodores
Saturday, February 11 at 7:00pm
Bee Gee's & Beatles Tribute Bands

Bee Gee's Now, A Tribute to the Bee Gee's
Sunday, February 12 at 4:00pm
Let It Be, A Tribute to the Beatles
Sunday, February 12 at 6:00pm

Collective Soul
Saturday, February 18 at 7:00pm
Jerry Rivera
Sunday, February 19 at 7:00pm
Don McLean
Saturday, February 25 at 7:00pm
Ludacris
Sunday, February 26 at 7:00pm
Joey Fatone & Friends
Saturday, March 4 at 7:00pm
Tenille Townes
Sunday, March 5 at 7:00pm
Luke Bryan & Zac Brown Band Tributes

Play It Again, a Tribute to Luke Bryan
Saturday, March 11 at 4:00 pm
Homegrown, the Zac Brown Band Tribute
Saturday, March 11 at 6:00 pm

Sean Kingston
Sunday, March 12 at 7:00pm
Styx & Boston Tributes


Renegade, The Definitive STYX Tribute
Saturday, March 18 at 4:00 pm
Smokin', The Amazing Boston Tribute
Saturday, March 18 at 6:00 pm

Hanson
Sunday, March 19 at 7:00pm
A Tribute to David Bowie and Aerosmith


Fame, The Ultimate Bowie Tribute
Saturday, March 25 at 4:00 pm
Jaded, A Tribute to Aerosmith
Saturday, March 25 at 6:00 pm

Eli Young Band
Sunday, March 26 at 7:00pm
Warrant
Saturday, April 1 at 7:00pm
Smokey Robinson
Sunday, April 2 at 7:00pm
Cory Asbury
Saturday, April 8 at 7:00pm
A Tribute to AC/DC, Def Leppard, & Queen


Highway To Hell, a Tribute to AC/DC
Sunday, April 9 at 2:00 pm
Absolute Def Leppard, a Tribute to Def Leppard
Sunday, April 9 at 400 pm
Absolute Queen, a Tribute to Queen
Sunday, April 9 at 6:00 pm

Chris Lane
Saturday, April 15 at 7:00pm
The Marshall Tucker Band
Sunday, April 16 at 7:00pm

TBA




Saturday, April 22

Kameron Marlowe
Sunday, April 23 at 7:00pm
The Commodores
Saturday, April 29 at 7:00pm
Scott Stapp
Sunday, April 30 at 7:00pm

TBA




Saturday, May 6

TBA




Sunday, May 7
While general seating is available to park guests at no additional cost, there are three levels of "paid seating" available that range between $15 and a whooping $135 per seat. SeaWorld is using "market pricing" so each day and performer has a different price point, depending on where you want to sit.
The main difference between "Reserved Stadium Seating", "Reserved Floor Seating", and "Premium Floor Seating", is in principle — how close you are to the stage. Because SeaWorld hasn't provided a legend or guide as to where those sections are, how large each section is, or if the location and size of each seating area change with each performance — depending on how many people buy tickets — we can't really recommend one seating level over the other, with any degree of certainly.
If you want to read and see more about the
Seven Seas Food Festival
event at SeaWorld, click here and check out our
SeaWorld, Orlando Seven Seas Food Festival page
!