SeaWorld Christmas Celebration Festival Food Walkaround
November 18th, 2018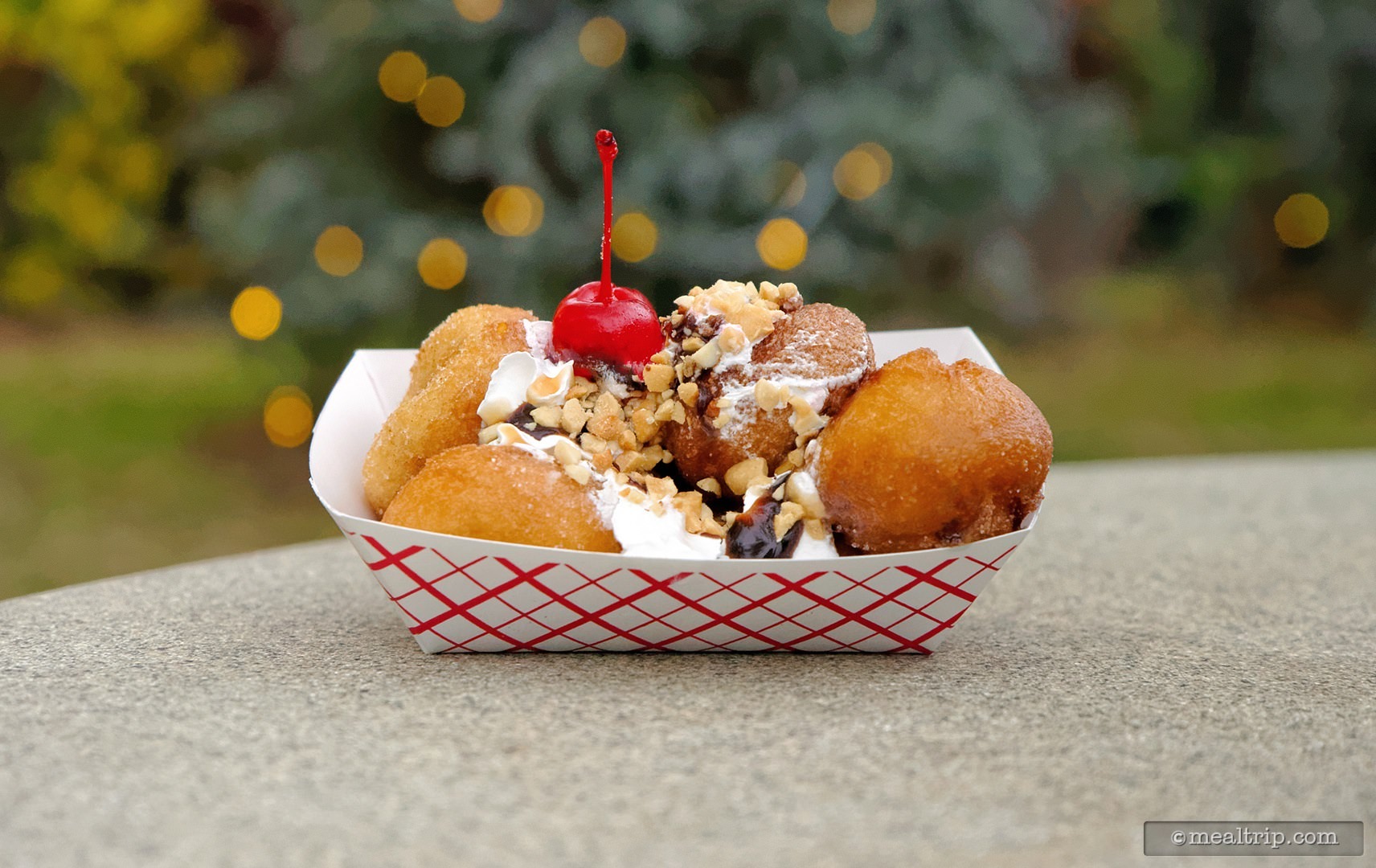 Yikes, how did the holidays sneak up so fast this year? SeaWorld Orlando has quickly changed over from their very short Craft Beer Festival to their annual "SeaWorld Christmas Celebration Festival" … and we love it … because there's food and hot toddies and so much more!
It seems like just last year we took a stroll around… oh wait… it was last year… my how time flies! It's going to be a couple days before I get out to SeaWorld's Christmas Celebration this year, so I thought I would put together a little photo stroll article of some of what I found last year! (The food and beverage offerings don't change that much from year to year, so the current options should be very similar.)
The "festival area" (because I'm not sure what else to call it) is tucked away in a little area at the front of the park (even though there's "festival food" all over the park, to me, this is where all the best festival food and beverages are).
Once you get into the park and sort of keep walking right you'll eventually find a walkway and gate to the main holiday festival area. Last year, the area didn't really open until a hour before sundown… not sure about this year, but my guess is it's the same. It's been that way for a number of years now.
If you enter the area from this side, one of the first things you'll see is a fire pit seating area with a mini-stage across from it, where several times a night, carolers (sort of) will perform.
Walking past that, you'll start to see some of the food booths. There's kind of a "main grouping" on the right side, each of the walk-up areas is marked with the food items that are available.
There's a whole row of these booths on that side of the walkway.
You'll also find many little booths here and there… most of those serve "adult" beverages or a single dessert (the larger booths generally have multiple items and beverages available).
As I mentioned, there's a few booths beyond this area as well. If you keep following the trail, (past Bayside Stadium and down into the Wild Arctic area), I found this great covered area with two booths under the giant roof!
Although there doesn't seem to be any sort of consistent signage at the various locations, there's usually a red menu board somewhere around each booth that lists what's available.
Over in this area, I found this kind of messy, but pretty tasty Chicken and Waffles item topped with bacon and caramel with maple syrup and whipped cream.
Even though most of these items are available as "full plate, single purchase" type of entries — everything that I've shown in this post was a "sample size" that you'll get with the SeaWorld Tasting and Brew Sampler Lanyard… which is a really great deal!
This year, there's a "Gold Tasting and Brew Sampler" available for $40 (plus tax) which gets you 10 food or beverage samples. It's a little punch card and lanyard system, and the cashier will put a knock out a little punch each time you get a food or beverage sample. The lanyards are totally shareable with everyone in your party, and it's a great way to save. With the "Gold Sampler", each of the food and beverage items shown here would be just over $4 each!
While all of the photos from this article were taken at the 2017 festival, I don't suspect the food quality, portion size, or set up has changed that much. It's been a great little collection of street inspired holiday comfort festival food for the past several years — with only a few flavor changes here and there. I hope to get over to SeaWorld soon to check out some of this year's food and beverages in the next couple of weeks!