Basic Smoked BBQ and a Large Air Conditioned Dining Area
I have visited Voyager's Smokehouse at SeaWorld a number of times over the years… my last review however, was in 2014, so it's probably time for another meal along with some words and photos.

In a lot of ways — things haven't changed much at Voyager's. I'd still recommend it as one of the top couple of places to eat "quick service" style while at SeaWorld. That doesn't necessarily mean this is the best BBQ you can get at a Central Florida theme park though. More on that, in my closing thoughts.

The interior seating area is still one of the larger spaces around … similar in size to Waterway Grill, (when Waterway is fully open for seating). There's also a couple of outdoor seating areas… a fully covered section at the back of the restaurant and some additional umbrella covered tables around front. (More and more though, if there's a festival going on, the tables in the front get used by festival guests dining on small plate festival items, and not Voyager's customers so much.) No worries though, there's plenty of room inside, and there's air conditioning too.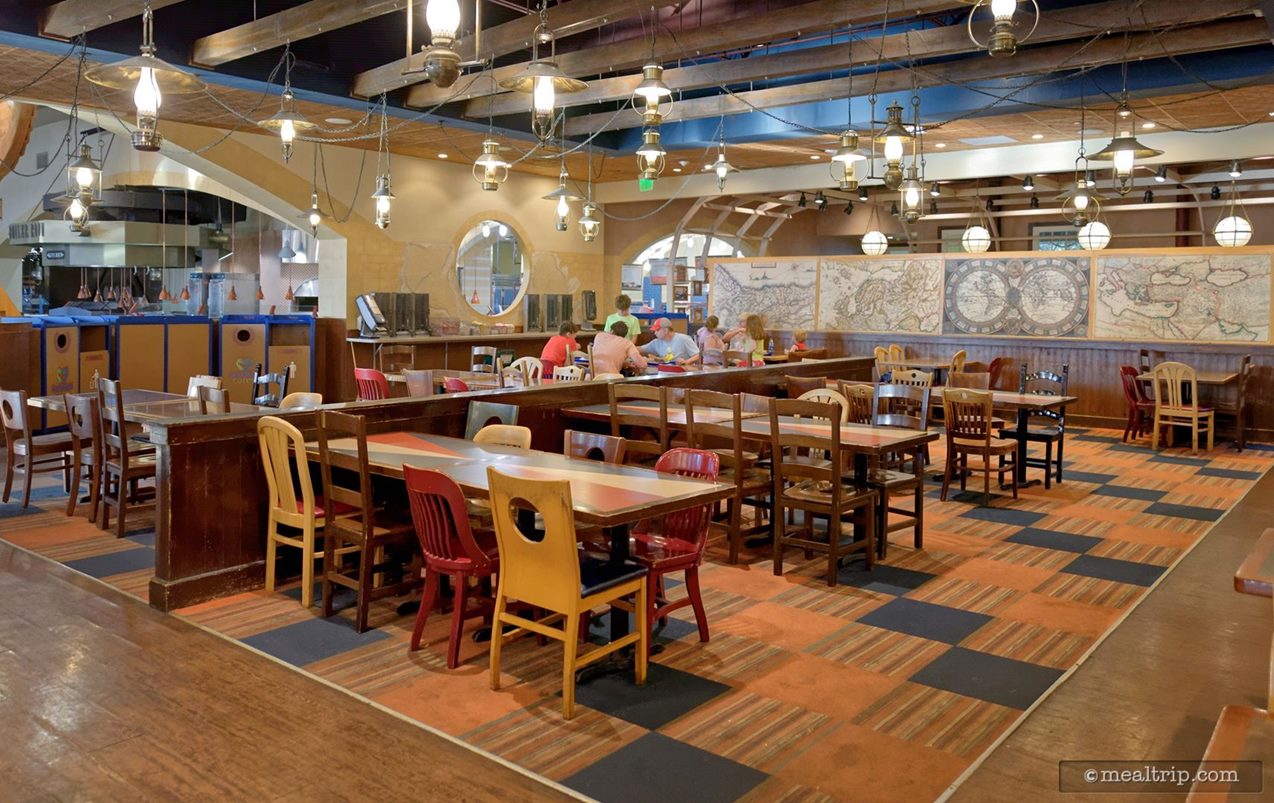 This "map room" is adjacent to the main dining area at Voyager's Smokehouse. Beyond the map wall (toward the back and right side of the photo), there's another seating area that's just as large.


The number of cast members keeping the dining area clean has seemly decreased a little, at least on the day I was there. But for the most part, they were keeping up with cleaning the tables, seats, and floors in a timely fashion.

The food ordering, pickup, and payment process is similar to what's used at Waterway Grill. You stand in line first, pick out what you want as the line wraps around closer to a glass front, on-stage prep kitchen. It gives you a couple seconds to look over the meats and decide what looks good. A cast member will plate what you pick out, and then hand the plate over the glass sneeze guards. Once you've got everything you need… you slide over to the payment island, which is 20 or 30 feet from the end of the food ordering line.

Like at Waterway Grill, this process can unfortunately lead to your food getting cold. When I visited (after the busy lunch period, about an hour before park close), there was only one cashier and things were not going super fast.

Once I got everything paid for, there was no trouble finding a seat. I believe the restaurant is only really full at peak dining times… breakfast (because if they're serving breakfast, it's usually the only location that has breakfast that day), lunch (12:30pm-1:30pm) and dinner, (if the park happens to be open late enough for diner).

As far as environment goes, there's a couple different seating areas with slightly different themes… one doesn't really stick out in my mind as being better than any of the others.

There is also, an iconic ceramic pig you can take your photo with... he's quite Instagram worthy.



There's a lot of mismatched chairs and tables around, a couple of booths here and there. If you go around the corner from the payment registers, it gets a little darker and cooler as you head toward the back of the restaurant. You might want to check back in that area if the main, open dining area is full. Not everyone is aware the seating wraps back around the corner.


How Is The Food?
Well… I'm not sure if there's much point in comparing it to what I ate here in 2014… but it all seemed a little… less somehow, for a price that was a little more. The quantity of food I received was about the same. In 2014, the meal came with the main BBQ meat you selected, along with fries and a dinner roll. The dinner rolls have been removed, but the quantity of meat and fries was about the same.


The meats were properly smoked, like good bbq should be. Back in 2014, they seemed to have more "rub" or dressing on the meat, right from the pit… to the point where you didn't even need bbq sauce.


We got two different plates, one of the "Voyager's Sampler" platters which contains some chicken, a spare rib, and some beef brisket. The other plate contained only bbq chicken. Both were served with french fries.

The meats all looked to have a very light spice mix or smokey grilled quality about them, but they weren't the rich and plump pieces of meat we had in 2014. The fries, were about the same.


I can't say it was "bad" bbq per say… this is very much what I would expect at a backyard bbq or family gathering… it just didn't have that "wow, this is great bbq, I need to come back here again for" quality that I'm always thinking about when dining at these various locations. There was additional bbq sauce available in little squirty packets… the sauce was kind of a standard issue, okay sauce. It helped with the whole notion of eating bbq, but it too — was nothing noteworthy.

The desserts also seemed to be a notch down from our previous visits. In 2014, a great, three layer carrot cake and chocolate cake were both actually, pretty great desserts. This time around… the standard issue chocolate chip cookie tray and "very" lightly sauced cheesecake were the only two options.


Here again, the cookies and the cheesecake were actually really enjoyable — it's just difficult when you come into a place with a food memory, and those expectations aren't maintained. Reading about the differences is one thing, but when you take a look at a 2014 dessert next to a 2023 dessert — you'll see what I mean.




Closing Thoughts
As I mentioned at the top of this review… Voyager's Smokehouse is still one of the better counter service locations at SeaWorld, Orlando. That's not to say it's the best theme park BBQ you can find out there — and that fact probably doesn't bode well for SeaWorld's other counter service locations.

As far as counter service locations go, something like the Flame Tree Barbecue at Animal Kingdom or Epcot's Regal Eagle Smokehouse both seem to offer (possibly) slightly less in the quantity department, but more in terms of meat quality and authentic flavor that Voyager's Smokehouse — for what's pretty close to being the same price anymore.

So, my recommendation comes with an — "it depends". If going to be visiting Animal Kingdom or Epcot at some point during your visit, and are only going to eat BBQ once... I'd go to one of the Disney locations before Voyager's Smokehouse.

However, if you're at SeaWorld for the day, you're probably going to have to eat something. In that case Voyager's Smokehouse or Seafire Grill would be my top two picks. Sharks Underwater Grill is good... if you're up for a more culinary focused meal — which for some may be a hard sell when also talking about roller coasters and 95 degree heat, it just depends on where you are schedule-wise.