Connections Eatery is Epcot's "Burger's & Pizza" fast-food location. There's some "world cuisine" words used in the menu descriptions… the French Bistro Burger… a General Tso Chicken Salad… but — it is, what it is. Every park needs one (or two).

As such, Connections Eatery is located in a pretty good spot. If you're a thrill-seeking tween, or on a high school band trip — you're probably most interested in three rides at Epcot… Guardians of the Galaxy, Test Track, and Mission Space. Connections Eatery is located near those three attractions, has WiFi access, some USB and wireless charging stations here and there, air conditioning — and seating for tons of people.

One of the big hang-ups of the "Burger's & Pizza" locations are their size, or lack there of (I'm looking at you Pinocchio Village Haus at the Magic Kingdom). Sure, Pinocchio's is a "Nuggets and Pizza" place (ummm… I mean, "flatbreads") — but it is one of the Magic Kingdom's fast-food locations, and the food ordering and pickup line is set up in a similar fashion — only in a much smaller, cramped scale — when compared to Connections Eatery.


There's a bunch of registers under the menu boards, you pick a line to wait in, place your order, move up to another line between the register and the food counter — and wait for someone to potentially call out your name, or order number (as it's printed on the receipt you got after paying for the food) — and you're handed a tray with your order.

Orders at Connections Eatery can also be placed via Mobile Order on the My Disney Experience app — and there's a dedicated pickup line just for those orders (aka, you get to skip the part where you place your order with a cast member).

Getting back to that "size" point I lost a couple paragraphs ago — if you're claustrophobic, I wouldn't even recommend even stepping into Pinocchio's. It's tiny, you'll be packed in pretty close with a couple dozen other guests, and you're likely to get faster service standing in line at your local Post Office.

Connections Eatery however, is a vast expanse — the food ordering and payment registers are strewn out like so many registers at a proverbial Walmart. Even at peek dining times there doesn't seem to be more that three groups per line. Keep in mind though, like paying for parking… there's one register for each "left" and "right" sided line… it probably won't go as fast as you might think... but at least you can swing your arms around wildly around your body while you wait, without fear of hitting anyone around you.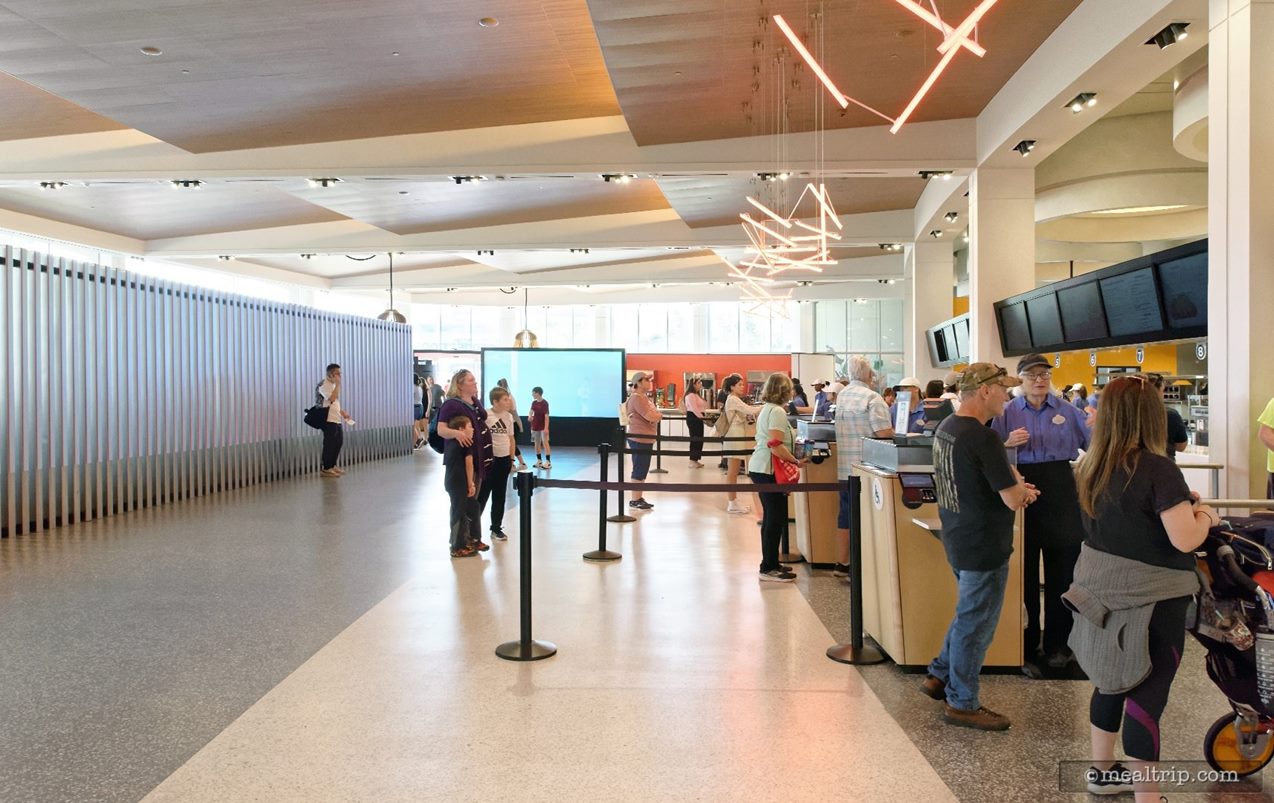 First, you place an order at the register, and then move forward to pick up your food. Mobile Orders placed on the My Disney Experience app have their own separate pickup line.


Even after paying for the order, the short hop and skip up to the food pickup area seems smooth and not nearly as chaotic as Pinocchio's or Tomorrowland Terrace. You could grab your tray of food, and actually turn around without fear of running into other guests. It was actually, a pretty easy experience… which puts Connections Eatery near the top of my "this is how they all should be" list.

Disney's marketing material for Connections' says the location has a capacity of 2,000 guests. I think that's probably including the Connections Cafe (aka Starbucks) seating area, a couple of outdoor tables, and maybe some "standing room only" type tables. With that being said though — the place is very, very large.


I visited just at the beginning of the peek lunch time, when the restaurant should be at it's busiest — and I didn't have to "troll for a table" once I picked up my food. There was ample seating around here and there, as long as you weren't too picky about which room you wanted to sit in.

I had a nice view of the giant mural from where I was… I guess that means I was in the Giant Mural Room. The other main, large, wraparound location at Connections could be called the "floor to ceiling window room". The tables are all spaced out with room between them. There are some half-booths here and there for those that want a longer seat (or napping area), but most chairs are of the "four legged pull out" variety.

There's two large, self-serve soda, beverage, napkin, and plasticware counters placed on either side of the food ordering area — and they're easy to get to, no matter where you sit.


So how's the food? Well, I got the French Bistro Burger which features a blended beef burger patty, caramelized onions, bacon, brie, mushrooms, dijon mayonnaise, and a toasted brioche bun. The entry was served with… wait for it… "French Fries" (staying in the world food theme no doubt).


Actually, they don't hide the fact that this is a "blended burger", and so I don't really have to make a point, that this isn't going to be that "meat juice beefy goodness" kind of sandwich. There's some beef, that's usually blended with some veggies, like mushrooms, and some additional fillers. To be fair, none of the "fast food" theme park locations that I've been to in the past five years has served a 100% beef burger — so it's a sign of the times.

I have to say though… it was one of the better "fast food" blended burgers I've had recently. The actual meat patty in Altitude Burger's namesake sandwich over at SeaWorld was spiced so oddly, it was barely edible. If you've had a burger at another Disney restaurant (like the Backlot Express over at Hollywood Studios for example)… this patty was very much in-line, flavor and quality-wise to any of those other Disney fast-food locations.


The good news here with the French Bistro Burger is — the bacon, onions, mushrooms and brie cheese (accented with that dijon mayo) — were really tasty and did a good job of pairing with the beef-like blended patty — to the point where this was a totally edible sandwich. I'd even go so far as to say, I'd order it again — if I were in the mood for fast-food.

At first, I didn't think there were very many fries on the plate — but as it turns out — they're a little thicker cut than something like, a McDonald's fry — and so I found the portion size to match the burger quite nicely.

One of the two strips of bacon that was on the burger — was a little undercooked for my taste. I like a good, crispy strip of bacon — but it was not undercooked to the point where is was dangerous to eat. The fries also stayed warm the whole time I ate the burger, in that nice yellow melamine bowl/plate.

Together with a soda and tax, the whole meal ended up costing just under $20 — which is a lot, if you're comparing this to what you could get for $20 at McDonalds or Burger King… Denny's or even something like the Outback. It's not out of line with other in-park fast food locations though. The Altitude Burger at SeaWorld did have a little more stuff on it (like chili) and came with mozzarella cheese sticks instead of fries — but it was $20 without the soda. All things being equal — I'd get the burger here at Connections Eatery before getting any burger at SeaWorld.

All in all — I actually enjoyed my lunch at Connections Eatery. It was easy and open, the seating was spacious, and there's more things on the menu I'd like to try — when I'm in the mood for fast food. It seems to be in an ideal location to pick up cross-traffic, in what will (almost) be the center of the front part of Epcot (someday) — and if you want a coffee — Starbucks (Connections Cafe) is just on the other side, in the same building.


Is it the best fast food location in all of Epcot? I'd probably still give that distinction to Sunshine Season's over near The Land Pavilion… mostly because they're serving up some really unique fast food, that rivals the quality of some sit-down plated meals. Things like Spicy Fish Tacos, Oak Grilled Chicken and Salmon, and Mongolian Beef. Connections Eatery is however, about the only place you'll find burgers and pizza while at Epcot.