Review and Photos from the Popular Swan and Dolphin Event
I've been to five or six of the Swan and Dolphin Food and Wine Classic events over the years. They're a lot of fun… but like most things these days, they are a little different then when they first started. Rather than writing a normal review — I thought I'd jot down some thoughts I came up with when trying to answer my own "should I go, or should I not go" question about the 2022 Food and Wine Classic. I actually got most of those thoughts by looking back at the 2021 Food and Wine Classic photos (the last time I visited).

This also gives me a chance to update our large photo gallery for the Swan and Dolphin Food and Wine Classic — with those shots from 2021. I'm not going to put all of those photos in this article, (just a couple), so please head on over to the photo gallery page (it's kind of like an Instagram grid) and take a look at all of the food, beverage, entertainment, and environment photos from 2021.

The folks over at the Swan and Dolphin say this (2022) is the 13th Annual Festival. I seem to remember the first one being in 2010, so I'm not quite sure how we got to the 13th — but there you go. If you want to read a little recap of what the festival is or read a few details about the upcoming festival — I've set up a main festival page for the event here — which not only covers the main causeway event, but also has info about the culinary seminars and extra special "grand" events that are taking place in 2022.

The menus for Friday and Saturday night in 2022 are located here — around eight of the food samples are different on Friday -vs- Saturday.


The Cost
Shoot. I was trying to leave cost for the end of the article, but I'm finding that it's something that pops up when writing about everything else. The cost of the festival has gone up since it first began. I know, I know — what hasn't? But I mean, it's gone up considerably.

In 2010, an unlimited sampling ticket for the main causeway event cost $50. Today (2022) with the mandatory tax and ticketing fee... that same unlimited sampling ticket for the main causeway ends up costing just under $185. You can easily say, there's more "stuff" now… more entertainment, more food, more beverage options… but I could easily counter that by asking if there's 3.7x more stuff? And if somehow you determine there is… does more stuff equal 3.7x more fun?

While some of the "stuff" at the Swan and Dolphin Food and Wine Classic has gotten better, or larger, or more special — some other stuff hasn't, and in a couple cases (for me anyway) has been reduced from when it first started


The Food and Beverage Neighborhoods
The actual setup at the Swan and Dolphin Food and Wine Classic hasn't changed much over the years. If it has, they've been very gradual changes… picking up a new area here and there.


The main "causeway" is where the original Food and Wine Classic began and… I guess it's still the main feature. I find myself spending more and more time in the offshoot areas though. The overall spaces you have to move around in, is one of the things that has gotten better.

On one end of the main causeway, you'll find the check-in area and a couple of tasting stations — but you can't really do much until you check in and get your credentials for that night.


I've four the last couple of times, that the check-in process has gone pretty well. There's only a one or two person deep line to wait in and it usually moves right along.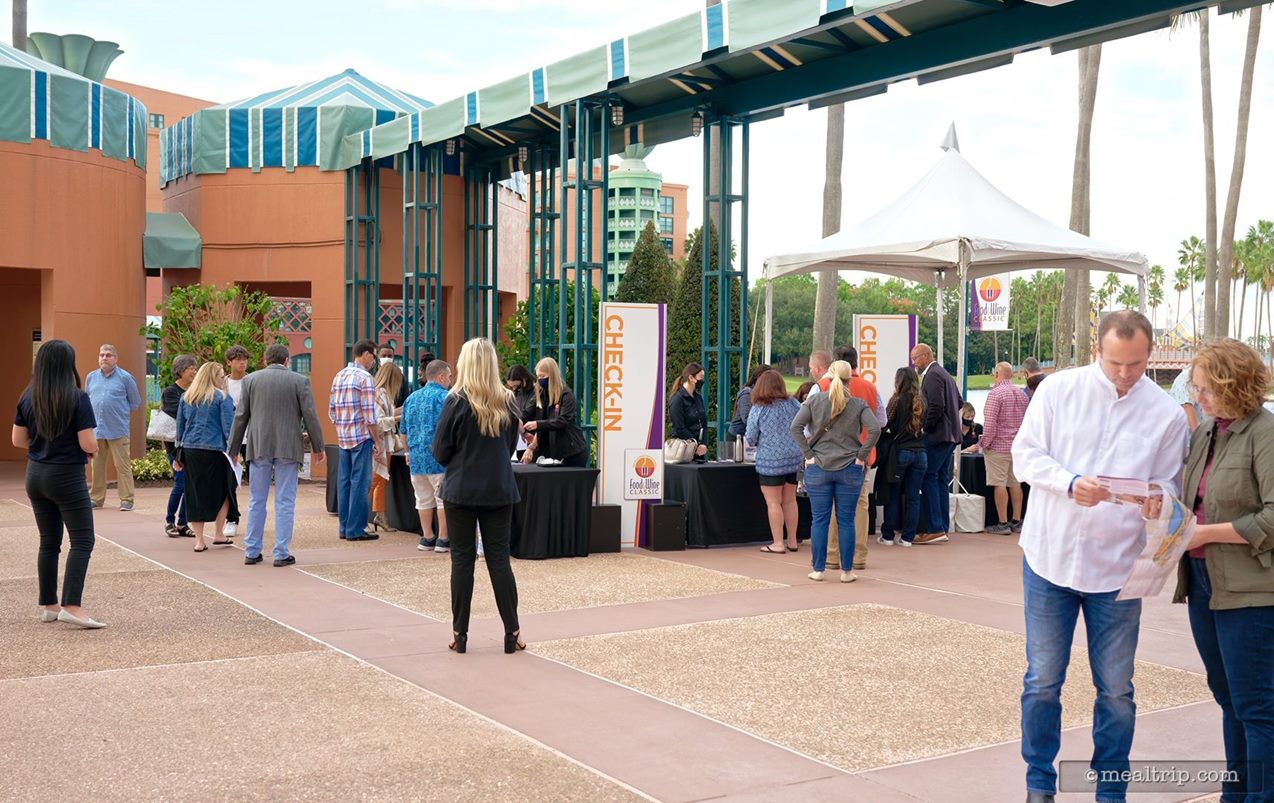 The check-in lines at the Food and Wine Classic aren't too long... there's usually no more than a couple people lined up at one time, and it moves along quickly.


I usually bring a paper printout of my ticket, just in case, but I think mostly they just get your name, check your ID to make sure it's really you, and give you a wristband for that evening's event.

There's a couple of tasting stations right in the same courtyard and the check-in area. These are usually wine-only sample stations.


All up and down the causeway, there's maybe a dozen different tasting stations… a good mix of food and beverages.





Once you make it to the other end of the causeway, you'll run into the main band's stage. It's pretty large, and there's no "festival" stuff beyond this point.


The main band for each evening, is usually really great. Mostly they've been "convention" style bands that play a great selection of cover tunes.


As the sun goes down, they generally crank up the volume a bit too, so depending on what you like — you may want to check out or avoid this area during the last hour of the event.


Just a little side note… if you ever happen to see the guy pictured in the photo below in a theme park or resort band — take a few minutes and watch him. I'm not sure what his name is but I've seen him at quite a few events over the years, and he's the real-deal. High energy and nails the vocals on everything, all the time.


This area though, is kind of "the end" of the festival trail… so we'll walk back down the causeway now… and if we're looking directly at the Swan, hang a left… pretty soon you'll see an offshoot path that leads to the Beer Garden.


The Beer Garden has it's own little seating area, it's own live music, a couple of great food items and naturally — beer.





The Beer Garden is one of those "conundrum" locations for me. The food, music and atmosphere in this area all pair well with beer. There's nothing I would call "high end culinary" — but it's generally the location where I've had some of the more enjoyable food and drinks over the past couple of years.




I would be 100% happy with just staying in this area all night long — which is the "conundrum". The event now costs $185 … and while this area is cool, it's not $185 cool. It really makes me wish that the Swan and Dolphin had a summertime "Beer Garden" event that cost half as much to go to… and only featured a couple different Beer Gardens.

If we leave the Beer Garden (sigh) and cross back over the causeway into the area I call "the other walkway over there" — you'll find some all important seating.


Mostly, guests will "save" these seats before the event begins. So if you want one — get here early. Notice all the chairs that are leaning? That so that one guy can hold the table for multiple people… while they go check-in or roam around.


This mostly all happens because there's no "reserved tables" at the event for anyone… and these happen to be at an equal distance to all the booths. The "center of the action" if you will.


There is actually quite a bit more seating as you move down the "the other walkway over there" — it just puts you farther from the center. The Swan and Dolphin Food and Wine Classic is spread out over a very large area, and as much as I would like to have a reserved seat — this really isn't a great event for that type of seating. You'll spend a lot of time and energy walking back and forth to your table.

Ideally, you'd want to grab a table for … maybe a half hour … enjoy some of the food and wine around your immediate location — and then move on to another area. There's also some "high boy" style walk-up tables here and there — if you want to stroll around without sitting. (At some point though, you'll probably want to put your glass down and grab a fork — not everything is "one hand" food.

There's usually a couple of the "named restaurant" stations here in "the other walkway over there" section — places like "Shulas" are very popular.



They also usually put Todd English's Bluezoo station near the "Free Invited Media Schmooze" tent (white tent with a private bar in the middle of "the other walkway over there" section) — not that I've ever been invited to the Free Media Schmooze tent. My point being, it usually seems like all the "highlight" food items are close to this area. That doesn't always mean that the best food is close to this area though.

Speaking of Bluezoo, they served these Duck Tacos at the event.



Which brings me to another "conundrum" moment. This is one of those "highlight" items that should be great. They put Todd English's photo (from 1980) on every piece of Swan and Dolphin Food and Wine Classic marketing collateral. This is a high dollar event and the Duck Tacos are a complex high level food item — but they just weren't very good.

The duck meat was dry, almost burnt, and oily. Served in a broken shell with a small cup of dippy sauce that you couldn't dip anything into. You could poor the sauce over the broken mess, but then there's a 50/50 chance that the dippy sauce will come oozing out the open corners of the paper boat that the Duck Taco is served in — and onto your pants.

The "conundrum" for me is — that most of the complex, high-culinary food items at the Food and Wine Classic fell into this same trap. Seeming to be great ideas when you read them on a menu, but in real life — a poorly executed and poorly plated flavor disappointment. Time and time again, I found myself eating and enjoying the less complex things much more — the Sushi Rolls from Kimonos, all the Beer Garden stuff, anything Chinatown, the Bourbon Apples from the S&D Pastry team.

Is the high-dollar, super big expensive event 3.7x's better? I'm not against spending dining money on something that's truly spectacular — but I keep coming back to the idea that — I'd be just as happy here, if there was half the stuff, at half the price.

Moving right along to one of my favorite stations for multiple years now — it's Chinatown!


The wait to get into the little Chinatown hut can be long at times — but it usually the only station that food with "soy sauce" — which is very different than all the other food at the Food and Wine Classic. It's like a foodie breath of fresh air — the kind of tasty umami that you can only get from Asian cuisine.



Right next to Chinatown is one of my least favorite areas — The Sand Trap.


I've seen guests with heals sink in that sand and disappear from sight completely, only to reappear on a small island beach off the coast of the Philippines. The Hang10 and Pig & Poke food booths are usually down in this area.

The Poke, Vegetable Ceviche, and Kalua Pork were all good, small bites… but lacked the complexity you would expect at a $185 event.



For example... the Traditional Earth Baked Kalua Pork, Steamed White Rice, Barrel Aged Tamari with Napa Cabbage sounds great, but doesn't quite look as fancy as you might expect.


Flavor-wise… I'm sure all the words in the description are true... but for what it's worth, you could make this with four off-the-shelf items at your local grocery store — and it would end up having more flavor than this did.

That's probably a good synopsis for all the food I sampled at the 2021 festival (and in years past). It's all good food. There was nothing bad, but if you think about a typical item from one of the booths at Epcot's Food and Wine Festival — these items are all one step down in terms of complexity and plating.

Around "The Pool" is where you'll find some additional seating and table — and (usually) the Kimonos booth and some hard liquors like sake and whisky.




The Kimonos booth is very popular, and because fresh, hand-made sushi takes a little time — there's usually a line.


The sushi is really good and has been one of my top-pick items from the festival for several years now.

Also nearby is a Sake stand. If you've never tried Sake before, here's a great opportunity to try a sample.



There's also a little Suntory Whisky cart that was making … I don't remember, something like a high-ball. Once you start mixing wine, beer, a whisky… things are hard to remember.



Smokin' D's BBQ was also in this area, serving a Black Pepper Smoked Beef Brisket.



I don't think the Bubble Room has been mentioned for 2022, so… it may or may not be there. The Bubble Room is a small conference room right next to the pool. When you check-in for the Food and Wine Classic, they also give you a piece of bubble gum — which you're supposed to trade-in for access to the Bubble Room (like it's a secret, speak-easy ticket). In practice, I've never actually seen anyone over there taking the bubble gum — but it's a cute idea.


In years past, there were a couple of food items in the Bubble Room… but for 2021, there were only a couple of selections of sparkling wine.



It's always great getting some sparkling wine, air-conditioning, and as a bonus — there was a great trio of "flapper girls" from the 20's performing songs from that era. They were really great!



That pretty much brings us to dessert. There have been many little dessert cups in the past, but for 2021, there were just two cups… a Bourbon Apple and Vanilla Crumble and a German Chocolate Cake.


For me, the Bourbon Apples were the winner… because it was easy to eat with a spoon. I'm not much of a "fruit for dessert" kind of person… so you would think I'd pick the German Chocolate Cake — but it was really difficult to figure out how to eat.


I think the chocolate "medallion cover" on top was intended to be melting over the brownie and ooze down into the cup… which is a cool idea. That brownie was really hard though. I tried two of them and they were both the same — sort of like a really dense flourless chocolate cake, but I don't think it was flourless — it was just really hard.


The only thing you have to work with here is a plastic spoon… and the spoon wouldn't go through the brownie in the cup. It had a tendency to pop the brownie right out of the cup and leave an oozy chocolate mess wherever it landed. I ended up dumping my second one on a plate and cutting that brownie with a plastic knife, just to get a taste of all the elements together. I'm happy to report that it was great tasting — but I'm not sure anyone actually tried eating it with a plastic spoon in a plastic cup — before putting it on the menu.


Closing Thoughts
Looking back at 2021 — I probably won't go to the 2022 Swan and Dolphin Food and Wine Classic. It's a really fun event — the food, environment and entertainment are all great too — I just feel like the price point is getting a little high, for what's the event actually is.

Half of the food items didn't really fall into the "amazing new culinary tapas tasting" category or even the "this is a great food truck" category… they felt a little like they were on the event's menu, just to make the event's menu look larger.



When it comes to the wine and beer… there's many varieties of each, and that's great. I can't say as though I've ever been able to remember much about the dozen different beverages I've tried over the course of the evening though. In that regard, I'd almost rather have one thoughtful beer and one wine pairing available for each of the food items — and not the 100's of selections that are available.


Once you add in the $32 parking fee (that they will change you… even if you "self park"), plus tax, plus ticketing fees… it would end up being $220 for just me, to go to the event... for just one night. I could very nearly have three amazing dinners at any number of restaurants in Disney Springs for that amount — and have just as much fun... over three nights, strolling around and eating delicious food and drinking perfectly paired wines, beers and cocktails.

I'm grateful to have gone to the Swan and Dolphin Food and Wine Classic when it first started all those years ago — when it was in the $50-$120 range. They were fun, memorable, carefree events. The "big spectacle event" must be getting harder to put together in today's economic climate — so I give the event planning folks over at the Swan and Dolphin props for keeping the event going. I'm looking forward to seeing what 2023's Classic looks like.