New Happy HalloWishes Dessert Party
August 17th, 2015
We just heard about a brand new Halloween dessert party offering at the Magic Kingdom , simply called the
Happy HalloWishes Dessert Party
, that will be offered on select nights… (meaning, on nights that the Mickey's Not So Scary Halloween Party is taking place). So you
DO
need a ticket to the "Mickey's Not So Scary Halloween Party"
AND
a pre-paid reservation to the "Happy HalloWishes Dessert Party" if you would like to attend.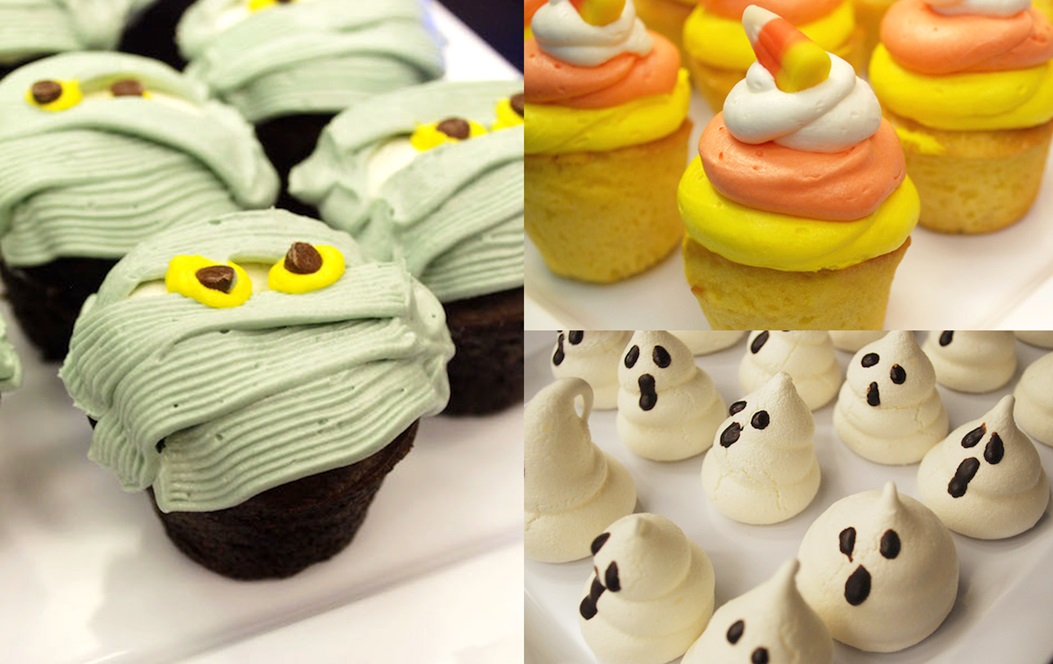 These Disney provided photos show a couple of the all too cute Halloween desserts that will be available at the party.
Last year, we saw the first "extra special event" that took place during the hard-ticketed MNSSHP, and it was called the Villains Soiree. Everyone that went, seemed to love it… however this new offering, seems a lot more sustainable, not just for this year, but going forward as well. I only mention that because if you haven't already booked for this event… it may be time to start planning for next year!
We checked just few minutes ago, and there were only a few nights left with any "small-party" availability (see my editorial note below**). By the time you read this… those will probably be gone as well. Which leaves all of us mostly hoping for cancellations, or capacity add-ons. If you really want to go… we highly recommend calling the reservations number at (407) 939-3463 or
click here to visit the online booking page for the event
… and keep checking back every few days. There is always a chance that seats are being released in "blocks", and they won't be available, until the system releases them.

**(Editorial Insert : There are a few suspicious things going on with the booking system... for example you can find nights were a table for 8 is available, but not a table for two or even four. We would like to think that at some point, if the table for eight doesn't book, it gets broken down... and that's where extra seats come from... but who knows? The tables at this event… are not movable and there are actually just so many tiny tables and medium sized tables and large tables to work with. We have however, found this to be quite true at some dining locations as well... especially character meals. I'm not ready to call "foul" just yet, but it's beginning to feel like solo and couple travelers are a bit discriminated against... for certain things. I supposed I could always buy a table for eight and just show up myself, but that seems a little ostentatious. Quite a few tables for eight... are still available... if you really want to go.)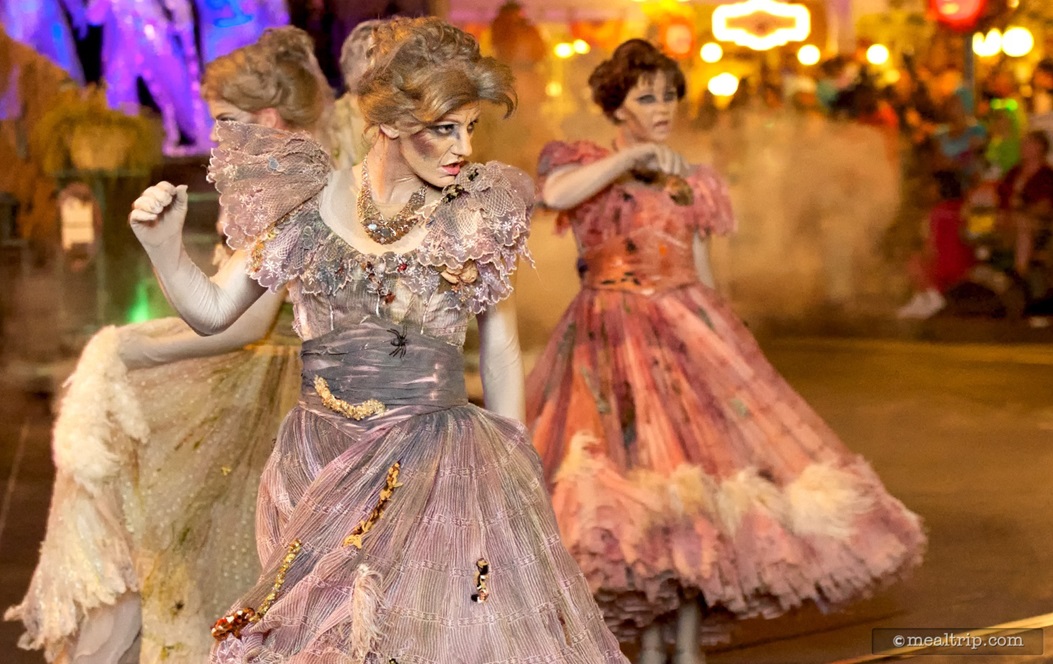 Why is that zombie so sad? It's because she missed out on booking the fabulous new Happy HalloWishes Dessert Party, that's why. (This is a photo from Mickey's "Boo-To-You" Halloween Parade that is featured two times nightly during the MNSSHP.)
The "normal"
Wishes Dessert Party (see our review of that event here)
is a very, very popular event though… so I would not be surprised if all the reserved seats to this special Happy HalloWishes Dessert Party do in fact sell out quickly.
Links to all the pertinent information appear below but here is a re-print of the Disney supplied information for the event.
We hope everyone that wants to go… already has tickets!!!!
On select evenings from September 15 through November 1, enjoy Mickey's "Boo-To-You" Halloween Parade from a special reserved location right on Main Street. Experience fun, frightful floats and kooky-spooky Disney Characters dressed in their Halloween finest—followed by a private dessert party with to-die-for views of the Cinderella Castle fireworks—a super-special way to make the most of the Happy Hallo-Wishes Nighttime Spectacular at Magic Kingdom Park!

At a table draped in black tablecloth with a flickering Jack-O-Lantern, dine on Halloween-themed cupcakes and desserts prepared that same day by our pastry chef, with sweet treats like chocolate-dipped strawberries, chocolate mousse, ice cream and fresh, seasonal fruits and cheeses. Make a toast to the best ghost at your table with sparkling cider or lemonade, hot chocolate, coffee or tea, and then marvel as the sky above explodes with color, music and light!

The Happy HalloWishes Dessert Premium Package costs $69 for adults or $39 for children (ages 3 to 9) which includes tax . A separate Event Party Ticket is also required, and is not included in the price of the package. The package will be available on the following dates only:
• September: 15, 18, 20, 22, 25, 27
• October: 1, 2, 4, 6, 8, 9, 12, 13, 15, 16, 18, 20, 22, 23, 25, 27, 29, 31
• November: 1
Just out of curiosity... has anyone else out there noticed you can't book something for two people, but can make the reservation for a larger number of people? How does that effect your Disney experience? Let us know in the comments below.