Epcot Festival of the Holidays Food & Beverage Menu Items for 2023
October 29th, 2023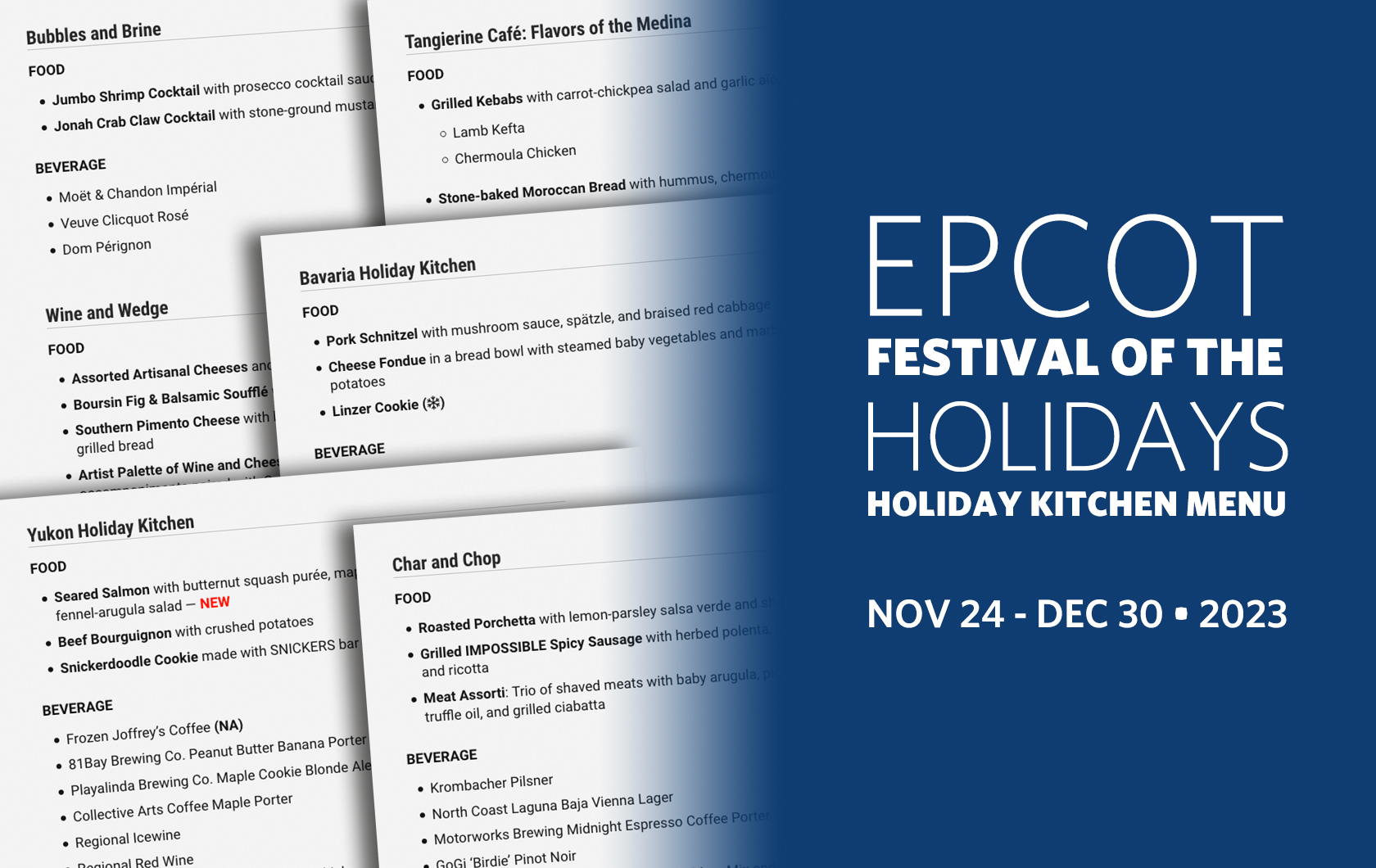 The Holiday Kitchen Food Booths are a substantial part of Epcot's Festival of the Holidays event
— which takes place this year from November 24th, 2023 through December 30th, 2023. The food and beverage booths are similar to those at the Food & Wine Festival and are open from 11:00am until park close. The cost of each item is only revealed once the festival starts and we get a closer look at the actual menu boards.
Items marked with
(PB)
means "plant-based" (there's only 5 this year).
(NA)
indicates non-alcoholic.
()
indicates a Cookie Stroll Item.
Bavaria Holiday Kitchen
FOOD
Pork Schnitzel with mushroom sauce, spätzle, and braised red cabbage
Cheese Fondue in a bread bowl with steamed baby vegetables and marble potatoes
Linzer Cookie ()
BEVERAGE
Possmann Pure Hard Apple Cider
The Tank Brewing Co. Prost! Festbier
Köstritzer Schwarzbier Bitburger
Regional Riesling
Glühwein: House-made hot spiced wine
Beer Flight
American Holiday Table
FOOD
Slow-roasted Turkey with stuffing, mashed potatoes, green beans, and cranberry sauce
Blackened Catfish with Hoppin' John and comeback sauce
Gingerbread Cookie ()
BEVERAGE
Crooked Can Brewing Company Bah HOPbug IPA
3 Daughters Brewing Eggnog White Porter
Playalinda Brewing Co. Peppermint Chocolate Stout
Beer Flight
Tangierine Café: Flavors of the Medina
FOOD
Grilled Kebabs with carrot-chickpea salad and garlic aïoli

Lamb Kefta
Chermoula Chicken

Stone-baked Moroccan Bread with hummus, chermoula, and zhoug dips (PB)
BEVERAGE
Bold Rock Orchard Frost Hard Cider
Gulf Stream Brewing Company Holiday Snakebite
Woodchuck Winter Chill Hard Cider
Fig Cocktail with fig vodka and white cranberry juice
Hard Cider Flight
L'Chaim! Holiday Kitchen
FOOD
Pastrami on Rye with house-made pickles and deli mustard
Smoked Salmon Potato Latke
Potato Latkes (PB)
Rugalach: Pastry filled with raspberry jam, walnuts, and cinnamon
Black and White Cookie (PB) ()
BEVERAGE
Brooklyn Brewery Winter IPA
Frozen New York Whiskey Sour featuring Manifest Whiskey and Manischewitz Blackberry Wine
Yukon Holiday Kitchen
FOOD
Seared Salmon with butternut squash purée, maple-bourbon glaze, and fennel-arugula salad — NEW

Beef Bourguignon with crushed potatoes
Snickerdoodle Cookie made with SNICKERS bar pieces ()
BEVERAGE
Frozen Joffrey's Coffee (NA)
81Bay Brewing Co. Peanut Butter Banana Porter
Playalinda Brewing Co. Maple Cookie Blonde Ale
Collective Arts Coffee Maple Porter
Regional Icewine
Regional Red Wine
Frozen Joffrey's Coffee with Tap 357 Whisky
Beer Flight
Holiday Sweets and Treats
FOOD
Peppermint Sundae: Chocolate ice cream, whipped cream, and peppermint candy
BEVERAGE
Hot Cocoa by Joffrey's Coffee (NB)
Chocolate Peppermint Shake featuring Twinings Peppermint Cheer Tea (NB)
Breckenridge Brewery Christmas Ale
Brew Hub Sugar Plum Red Ale
Left Hand Brewing Co. Chai Milk Stout
Hot Cocoa by Joffrey's Coffee with assorted liqueurs (Baileys Irish Cream Liqueur, Buffalo Trace Bourbon Cream Liqueur, or Skrewball Peanut Butter Whiskey)
Chocolate Peppermint Shake featuring Twinings Peppermint Cheer Tea and whipped cream vodka
Beer Flight
Refreshment Port
FOOD
Turkey Poutine: Sweet potato fries with turkey gravy, cranberry relish, and crispy onions
BEVERAGE
Gingerbread Milk Shake (NB)
Eggnog (NB)
Keel Farms Hard Pumpkin Cider
Pasek Cellars Cranberry Wine
Gingerbread Milk Shake with Whipped Cream Vodka
Firenog: Eggnog with Fireball Cinnamon Whisky
Swirled Showcase
FOOD
Mickey-shaped Liquid Nitro Cake
Soft-serve in a Waffle Cone: Vanilla, apple-cinnamon, and salted caramel
Cream Soda Float with vanilla soft-serve
Fanta Grape Float with vanilla soft-serve
BEVERAGE
Frozen Apple Pie (NB)
Cinnamon Apple Cider (NB)
3 Daughters Brewing Toasted Coconut Porter
3 Daughters Brewing Toasted Coconut Porter Float with salted caramel soft-serve
Berry Fizz Fragolino Red Sparkling Wine Float with vanilla soft-serve
Bubbles and Brine
FOOD
Jumbo Shrimp Cocktail with prosecco cocktail sauce and grilled lemon
Jonah Crab Claw Cocktail with stone-ground mustard sauce
BEVERAGE
Moët & Chandon Impérial
Veuve Clicquot Rosé
Dom Pérignon
Wine and Wedge
FOOD
Assorted Artisanal Cheeses and Accompaniments
Boursin Fig & Balsamic Soufflé with fig tapenade
Southern Pimento Cheese with bread-and-butter pickled vegetables and grilled bread
Artist Palette of Wine and Cheese: Assorted artisanal cheeses and accompaniments paired with Selbach-Oster Zeltinger Sonnenuhr Riesling Spätlese, Hartley Apple Brandy, and Florida Orange Groves Winery Black and Blue Port
BEVERAGE
Selbach-Oster Zeltinger Sonnenuhr Riesling Spätlese
Hartley Apple Brandy
Florida Orange Groves Winery Black and Blue Port
Flight
Char and Chop
FOOD
Roasted Porchetta with lemon-parsley salsa verde and shaved fennel salad
Grilled IMPOSSIBLE Spicy Sausage with herbed polenta, puttanesca sauce, and ricotta
Meat Assorti: Trio of shaved meats with baby arugula, pickled mustard seeds, truffle oil, and grilled ciabatta
BEVERAGE
Krombacher Pilsner
North Coast Laguna Baja Vienna Lager
Motorworks Brewing Midnight Espresso Coffee Porter
GoGi 'Birdie' Pinot Noir
Bloody Mary with Seaside Grown Bloody Mary Mix and Kurvball Barbecue Whiskey
Beer Flight
Refreshment Outpost
FOOD
Peanut Stew with sweet potatoes, mustard greens, and roasted peanuts (PB)
DOLE Whip Raspberry
BEVERAGE
Ciderboys Caramel Apple Hard Cider
81Bay Brewing Co. Cinnamon Orange Cranberry Ale
Ivanhoe Park Brewing Co. Gingerbread White Stout
Pumpkin Spice Ginger Cocktail featuring Boyd & Blair Potato Vodka
Nochebuena Cocina
FOOD
Tamale with chorizo, plant-based cotija cheese and spicy red chile sauce (PB)
Pernil: Mojo pork with tostones and ketchup-mayonnaise
Spiced Chocolate Cookie ()
BEVERAGE
:
Ponche Navideño: Mexican Christmas punch with apples, pears, guava, oranges, dried hibiscus, brown sugar, tamarind, cinnamon sticks, and clove (NB)
81Bay Brewing Co. Horchata Beer
Holiday Hearth Desserts
FOOD
Mint Chocolate Mousse Wreath — NEW
Apple Caramel Crumb Cake — NEW
Chocolate-covered Toffee Brittle — NEW
Red Velvet Mini Bundt Cake with Cream Cheese Icing
Salted Caramel Spaceship Earth Cookie
Mouse Crunch made with M&M'S chocolate candies
Peppermint Pinwheel Cookie ()
BEVERAGE
Hot Cocoa by Joffrey's Coffee (NB)
Frozen Caramel Hot Chocolate with TWIX cookie bar pieces and whipped cream (NB)
Wicked Weed Brewing Jack Frost IPA
BrewDog It's a Beaut Stout
Wicked Weed Brewing Milk & Cookies Imperial Milk Stout
Peppermint Cocoa: Hot cocoa by Joffrey's Coffee with peppermint schnapps
Beer Flight
Le Marché de Noël Holiday Kitchen
FOOD
Cream of smoked salmon in house-made dill brioche bread with cucumber — NEW
Roasted Ham with mushrooms, pearl onions, bacon, mustard sauce, and roasted sweet potatoes
Gingerbread Christmas Log with milk chocolate and hazelnut ganache — NEW
BEVERAGE
Frozen Hot Chocolate Martini: Grey Goose La Vanille Vodka, vodka, chocolate milk, and whipped cream
Le Joyeux de Noël: Vodka, Grey Goose Vodka, cold brew coffee, sea salt caramel toffee, and peppermint
Blood Orange Mimosa: Pol Remy Sparkling Wine, orange juice, and blood orange
Tuscany Holiday Kitchen
FOOD
Fried house-made pizza dough with pomodoro sauce, parmesan, and fresh basil — NEW
Farfalle pasta with smoked salmon and cream sauce — NEW
Flourless chocolate torta with chocolate sauce and vanilla cream — NEW
Fried house-made pizza dough with sugar and cinnamon — NEW
BEVERAGE
Prosecco
Moscato
Chianti
Italian Sangria (Red or White)
Italian Margarita with tequila and limoncello
Peroni Pilsner
Shanghai Holiday Kitchen
FOOD
Chicken Skewer with creamy peanut sauce
Beef and Noodle Soup Bowl with slow-braised beef shank, green onion, and house-made chili oil
Vegetable Spring Rolls with citrus sauce
BEVERAGE
Bubble Tea: Classic milk tea with black and white boba pearls
Brew Hub Year of the Dragon – Dragon Fruit Lager
Butterfly Lantern with butterfly pea blossom gin, vodka, prickly pear, lychee, soda water, and boba
Kung Fu Master with vodka, triple sec, mango, orange juice, and soda water
The Lucky Mo with citrus vodka, peach schnapps, piña colada mix, orange juice, and soda water
Shi Wasu Holiday Kitchen
FOOD
Sushi Tree: Sushi roll with krab meat and cream cheese topped with Aonori seaweed, Ikura salmon roe, and spicy mayonnaise
New Year Celebration Soba: Buckwheat soba noodles in a hot dashi soup with yuzu, shrimp tempura, and chopped green onion
Sweet Potato Mochi Cake: Gooey sweet potato mochi cake with purple sweet potato cream, strawberry, black sugary syrup, and sesame seeds — NEW
BEVERAGE
Ichigo Milk Boba: Cranberry and yuzu cream drink featuring Japanese calpico soft drink and popping strawberry boba pearls (NB)
Japanese Christmas Punch: Shochu, plum wine, cranberry, and lemon
Choya Sparkling Plum Wine
Sapporo Premium Beer
Las Posadas Holiday Kitchen
FOOD
Giant Tostada de Chorizo: Giant tostada with chipotle black bean purée, ground chorizo, salsa verde, queso cotija, crema Mexicana, and pickled onions — NEW
Tamale de Barbacoa: Shredded barbacoa beef in a corn masa topped with mole negro, queso cotija, crema Mexicana, and pickled onions — NEW
Dulce de Leche Churro sprinkled with cinnamon-sugar
BEVERAGE
Apple Margarita: Centinela Blanco Tequila, apple purée, black tea-cinnamon cordial, and Nixta Corn Liqueur topped with whipped cream and holiday salt
Horchata Margarita: Cinnamon-infused Ilegal Mezcal, Abasolo Corn Whiskey, Agua de Horchata, and cinnamon-horchata rum
Holiday Cerveza: Mexican Artisanal Craft Lager with black currant liqueur
Funnel Cake
FOOD
Holiday Cinnamon Celebration Funnel Cake topped with powdered sugar, vanilla ice cream, cinnamon cookie crunch, cream cheese whipped cream, and gold dust inspired by the culinary treasures of the Kingdom of Rosas in Disney's all-new animated musical film, "Wish"
Connections Café
FOOD
Connections Eatery
BEVERAGE
So Many Wishes: Pomegranate-green tea, hibiscus, lemon, and a dash of stardust (NB)
Coquito Milk Shake (NB)
Coquito Milk Shake with Bacardí Superior Rum
Sunshine Seasons
FOOD
Jingle Sugar Cookie made with M&M'S chocolate candies ()
Joffrey's Coffee & Tea Company
BEVERAGE
Horchata Cold Brew
A holly jolly blend of Joffrey's Shakin' Jamaican Cold Brew and horchata topped with whipped cream and cinnamon (NB)
(Spirited version available with Creamy Spiced Rum)
Food and beverage samples from these booths require a separate purchase. The Holiday Kitchen booths are said to open at 11:00am each day of the festival, and remain open until park close.
To see more coverage from
Epcot's Festival of the Holidays
event, be sure to check out the Mealtrip.com
Festival of the Holidays page
I've set up just for the festivities.