The 2023 Mardi Gras Menu at Busch Gardens Tampa
January 15th, 2023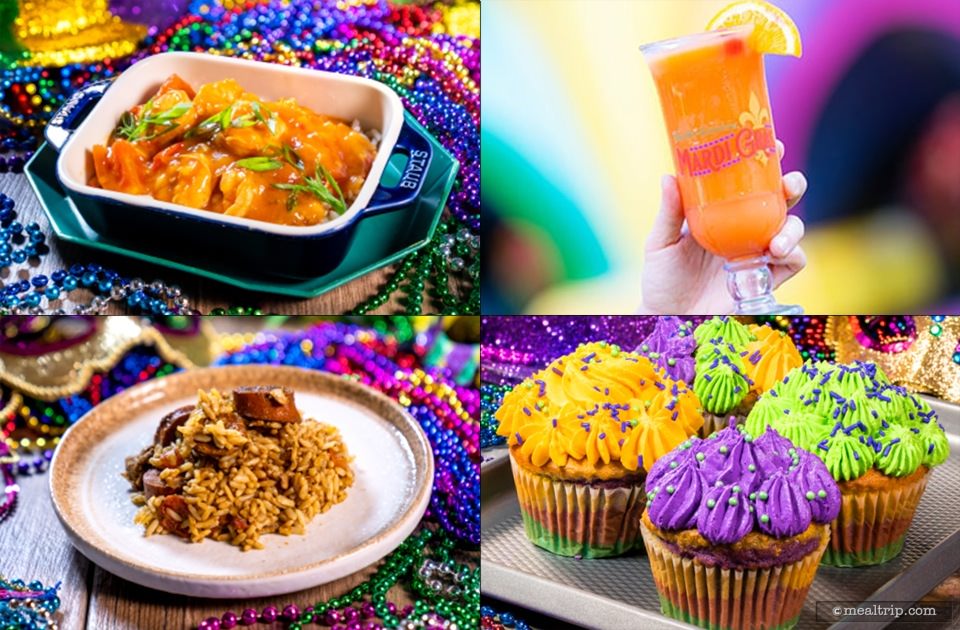 The Busch Gardens Mardi Gras Event
takes place on Fridays, Saturdays, and Sundays between January 14th and March 5th, 2023. Below is a text-based line-up for the food booths and menu items that will be available.
Mardi Gras Sampler Lanyards are available for 2023 and are a great way to enjoy the event. A 5 Item Sampler Lanyard is $40.00 (plus tax) and a 10 Item Sampler Lanyard is $60.00 (plus tax)… there's even a Pass Member Exclusive 12-item Food & Beverage Sampler Lanyard available!
The Sampler Lanyards can be shared between guests of the same party and are valid until the end of the
2023 Busch Gardens, Tampa Mardi Gras Event
(so you don't have to use all your entitlements on the same day).
All the food and beverage locations open up at 12:00pm on Fridays, Saturdays, and Sundays between January 14th and March 5th, 2023 — and should stay open until the posted park close time.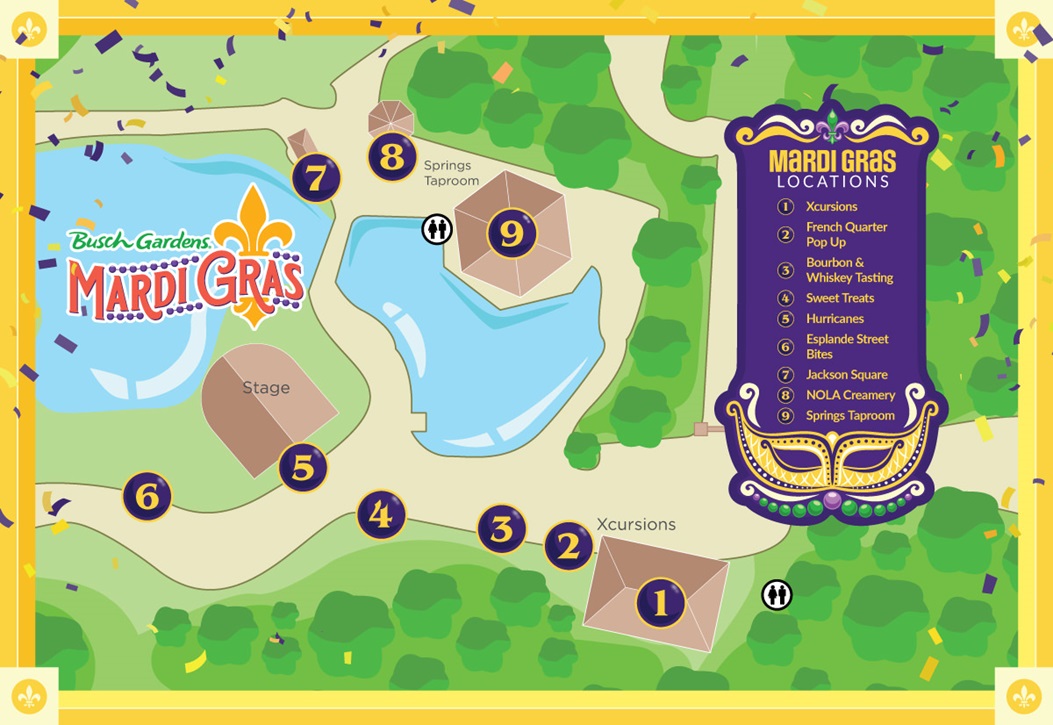 Here's a map for the 2023 Mardi Gras food and beverage locations at Busch Gardens Tampa.
01 - Xcursions
Big Easy Rum Bundt Cake - NEW

Mardi Gras Signature Cupcakes

Lemon & Lime Krewe Cupcake
"Brace Yourself" Hurricane Cupcake
Chocolate Flambeaux Cupcake
"Let the good times roll" Cupcake
**One jumbo signature cupcake or a bundt cake per Food & Beverage Sampler punch
02 - French Quarter Pop Up
Event Location Only - No food or beverages. Jewelry, artisan crafts and souvenirs. Make your trip to Mardi Gras memorable with a souvenir.
03 - Bourbon & Whiskey Tasting
Bubba's Secret Stills Marshmallow Chocolate Whiskey
Bubba's Secret Stills Burnt Sugar Whiskey
Horse Soldier Straight Bourbon Whiskey
Ammunition Straight Rye Whiskey
** One single pour per Food & Beverage Sampler punch. There's also a "tasting flight", where you'll get one sample of each of the Whiskeys... the flight however, can NOT be paid for with Food & Beverage Sampler.
04 - Sweet Treats
King Cake Donut - NEW
Beignets
05 - Hurricanes
Hurricane
Silver & Gold Rum, Passionfruit, Margarita Mix
"Throw Me Some Beads" Punch - NEW
Blanco Tequila, Pineapple Rum, Melon, Margarita Mix
Spiced Rum Sangria
Red Wine and Spiced Rum
Mardi Gras Bock - Abita Brewing
King Cake Ale - Mudbug Brewing
06 - Esplanade Street Bites
Andouille Sausage Po' Boy - NEW
French baguette, with andouille sausage, spicy remoulade and shredded lettuce.
Crawfish Etouffee - NEW
A thick stew served over rice with crawfish and Creole seasonings
Dirty Rice & Beans - NEW
Dirty rice is a traditional Louisiana Creole dish made from white rice which gets "dirty" color from being cooked with small pieces of beef, green bell pepper, celery and onion, then spiced with cayenne and black pepper.
07 - Jackson Square
Gumbo
Hearty stew of roux with andouille sausage and chicken.
Shrimp Creole - NEW
Delicious shrimp, tomatoes and the holy trinity of onion , bell pepper, and celery---and there's a peppery kick.
Jambalaya
Cajun/Creole rice dish with onion, celery , and bell peppers sauteed with andouille sausage.
08 - NOLA Creamery
Mardi Gras Parfait
Mini "Mardi" Bundt Cake
Served with ice cream.
09 - Springs Taproom
Muffuletta
Traditional sandwich that includes salami, capicola, mortadella, mozzarella cheese, provolone, Creole olive salad.
House-made Voodoo Chips
A blend of sweet & spicy, with Cajun flair and a hint of smoky BBQ sweetness
Sazerac
Pimm's Cup
Mardi Gras Bock - Abita Brewing
King Cake Ale - Mudbug Brewing
To partake in any alcoholic beverage, you'll need a legal ID proving your 21 or older. All food and beverage is "in addition to" your normal park admission charge. And as always, everything is subject to change without notice.
For the most up-to-date and offical informaiton about the
Busch Gardens Tampa Mardi Gras festivities
, check out our
Mardi Gras Event at Busch Gardens, Tampa page
, where we will post as many details as we have about the annual festival.
If you want to compare this event to what's going on at this year's
Seven Seas Food Festival at SeaWorld, Orlando
(which includes a mini Mardi Gras event weekend) check out our
Seven Seas Food Festival page
where we will post all the food and beverage menu items for that festival, including food pictures and reviews!