Food & Beer Menu Items for the Busch Gardens, Tampa 2019 Bier Fest (Text List)
August 8th, 2019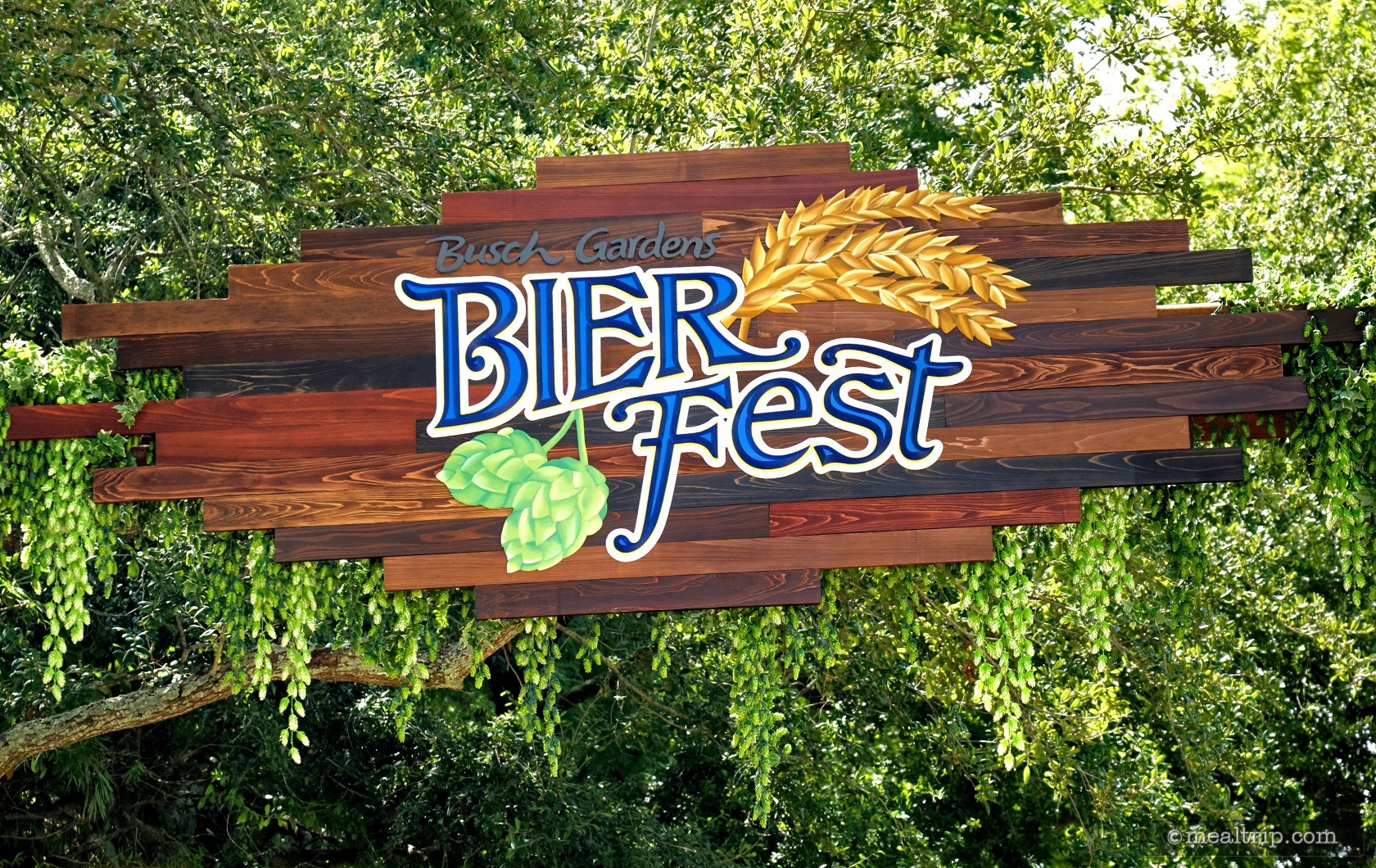 Busch Gardens, Tampa's Second Annual Bier Festival runs from Saturday, August 17th, 2019 until September 8th, 2019 plus one extra Monday… September 2nd, 2019 (Labor Day).
Below is a list of the food items that are going to be available at this year's festival. There's some more information about the various beers for 2019 under the food list (scroll down).
If you want to read more about the
Bier Fest
event, check out our
Busch Gardens, Tampa Bier Festival page
!
Bites Menu
Tacos on Tap
Shrimp Taco — Beer-Battered Shrimp, Flour Tortilla, Shredded Cabbage, Queso Fresco & Sweet Ginger Pickled Onions on a Flour Tortilla
Smoked Brisket Taco — Smoked Brisket, Corn Tortilla, Citrus Chipotle BBQ Sauce, Shredded Pepper Jack Cheese & Crispy Jalapeno Strips on a Corn Tortilla
Jerk Chicken Taco — Grilled Jerk Chicken, Flour Tortilla, Shredded Cabbage, Smoked Pineapple Salsa & Queso Fresco on a Flour Tortilla
Portobello Mushroom Taco — Portobello Mushrooms Sautéed with Peppers, Onions & Corn served on a Corn Tortilla with Shredded Cabbage & Pico De Gallo
Melted Munchies
Short Rib & Brie Melt — Short Rib, Brie & Caramelized Onions served on a Toasted Roll with Creamy Horseradish Sauce
Impossible™ Burger Melt — on Texas Toast with Provolone & Red Onion Jam
Griddled Cheesecake Melt — Sweet Cream Cheese Filling on Pound Cake, Grilled & served with Guava Sauce
Sip 'N Sliders
Bison Slider — Grilled Bison Slider on a Pretzel Roll with Provolone Cheese, Bacon & Onion Marmalade
Schnitzelwich Slider — Schnitzel on a Pretzel Roll with Swiss Cheese & Maple-Bacon Honey Mustard
Bratwurst Slider — Split Bratwurst on a Pretzel Roll with Braised Red Cabbage & Horseradish Mustard
Flourless Chocolate Torte — Served with Guinness-Infused Whipped Cream
Best Bites
Bacon Mac & Cheese Bites — with Maple-Bacon Honey Mustard dipping sauce
Reuben Croquettes — with Sweet & Hot Mustard dipping sauce
Deep Fried Cheese Curds — with Basil Parmesan Mayo dipping sauce
Pub Grub
Fried Chicken Wings — Tossed in your choice of Spicy Mango Sauce, Blood Orange Sesame Glaze, or Korean BBQ sauce
Sweet Potato Fries — with Toasted Marshmallow Dipping Sauce
Deep Fried Pretzel Sticks — with Beer Cheese Dipping Sauce
Floats
Adult Root Beer Float — with a shot of your choice
Hard Coffee Float — Pabst Blue Ribbon Hard Coffee served over Chocolate Soft Serve Ice Cream
Rosé Float — Astoria Sparkling Rosé Moscato served over Vanilla Soft Serve Ice Cream
Maduro Float — Cigar City Brewing Maduro Brown Ale served over Vanilla & Chocolate Swirled Soft Serve Ice Cream
Beer Info
The beer selections changed a bit from day-to-day at last year's festival, and we suspect the same thing will happen at this year's festival. So rather than publish a specific list of beers available, Busch Gardens has provided us with a list of Breweries, and those Breweries can then feature whatever they would like to at the festival!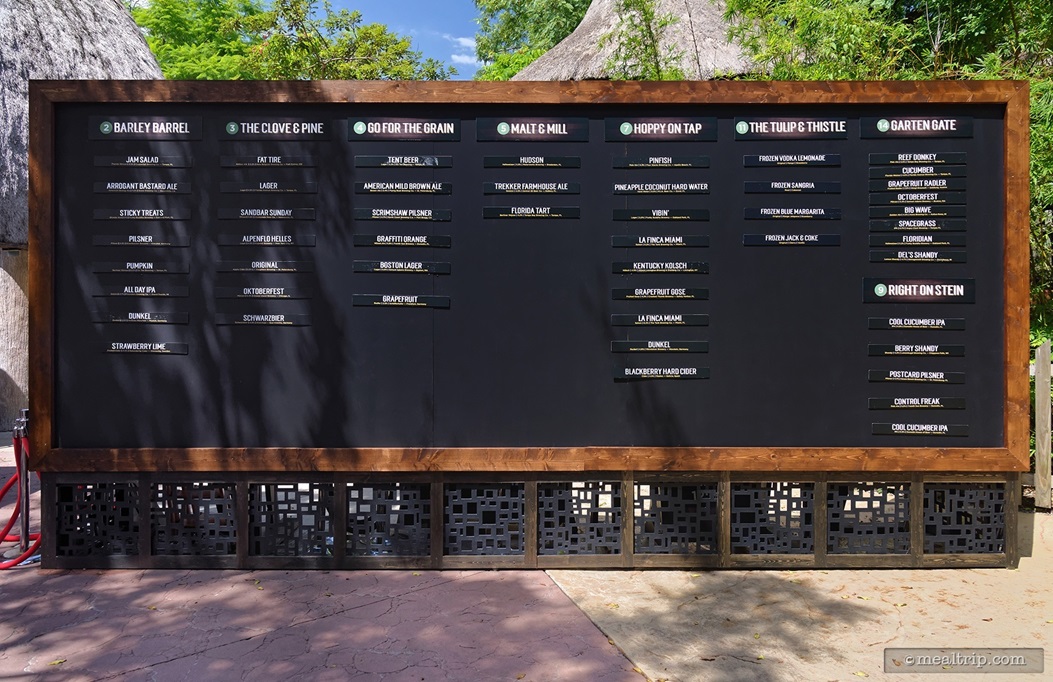 The giant "beer board" at the entrance to the 2018 "Bier Fest" at Busch Gardens, Tampa.
Last year there was a giant board at the start of the festival area that listed all the beers for that day and at which booths they were at. Because selections can change quickly… be sure to check out the board first when you enter the festival area, if you're searching for something specific.
Florida Breweries
3 Daughters Brewing
Barrel of Monks Brewing
Big Storm Brewing Co.
Big Top Brewing Co.
Brew Hub
Central 28 Beer Co.
Cigar City Cider & Mead
Coppertail Brewing Co.
Crooked Thumb Brewery
Dunedin House of Beer
Escape Brewing Co.
Florida Avenue Brewing Co.
Fort Myers Brewing Co.
Green Bench Brewing Co.
J Wakefield Brewing
MIA Beer Co.
Orange Blossom Brewing Co.
Pierced Ciderworks
Sailfish Brewing Co.
Tampa Bay Brewing Co.
Two Henrys Brewing Co.
Veza Sur Brewing Co.
Walking Tree Brewery
Domestic Breweries
21st Amendment Brewery
Abita Brewing Co.
Bell's Brewery
Boston Beer Co.
CiderBoys
Dogfish Head Brewery
Goose Island Beer Co.
Lagunitas Brewing Co.
New Belgium Brewing Co.
Oskar Blues Brewery
Sea Dog Brewing Co.
Short's Brewing Co.
Sierra Nevada Brewing Co.
Stone Brewing
Terrapin Beer Co.
The Bruery
International Breweries
Hofbrauhaus
Paulaner Brewery
Peroni
Samuel Smith Brewery
Stella
Wittekerke
For the most recent info about the 2019
Bier Fest
event, check out our main
Busch Gardens, Tampa Bier Festival page
!