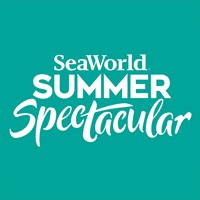 SeaWorld is open later on Summer Spectacular
event nights — and most of the roller coasters remain open as well (weather permitting). The SeaWorld Summer Spectacular extras are included with normal park admission.
Other special event night highlights include a DJ over at Bayside Stadium that plays high-energy dance music in a fairly large open space called "Club Sea Glow". There are cast member dancers that encourage guest to dance along with atmospheric acts (like light twirlers and stilt walkers) to help keep the party energy going.
The Summer Spectacular event nights finish with a firework and fountain spectacular is called "Ignite Fireworks". You can see the special firework display from just about anywhere around the big lake in the south end of the park — locations around Bayside Stadium, The Waterfront, and the Orca Encounter Pathway are prime viewing spots.
The event usually takes place on Fridays, Saturdays and Sundays throughout the event period — but can also include weekdays over the busy summer months.
Please check the official SeaWorld website for specific dates and times of the Summer Spectacular event
.