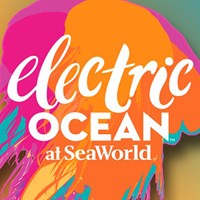 Electric Ocean at SeaWorld, Orlando
features summertime activities that include glowing dance parties, neon art installations, nocturnal animal presentations, special food, cocktails and fireworks! However … the special nighttime stuff doesn't happen every day, so you may have to do a little pre-planning. Like the recent "
Viva la Musica
" festival, there are no Sampler Lanyards available for food and beverage samples (so sad) ... but technically, food isn't one of the main attributes of this annual summer festival.
From May 27th, 2022 to June 19th, 2022
Fridays, Saturdays, and Sundays Only
From June 24th, 2022 to August 7th, 2022
Daily
From August 12th to September 4th, 2022
Fridays, Saturdays, and Sundays Only
Labor Day, September 5th, 2022
Monday