Loews Resorts at Universal Orlando
Menu and Prices for the New Year's Eve Party on the Piazza at Portofino Bay
October 23rd, 2023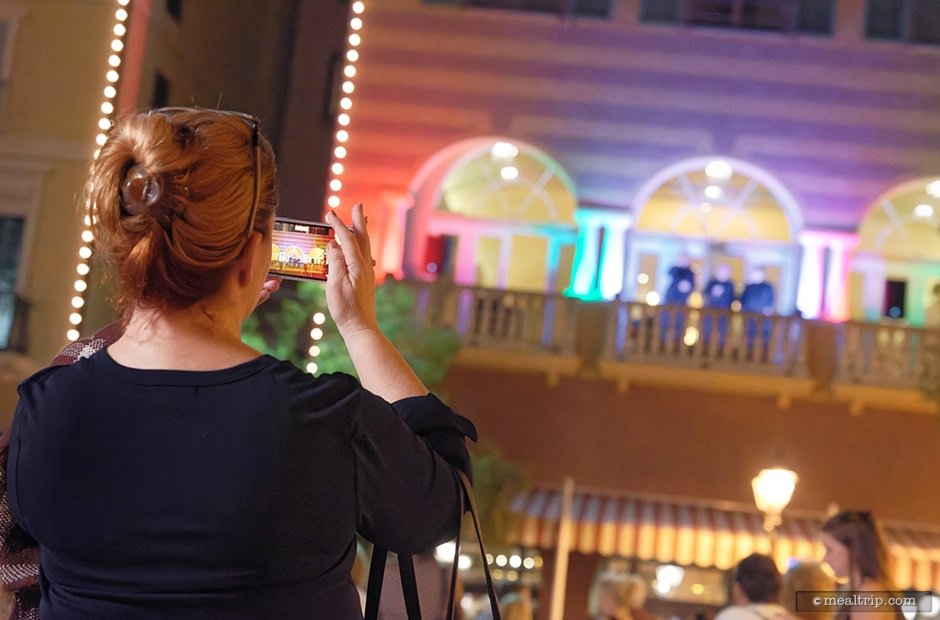 It's never too early to start making plans for New Year's Eve
, and there's a pretty cool sounding event happening at the end of this year over at the Loews Portofino Bay Hotel near Universal Orlando. Actually, the Loews group have historically had a couple of cool events on New Year's Eve… this is the first one we're hearing about so far… I'm not sure if they're doing anything else this year or not.
On Sunday, December 31st, 2023 — there's going to be a Party on the Piazza held in the resort's scenic Harbor Piazza (same space as the popular Harbor Night series). There's going to be food stations set up all around the piazza with samples from the resorts various restaurants. Multiple beer and wine stations will be set up as well.
Since the event is "all-inclusive" you can enjoy as many of the food and beverage stations as you want from 8:30pm until 11:00pm. As the evening draws to a close there will be a countdown to midnight including live performances by Portofino's opera singers along with a sparkling wine toast!
Things to keep in mind…
The event is family-friendly, even though alcohol will only be served to those over 21 with a valid ID, there are multiple price points that coordinate with a guest's age (i.e. the "under 21" tickets are a little less than the "21 and over" tickets).
While the event does officially run from 8:30pm - 12:30am… food and beverages are only served until 11:00pm — so make sure you have some nibbles and a topped off glass before the last call. That special "sparkling wine toast" at midnight is very likely just a single glass of sparkling wine.
Reserved seating is included with every ticket — however, it is "communal seating". That means they're going to have various large round tables set up for 8 to 12 guests. If you're a party of four, you may be seated with another party of four, etc. until all the seats at your table are full. The good part about this is… at a "normal" Harbor Nights event, the general ticket doesn't include seating at all, you have to get a VIP ticket to get a chair. So unless you really dislike sitting with other guests, this could be seen as a great bonus. If you're looking for a totally private experience for your party though — this might not be the event for you.
Let's look at the menu before we get to the prices!
Mama Della's Ristorante

24-Month Parmesan Wheel Risotto
Creamy carnaroli rice, vegetable broth, parmesan cheese, English peas, fresh mint.
Barolo Braised Beef Ragu
Toasted Sicily almonds, micro chervil.

Trattoria del Porto

Warm Orzo Salad
Orzo, oven-dried tomato, spinach, toasted pignuts, crumble feta cheese, basil.
Baked Chicken Meatballs
Preserved lemon yogurt, micro basil.

Splendido Bar & Grill

Baked Artichoke
Arthichoke bottom stuffed with spinach and herb grissini, roasted red pepper romesco cream sauce.
Yellowtail Crudo
Cucumber and fennel fern salad, radish, calabrian chili vinaigrette, preserved lemon aioli.

Sal's Market Deli

Wild Mushroom Cavatelli Pasta
Cream mushroom, crispy pancetta, chives.
Roast Pork Medallion
Marinated and slow roast pork tenderloin, San Marzano tomato sauce, citrus gremolata.

The Thirsty Fish

Spicy Corkscrew "Trottole" Pasta
Bronze cut pasta cooked in a pesto sauce, aged parmesan cheese.
Baked Lemon Shrimp Fra Diavolo
Italian marinated shrimp, smoked tomato sauce, focaccia, olive tapenade.

Carving Station

Carved Beef Steamship
Warm Mediterranean salad, broccoli rabe, dinner roll, creamed horseradish, traditional au jus, salsa verde.

Gelateria

Toasted Marshmallows Gelato
Roasted Almond Gelato
Mixed Berry Sorbet

Sweet Corner

Apple Spiced Torte
Cinnamon Crumble
White Chocolate Strawberry Devil's Food Cake
Milk Chocolate Caramel Brownie Verrine
Classic Tiramisu
Amoretti Cookie
Citrus Mascarpone Cheesecake

Kids Station

Mini Pizza
Meatballs & Marinara
Chicken Tenders
Garlic Bread
Fresh Fruit
Assorted Cookies & Brownies
So What About the Prices?
There's four pricing tiers to this one — because only those aged 21 and over will be served alcoholic beverages. Again, all tickets include "reserved communal seating" and free self-parking.
Adult (ages 21+) = $206.52
$180.00 + $13.92 Fee + $12.60 Tax

Young Adult (ages 18 - 20) = $149.70
$130.00 + $10.56 Fee + $9.14 Tax
Child (ages 10 - 17) = $149.70
$130.00 + $10.56 Fee + $9.14 Tax
Child (ages 3 - 9) = $53.11
$45.00 + $4.87 Fee + $3.24 Tax
Child (under age 3) = FREE
(But you still need to get a "ticket" for them so space can be reserved at the table)
Tickets for this one may sell out in advance, so if you're interested in going… I wouldn't wait too much past Thanksgiving to get your tickets.
Those tickets are available on the
Eventbright site
(that's where all the Loews Portofino Bay special event tickets are usually sold) —
Click Here to open that page in a new window
and select "get tickets" to purchase your tickets.
I've never been to a "New Years Eve" event at Portofino Bay but a similar event (with slightly less food) called
Harbor Nights
occasionally takes place in the same location. If you would like to read more about that event (and see some photos of the event space),
click here
.