Loews Resorts at Universal Orlando
Holiday Harbor Nights 2022 Menu, Wines and Prices
October 30th, 2022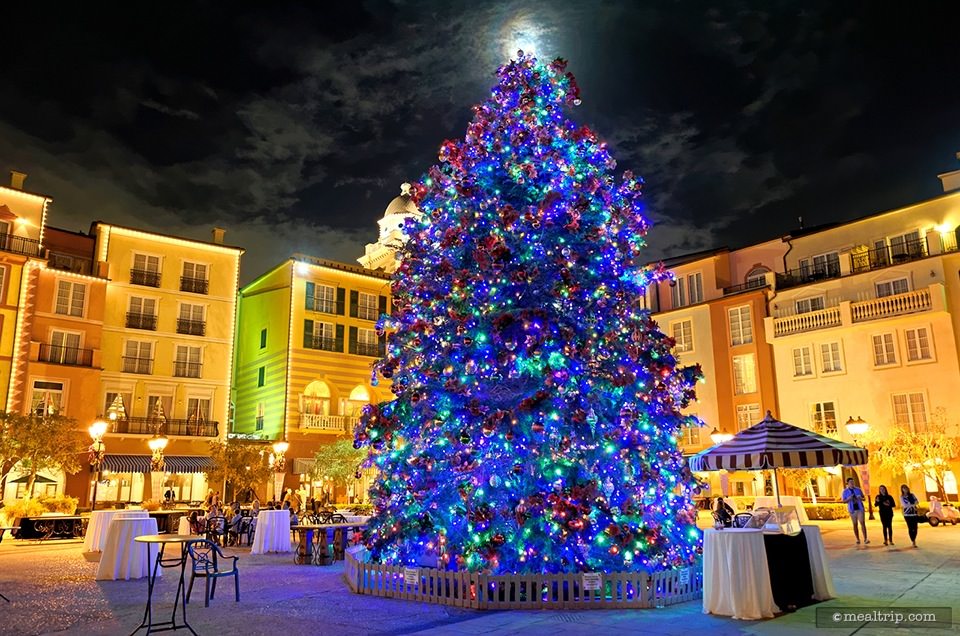 Now that the Halloween season has come to an end, we can start thinking about the Holidays!!! Over at Loews Portofino Bay "the" holiday event that kicks off the season is
Holiday Harbor Nights
— and we've got (almost) the whole menu! This year's event will take place on Friday, November 25th, 2022 (one day after Thanksgiving), from 6:30pm - 9:00pm in the Harbor Piazza.
Right now (I'm writing this about four weeks before the event) all the ticket levels are still available... but they do tend to sell out quickly (especially the VIP Tickets). The tickets are the same price as the previous La Dolce Vita event — so no price increases yet. Yay!
The all-inclusive ticketed event features great entertainment with a live band, an area for dancing, opera singers on balconies, festive holiday decor, a tree lighting ceremony, free self-parking, and naturally — as many samples of the food and beverages listed on the menu below that you want — for the duration of the event!
A $79 "Standing Harbor Ticket" (per person, plus tax and ticket fee ends up being $90.99) includes all of the above, but does not guarantee a table or a seat. Some "high boy" type of strolling tables are available, but are very limited — but there are only a handful of chairs here and there.
A $109 "VIP Ticket" (per person, plus tax and ticket fee ends up being $124.89) includes all of the above, plus gets you a reserved table and seating in a special area with an additional hors d'oeuvres plate — along with some exclusive food and wine sampling stations (where the lines aren't as long as they are in the general "standing" area).
Here's a look at the menu for the 2022 Holiday Harbor Nights!
Food Stations
Seared Ahi Tuna
Seared Ahi Tuna with romesco sauce, yellow pepper relish, pistachio balsamic pearls and micro arugula, served with panissa fritta.
Mama Della's Ristorante
Blecs Pasta
Black pepper pasta, wild mushroom, EVO English peas, heirloom tomato and mint pesto.
Trattoria del Porto
Garbanzo Bean Croquettes
Peppernata, nicoise salt powder, pea shoots, preserved lemon.
Splendido Bar & Grill
Fritelle D'Zucchini
Tangerine, acorn squash, purple cabbage, arugula and feta cheese.
Sal's Market Deli
Tuscan Chicken
Chicken breast, oven-dried tomato cream sauce, brown butter mashed potato, pecorino cheese, micro basil.
The Thirsty Fish
TBA
Coming Soon!
Bice Ristorante
Desserts

White Chocolate and Pumpkin Verrine
Cinnamon Shortbread Cookies
Hazelnut Vanilla Coffee Verrine
Nutella Cheesecake Gelato
Mixed Berry Sorbet
Sparkling Wines
Prosecco Extra Dry
VAL D'OCA — Veneto, Italy
Rosé Wines
Rosé
CHATEAU STE. MICHELLE — Columbia Valley, Washington
White Wines
Campanile Pinot Grigio
CAVALIERE D'ORO — Vento, Italy
Chardonnay
STEMMARI — Terre Siciliane, Italy
Moscato
STEMMARI — Terre Siciliane, Italy
Cristina Orvieto
ANTINORI — Orvieto, Italy
Villa Antinori Toscano Bianco
ANTINORI — Toscana, Italy
Soave Classico
SUAVIA — Veneto, Italy
Costamolino Vermentino di Sardegna
ARGIOLAS — Sardegna, Italy
Red Wines
Chianti
CASTELLO DI QUERCETO — Toscana, Italy
Villa Antinori Rosso
ANTINORI — Toscana, Italy
Barbera d'Asti
CANTINE POVERO — Piemonte, Italy
Sangiovese Terre di Chieti
CITRA — Abruzzo, Italy
Corvina
SCAIA — Veneto, Italy
Cabernet Sauvignon
DI MAJO NORANTE — Terre degli Osci, Italy
Cerbinare Primitivo Salento
CANTELE — Puglia, Italy
Sicilia Nero d'Avola Rosa
MORGANTE — Terre Siciliane, Italy
Additional information and a direct link to purchase tickets are available from the official
Holiday Harbor Nights event page — click here to open that in a new window.