Loews Resorts at Universal Orlando
Harbor Nights La Dolce Vita 2022 Menu, Wines and Prices
September 10th, 2022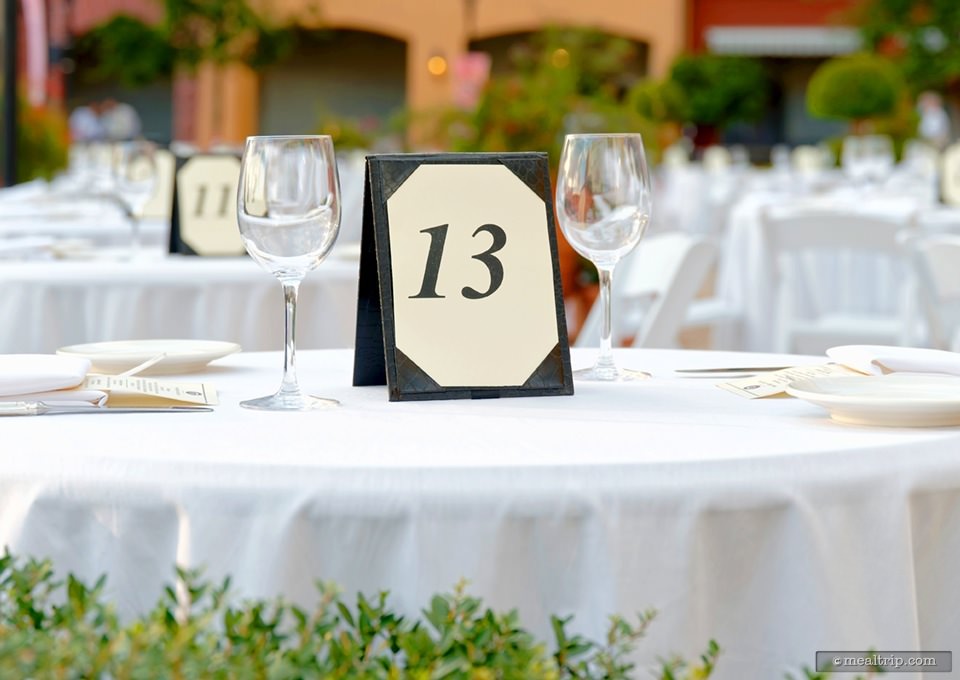 I know that fall is just around the corner — not because it's getting cooler outside — but because we're getting our first glimpse at the
Harbor Nights La Dolce Vita menu
! This year's popular autumn event will take place on Friday, October 21st, 2022 from 6:30pm - 9:00pm in the Harbor Piazza.
I'm posting the menu early enough this year, that all the ticket levels are still available! But these do tend to sell out quickly… sometimes weeks before the event date (especially the VIP Tickets). The tickets have increased $10 for each level, but considering how much everything has gone up recently — it's not out of line with everything that's included.
The all-inclusive ticketed event features great entertainment with a live band, an area for dancing, opera singers on balconies, free self-parking, and as many samples of the food and beverages listed on the menu below that you want — for the duration of the event!
A $79 "Standing Harbor Ticket" (per person, plus tax and ticket fee ends up being $90.99) includes all of the above, but does not guarantee a table or a seat. Some "high boy" type of strolling tables are available, but are very limited — but there are only a handful of chairs here and there.
A $109 "VIP Ticket" (per person, plus tax and ticket fee ends up being $124.89) includes all of the above, plus gets you a reserved table and seating in a special area with an additional hors d'oeuvres plate — along with some exclusive food and wine sampling stations (where the lines aren't as long as they are in the general "standing" area).
Here's a look at the menu for the Harbor Nights La Dolce Vita 2022 event!
Food Stations
Gamberi Oreganata
Skillet baked shrimp with Italian seasoned bread crumbs, parmesan cheese and tomato ragu.
Mama Della's Ristorante
Polenta Bar
Creamy yellow corn polenta, wild forest mushroom marsala or duck meatballs (polpetti al suga).
Trattoria del Porto
Frutti de Mare Flatbread
Garlic white sauce, clams, rock shrimp, smoked salmon, pesto, stone fruit and arugula. (Margherita flatbread also available.)
Splendido Bar & Grill
Chicken Cacciatore
Slow-cooked chicken thigh, tomato sauce with peppers, onions, olives. Served with arm Fregula
Sal's Market Deli
Barolo Braised Beef & Pasta Alla Ruota
Fresh cavatelli pasta tossed in a parmesan cheese wheel with black pepper and extra virgin olive oil and topped with braised beef.
The Thirsty Fish
Ricotta Cheese-filled Cannelloni
Served with marinara sauce and Parmigiano-Reggiano.
Bice Ristorante
Desserts

Cinnamon Apple Cobbler Crumble Cheesecake
Hazelnut Vanilla Coffee Verrine
Salted Caramel Gelato
Strawberry Sorbet
Sparkling Wines
Atto Prima Lychee
GANCIA — Italy
Rosé Wines
Rosé 2020
LUNA NUDA — Tuscany, Italy
White Wines
Gavi
BENI DI BATASIOLO — Piedmont, Italy
Vermentino di Sardegna
OLIANAS — Sardinia, Italy
Falanghina Rocca Dei Leoni
VILLA MATILDE — Campania, Italy
Toscana Chardonnay Le Bruniche
TENUTA DI NOZZOLE — Tuscany, Italy
Friuli Grave Friulano
CONTE BRANDOLINI D'ADDA — Friuli-Venezia Giulia, Italy
Pinot Grigio
CAPOSALDO — Italy
Red Wines
Cannonau di Sardegna
OLIANAS —Sardinia, Italy
Chianti Superiore
CASTELLO DEL TREBBIO — Tuscany, Italy
Red Blend
FABLE ROOTS — Italy
Pinot Noir
CANDONI — Veneto, Italy
Chianti Riserva
CONTEMASSI — Tuscany, Italy
Valpolicella Classico Bonacosta
MASI — Veneto, Italy
Vino Rosso Dolce Sweet Red Wine
TUTTO MIO — Emilia-Romagna, Italy
Additional information and a direct link to purchase tickets is available directly from the
Harbor Nights La Dolce Vita 2022 official event page
—
click here to open that in a new window
.