Loews Resorts at Universal Orlando
Holiday Harbor Nights 2021 Menu Items and Prices
November 3rd, 2021
I can't believe it's time for holiday special event menus to start rolling out already! I haven't posted my review for last month's Harbor Nights event yet but I can't wait any longer to post the next
Holiday Harbor Nights
menu!
Hot on the heels of October's Harbor Nights "La Dolce Vita" event the Loews Portofino Bay Hotel will host it's annual Holiday Harbor Nights event on Friday, November 26th, 2021.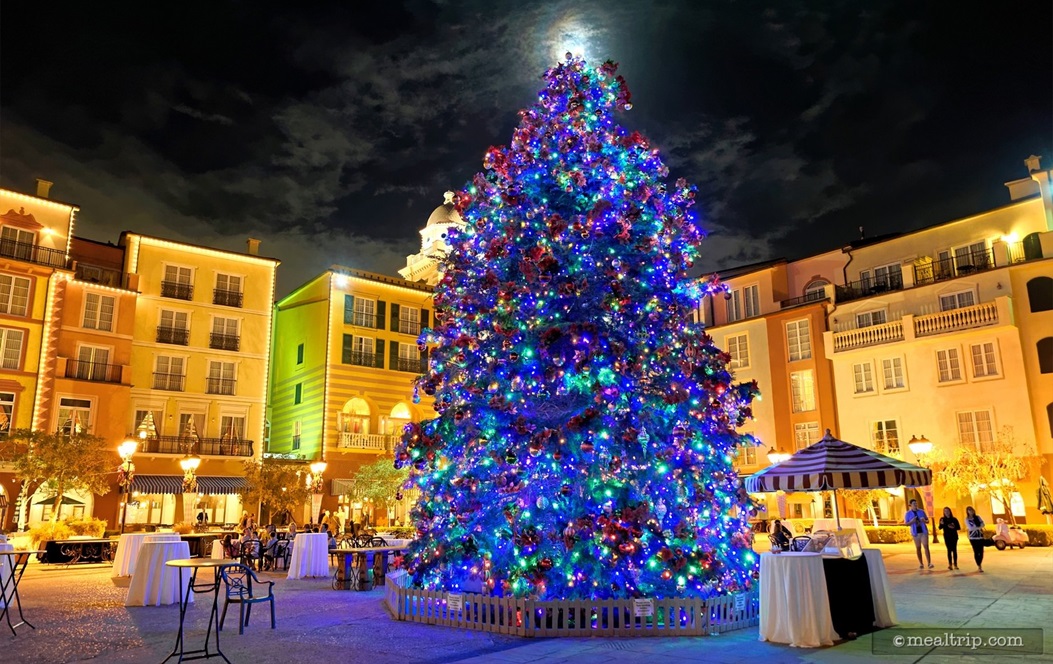 The very first lighting of 2021's main Christmas Tree in Portofino Bay's Piazza will happen at this year's Holiday Harbor Nights event on November 26th.
All of the Harbor Nights events follow a similar format… but each specific seasonal night features different decor, music, and food items to mix things up a bit. Each of the resort's restaurants bring a tapas style, plated version of a dish that represents their location. One of the big additional features of the Holiday Harbor Nights event is the first lighting of hotel's Christmas tree in the piazza!
Stay tuned to Mealtrip for a review of last month's event (hint… it was pretty great, and easily one of the best events of the year). If you would like to see some
photos from a previous year's Holiday Harbor Nights
that I attended back in 2015,
click here
.
The all-inclusive event features some great entertainment with a live band and dancing area, along with a couple of opera singers for good measure, free self-parking, and as many samples of the food and beverages listed on the menu below, for the duration of the event.
A $69 (per person, plus tax and ticket fee ends up being $79.70) "Standing Ticket" includes all of the above, but does not guarantee a table or a seat. Some "high boy" type of strolling tables are available, but are very limited — and there really are only a handful of chairs here and there.
A $99 per person, plus tax and ticket fee ends up being $113.59) "VIP Ticket" includes all of the above, plus gets you a reserved table and seating in a special area with an additional hors d'oeuvres plate — along with some exclusive food and wine sampling stations (where the lines aren't as long as they are in the general "standing" area).
Whole tables that seat up to 10 people are also available for $790 (per table with up to 10 chairs, plus tax and ticket fee ends up being $909.90) — which are great for corporate and office party groups, and include everything that is part of the VIP ticket.
The VIP Level Tickets sell out very, very quickly — if you're interested in experiencing this great event as a VIP, don't delay in getting your tickets! (There's a direct link to the tickets at the bottom of this page.)
Without further ado, here's the menu for
Holiday Harbor Nights
2021!
Food Stations
Grilled Chicken Skewer
Marinated chicken with Calabrian chili and Lemon, pesto hummus with house Giardiniera pickled.
Mama Della's Ristorante
Ground Lamb Meatball
Grilled lamb, vegetable ratatouille with pignut relish.
Trattoria del Porto
Seafood Arancini
Creamy rice mixed with fresh seafood, Italian bread crumb and tomato sauce.
Splendido Bar & Grill
Grilled Italian Sausage & Fregola Di Pasta
Italian sausage, pasta salad, grilled zucchini, endive, crispy pancetta and lemon dressing.
Sal's Market Deli
TBD
Bice Ristorante
Desserts

Raspberry Sorbet
Gelateria
Stracciatella
Gelateria
Classic Tiramisu
Cannoli
Sparkling Wines
Lunetta
Veneto Prosecco — Italy
Pink Flamingo
Rosé — France
White Wines
Barone Fini
Valdadige Pinot Grigio — Italy
Due Torri
Delle Venezie Chardonnay — Italy
Fernando Pighin Friuli
Friuli Grave Sauvignon Blanc — Italy
Feudo Zirtari
Terre Siciliane Inzolia Chardonnay — Italy
Cavaliere d'Oro
Campanile Pinot Grigio — Italy
Red Wines
Due Torri
Delle Venezie Pinot Noir — Italy
Feudo Zirtari
Terre Siciliane Nero d'Avola Syrah — Italy
Carpineto
Toscana Dogajolo — Italy
Riva Leone
Piemonte Barbera — Italy
Art of Earth
Montepulciano d'Abruzzo — Italy
Ono True Zin
Puglia Zinfandel — Italy
Castello del Trebbio
Chianti Superiore — Italy
More information and a direct link to purchase tickets is available directly from the
Holiday Harbor Nights 2021 official event page
—
click here to open that in a new window
.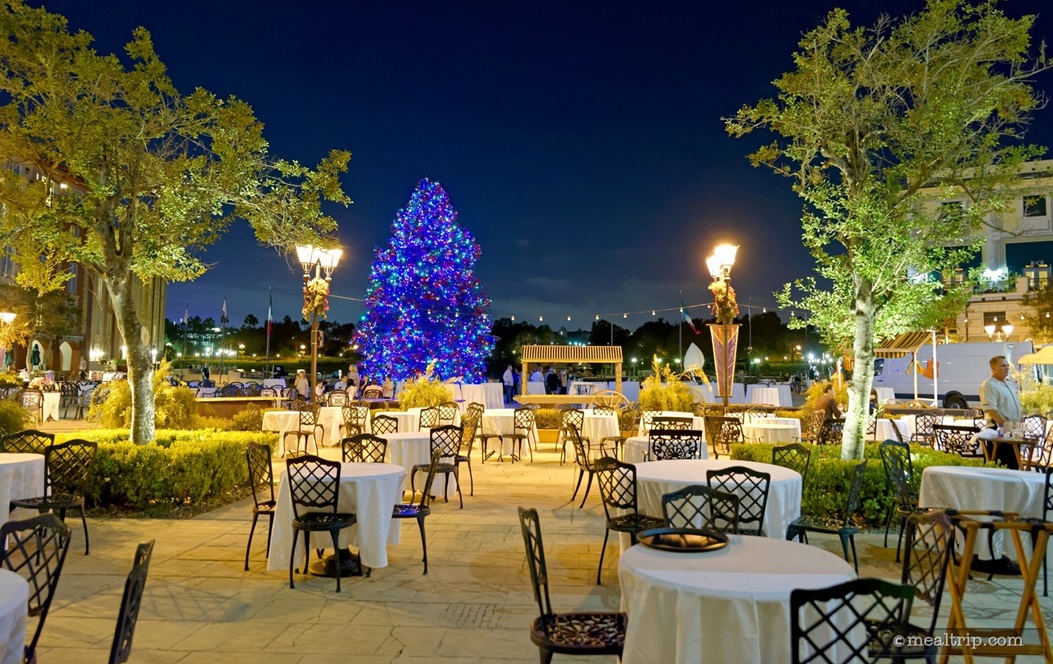 Ah, it's sooooo pretty! The Christmas Tree really does look neat out there, and it gives the courtyard area such a festival feel.