Candlelight Processional Celebrity Narrator List for 2019
October 22nd, 2019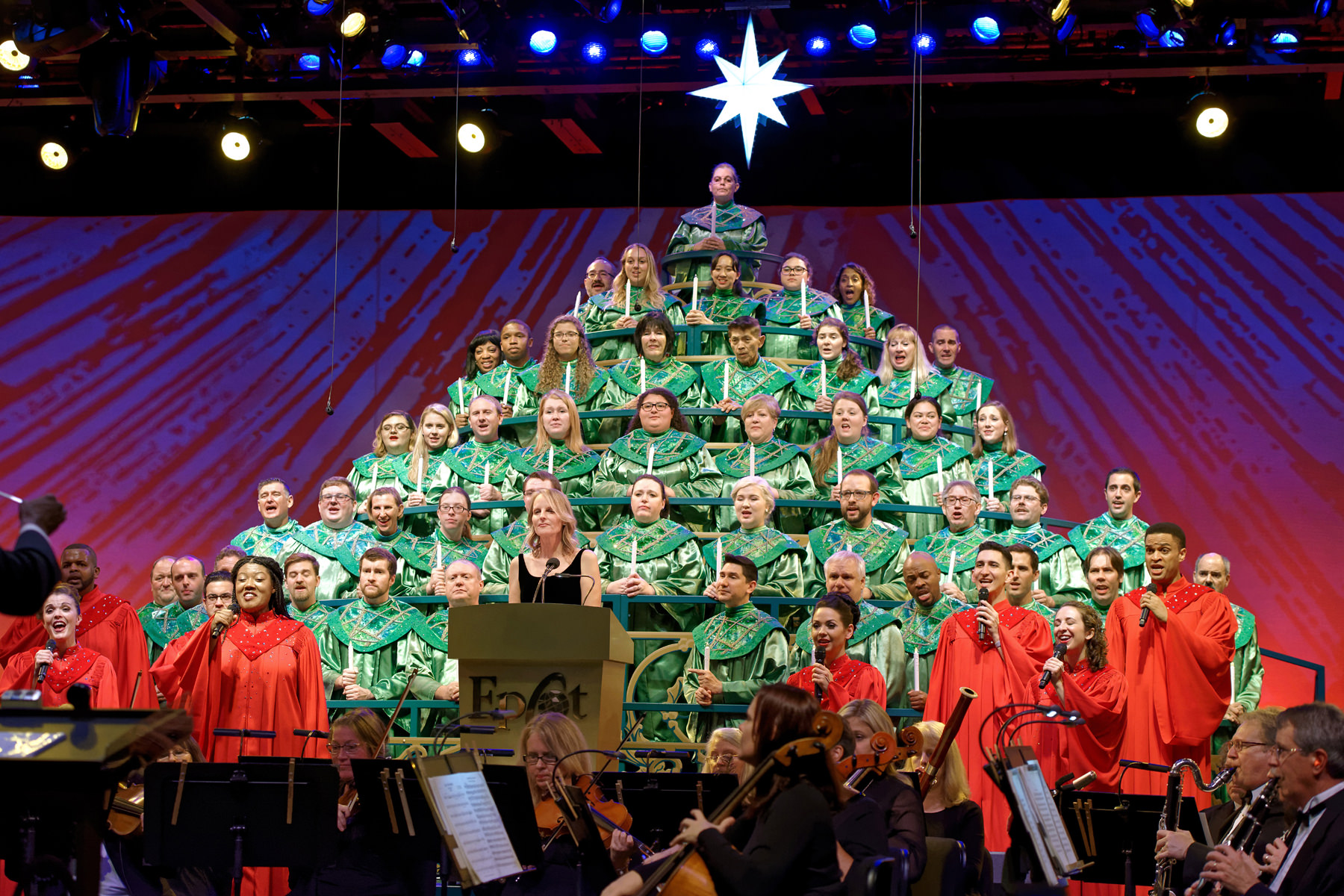 The Candlelight Processional is a time honored tradition at Epcot. It's a full-scale 40 minute production that takes place three times each night during
Epcot's Festival of the Holidays
.
Each night, a celebrity narrator tells the biblical tale of a savior born to a virgin in Bethlehem all while being backed by a live 50-piece orchestra and a mass choir (which on most nights is more than 100 members strong).
The list of celebrity narrators is THE piece of information that everyone is looking for each year for advanced planning. Below is the complete list for the 2019 season.
Ming-Na Wen
November 29 through December 1, 2019 (Friday, Saturday, and Sunday)

Neil Patrick Harris
December 2 through December 5, 2019 (Monday, Tuesday, Wednesday, and Thursday)
Whoopi Goldberg
December 6 and 7, 2019 (Friday and Saturday)
Isabella Rossellini
December 8 through 10, 2019 (Sunday, Monday, and Tuesday)
Alton Fitzgerald White
December 11 through 12, 2019 (Wednesday and Thursday)
Gary Sinise
December 13 through 15, 2019 (Friday, Saturday, and Sunday)
Pat Sajak
December 16 through 18, 2019 (Monday, Tuesday, and Wednesday)
Geena Davis
December 19 through 21, 2019 (Thursday, Friday, and Saturday)
Steven Curtis Chapman
December 22 through 24, 2019 (Sunday, Monday, and Tuesday)
Edward James Olmos
December 25 and 26, 2019 (Wednesday and Thursday)
Marlee Matlin
December 27 and 28, 2019 (Friday and Saturday)
Lisa Ling
December 29 and 30, 2019 (Sunday and Monday)
The production is well thought out and finds a nice balance between the religious side of Christmas, all while still being accessible to guests of different faiths and religions. Even though the celebrity narrators (more or less) read from the same narrative script — "who" you decide to see, has a bigger impact on just how faith-based the presentation unfolds.
While the Candlelight Processional is included with park admission, the "stand by" line is getting longer and longer each year. Show times are generally listed as being 5:00pm, 6:45pm, and 8:15pm. It is not uncommon to get into the "stand by" line 90-120 minutes before the listed show time.
Most guests decide to take part in the Candlelight Processional Dinner Package, which (for the cost of dinner), at least gets you a seat in the theater to watch the show at a pre-selected time. While the "dinner package" line itself is long and doesn't guarantee you a "great" seat… it does guarantee you "a" seat… provided that you arrive at the American Gardens Theater no less than 30 minutes before the show begins.
For more information about the Candlelight Processional Dining Packages, please click here to visit the official Disney site page with booking and pricing information for the various dining package options.