Menu Items & Cabin Names for the 2019 Busch Gardens Food and Wine Festival
February 25th, 2019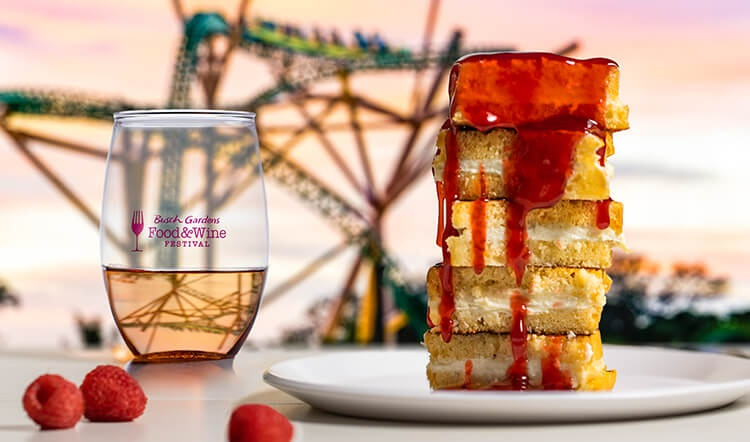 Here is a text-based line-up for the food booths (called "Cabins" at the festival), and the food items that will be available for this year's Busch Gardens Food & Wine Festival. The festival takes place on weekends only between March 16th, 2019 and April 28th, 2019.
Pricing for all items won't be available until the first day of the festival.
Sampler Lanyards
are back though, and one of the better deals is the 12-item Sampler for $54.99 (plus tax) which would break-down to less than $4.75 per item.
Northern California
Refined and innovative, indulge in inspired sauces from trendy truffle oil to distinguished 15-year aged balsamic vinaigrette. The shareable charcuterie and cheese cone is the perfect snack to grab-and-go on the way to your favorite concert.

Lollipop Lamb Chops with 15 Year Balsamic Drizzle - NEW

Duck Fat Fries with Parmesan and Truffle Oil Aioli
Charcuterie & Cheese Cone Meats, Cheeses and Olives - NEW
Pacific Northwest
From seaside splendor to the fruited plains, don't miss the mouth-watering tenderness of Cedar Planked Wild Alaskan Salmon, indigenous Dungeness Crab Croquettes, and the leaner taste of Bison Sliders.

Cedar Plank Wild Alaskan Salmon - NEW
Bison Slider with a Sweet and Spicy Bacon Onion Jam - NEW
Dungeness Crab Croquettes with Lemon Aioli - NEW
Nola Eats
Jazz up your taste buds with a smooth symphony of soul food and Cajun spice including oysters, gumbo and classic Bananas Foster with a twist.

Grilled Oysters topped with Creamed Spinach, Andouille Sausage and Toasted Garlic Panko - NEW
Chicken Gumbo Creole Flavored Stew with Chicken and Andouille Sausage over Rice - NEW
Bananas Foster Cheesecake Rich Cheesecake smothered in Gooey Banana and Rum Glaze - NEW
Southern Cuisine
Country-fried and full of flavor, tempt your palate with tastes from the deep-south featuring fried chicken and biscuit sliders, bacon and cheddar Hushpuppies, and a fried green tomato stack!

Southern Fried Chicken & Biscuit with

Bourbon Blackberry Jam

- NEW
Bacon & Cheddar Hushpuppies served with House-Made Dipping Sauce - NEW
Fried Green Tomato Stack with Pimento Cheese & Jalapeño

Pepper Jelly

- NEW
The Boardwalk
A trip to the shore isn't complete without a stroll on the boardwalk. Stop by and enjoy Maryland-style crab cakes, Jersey favorite Taylor Ham Mac & Cheese, and delectable Griddled Cheesecake.

Maryland-Style Crab Cake with Mustard Sauce - NEW
Taylor Ham Mac & Cheese - NEW
Griddled Cheesecake with Cream Cheese Filling, Topped with a Raspberry Coulis
New England Tavern
Take in the bounty of the Atlantic Ocean with our spin on a traditional lobster roll or classic clam chowder and give in to your sweet tooth with a tangy blueberry rhubarb crisp.

Lobster Roll served on a Buttered Split-Top Roll - NEW
New England Style Clam Chowder - NEW
Maine Blueberry Rhubarb Crisp Topped with Whipped Cream - NEW
The Heartland
Roaming fields and beautiful landscapes make up the Heartland of America, where traditions collide into iconic flavors. Enjoy traditional potato and cheese pierogis, Italian hot beef sandwich, and St. Louis ribs with Kansas City BBQ sauce!

Potato & Cheese Pierogis with Sour Cream and Chive Dip - NEW
Italian Hot Beef Sandwich Chi Town's Slow Roasted Shaved Roast Beef coupled with Giardiniera - NEW
St. Louis Ribs with Kansas City BBQ Sauce - NEW
Socal
Like a day at the beach, this menu will leave your taste buds feeling sun-kissed. Enjoy the fresh flavors of trendy shishito peppers and classic Baja fish tacos.


Aloha Eats
Craving a little paradise? The islands are closer than you think with Kahlua pulled pork, Kona crusted filet mignon, and a pineapple upside down cake that is sweeter than sunshine.

Kona Crusted Filet Mignon with Maui Onion Butter - NEW
Kahlua Pulled Pork with Hawaiian Sweet Roll & Pineapple Agro dolce - NEW
Pineapple Upside Down Cake Buttery Yellow cake, Golden Ripe Pineapple and Rich Caramel - NEW
Tex Mex Cantina
Take a trip south of the border for deconstructed Mexican street corn with the new grilled elote or kick up the flavor with the chorizo queso fundido.

Short Rib & Cheddar Quesadilla

Tender Braised Short Rib with Peppers, Onions, Fresh Pico and Sour Cream

- NEW
Grilled Elote - Mexican Street Corn Chargrilled and Shaved off the Cob with Cotija Cheese and Chili-Lime Crema - NEW
Chorizo Queso Fundido

Monterey Jack Cheese, Sweet Onions and Shishito Peppers with a side of Crisp Tortilla Chips

- NEW
Tampa Tavern
Enjoy a taste of Tampa's history with the park's Cuban egg roll - a new spin on the local sandwich.

Cuban Egg Roll with Mustard Dipping Sauce - NEW
Fried Snapper Sandwich with Lemon Aioli and Pickles - NEW
Key Lime Pie - NEW
Coke Fusion
Indulge guilty pleasures at the Coke Fusion Presented By Coca-Cola® cabin.

Sticky Pibb Wings Fried Chicken Wings, Tossed in a Sticky Sweet and Savory Mr. Pibb® Sauce - NEW
Cherry Coke® Pulled Porker Slider
Coke® Infused Chocolate Cupcake Topped with Pop Rocks™ Candy
Vivi's Fried Chicken
Taste one of our fan-favorite recipes from the former Vivi's Fried Chicken location at the park. Plus, satisfy your sweet tooth with a special anniversary cupcake!

Vivi's Fried Chicken Busch Gardens' Signature Fried Chicken with a Spicy Honey Drizzle - NEW
60th Celebration Cupcake - NEW