2019 Seven Seas Food Festival Stroll-Around Day One
February 21st, 2019
I was at the festival on the first day to take photos of all the
menu boards
(which I've also posted to our
Pinterest board
), and so naturally I got a little hungry and sampled a few of this year's items while I was strolling around.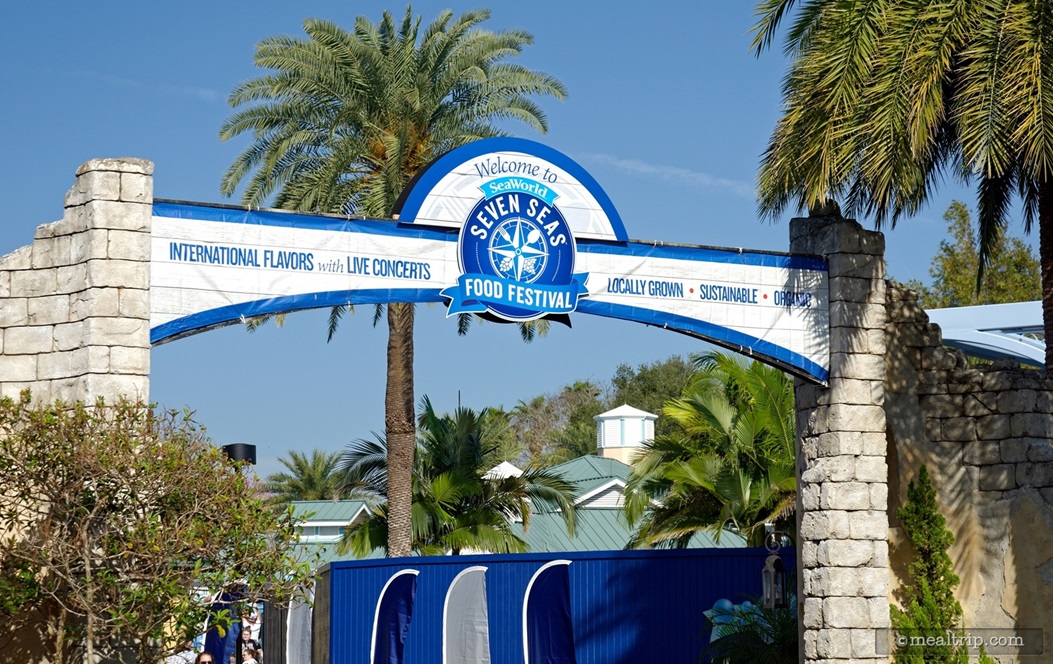 Welcome to the Seven Seas Food Festival 2019!
The food and beverage booths are open at 4pm on Fridays and by at least 12pm on Saturdays and Sundays during the festival (a couple opened as early as 11am, on the weekends, but no earlier). Since I'm an Annual Passholder, I purchased an Exclusive 20 Sample Lanyard for just $65 (plus tax)!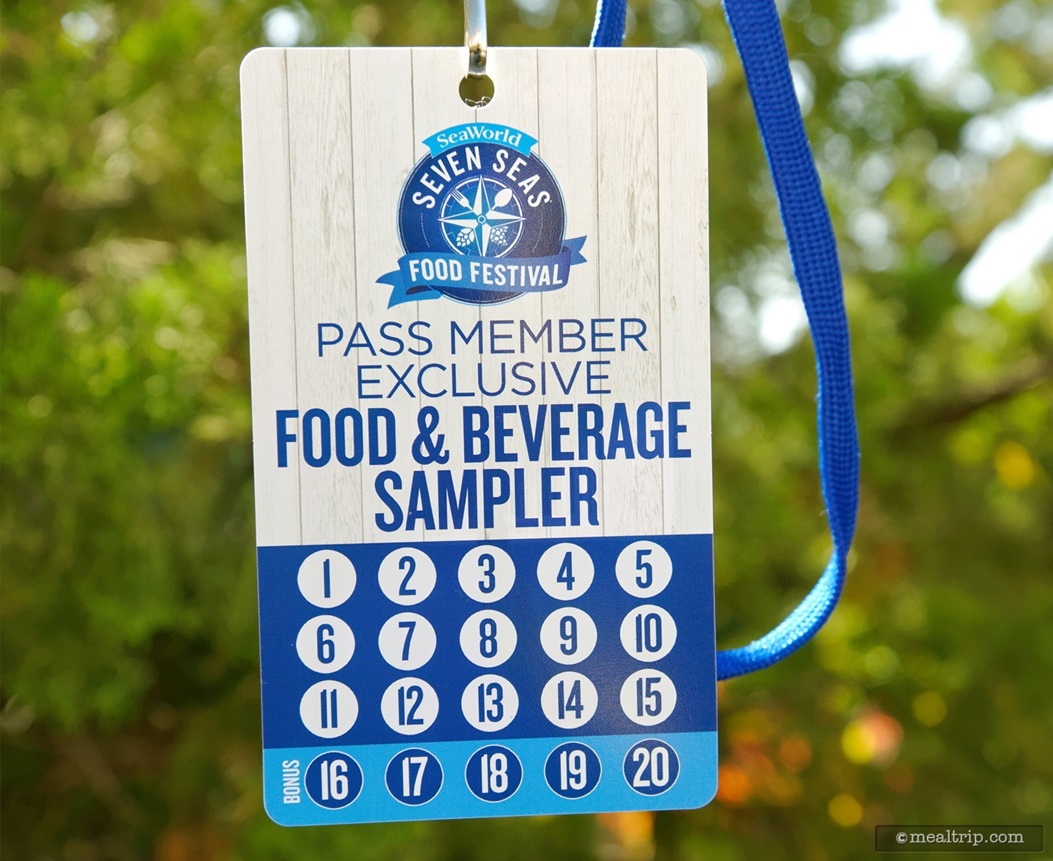 The Food & Beverage Sampler Lanyard is a really great value. One "punch" equals one sample, no matter what the listed price on the menu board is. A 15 Sample Lanyard is just $65, making each sample under just $4.50... no matter what you get.
It's really a great system and an amazing deal. Basically, no matter what price is listed on the menu board for a particular food item or beverage sample … if you have a Sampler Lanyard, that item will cost you just one "punch" from your numbered lanyard card. Since I get 20 samples for $65… that breaks down to each sample costing me just under $3.50 each!
Want to try the amazing WIld Boar Smoked Cheddar Sausage for $6.99? Well I did, and it was just one "punch" from my Sampler Lanyard… $3.50!
How about the New England Lobster Roll for $8.49? Not for me… it cost me just one more "punch" from my lanyard… $3.50!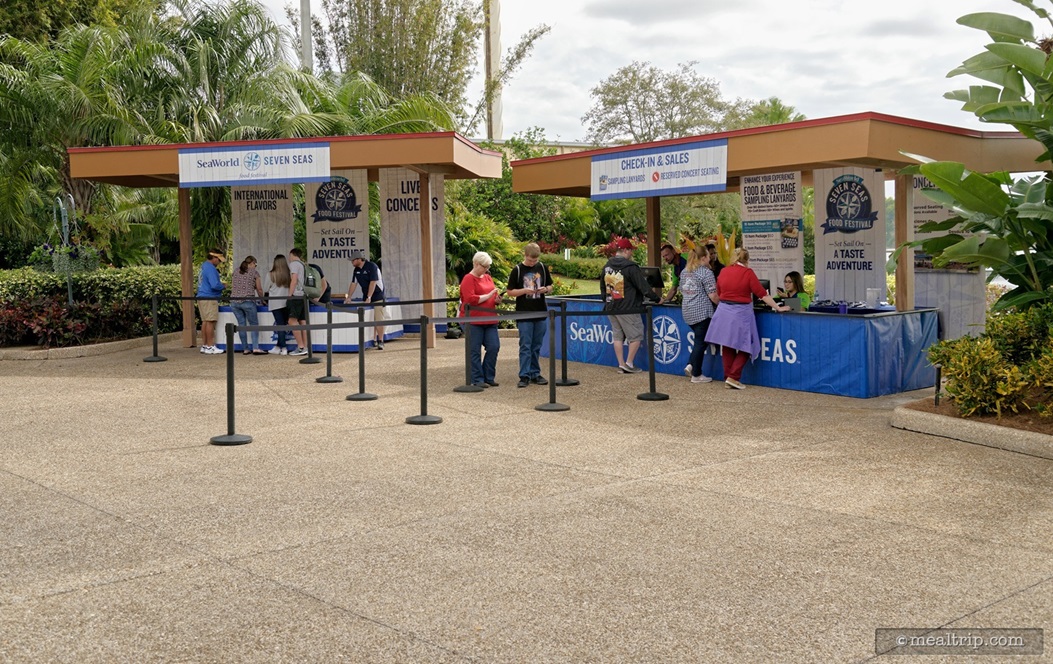 You can purchase sample lanyards and pick up a little booklet that tells you all about the food available at several locations throughout the park.
Well, you get the idea… and since there's only a handful of items under $4, it really does save — the Sample Lanyard lets you focus on the fun of the festival without worrying about the mounting cost. There are Sample Lanyards for everyone and not just Annual Passholders too! Guests that are in the park via a General Admission Single-Day pass can purchase a 15 item Sample Lanyard for the same $65… that breaks down to just under $4.50 per item.
Enough math already, let's check out what I ate!
This Teriyaki Beef and Avocado Salad from the Pacific Coast booth is new to the festival this year, and it's a really tasty dish!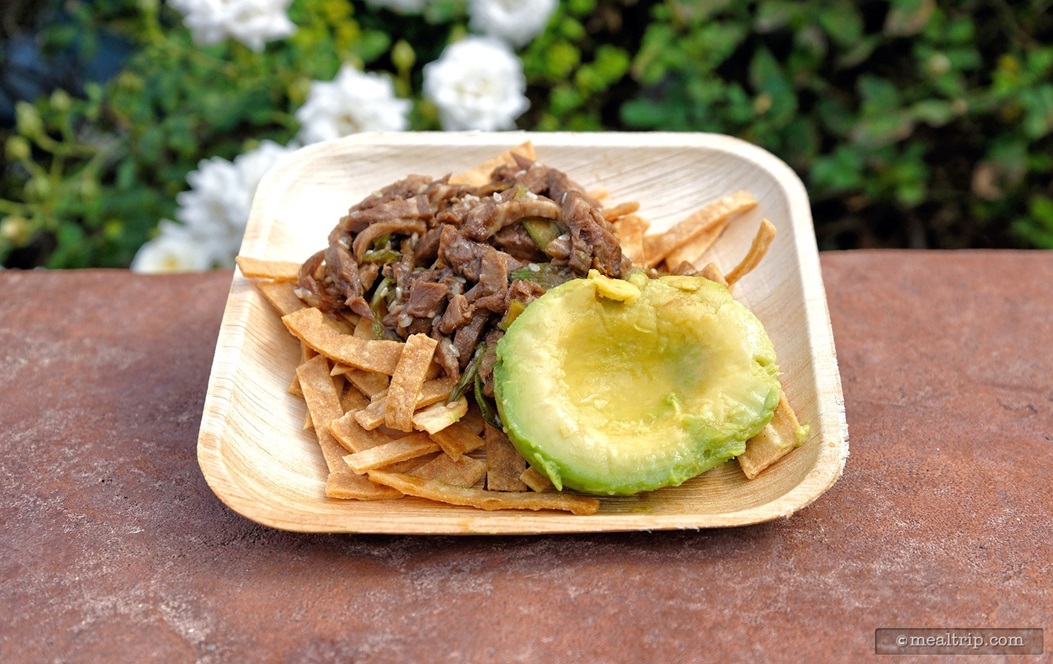 The Teriyaki Beef and Avocado Salad from the Pacific Coast Market booth is new for 2019.
The first thing to note about this one is that it's a "served cold" salad. It surprised me a little bit at first, because I'm so used to Teriyaki Beef being served warm — but you know what, the flavors are all still there and it actually makes more sense serving it cold along side that great little avocado half! While it is true, the little avocado isn't peeled and pitted on-stage (cause I mean, that would take forever) it is prepped right there in front of you, and it was instantly interesting to me, seeing all of these little avocado halves individually sealed in little containers!
It was a little hard to "fork" those tortilla strips, but the crunch they provided was a needed component to pair with the creaminess of the avocado… which was very fresh and creamy! I would totally get this one again.
Next up, another new item this year from the Caribbean Market booth, a Curry Goat Stew served over Caribbean Coconut Rice. This is the... "You know what I tried? Goat. That's what… and it was really good too," … item!
Another new item for this year is a Curry Goat Stew served over Caribbean Coconut Rice from the Caribbean Market booth.
While goat probably isn't that unusual for a foodie, it's a smart choice for the festival. Guests that aren't really adventurous eaters might consider it an "exotic meat"— but served in a stew like this, it really ends up tasting a lot like a roasted medallion of beef. The flavors here were good… it was a little under curried for my tastes (curry is one of my favorites), but the somewhat mild amount of curry is probably a good decision for most guests as well.
The pleasant surprise on this one was just how big those chunks of goat meat and potatoes were! This was a really hardy portion.
While I'm here at the Caribbean Market booth, I tried out another item that might be an "exotic meat" for some… the Conch Salad with a Fried Green Plantain.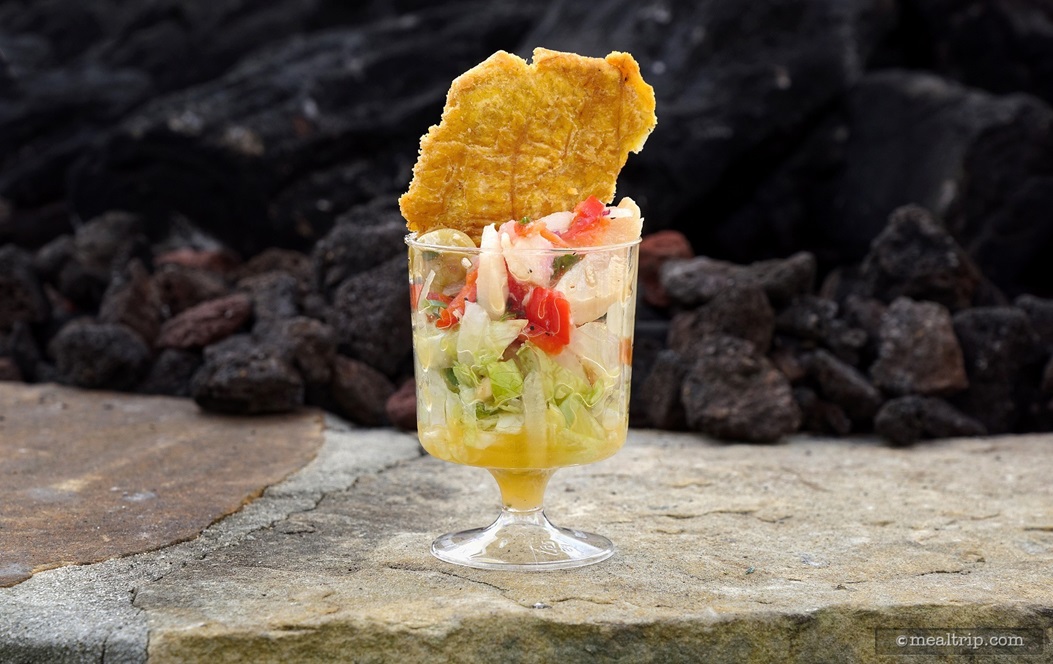 The Conch Salad with a Fried Green Plantain from the Caribbean Market booth is just so pretty!
It's so pretty! If you've never tried Conch meat, here's your chance! This was a great tasting item because of all the acidic veggies that were in there. For me… conch is never going to be one of those "craveable" items, it's not much too look at, and really… not much to taste either. It's a novelty — but maybe that's just me. The Fried Green Plantain was pretty large (I had to hold it in the plastic dish as I walked with it) and perfectly cooked.
Heading over to the Brazilian Market booth, I tried out the Brazilian Picanha Steak which is served with some Roasted Potatoes and a spot-on amazing Chimichurri sauce. Honestly… you could put chef Hector Colon's Chimichurri sauce on just about anything and it would be amazing!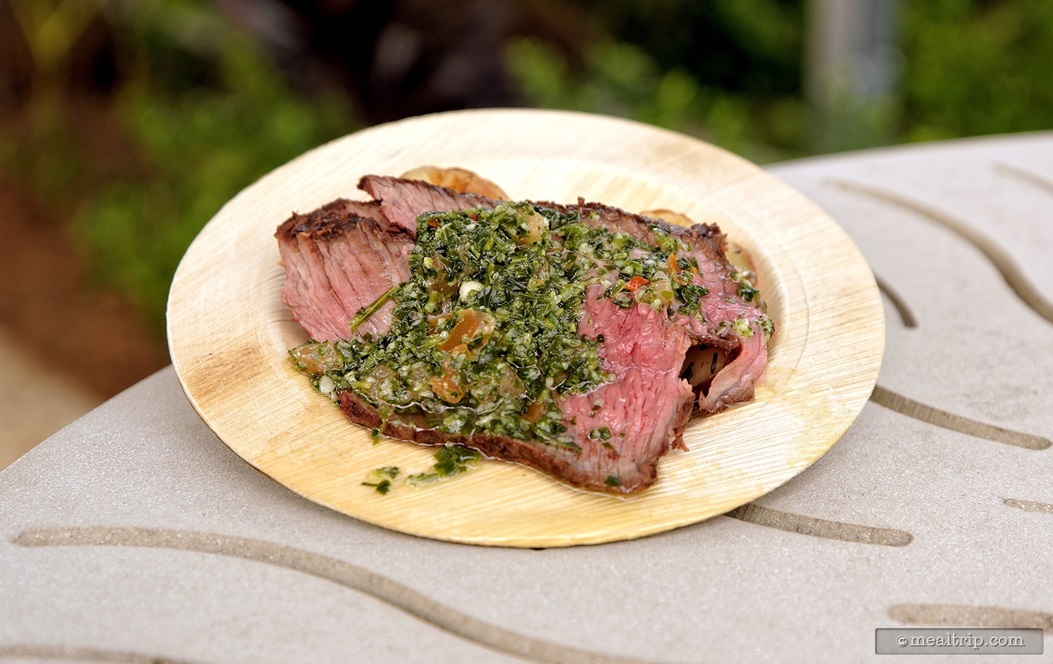 A Brazilian Picanha Steak served with Roasted Potatoes and a Chimichurri Sauce.
This one is kind of a must eat, festival, street food kind of item that you just really want a cold beer with! There is no choice on the cooking temperature though, so if the photo for this one is looking a little too pink for your tastes — you may want to skip this one.
The Picanha Steak is called a sirloin cap in the US or sometimes a "rump cap". It's a cut of beef that comes from an area just above the tail of the cow … called a Picanha because that's where the ranchers would poke the cow with a "picana" pole to heard them. Vegetarians — please disregard the entire previous paragraph… I'm not poking the cow… I'm just tellin' you what I know!
So many new items this year! Heading back over to the Pacific Coast Market booth, the Salmon Burger Slider was just oh so good!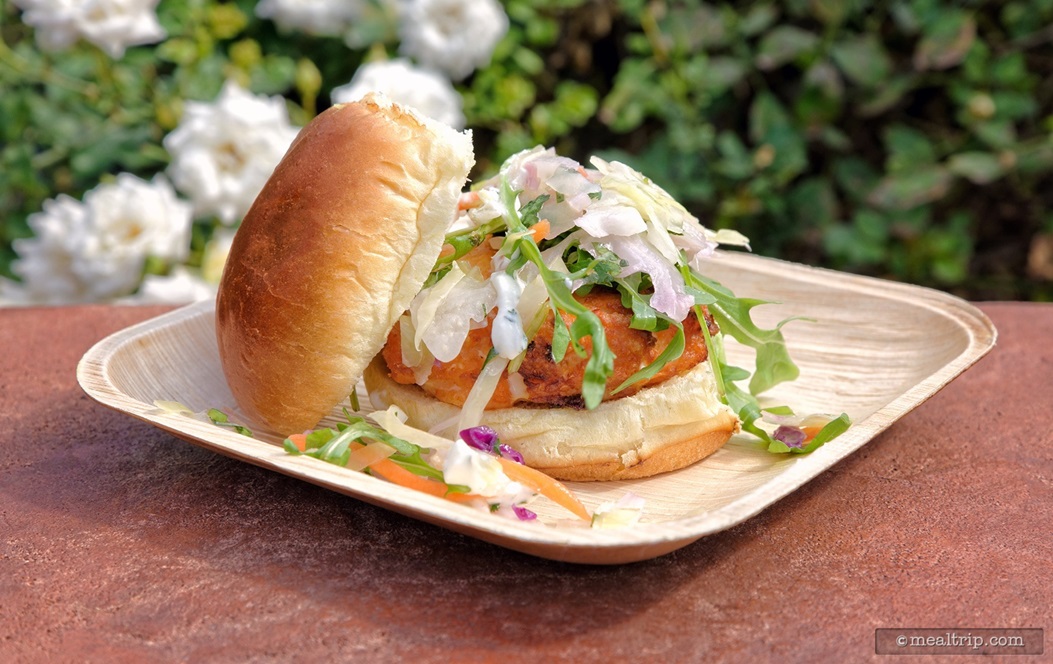 The Pacific Coast Market booth is serving up this amazing and "good for you" Salmon Burger Slider.
Technically, I don't think it's a "burger" so much as a perfectly seared and seasoned little salmon medallion, but this was a really tasty item, that also happens to be really good for you too. Salmon is high is Omega-3, Vitamin D, and full of Selenium — which all help improve cardiovascular health, proper thyroid function, fights joint inflammation and promotes brain health! Besides that… it was really great tasting!
Finally, for dessert (because you must have dessert) I went over to the Sweets Market kiosk and got a Cinnamon Dusted Donut Ice Cream Sandwich stuffed with Vanilla Ice Cream and rolled in Butterfinger pieces!!!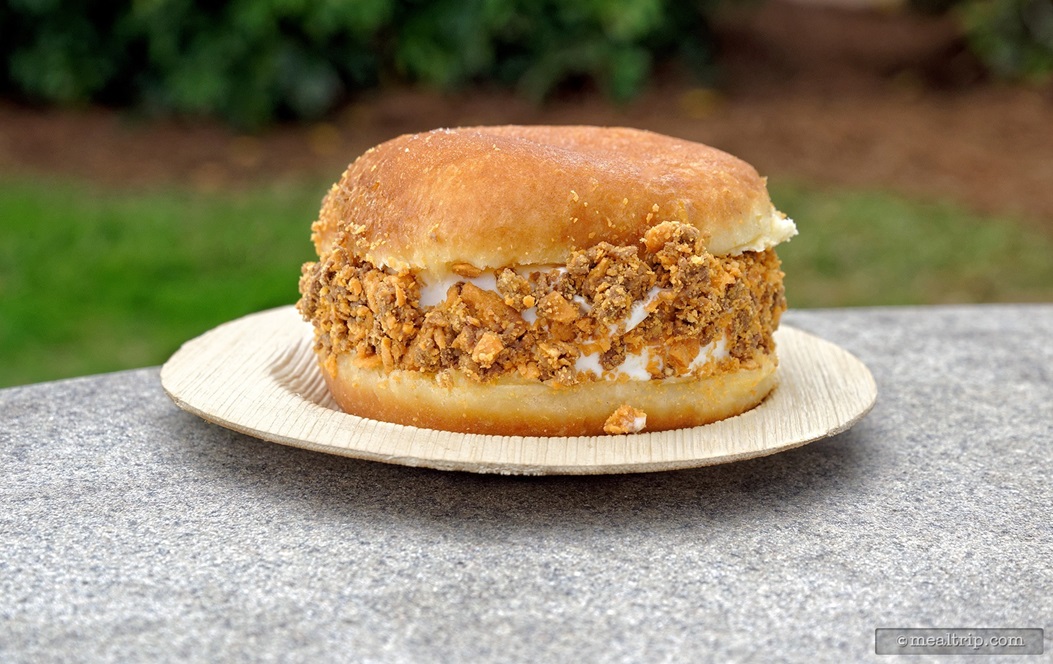 I got my Cinnamon Dusted Donut Ice Cream Sandwich "sided" with Butterfinger Candy Crunches! Other "sides" like Oreo crumbles, M&M's, peanuts, and colorful party sprinkles are available.
I mean… how can this not be good for you? This is one of those street festival foods that is always going to work, be super photo worthy, and naturally taste really great — it was messy as all get out to eat, but how can you not want a selfie with one of these! While Vanilla is the only ice cream flavor available, there are several "side packings" you can choose from, as these are made-to-order. Things like Oreos, M&M's and peanuts are all popular choices — and I'm sure are all great combinations!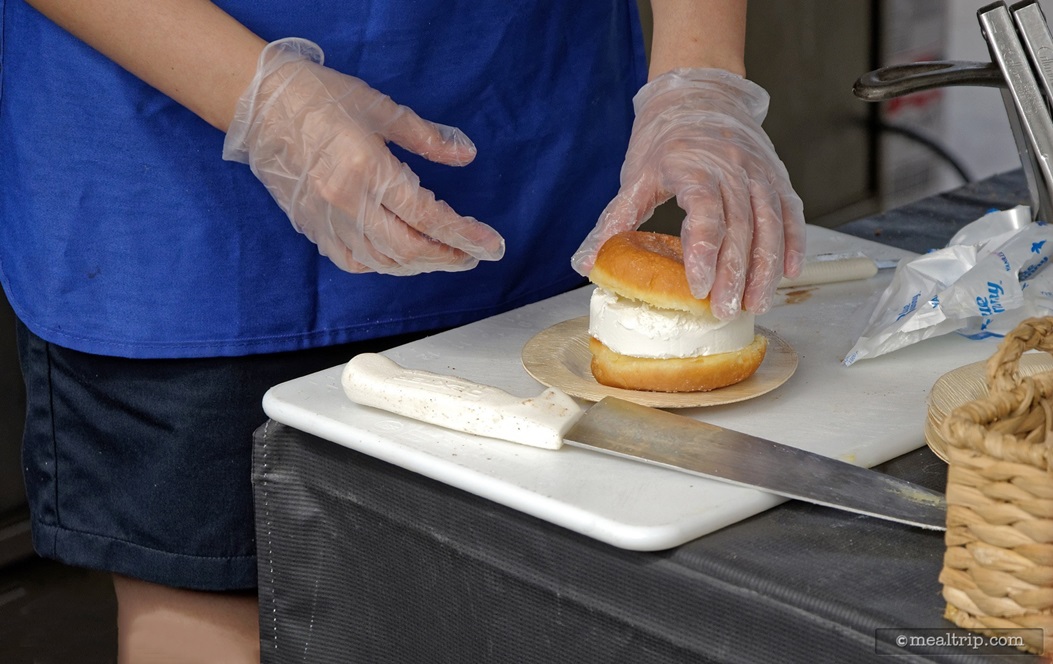 The Cinnamon Dusted Donut Ice Cream Sandwiches are made-to-order so they're not sitting around forever. This was mine!!!
That wraps up my first walk-around day at this year's Seven Seas Food Festival. I always get a couple of these walk-arounds in each year, because they're just so much fun, and really — at $3.50 per item, a relatively inexpensive way to food-crawl around for an afternoon. Check back in a week or so and I'll have photos and sample notes from some new and previous festival food items!!!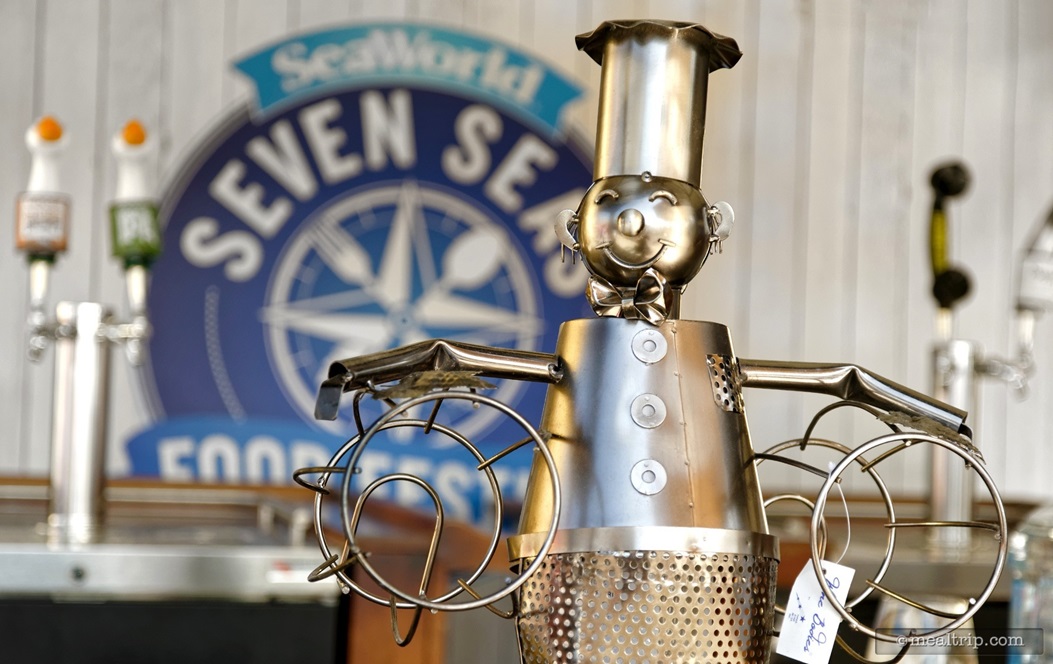 I'll be back with another "Seven Seas Stroll-Around" real soon! There's so much more to try at this year's festival.