A Good Location for Great Chicken
On a recent trip to SeaWorld, I re-visited a dining location that I hadn't been to in years. I was really happy about getting to review this one — because the quick snack / lunch I had there, was actually really great!

Sadly, these Buffalo Chicken Wings from the Seafire Grill have been removed from the menu — before I even got this review posted… (which is kind of par-for-the-course with SeaWorld dining these days). The post-pandemic era of culinary offerings at SeaWorld seems to be a confused mixture of patchwork cost-cutting and simplification… which is never great news for guests trying to find a great dining experience.

But enough doom and gloom — the "Buffalo Chicken Wings That You Can't Get No More" were fantastic, so I'm going to focus on that!

The front-facing exterior of Seafire Grill currently features paintings of large goldfish (or Koi Fish more specifically), which — are not on the menu. I wonder why they didn't paint chickens up there? Oh never mind. Here's what it looked like the last time I was out there.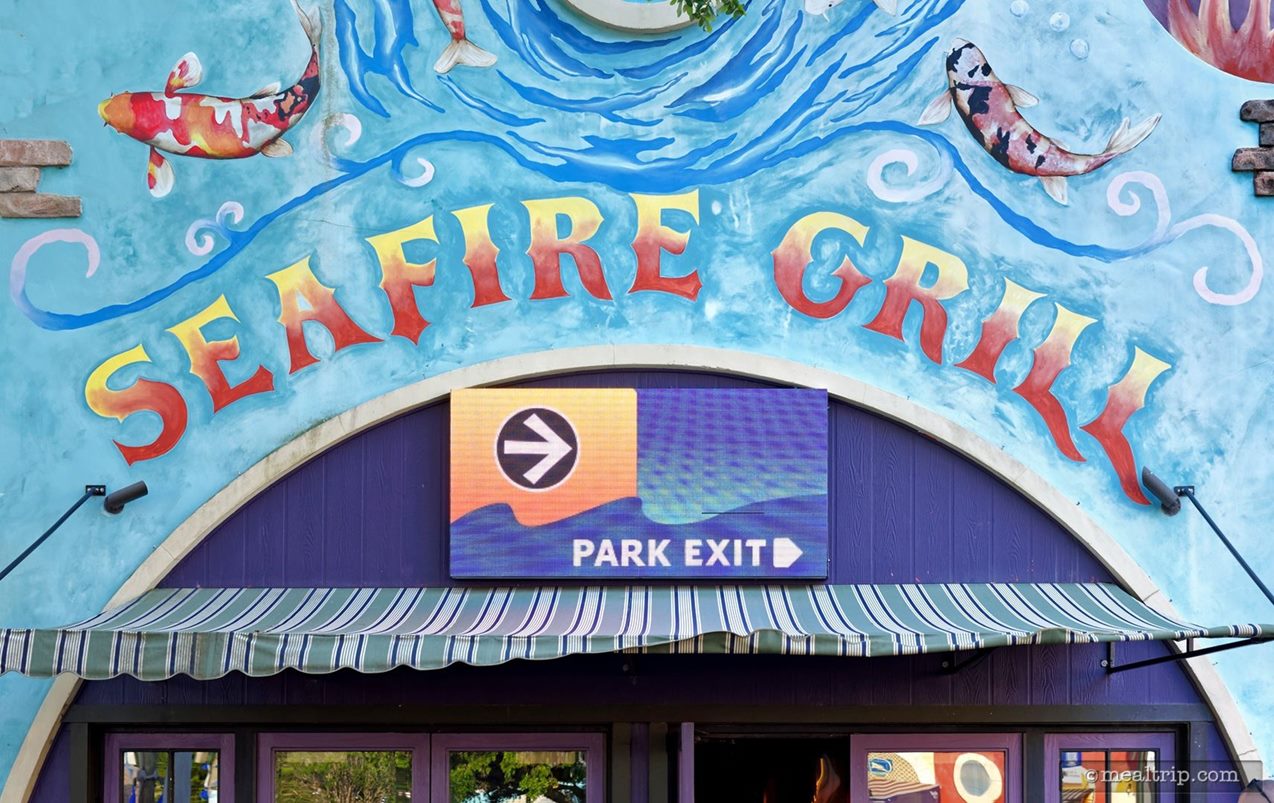 Here's a photo of the Seafire Grill main entrance sign. The "Park Exit" sign above the awning is a digital sign... so the information that it's displaying changes from time to time.


The interior hasn't really changed in the past decade, but that's okay… it's a cool looking space. The first thing you'll notice when you walk into the location (and your eyes adjust to the darker interior) is a giant range hood over a two-sided food prep area.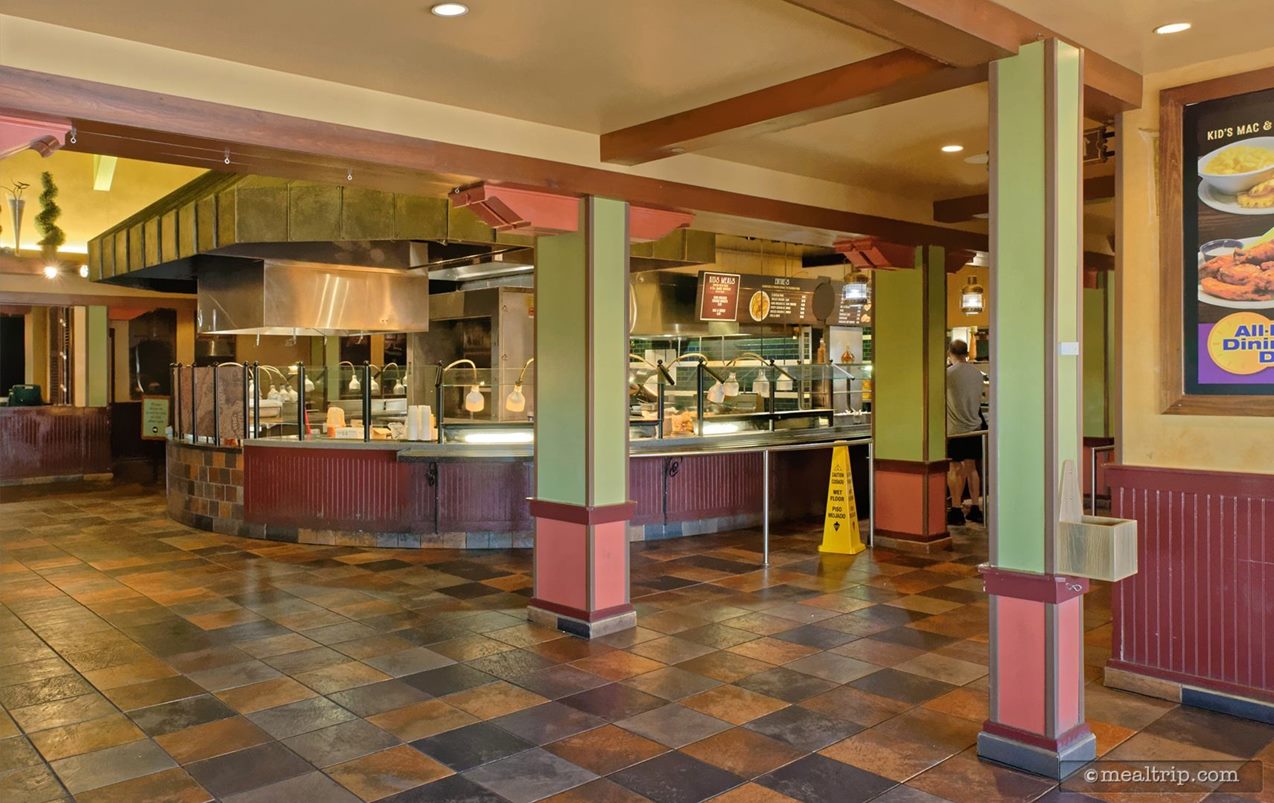 This shot was taken from the main doorway leading from the outside to the inside of Seafire Grill at SeaWorld. Unless it's an overcast day, you'll probably need a second or two here to let your eyes adjust... it's quite a bit darker inside, than outside.


It's been a long time since I've seen both sides being used however, so I'm not sure they still do that. Normally, the food line is along a series of metal pole dividers that are closest to the door.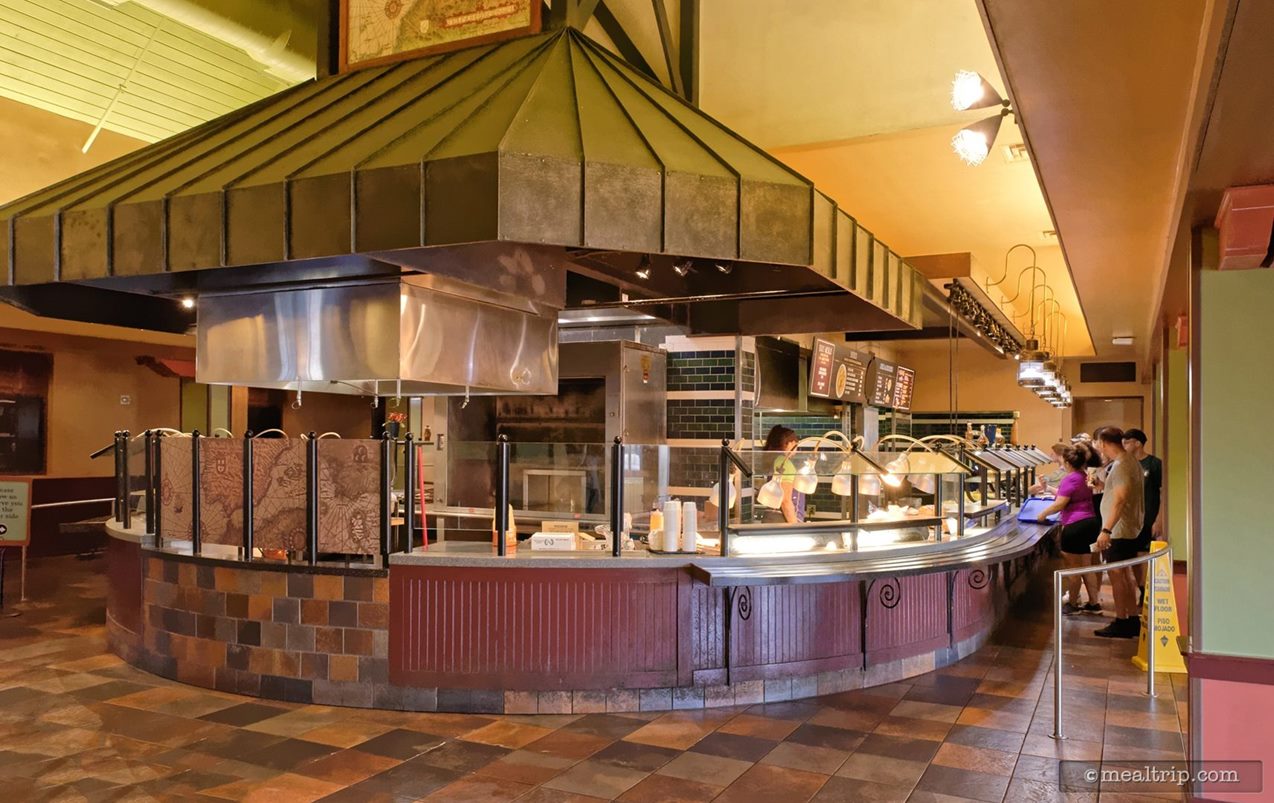 Here's the main food ordering and pickup area inside Seafire Grill. While it is two-sided, I've only occasionally seen both sides open. Maybe during peak dining hours they'll open both sides?


The current format is … you stand in line, select the food items you want once you get up to the cast member behind the glass wall, and then go pay for your selections at the registers which are located on the opposite side of this food line.

While most of the hot items are close to being "made to order" some things like cakes and cookies are behind the glass walls. A long time ago, there used to be more a la carte items... warm sides, multiple salads, dessert items … stuff like that — but the menu is so limited now, there's not much to put under the glass sneeze guards.

If you step back to where the check-out registers are, and look up in the direction of the food line — you'll notice this giant map.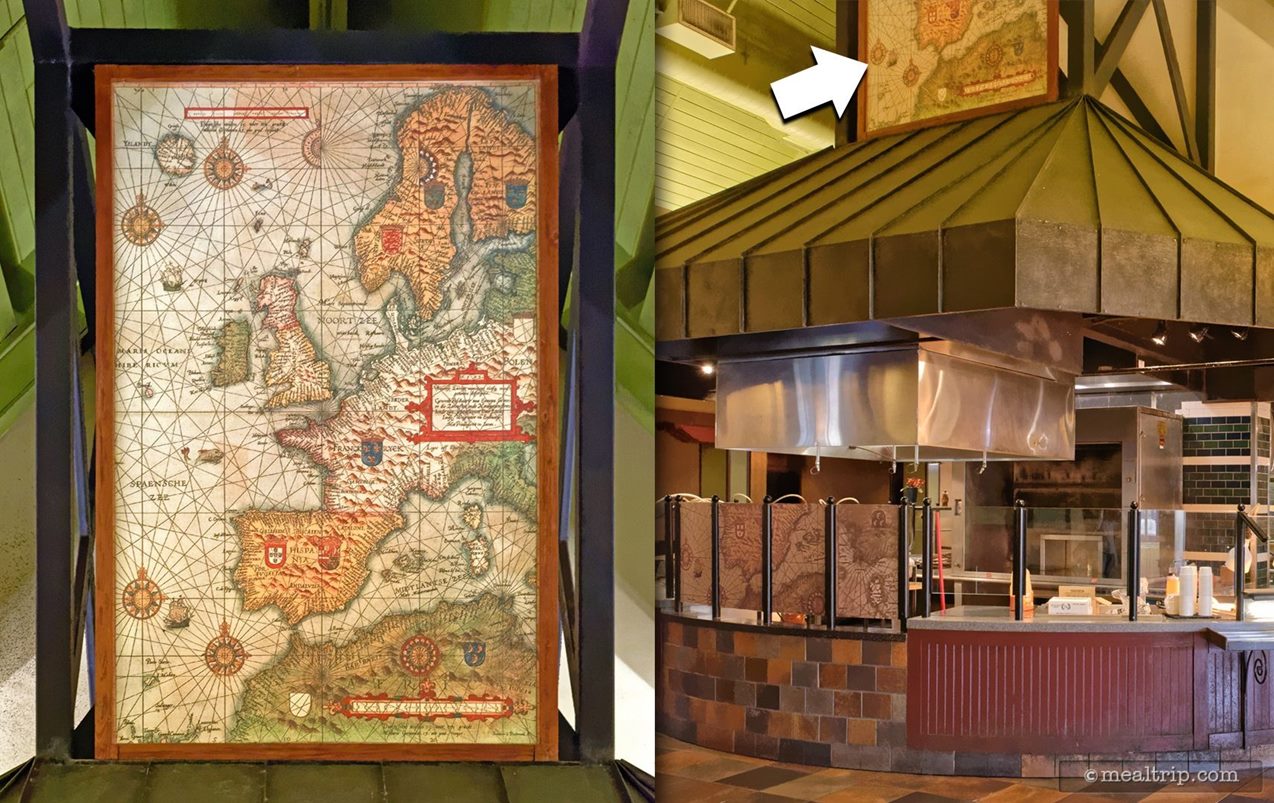 Ooooo... a giant seafaring explorer's map! This large map is located very high up, on top of the giant range hood that's hanging over the food service prep and pick-up area.


The old-world explorers map is really cool looking and kind of gives the Seafire Grill a pirate vibe… but only if you're looking at this one giant map and don't turn your head and look at anything else.

Once you've selected your food items and have paid for them, look over to the right (opposite of the front doors) and you'll notice a large double doorway that leads to the main dining room.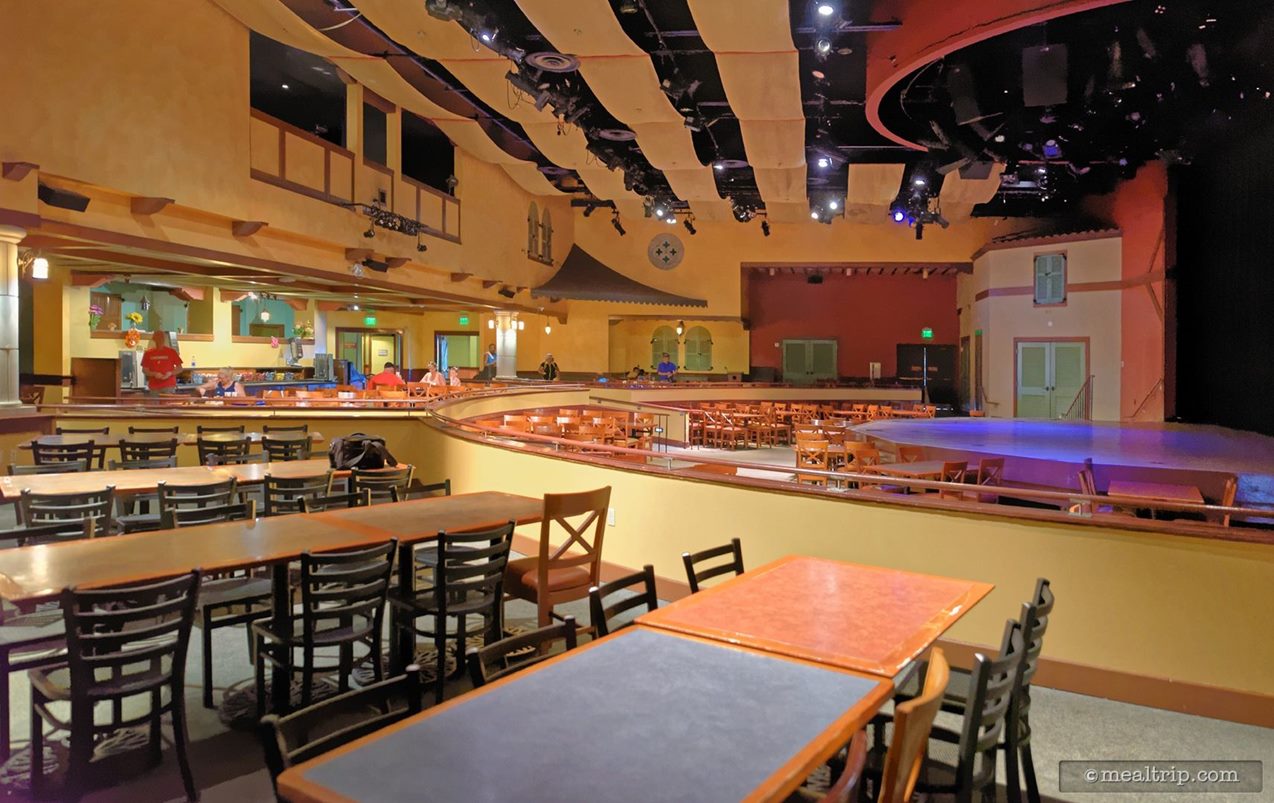 The interior dining area at Seafire Grill was originally set up like a dinner show. When there is no "show", the tables and chairs section of the restaurant is open to walk-up seating. You're really not supposed to go on the stage.


The first thing you'll notice is a giant stage… and then also two levels of seating options, which include tables and booth style seating. There's actually quite a few options around… little nooks here and there. I've only ever really seen this location "packed" at peak dining times. Usually, it's quite easy to find a seat.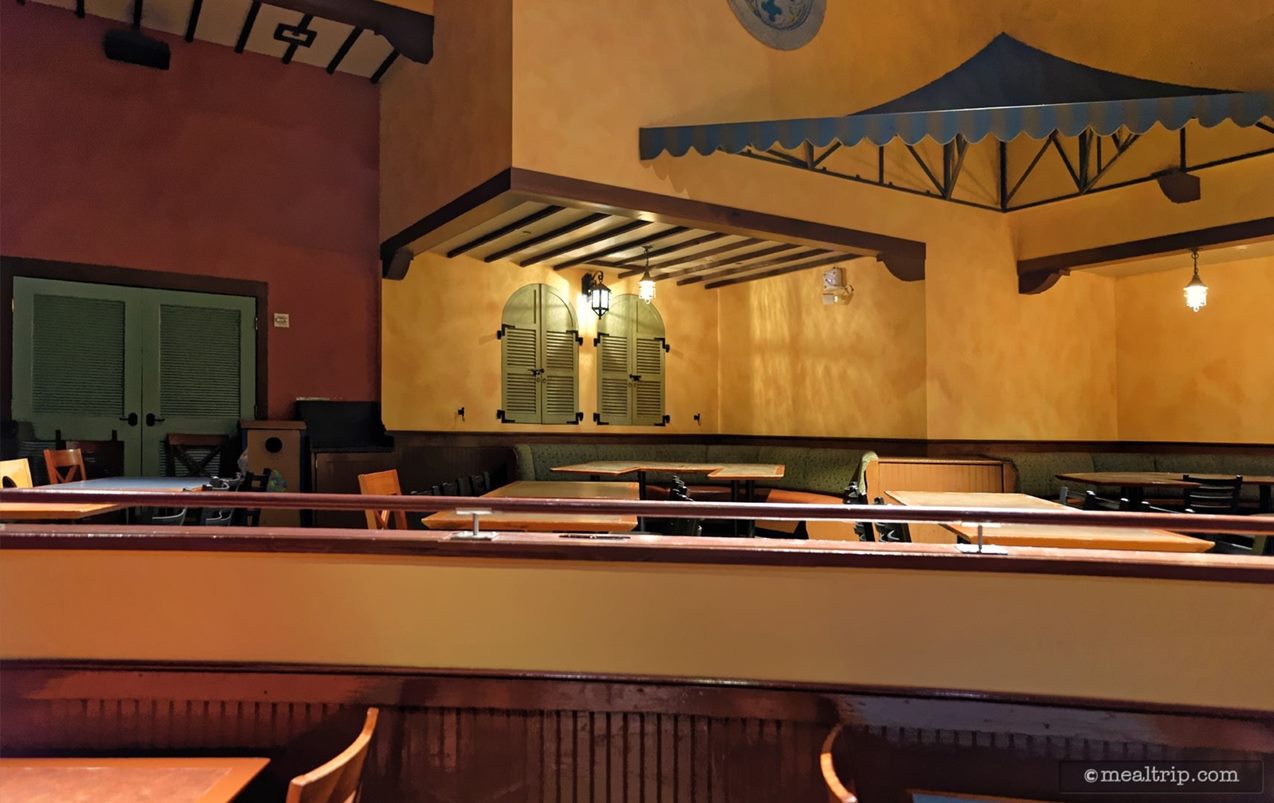 Interestingly, there are windows on the inside of Seafire Grill that make it look like you're on the outside... but there are no actual windows looking to the outside from the inside. That's because the original concept for the Seafire Grill space was that of a dinner show — so the lighting for the stage could be made the same, no matter what time of day it was.


I think this dining location is still considered a flex-space and may still be used for some seasonal character meals, but during normal dining periods, there's not really anything happening on stage. There's just some background music playing.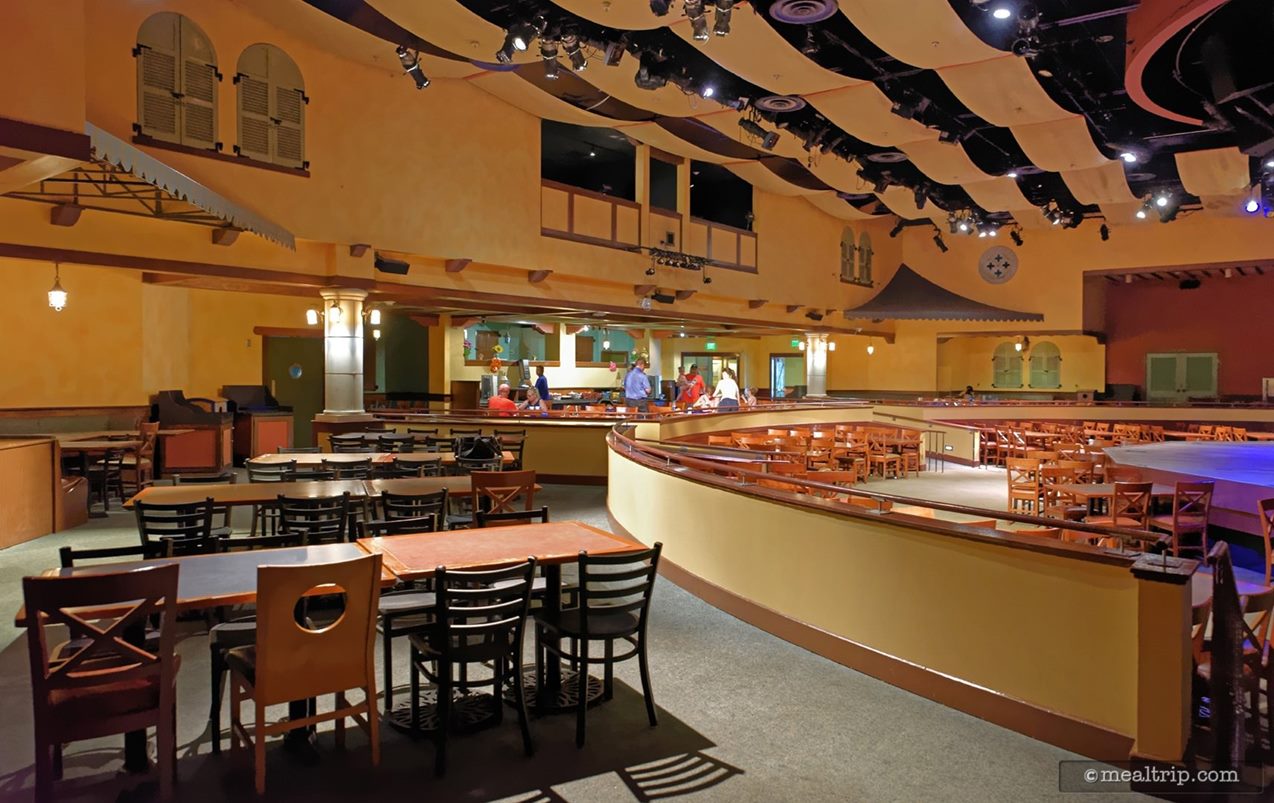 There's actually quite a bit of seating around the stage at the Seafire Grill. The tables closer to the stage are open as well, you'll just have to take a couple of steps down to get to them. The location is tiered in order for more people to see the stage area.
The Food
These are the Buffalo Chicken Wings (That You Can't Get No More), and they were great!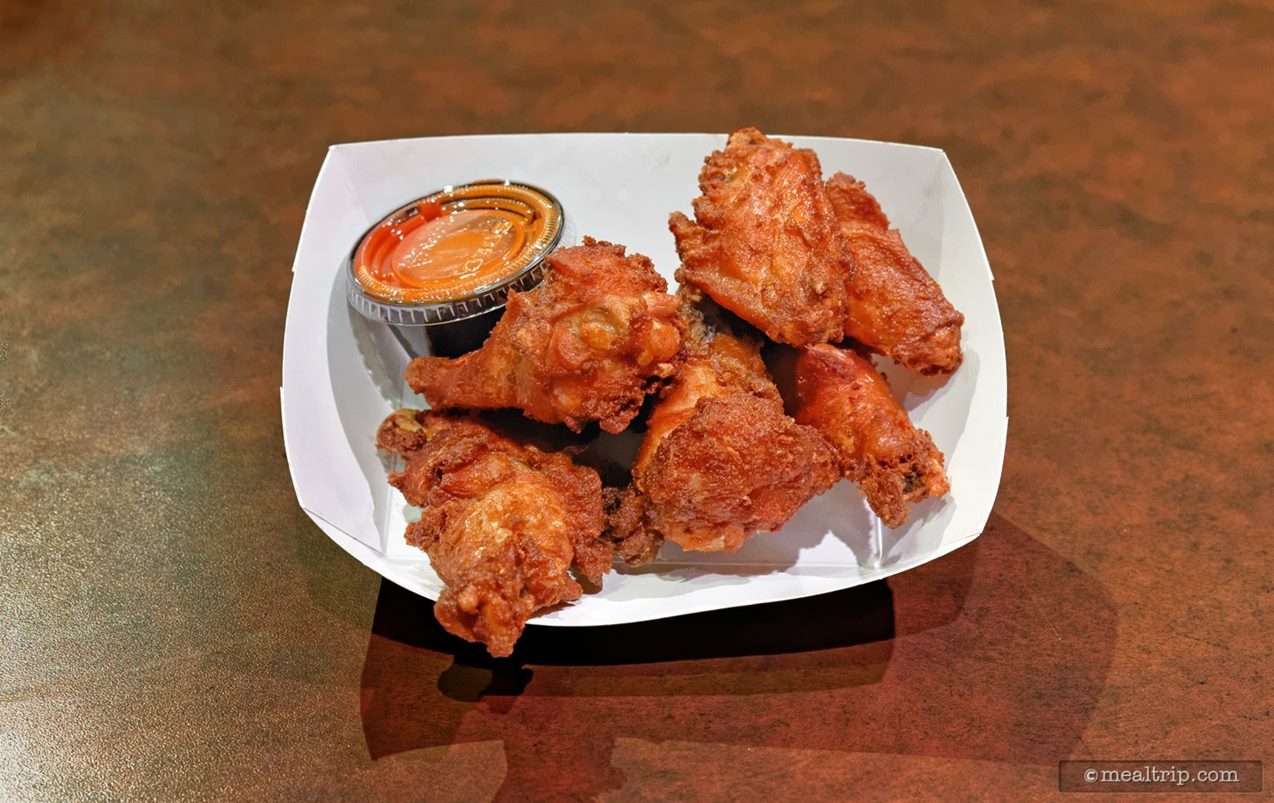 The Buffalo Chicken Wings had been on the Seafire Grill menu until just recently. Perhaps they're a seasonal item? Hard to say. The location is still mostly chicken items, and these were really great... so hopefully they will return one day soon.


I think the other chicken items here at the Seafire Grill should be pretty good too… just based on various chicken entrees I've tried at other SeaWorld locations — they do seem to be using a good chicken product overall. In fact, I'd go so far as to say that anything with "chicken tenders"… in a sandwich or just plain with dipping sauce… is going to be one of the better items you can eat at the park.

These Buffalo Chicken Wings were fresh and crispy on the outside, and juicy and tender on the inside — the perfect breaded chicken wing. The "Buffalo" portion of this entree came in the form of a little cup of dipping sauce, and I'm fine with that. It lets you control how much or how little you want on each wing.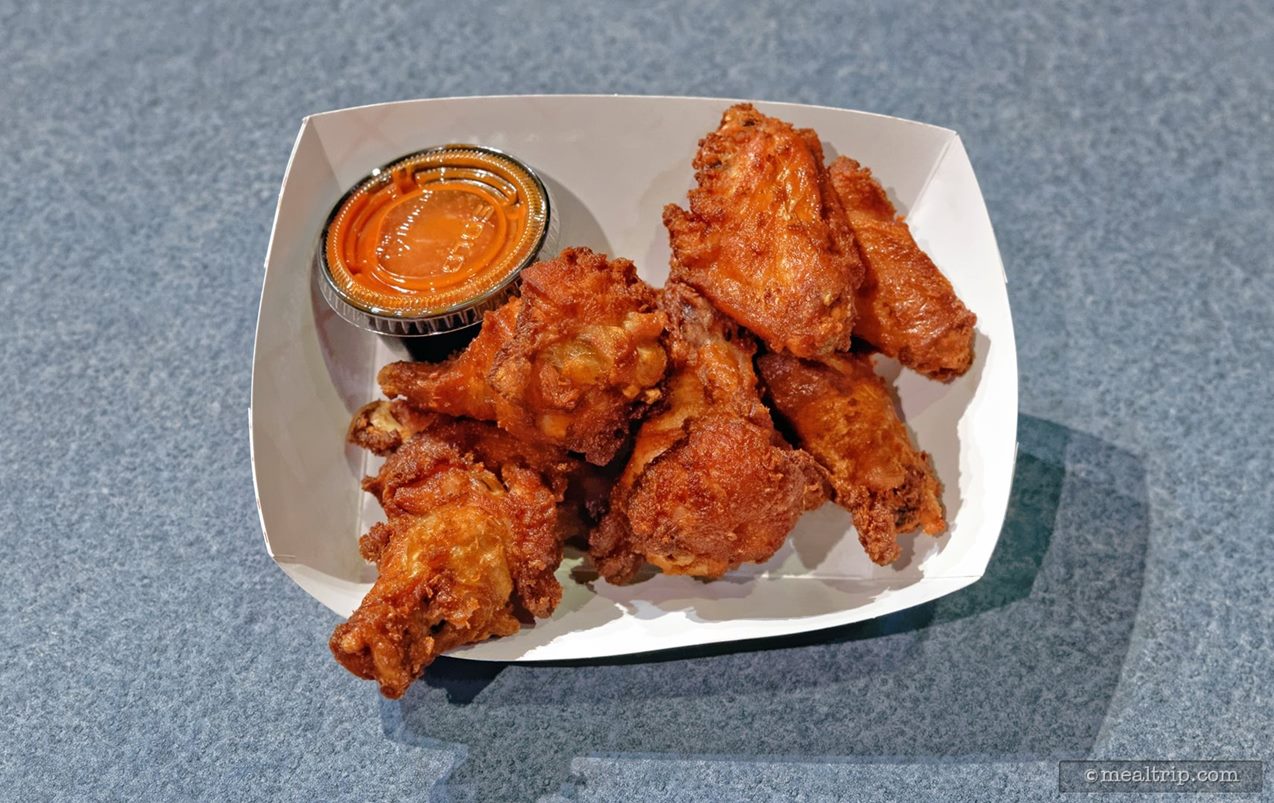 These Buffalo Chicken Wings from SeaWorld's Seafire Grill were really great! Fresh and crispy on the outside — juicy and tender on the inside.


The sauce itself was a little hot, but not to the point where it would offend anyone… so it's not what I would call a "red" hot sauce per say — but an orange "mild" buffalo sauce. These were served with some waffle fries (not pictured), which were also good, (but not particularly remarkable for any reason).

I also picked up this slice of three layer Chocolate Cake — which I'm happy to report is still on the menu — depending on which day you go to SeaWorld.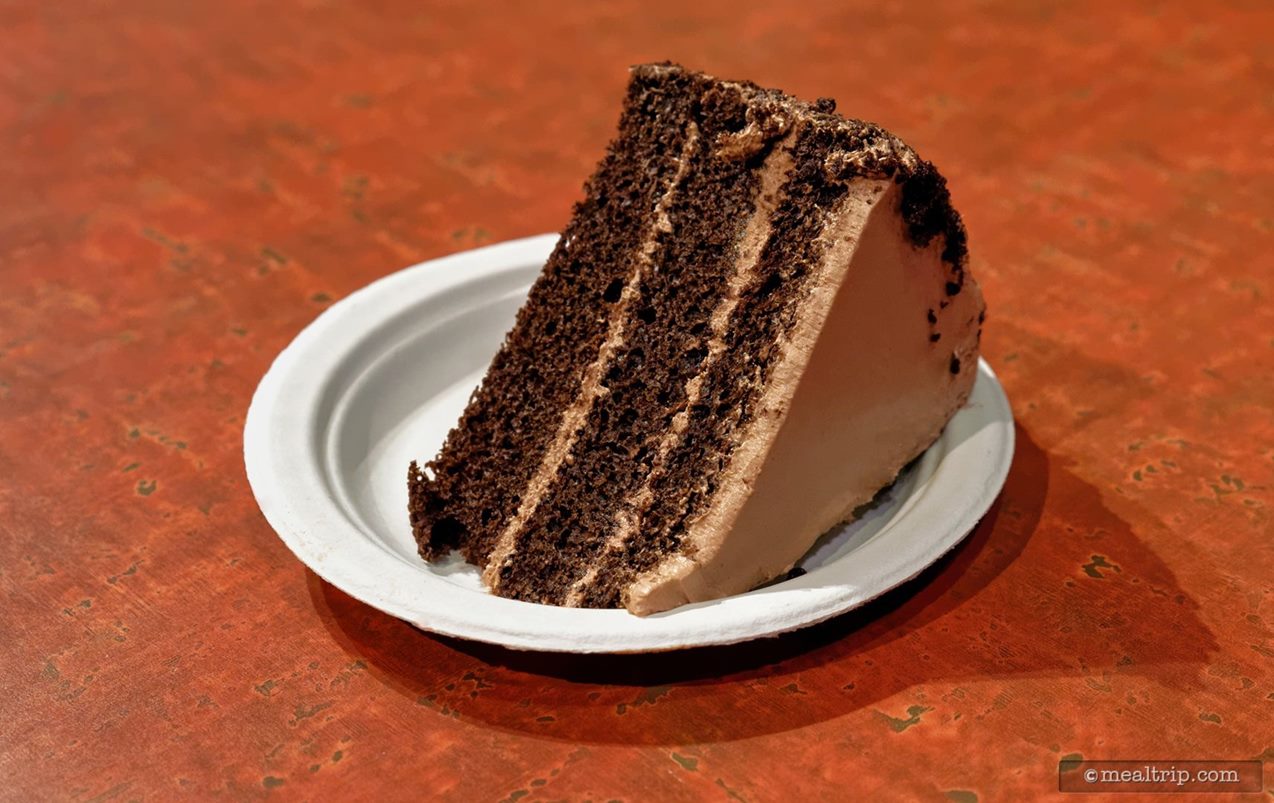 The Chocolate Cake has changed a bit over the years. The previous version featured the same three layer chocolate cake format, but featured a dark chocolate fudge-like icing that held the cake together — rather than the "milk chocolate" frosting on the current iteration.


It seems (on my last couple of visits anyway), different locations were offing either a carrot cake, this chocolate cake, or a cheesecake — but not all at the same location. So????

The cake, was really good as well. It's not super sweet and not what I would call a "fudge" cake at all — but it did have a nice chocolatey flavor and wasn't just a "brown cake". The course texture of the cake together with the icing (which was thicker on the top) gave the whole item a nice mouthfeel that wasn't too dry or to dough-like. It was a great piece of cake!


Conclusion
Even though the Buffalo Chicken Wings aren't currently on the menu — I think the Seafire Grill might be my new favorite dining location at SeaWorld… edging out Voyager's Smokehouse ever so slightly.

The hodgepodge interior theming didn't seem tp bother me at all — mostly because on the day I visited... the interior was clean, and quiet, and cool. This is a step above what I've found at other SeaWorld locations recently.

If SeaWorld continues buying chicken products from the same supplier, any breaded chicken item at SeaWorld should be pretty good.

I've also tried the three different "cake" items that I've seen here and there as well (chocolate, carrot, and cheesecake) — and I think they're all about the same quality level, which I'm happy to report is decent for a counter service / quick service location.

As far as value goes… all theme park dining seems a little overpriced to me (which is odd… considering everyone has more or less paid a "cover charge" to get in the park to begin with) — but it's not out of line with any of the other locations at SeaWorld.

For my two cents, I think if you're looking for the best places to eat at SeaWorld, I'd say (currently, anyway) — it's up to Sharks Underwater Grill, this place (Seafire Grill), possibly Voyager's Smokehouse (but only if it's not within an hour of the restaurant opening or closing), and dare I say… Captain Pete's if you're in the mood for a hot dog.