How Do The Burgers Stack Up, at SeaWorld's Altitude Burgers Location?
The Altitude Burgers location used to be Mango Joe's … same location, same building, but with slightly less seating and a different menu. This one is over near the "Wild Arctic" area of the park, right next to the Ice Breaker Coaster. This was my first time visiting since the location opened as Altitude Burgers.

The concept is still "quick service", but has changed to a "mostly burgers" menu. I do seem to recall that Mango Joe's had two "order and food pickup" sides, so that when the location got busy, both order lines could be opened. I'm not sure if Altitude Burgers is that way or not… I've only actually seen the left side open.

The seating area has been reduced a little bit from when the location was known as "Mango Joe's" as well. The Ice Breaker coaster cue now takes up some of the covered seating behind the restaurant.

Mango Joe's actually scored pretty well in our system - mostly because they had decent food that was different from most other quick service locations. Things like a Chicken Salad Sandwich on a Croissant or a Mango Fruit Salad.

Now (as the name change might suggest) Altitude Burgers serves mostly, burgers… but also pizza.

The burger I sampled on this visit was the restaurant's namesake "The Altitude Burger" which combines 1 pound of beef, bacon, homemade chili, cheddar cheese onion rings and a special sauce.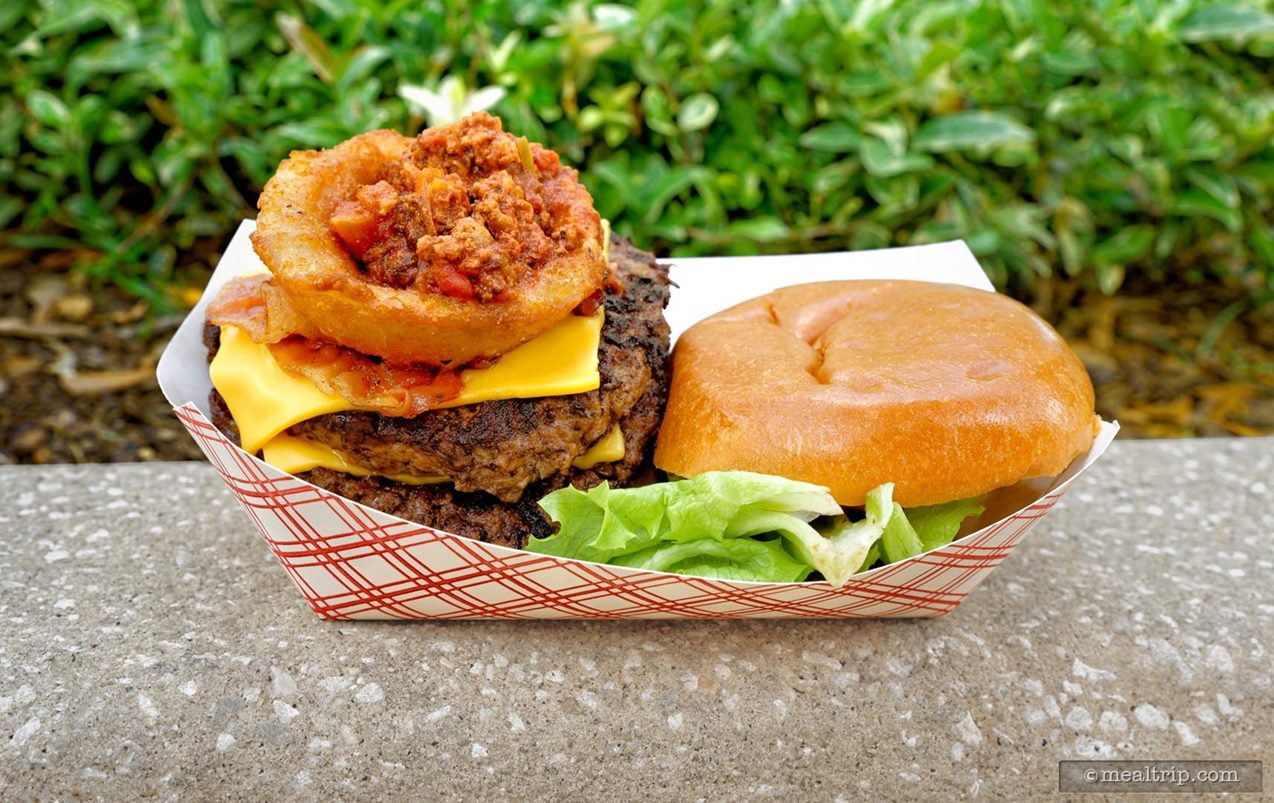 The Altitude Burger features one pound of beef, bacon, homemade chili, cheddar cheese onion rings and a special sauce.




Clearly, this was a stacked burger that was going to be difficult to pick up and eat, so I knife and forked different parts of this one — more like a carnivore salad than a burger. The menu board does say "fresh beef" but it was seasoned… oddly… to the point where you really couldn't tell it was beef. The two patties that were on there were cooked thoroughly but still retained some of their juice… they weren't overdone.

I can't really say what the special sauce was, or if it was even on the burger — I didn't really encounter anything that I would consider a special sauce. The bacon (which was under the onion rings but above the top beef petty) was a little gamey, rich with bacon fat, and a little undercooked for my taste.

What did stand out, was the onion rings and the homemade chili. These two elements were the best part of the dish — to the point where I'd be happy ordering "Onion Rings topped with Chili" as an entry. Sadly, that's not a thing. The onion rings were crunchy and warm, the chili had a nice tangy kick to it (while not being capsaicin/pepper hot), and those two flavors and textures paired together quite nicely.



The Altitude Burger was served with a side order of Mozzarella Sticks and a small cup of Marinara Sauce. While they were both standard food-service/quick serve kind of offerings — the Marinara and Mozzarella combo was better than the beef and the bacon that was on the burger. As near as I can tell from looking at the menu, you can order just the Mozzarella Sticks with the Sauce as a "side" — and I'd recommend doing that over getting the whole burger meal.



Rounding out the meal was a piece of Three Layer Chocolate Cake with Chocolate Icing — which you'll find at various locations at SeaWorld. It's a good slice of cake. It's not overly sweet or chocolatey, contrary to it's dark chocolate appearance. It's not really a decadent, indulgent kind of chocolate cake — it's more like a "you could eat a couple over the course of the day and not feel it" kind of chocolate cake.



All in all — I think I miss Mango Joe's. The "Mango" theme didn't match the area any more, and there's more people that are going to order a burger than a Mango Fruit Salad… which is too bad. It was a pretty great salad.

Would I go out of my way to get to Altitude Burgers? Probably not, based on this one dining experience. If you're in that area and are looking for something not too far away, I'd head on over to Mama's Pretzel Kitchen. If you go up to the Orca Encounter Stadium, there's a path that bypasses Sesame Street Land completely and leads down very close to Mama's Pretzel Kitchen.

If I was just looking for counter service and the location didn't matter, I'd probably pick Voyager's Smokehouse or Seafire Grill over Altitude Burgers. Seafire Grill actually has some pretty nice chicken products (wings, a sandwich, a salad with chicken, etc.) that are usually pretty great.

I might give Altitude Burgers another try if I'm over in that area though, just as a point of reference. They do have a "grilled chicken" on the menu board with a Teriyaki BBQ Sauce that might be pretty good.