It's been a loooong time since I visited SeaWorld's Expedition Café… almost seven years in fact. So it seems like a good time to pop in and see if anything has changed. This had been one of our top three dining locations at SeaWorld.

Back in the day, three distinctly different culinary styles were represented — American, Asian, and Italian — in a food court format. The backstory being — that "researchers from all parts of the world were gathering at this particular base station, and the chef wanted to make something for everyone".

I thought it was a great idea at the time, because any kind of backstory and theming is what makes these places fun (for me anyway). Fast-forward seven years, and I'm sorry to say, the entire Antarctica area seems a little lost and forgotten… including Expedition Café.

The whole Antarctica "land" is still pretty cool looking (literally) and it's worth walking through — it's totally different than any other location in the park, and it's a kind of immersive environment that you don't get much of at SeaWorld.

The once popular "penguin ride" had been a hallmark attraction that drew people into this part of the park. That ride, has since been removed (around 2020) — and the main attraction is now a walk-through display, ending with a 200 count, live penguin environment. Still… very cool, but it doesn't have the draw that a "ride" has.

So now you've got a large food-court style restaurant — and no foot traffic. It seems the loss in revenue has created a situation where the menu and the very concept of the restaurant have been "dummied down" to a standard counter service location.



Where there had been Fried Chicken and Turkey Club Croissants at the American Food Bay, there's now just Chicken Tenders and Waffle Fries (which, in one form or another, are available at most of the SeaWorld counter service locations). The Italian Food Bay used to feature two kinds of Cannelloni, Baked Lasagna, an Italian Sausage Sandwich, and an Italian Hero Sub — but now, there's just Pizza and tiny, sad looking side salads.



The one Food Bay that still seemed to have some variety was the Asian Food Bay — you can't really find Asian food at other SeaWorld counter service locations — so I thought I'd give the Teriyaki Chicken with Fried Rice a try.

The one, singular cast member behind the counter seemed both overcome with boredom and a little annoyed that I ordered anything — a duality that generally doesn't lead to good food.

The $14 entree was plated oddly and lopsided — making it very apparent that I didn't order an additional side of Egg Rolls or Pot Stickers for $5 more.



I also got a soda from the self-serve soda machine and a cheese cake (which isn't really Asian, but I think the themed backstory has pretty much gone out the window at this point).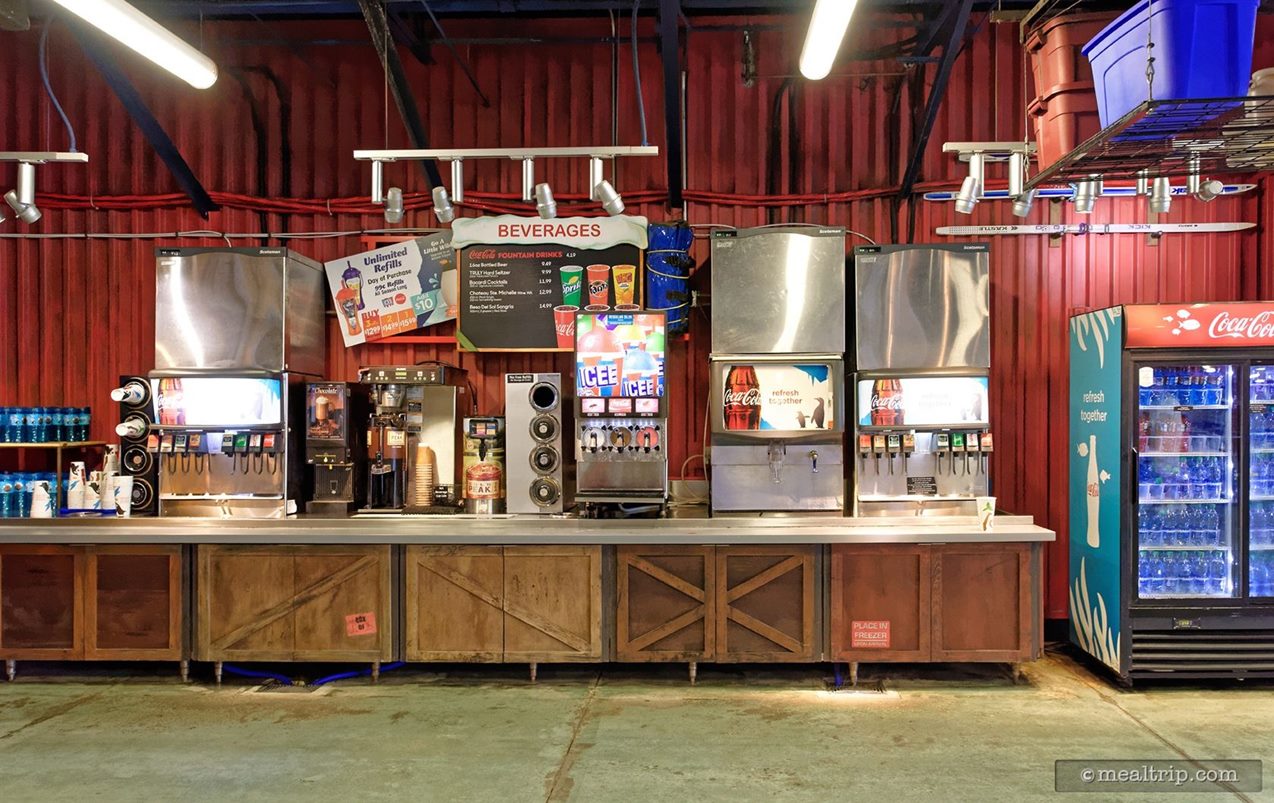 The main soda machine and beverage area is located opposite of the three "food bay" ordering areas. It's a fairly spacious area. If you follow this wall to the right, there is a second soda and beverage station located past the "exit/payment door" in the corner.



I will say, the checkout process went very quickly — probably because there was no one else at Expedition Café… at all. This was around 5pm. I would assume (hopefully) that at peak dining times (lunch maybe) when there's more people ordering food — that there would be a bit more of a wait, but also a couple more cast members. But at 5pm — it was a ghost town.



How was the food? Disappointing — to the point of being practically inedible. The fried rice was dry and hard — but contained a very nice, almost "nothing' bland flavor that was a much needed contrast to the highly sodium embalmed mess that was the Teriyaki Chicken.



This was not made with authentic soy sauce — but carmel colored salt water (if you've ever had good Asian food and bad Asian food — you know what I'm talking about)… and that soy sauce, is (if you're doing it right) at least 1/3 of a good Teriyaki glaze. Honestly, there was no flavor beyond the tongue tingling, almost dysphagia inducing levels of sodium in this entree.



The best part of the meal, was the Cheesecake topped with Red Bloop. Sure, it's available at pretty much all the counter service locations as a dessert option. But it's a decent slice of fast-food style cheesecake.



It pains me to leave low scores for the Expedition Café — because I know it's going to drop the averages — to the point where Captain Pete's Hot Dog Stand is going to look like a better place to eat. (Actually though, the hot dogs are pretty good.)

That actually makes me a little sad, because the highly themed area that is Expedition Café could be so great. There's two or three different seating areas, the original concept is really cool — but I get it — if there's no guests and food traffic in the area, how can you offer anything other than low-grade counter service food.

I can't believe I'm about to say this, but I think they'd do better by just turning Expedition Café into an Ice Cream Sundae and Shaved Ice Shoppe at this point.

So where might one find better counter service food at SeaWorld? The above mentioned Captain Pete's Hot Dogs, Voyager's Smokehouse (BBQ), Seafire Grill (Chicken), and Mama's Pretzel Kitchen (Pretzels) — would be my picks... at least at the time I'm writing this review.