Sebastian's Bistro is one of the newer table service restaurants at Disney's Caribbean Beach Resort. It's a smaller location with seating for… maybe 120 guests… with a nice, fresh, modern Caribbean design aesthetic.

Because it's located in the Caribbean Beach Resort, I guess the only option was to call it "Sebastian's Bistro". If it was named "Ariel's Bistro" — you might expect Ariel to be walking around (or floundering, if we hadn't gotten to the part in the story where she has feet yet).

To be clear, this is not a character dining experience, and any visible sightings of Sebastian (like the Caribbean flavors you might expect to find here), are very few and far between. He's on the sign outside, he's on the menu cover, and he's on a painting at the far end of the restaurant. Dats it mon.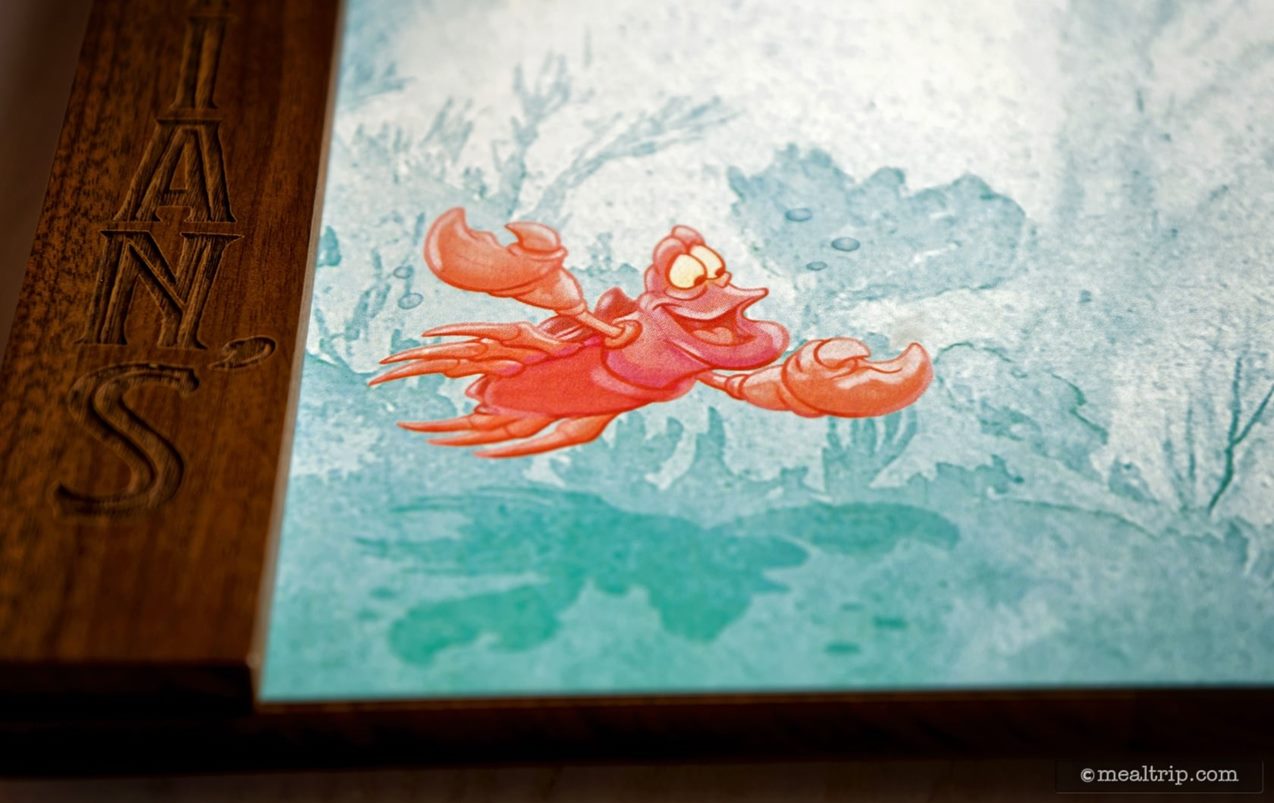 You won't find Sebastian in too many places inside the restaurant. In fact, this little guy on the menu and on one large wall painting, are about the only two places I recall seeing him.



Aside from the lack of any meaningful character tie-ins, it's actually a pretty nice place. There's not really any sort of deep, "get lost in another world", kind of immersion here — you're probably not going to think you're on a patio at an estate house in Jamaica at any time — but still, it's nice.

The only little issue I had with the environment was the tiny 24" wide table tops being pushed right up against the side of the wall. I understand you need to fit a certain number of people into a dining location to cover operational costs and there are ADA guidelines — but I don't think there's any need to push those 24" table right up next to the wall.

I'm 21 inches wide with my elbows tucked in, and I felt uncomfortable sitting so close to the wall. I took it upon myself to move the table and the chair three or four inches away from the wall (which allowed me put my elbows out and relax a bit) — and while no one said anything to me about it… I don't think it should be left up to the guests to do that. If you think it's going to be an issue and it looks like you're headed to one of the "wall tables" just ask for another seating option with more room. You'll be glad you did.



The Food
Since this was just a quick bite, my party of two started out with the Caribbean Pull-apart Rolls. They were very nicely presented on a wooden serving block and were accompanied with three "spreads"... Jamaican Jerk Oil, Onion Jam, and a Guava Butter.



These were a lot of fun. You basically peel away the thin layers of each roll so that you could have five or six smaller, bite-sized opportunities to try those spreads. The rolls themselves were brown on the outside and a little doughy on the inside (traditionally, the layers are separated with butter or some other high-fat content substance)… so they may be a little gooier than a typical roll or table bread.



The spreads were really fun as well — and for those guests that don't appreciate high spiced foods, none of these were really as hot or spicy as authentic Caribbean food normally is. Like most Disney locations, spice levels are kept very safe. Each of the spreads was unique, the Jamaican Jerk Oil was a little spicy (but I couldn't tell you with what, probabky cayenne pepper), the Onion Jam was savory, but cool in temperature (aka "jam"), and the whipped Guava Butter was a little sweet with Guava (in what was more like margarine, but I digress).

While I think most of the appetizers are intended for one guest, the pull-apart rolls were split between two people on this occasion, and we were fine with the portion size… so I'd say these are definitely sharable… between two people anyway.

For my main entree, I had the The Grilled Skirt Steak served with Crispy Yuca, Baby Bell Peppers, and Chimichurri. The entree is served "bowl" style, with everything all piled up in one mound.



From a culinary standpoint, the entree was well planned. Like the Caribbean Pull-apart Rolls… the spice and flavor levels are kept very safe. Even the Chimichurri was a little less garlic forward than I would have liked.

The one thing that wasn't skimped on here, was the olive oil. Chimichurri does use quite a bit of olive oil, but because the steak was plated "pile style", it felt a little like the whole meal was sitting in a pool of olive oil. You can see what I mean in the photo. Fortunately, it wasn't bad olive oil, so there's that.

Overall
This was a good decent, safe meal, and the restaurant was fairly quiet and calm for a Disney resort location. Because it does only have access via an outdoor walkway, I'd imagine if it were raining, it would be a little harder to get to. Just saying.

It was nice getting a few, subtle hints of Caribbean flavors here and there — and while not quite being "authentic" Caribbean, there should be something for everyone on the menu.