I had not been to the Ale & Compass at Disney's Yacht & Beach Club since it was last renovated (it used to be called the "Captain's Grille"). So I decided to stop by and take a couple of updated photos for the directory, and sample some of lunch items.

Pretty much everything has been refreshed in the location… slightly new layout, new paint, new plates, and a refocused menu. I'm glad to report that there's still three different dining periods (breakfast, lunch, and dinner), and they haven't yet combined their lunch and dinner periods… a.k.a., there are still different things to try at lunch and dinner.

I arrived for a late lunch just before 2:00pm (which is when "lunch" officially ends at the Ale & Compass), and it was such fun and a relaxing change of pace… because it was quiet, and calm!



Now, it's probably not great from a business standpoint for a restaurant to only have a half-dozen tables going… and maybe a quiet relaxing place isn't the vibe you're searching for — but for me, it's rare finding a place at Disney where you can hear yourself think, and just talk with your dining party. So there may not be characters running around to take photos with, and there's not too much Disney-centric stuff to look at here… but it delivered everything else a great lunch location should have, great food, great service, and it's not more expensive than the other offerings on property.

A quick word about some of the interior design choices here though… specifically, the colors. Usually, deep blues & purples work quite well with oranges & gold. Possibly, at night, the main dining room may look great under the restaurant's lighting. In the afternoon however… there's a strange natural blue light coming from the main outside windows that only sort of half makes it's way into the main dining area. There's no getting around it… it just looks murky in there.

The on-stage kitchen area is bright and elegantly clean. The seating areas that are on the outskirts of the main dining room are a little closer to those big exterior windows, and the balance is a little better… it's brighter.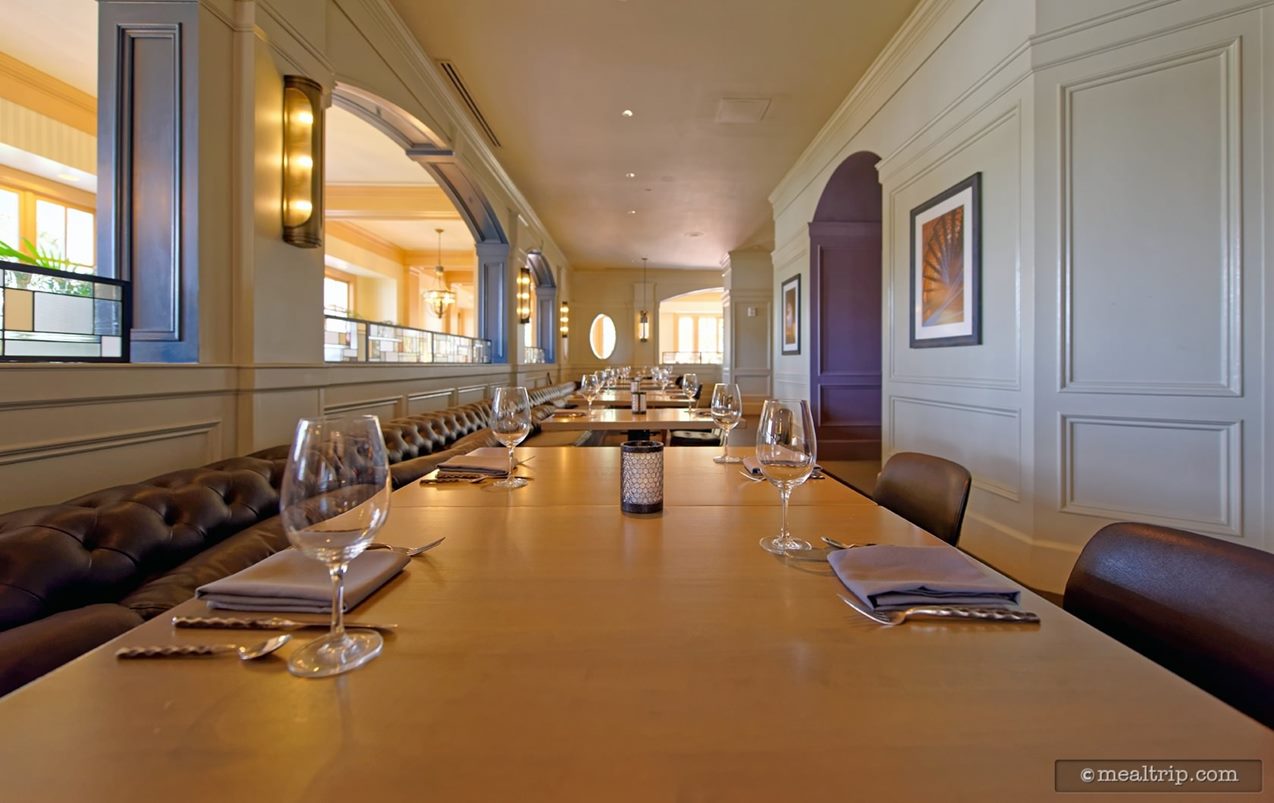 There's an "outer" seating area just beyond the main dining room that contains tables that can be pushed together for very large parties.



The completely interior private dining area has no windows and is a little more stately, royal blue, and kind of cool looking actually (but only used for private parties, or during peak busy times of the year).



That main dining area though… just kind of makes it look like the Ale & Compass is stuck in a dense fog. You get used to it, so it's not distracting at all... and perhaps… it's one of the reasons the place stays so quiet at lunch. They say certain paint colors can be calming.

Service-wise, everything was great for this visit. There really were only about six tables that were filled — and two or three waiters and waitresses, so the ratio was great. I never felt rushed or neglected, the waiter was spot-on with answering any questions and knew the menu.

Which brings us to the food. Yay! I'm happy to report that everything on this visit was really great. Our lunch group sampled the Maine Lobster Roll which is one of the more expensive items on the "Main Plates" section of the lunch menu.



Lobster is expensive though, so the cost isn't out of line with other Disney dining locations… and there was a lot of lobster on the sandwich. The sandwich came with a little metal cup of french fries (I'm sure there were other "side" options, but who can resist french fries).

I ordered the Bucatini Pasta with Seasonal Market Vegetables, which isn't one of the more expensive selections by itself… but there is an option of adding shrimp for an additional $5 — and I'm so glad I did. I asked if the shrimp could be "blackened" because I saw the seasoning blend listed for some of the other menu items. They said "sure thing"… and it was actually, really great!



By default, I think many of the Disney dining locations "play it safe" on spice levels… and certainly capsaicin based heat levels. I have found when you ask for it though… they know it's okay to do it up right. Honestly, this was a really great pasta dish.



A quick word about the "value" score before I move on to dessert. For some reason, they're using slightly larger plates at the Ale & Compass than "normal" entr

é

e plates. I know when you look at the Maine Lobster Roll especially, it doesn't fill the plate.

It's not because it's a smaller portion than another Lobster Roll that you might order at any other Disney dining location, and it's not because there's less french fries either… it's just that the plates are a couple inches larger than most off the shelf white porcelain or stoneware plates that other locations use. Putting the fries in a cup doesn't really help fill the plate either.

I don't mind the plating. I think it looks cool and clean… it just has the unfortunate side effect of making the food portions look a little smaller than they are. I would say that Disney has done a good job of normalizing portion sizes at all of it's dining locations and restaurant types, and this one is no different than any other "casual dining" location on-property.

On to dessert! The "Trio of Puddings" is on the Ale & Compass' lunch and dinner menus — and is a great little "dessert board" for one… or even a party of two or three people to sample, especially if you don't want a huge dessert.

I call it a dessert board because it reminds me a little of a cheese board, with different paired accompaniments.



There's three different puddings on the board along with three "mix-ins" or paired accompaniments, along with a couple of raspberries. So far, the flavors haven't changed seasonally (that I know about anyway). There's a butterscotch pudding with powder sugar dusted lemon shortbread cookies, a chocolate pudding with meringue cookies, and a blackberry pudding with semi-sweet chocolate shortbread cookies.



Nothing on the board was really super punchy full of flavor or sugar… it was just a nice little after lunch change of pace for your palate. I think we especially liked that everyone could grab their favorite and one single dessert — could get split two or three ways.

I was pleasantly surprised by the Ale & Compass. With the exception of the odd lighting and paint colors, it ended up being a great meal with great service, at a price that's inline with other Disney casual service restaurants. It's not really a "high energy hot spot" or one that's full of Disney branding… which made it a nice little change of pace. I liked it enough to want to go back one day, and see what breakfast or dinner looks like — when the lighting might be a little different.