Smoked BBQ Meats in Disney Springs
The Polite Pig, located in Disney Springs, is a counter service BBQ restaurant situated right where the "Lime Parking Garage" funnels guests into one of the main courtyards. It's a cleaver location, that has you smelling wood-fired smoked meats just as you enter Disney Springs.

At peak dining times, the line here can get quite long — but in-between those peak times, you can order and find seating with only a little bit of waiting. There's a large(ish) main indoor dining area that takes up about 40% of the available space, a 20% seating location that also serves as a "bar" which transitions from the inside to the outside, 20% of addition seating is available outside, while the final 20% is actually the "food ordering waiting line" complete with stations that weave guests back and forth and back and forth until you get to the counter.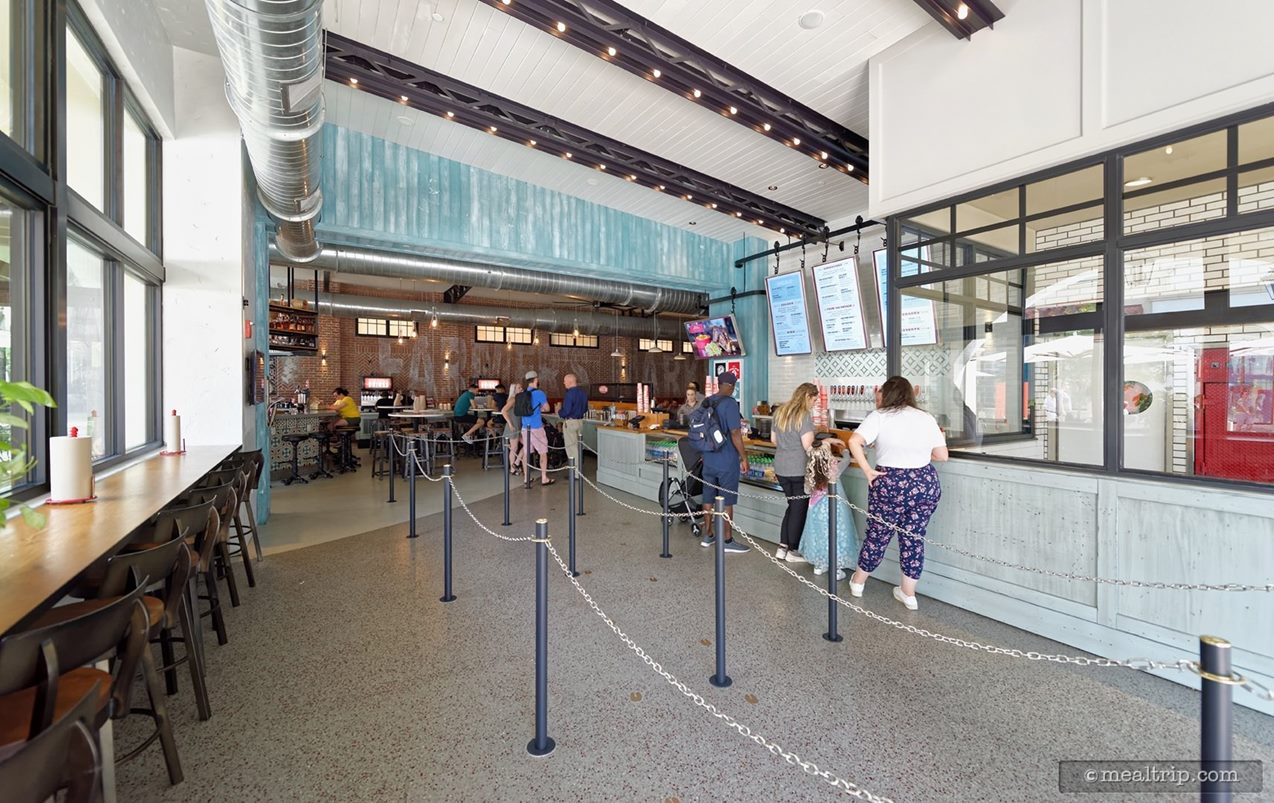 The food ordering line at the Polite Pig has some stations set up to weave the line back and forth. It can get very busy here at peak dining times.



None of the spaces are what I would call quiet or private. As is the case with most trendy BBQ places these days, the interior is very urban, complete with exposed a/c tubes and truss-work — all in a large, open area with very few dividing walls. Most of the available seats are chairs, but there is a wall or two of half-bench style seating along the back wall.

The serving format is hybrid — so you wait in line to order your food, pay for it, then try and find a seat or place to be with a little table buzzer thing. Once seated, your order should be brought out after 10 or 15 minutes.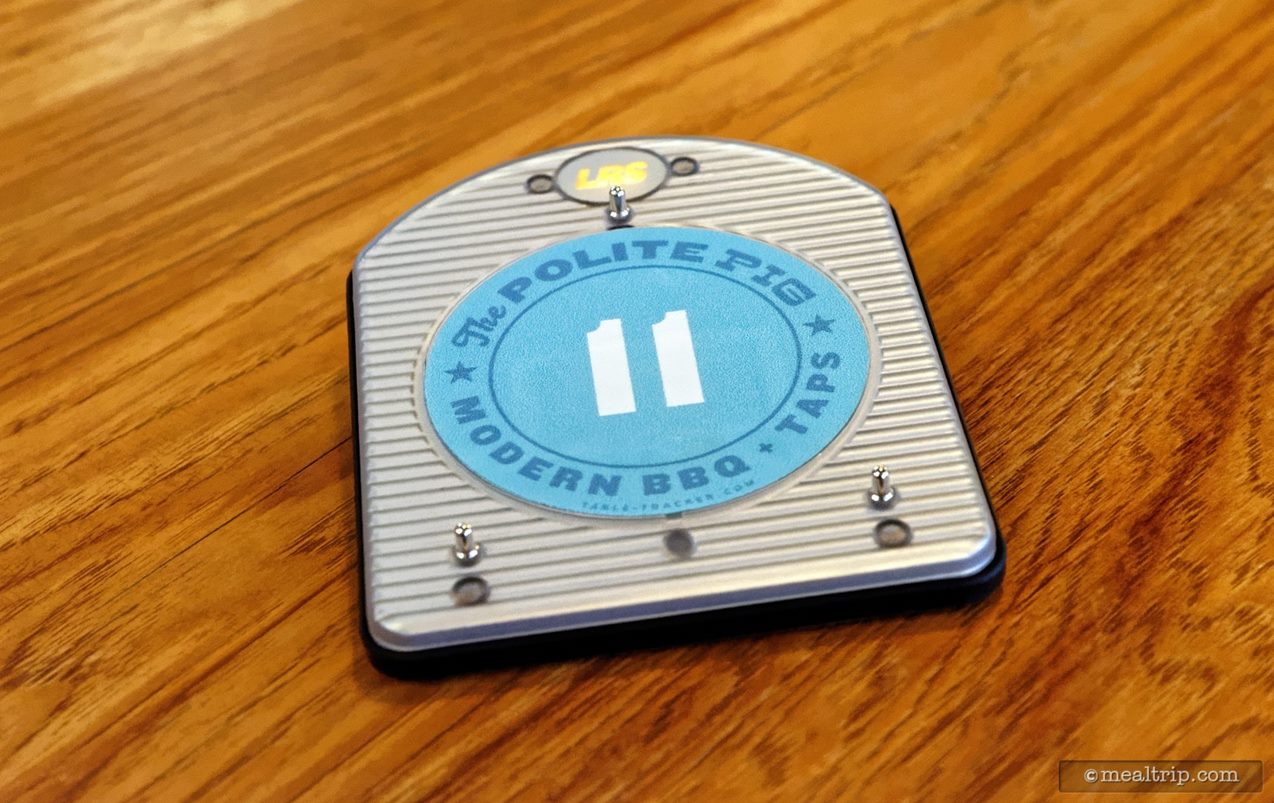 The Polite Pig uses a hybrid serving system. You'll have to wait in line, order, and pay for your selections, just like at a fast-food restaurant. But once you've paid, you'll be given a table pager... and you are on your own to find a seat somewhere. Around 10-15 minuets later, the food you ordered should be delivered by wait staff.



The Polite Pig offers "smoked meat" style bbq. As such, the focus is on the quality, flavor and juiciness of the meat itself — there are a couple of sauces (also available for purchase in bottle form to take home) — for those that want a more saucy bbq experience. Many of the sandwiches are made with sauce already, but if you want to try a couple of different sauces with the platter style entrees, I'm sure all you would have to do is ask your server about the options, and they would be brought to you. At the bar seating area, the sauces are readily available on the counter — honestly, in the main seating area — I don't remember anything being on the tables other than a roll of paper towels.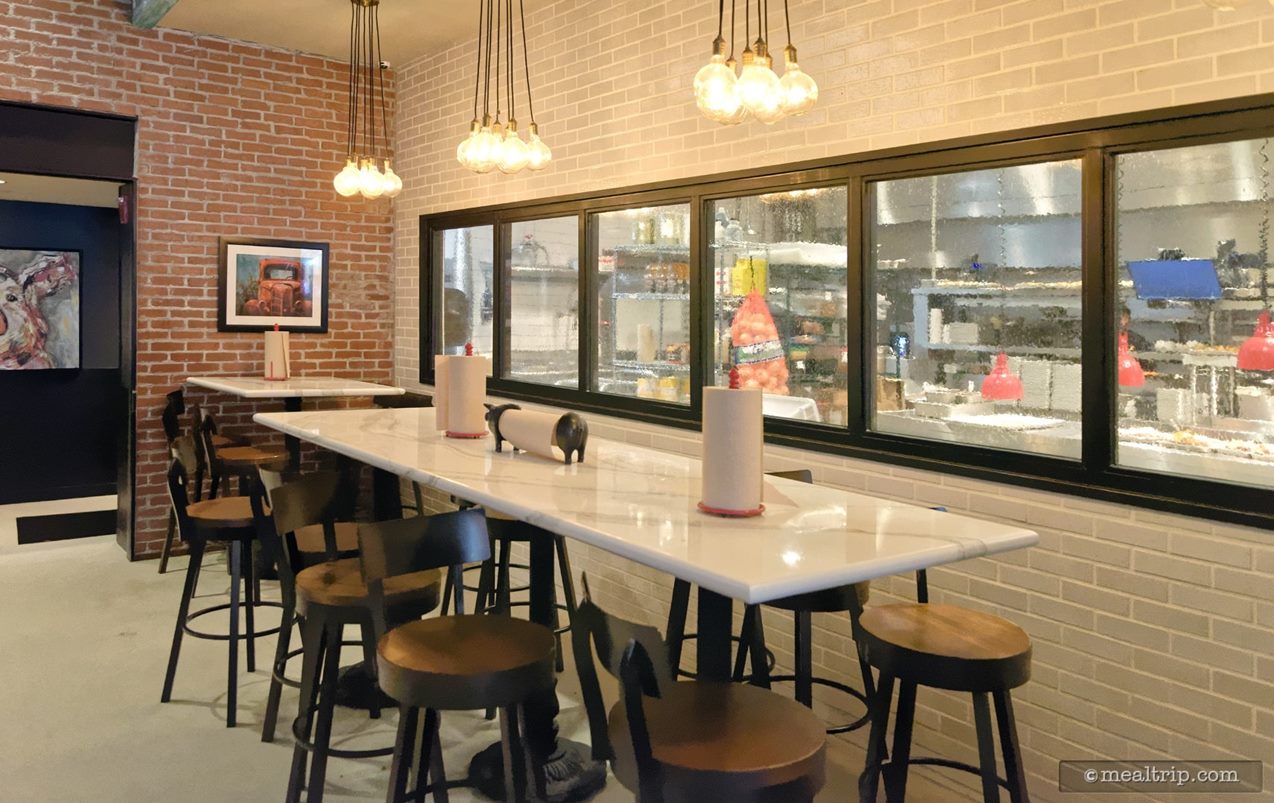 There's a long high-boy type table in front of the glass window that looks into the kitchen. I've mostly found two or three different parties sitting at the table every time I've been, so it's a "shared space" and not just for a large group.



It's difficult though, to talk about any of the counter service locations in Disney Springs without first mentioning the halo that hangs over all the restaurant in the popular shopping location. Disney Springs is essentially an outdoor mall, and all the dining locations fall loosely into one of three categories — fancy high-end restaurant, food court restaurant, and quick snack kiosk (roasted nuts, sticky buns, dole whips, etc.).

The Polite Pig is, for better or worse, a food court location, that has to deal with the same massive lease overhead and "hosue rules" that most food court locations have to plug into their business model. That's not necessarily a bad thing — most food court locations at the mall are actually pretty great. They "have" to charge more and therefore they have a little more margin to make the food safe and consistent. The Polite Pig is not (currently) a "Disney owned" location but the owners do still have to set prices — that are not only in-line with the other locations at Disney Springs, but then also portion the food so that they are able to make a small profit.

The actual food at The Polite Pig is quite good, but the portion sizes are very tightly calculated and controlled. The "Butcher Board for Two" (pictured below) is an eye-popping $44.00 and is only enough bbq for one... maybe... but "for two"??? I suppose if you're just sitting down for a quick beer and a little snack — everyone around the table can sample a bite of this and that, but it's not really a "meal sized" portion for two.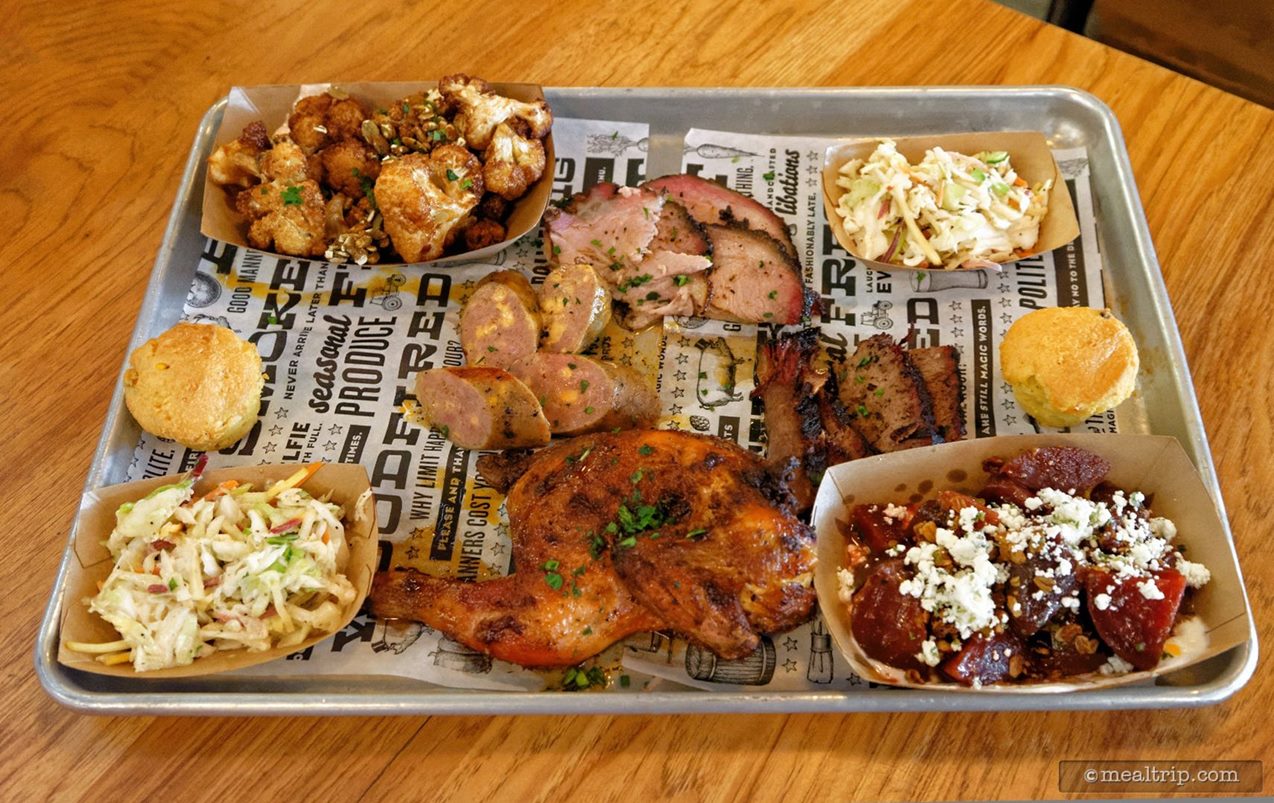 I'm not sure the Butcher Board (For 2) quite lives up to a "meal for two" level, but it's great for snacking on if a group of guests are having a few beers.



All the meats on the Butcher Board for Two were properly cooked and all had a great smokey flavor. You can tell just by looking at it, that the portions were probably cut and weighed to exacting specifications before being placed on the platter. The "cookie sheet on parchment paper" presentation style does cool down quite quickly, so if you're looking for a "hot" meal, I'd go with a sandwich, that might stay warmer for a bit longer.

The mini muffin cornbread and coleslaw are automatically served with the meal, and were good, but otherwise unremarkable. The sides pictured here are the BBQ Cauliflower and Roasted Beets. Both were unique and stayed a little warmer than the meats. Both sides were at a quality and culinary level that are one step higher than what you might expect at a typical BBQ location.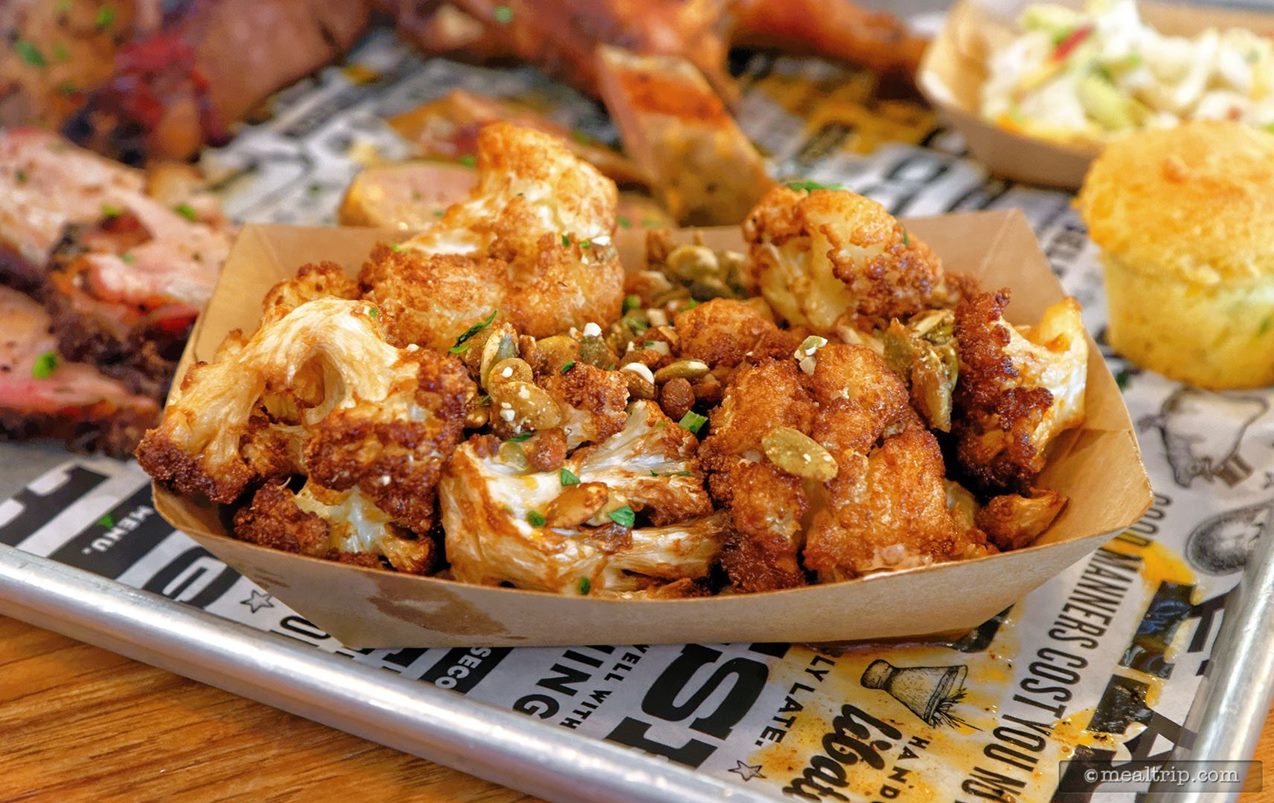 Almost all the "Market Sides" at The Polite Pig are a culinary cut-above what you would expect to find at a BBQ location. Pictured here is the BBQ Cauliflower with Paprika Sour Cream and Candied Pepitas. Even if you're not particularly a fan of Cauliflower, it's a tasty dish that's worth a try.



While the platters are priced quite high — the sandwiches and sides are priced a little better, and here again — are really great samples of smoked meat style bbq, with sides that all seem to have a culinary "plus" — Roasted Beets with Smoked Pecans and Goat Cheese, Brussel Sprouts with a Whisky Carmel Glaze, Roasted Cauliflower with Paprika Sour Cream and Candied Pepitas — the list goes on. All the sides are served in a small cardboard "boat" very similar to what you'd get at one of those Epcot Food Festival booths and are portion-sized for one… all for around $6. With sandwiches that come in around $13, a sandwich, side, and soda is going to put you in $25 per person territory.


The Southern Pig is one of the sandwiches on The Polite Pig menu. It features Pulled Pork, Fennel-apple Slaw, tangy Mustard BBQ and Duke's Mayo served with a Pickle Spear. The sandwiches do not come with "sides", those are extra.



That pricing is not out of line with all the other restaurants in the Disney Park system. However, if you're visiting from any place within America or Canada even, there's probably two or three BBQ locations in your home town — and if you're a fan of BBQ, you probably already have a favorite location not more than a half hour from your house.

As good as the food at the The Polite Pig is, there's really not a "wow" item that's going to pop out at you as being a "must have" when you come down to visit Central Florida again and again. The food, at it's best, may match your favorite bbq location from home — but, unfortunately, the thing that's going to stick in your mind — is the cost of the meal and portion sizes — when comparing this BBQ to your favorite home town restaurant. That's not a ding against The Polite Pig — it's just a tough categroy to be in. How many other mall food court BBQ restaurants can you think of? There's probably a reason for that.

If you're really in the mood for high-quality BBQ, and are looking for a quick food-court style snack while at Disney Springs, The Polite Pig is a great choice (especially if you're at the location when it's not particularly busy). You just might want to think of this like it's a giant food booth from one of those Epcot Food Festivals and not a big sit-down, meal style restaurant.

While you can't directly compare BBQ locations (because BBQ should be a bit different everywhere) — it's worth pointing out that the Flame Tree BBQ location in Animal Kingdom is actually pretty great too. While you would think it also would be very expensive (being inside a theme park), at the time I'm writing this review, you can get TWO entrees — I'd go with the 1/2 Slow-smoked Chicken (served with beans and coleslaw) and the St. Louis Rib Dinner (also served with beans and coleslaw), AND an Onion Ring Basket side — all for a price that's the same as the "Butcher Board for Two" pictured above from The Polite Pig.

Also not a direct comparison, the Whispering Canyon Cafe over at Disney's Wilderness Lodge features oak-smoked meats that are on-par with the quality of the meat here at The Polite Pig. The side items in a Whispering Canyon Cafe skillet aren't anywhere near as complex or as the side items at The Polite Pig, but the skillets are "all you care to enjoy". If you're looking for more of an "I'm stuffed" kind of smoked meat experience, in a dining atmosphere that arguably, has more character than The Polite Pig — you might want to check out the Whispering Canyon Cafe.