I had a chance to meet some friends for dinner at Paddlefish not too long ago, and so my perspective for this review, is just simply as a guest… and not a reviewer. The most obvious difference is, that I don't have 100s of photos of the various dining rooms at the paddleboat themed restaurant.

I know there's an outdoor patio on the rooftop, which is used for special tasting events every now and then. Maybe I'll try and get out to one of those one day. For this review, our party of three sat in the "aft" or back portion of the building (it's made to look like a paddleboat, but it's a building), and on what I believe to be the second floor, just above the paddlewheel itself.

All of the dining areas seem quite nice from a design standpoint. Many of the individual spaces (i.e. your table), also seem quite close to other dining parties — or really close to other "things" like walls and windows. Just like any "ship" — space seems to be at a premium here.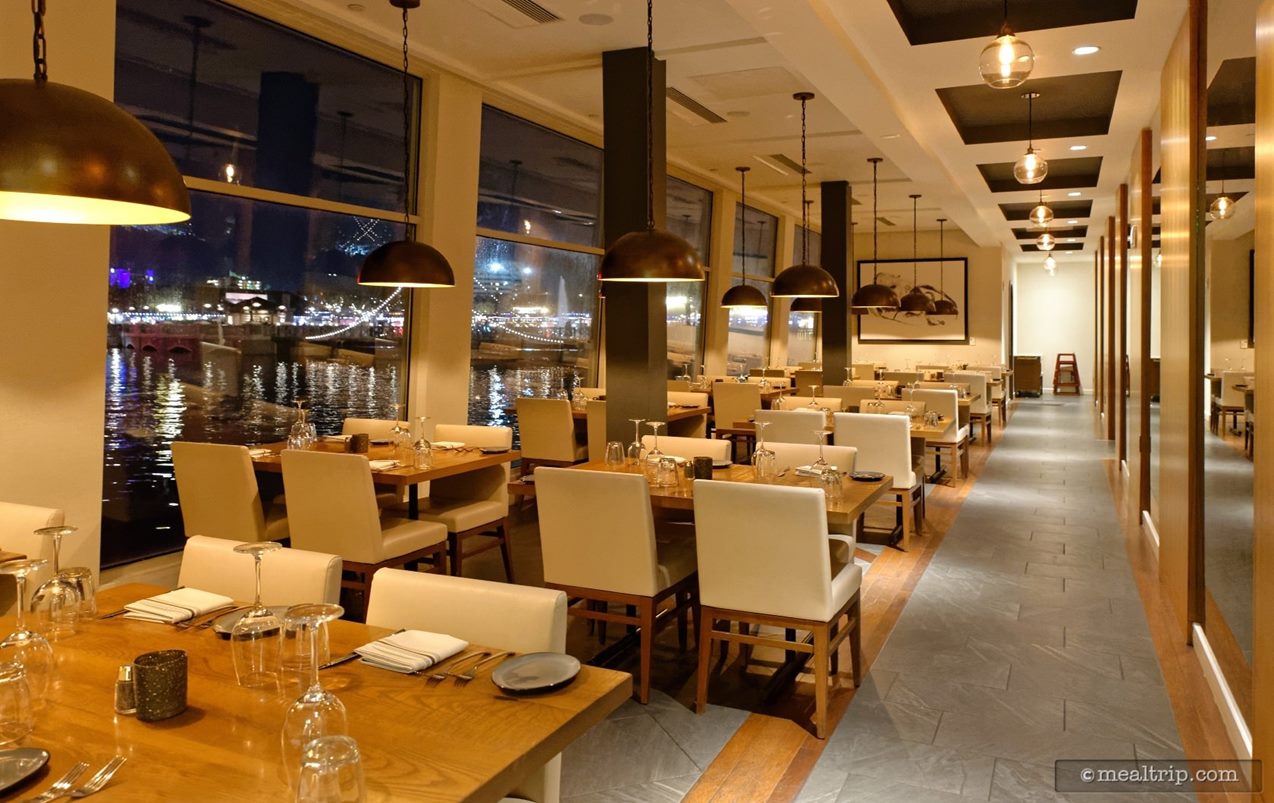 No, you probably don't have vertigo... the walls are slightly slanted. I know this, because gravity is pulling the hanging lights straight down... therefore, the window/wall tapers up. This is one of the "waterside" interior seating options at Paddlefish.



Ambience-wise, it wasn't what I would call "quiet" back in the second floor aft room. Noise levels hit typical "casual franchise" levels. There was no wall of TVs showing sports footage anywhere— but with the walls, windows, floor, ceiling, all being hard surfaces and the space being somewhat tight, the sounds of everyone dining just bounce around.

Any staff and cast that we interacted with throughout the night seemed fine. Well trained, semi-attentive — here again, hitting "casual franchise" levels, but nothing beyond that.

The Food
I seem to be using the term "casual franchise" a lot. Basically, if you think "Red Lobster", "Landry's", or even a "Bonefish Grill" or "McCormick & Schmicks" (if you've been to any of those), you would be in the right territory.

We arrived at Paddlefish in the "dinner" period, so there was bread service (in every case that I can think of, restaurants on Disney properties no longer offer "free" bread for the lunch period).

For our party of three… these two parker house rolls were brought out with a compound, whipped butter that contained cinnamon and some form of sweetener.



There were no "would you like some more bread" opportunities, so it's not like they were saving a larger portion for later. I guess I really shouldn't complain, but two rolls for three people seems a little… odd. Do bread service, or don't do bread service — don't "half-do" bread service — because when you do that — I think something is wrong.

Are they running out of bread? Is the restaurant doing so poorly they can't give out three rolls to three guests? Are the rolls just not that good, and most people leave them on the table? See what I mean?

And if you were wondering, there wasn't anything wrong with them… we've all had parker house rolls with cinnamon butter before. They're not meant to be journeys of culinary enlightenment — they're intended to get people at the table talking, and feeling comfortable with the surroundings, and easing you into your drink, and in general — starting the tone for the meal. What they shouldn't do — is be the topic of discussion.

The cocktail… the "Southern Sangria" which included bourbon, peach liqueur, Tempranillo (wine), and seasonal fruit. It was a pretty drink, and very well crafted. The alcohol levels seemed to be proportioned so you could drink a couple over the course of your meal (should you want to do that), or move into wine after that.



The two items we ordered from the "Starters" section of the menu were the Charred Octopus and the Lobster Corn Dogs. Both items were great as "starter / appetizer" items, and there's even a few other things on the "Starter" menu that I wouldn't mind trying — that's a good thing.



The Charred Octopus was large for a "starter", and competently cooked. (Charred Octopus is a difficult one to get just right in a high-volume location). Like most items at Disney these days, I feel like the flavor levels are kept very "safe".

Because I enjoy flavor-full experiences, when I see ingredient words like "Chouriço" and "Smoked Paprika Oil" in the description, I want to full-on taste those things in the dish they bring out. There's a hint of those things in the dish — but just hints. You're not going to come away from this Charred Octopus knowing what Chouriço or Smoked Paprika Oil is — if you didn't know what they were before diving into this one.

Plating is probably not something I would call out here — but because Disney themselves are defining this location as a "Signature Dining Experience" — I have to say, the plating of the Octopus felt a little pedestrian to me. You want those little suction cups on the tentacles pointing up, so the guest can see them — not pointing down into the beans. Just saying.

My notes on the The Lobster Corn Dogs with Sweet Chili Aïoli are very similar. These came out hot — the batter and lobster were very tasty, and the Sweet Chili Aïoli just gave you the slightest hint of what a Chili Aïoli could be… it's an item that most guests will like.



The batter on the lobster is kind of a cross between a tempura batter and "corn dog" batter — you're not really going to get that sponginess of a corn dog — but there may have been a little corn flour or meal tossed into a good heavy flash batter. The presentation board on this one was a nice touch, and came with a small amount of purple cabbage "slaw". It's a great starter for sharing as well.

Moving on to the main entree selections — our table took delivery of a Swordfish, a Pork Chop, and a Filet Mignon.



My notes on all three are about the same — all three were very competently prepared. Flavor levels were all very safe. Don't let things like "Wasabi-whipped Potatoes" scare you away from ordering the Swordfish, if you don't like Wasabi or high-spiced items. In fact, if "Wasabi " had not been on the menu — I'm not sure I would have ever guessed the potato mash had been whipped with it at all.

The Pork Chop seemed to just be edging into the "too dry" territory, but that's going to be little different with each chop that comes out, I suppose. The Filet Mignon was served traditional "steakhouse" style, so… giant big plate, with very little else on it.



It was — interesting how formulaic all three entrees were. Mash of something, with the protein on top of the mash, sauce on one side, ladled over the main protein — veggies to the side.



We ordered one "Side to Share" from that section of the menu… the Mac n' Cheese — and it was a portion size that we could easily split three ways (maybe even between four guests, if everyone just wanted a small taste). It is the most expensive item on the "Sides to Share" portion of the menu. It was not what I would consider a "blue ribbon" Mac n' Cheese, but (here comes the "c" word again), a competent Mac n' Cheese. It was good, but not best in class.

Conclusion
All in all, a decent meal, and we had a good time in the environment. If all things were equal, it's a restaurant that should score moderately high in our system here at Mealtrip.

It is a simple, and unfortunate fact that Disney considers Paddlefish a "Signature Dining Experience" though. As such, they're asking for it to be thought of on a different level than a "just eating out on a Thursday" experience… and that's where things get a little tricky.

Signature Dining Experiences are, supposed to be unique and offer some element or elements of being "the best" or at the very least, top-tier. Paddlefish — is not that. It is a great place to enjoy a casual dining experience, with a menu that's large enough to accommodate everyone in your party — even if they don't want seafood.

If my experience is the norm, you will most probably enjoy a well prepared meal and have enough menu freedom, to make selections that you will enjoy.