I finally had a chance to visit Wine Bar George the other day with some good friends, and try out a couple of the larger "family-style plates" that are on their menu.

The words "estate-style wine bar" are still being used in the official description for Wine Bar George… but… in my mind, "estate" conjures up thoughts of and older, private, and quiet space, filled with things of an artisanal quality. That's not really what I experienced in the dining room that's located directly above the main bar area (a legitimate second floor). "Urban coffee house" is probably more in-line with everything... from the bustling din that made it a little hard to hear the wait staff, right down to the not-padded, wooden, back-less, bench style seating.

Now, there's nothing wrong with the vibe or "Urban coffee houses" in general. I love the wrought iron, wood, leather, exposed brick hustle and bustle feel of a good coffee house. I just wish they would find some better words for describing this place so you can know… before you go. I guess my point is… while it's not the loudest restaurant at Disney Springs, it's not the quietest either.

Our waiter for the evening was knowledgeable about all the wines, at least to the point of having memorized things about all the wines that are available... and quite skilled at deboning a fish too, but more on that in a bit.

This was a very casual and professional experience, where you could totally learn some things and ask questions about wine… when you could hear what the waiter was saying. Not his fault… but at times, it was as loud as a sports bar in there. At a "wine bar" I would hope to come away with a little more knowledge about the wine then what I went in with. Although I could half-hear what he was saying, I decided to fall-back on a wine that I already knew paired well with what we were eating… rather than engage in any kind of "discovery" conversation… because it just seemed like it was going to be too hard to hear his recommendations. It could be that other seating locations in the building are quieter… I'm not sure… this is just my take-away from a one-night experience.

The selection of wines is on-par with, or better than, some of the very best restaurants on Disney property. Most selections are a step above day wines… and there are more diverse selections at Wine Bar George, than you'll find elsewhere. This includes the present-day California Grill… a ghost of what it had been when Master Sommelier George Miliotes (and current owner of Wine Bar George) had managed the then crown-jewel of Disney Dining between 1995 and 2002. It's clear that the 130+ wines here have been thoughtfully selected to pair with not just the food, but the high-volume nature of the restaurant as well.

Food-wise, I would like to come back for another visit, and try out a couple of the small plates. More and more these days at Disney dining locations… the "small plates and appetizers" seem to be where the more unique flavors and culinary creativity are. On this particular night… there were enough people in our party to try out two of the "family style plates" (which serve two to four people each).

The Skirt Steak was plated with roasted potatoes, chimichurri, and asparagus. The very large plate of steak was plated well, looked amazing, was gasp worthy when delivered to the table.



Each member of the party was given smaller plates (salad sized 7" plates is my best guess) and a very large fork and spoon for moving the steak and veggies off the large plate, onto our personal plates. Once everything was said and done, we could probably make four and a half personal plates that were about this size (see photo below).



The steak was not "lean" but had a proper amount of fat content in it for pairing with wine. The roasted potatoes were great and the asparagus was fresh, crisp, and properly cooked. The Chimichurri was fresh, made with decent olive oil, and it was light on the minced garlic… which in street-style food, might be a little disappointing. Here again though, you don't want to overpower your taste buds with so much garlic that you can no longer enjoy the subtleties of the wine… so it was a thoughtful choice to create a more "garden fresh" sort of chimichurri.

The real star of the night for me was the Grilled Whole Greek Sea Bass plated with Cannellini Bean Ragout and also served with asparagus.



If you're thinking the wait staff at Wine Bar George "only" has to memorize a bunch of wine info… you'd be missing one important additional skill.. the deboning of a sea bass… table-side! (Before you ask, yes… the waiter did offer to take the head and the tail with him… but we thought it would look good for the photos!)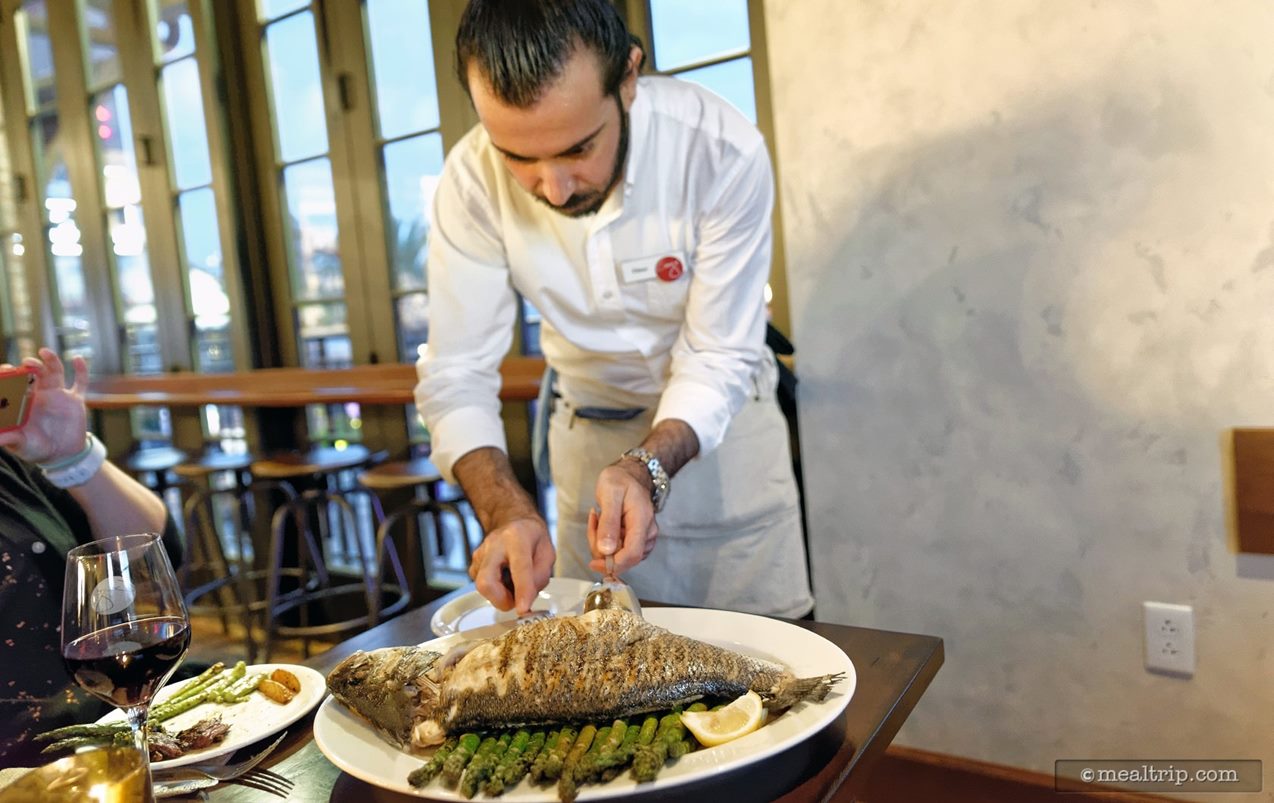 And did I mention... the "whole" fish is deboned... table-side!!! (In addition to taking away the bone, they did offer to take the head and tail away as well.)



Like the Steak, the Sea Bass itself was perfectly cooked and maintained the proper amount of fat content for pairing with wine. Although I'm generally not a big fan of "bean ragout" this beanie side was amazing! The addition of onions, peppers, and some capers here and there made this side my favorite of the night!



We all received brand new 7" plates when the fish came out as well, and portion size-wise, there were probably four or five plates like the one pictured below.


The family-style plates are pricey, but if all three or four people in your party are going to share the one item, than it's not so out of line with the other dining options at Disney Springs. Wine by the glass… will add up fast! Markup is, what it is… but truth be told, you could very nearly buy an entire bottle (at your local retail wine and liquor provider), for the price of what one glass cost at Wine Bar George. Here again though… it's not out of line with what the other restaurants are charging.

A fun evening with great friends, food, and great wine… it was just a little pricier and a little louder in the dining area than I would have expected. As a restaurant, Wine Bar George is another solid choice when dining at Disney Springs. I'm not so sure I would consider it my go-to place for actually learning about wine and/or discovering new wines to pair with food.