SeaWorld's Halloween Spooktacular
We Visit the The Trick-or-Treat Trail at this Popular Autumn Event
October 11th, 2022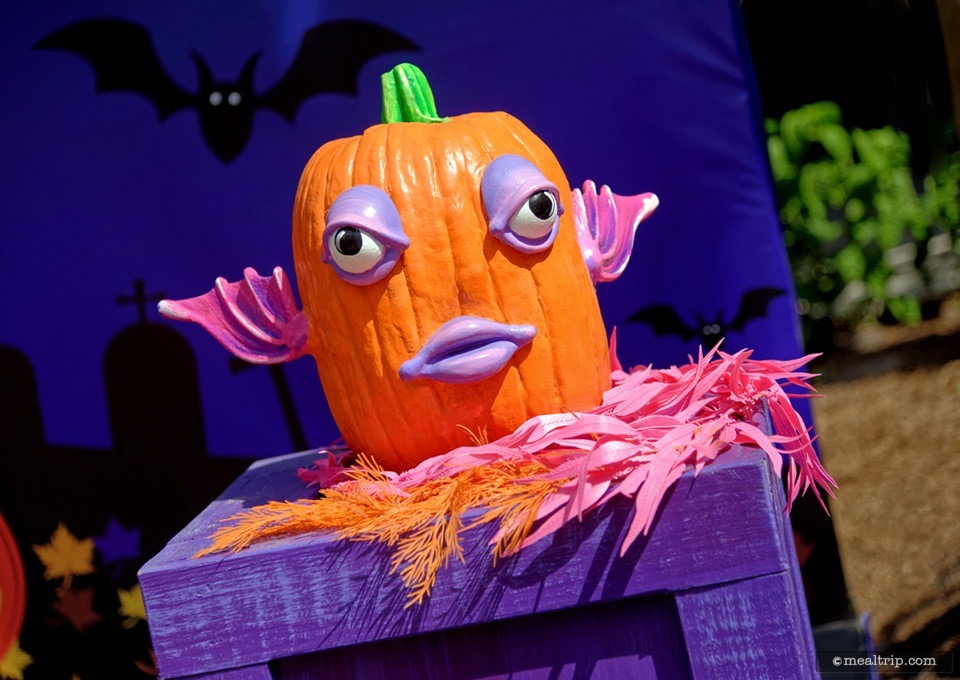 SeaWorld's Spooktacular
event is a popular autumn favorite that ushers in cooler weather (well, not really), but it does celebrate Halloween in a family fun, not so scary kind of way. The event usually runs between mid September all the way through October 31st (Halloween) — but only on the weekends (Saturday and Sunday) and some Friday's in October. It's always best to check on the official SeaWorld site calendar page before you go, that page is located here …
SeaWorld Orlando Calendar
.
I hesitate saying it's for young children, because ... I just went, and lots of fun! SeaWorld has another, scarier Halloween event called Howl-O-Scream — most of those activities are on the other side of the park, and are mostly at night. I think they've done a great job of keeping those two things totally separate.
There's all kinds of things to do at Spooktacular, a Count von Count's Spooktacular Breakfast (that I'd really like to go to one day), the normal Sesame Street parade gets a special Halloween overlay, cookie decorating, costume contests, and even a Scavenger Hunt (which is sooooooo hard, I couldn't even find a map to purchase, how many things I'm supposed to be looking for, how much it cost, or what the prizes are — so good luck with that one — but I do really love a good Scavenger Hunt — maybe next year).
The main action though, is along the Trick-or-Treat Trail. Here's a map that SeaWorld provides … which is useful enough. Basically, all the not so scary Spooktacular Trick-or-Treat Trail stuff happens on the left side of the park… (I get lost in this side of the park all the time). Fortunately, there's all kinds of flags and signs that, more or less lead you around the path.
I'm getting ahead of myself though. The first thing you'll need to do is buy a Trick-or-Treat Trail Bag… you can't just bring your own bag and get candy. I know what you're thinking — oh great, another corporate money grab… but honestly, this is one of the best deals around. The bags are $3.99 plus tax (if you're an annual passholder, your normal discount applies… I think I have a Gold Annual Pass and my bag ended up being $3.62 or something like that.)
Honestly, I think it's a really fair price to pay considering the bag itself probably cost them a buck to make, plus the candy you get, and the remaining percentage of that goes to all the extra dressed up characters you'll meet and get to take photos with along the way.
The Trick-or-Treat Trail Bags are available near most gift shops. I found found them for sale right at the front of the park, and there wasn't too many people around… so that's where I got ours.
Once you're ready to go, head over to the left side of the park, kind of like you're going to the Sting Ray Lagoon… that'll get you heading in the right direction.
The first thing I noticed is this big sign and these candy corn colored flags next to it. Those flags are all along the trail, and if you're standing near one — there's almost always another one visible somewhere off in the distance, so they're kind of like bread crumb trails that will lead you around (in case you're like me and get lost frequently).
I guess technically, that big sign and flags, are markers — letting you know that you've entered the Spooktacular Trick-or-Treat Trail area. Just past that sign, we encountered our first interactive costumed characters …. Tall People from Atlantis!
At this point, I'm not really going to do a step-by-step walk though of the Trick-or-Treat Trail. It's fun discovering things on your own. Instead, I'll just cover a couple interesting points.
Halloween Bonarty Flags
As I mentioned, those candy corn colored flags are great… but there's also these cute little Bonarty style printed flags hanging from all the light poles, that really add to the environment.
Since I couldn't find any info on the Scavenger Hunt, I had fun trying to take a picture of all the different flags as we moved through the Trick-or-Treat Trail!
How Does Trick-or-Treating Work?
All along the Trick-or-Treat Trail, you'll find these cute little candy stands with candy corn signs next to them.
The sign lists what candy that stand is giving out. I don't think there's too much in the way of food allergens here, but some of the candy (like Smarties or Lollipops) are hard, while others (like swedish fish) are soft. There's also one stand that's giving out Potato Chips. If you're an eagle eyed parent trying to aviold getting a certain type of candy, the signs will help to identify which stands to stop at, and which ones to pass by.
Each of the stands has two holes cut out on either side that act as candy shoots.
You can walk up to either side, place your bag under the shoot — and say "Trick-or-Treat" — don't forget to say "thank you" when that treat comes sliding down.
There's around a dozen stands located around the trail. There's usually a small line, but those lines all move along really quick. Some of the sands are located close to other things (like this one in front of the underwater dolphin area)…
… which ends up being a little confusing, but I didn't see it causing too many problems.
None of the stands are giving out chocolate treats — which is probably a good thing, since this all takes place during the day, and it's still really hot out there. There's a pretty typical selection of hard and soft candies, along with a great bag of chips from Lay's!
So what does a typical candy haul look like? Well here's what was in my bag after just one go around…
There's around 38 pieces of candy in there, and I managed to get to each of the candy stands once. I say that… because the only thing from stopping you from going around a second time, is the oppressive, life sucking heat. But you're young — stay hydrated, you should be just fine.
My bag was probably about 1/3 full from just one go around (those chips take up some room) — but honestly, with all of this costing just $4, I kind of felt like going around again would be taking advantage of the situation.
Gift and Candy Shop Stuff
I like taking a quick pause here and there in the different shops along way. Not only to they have air conditioning, but there's usually at least one table of seasonal items and some decorations set up.
Not only did I find a couple of cute nick-nacks but there were some jumbo decorated marshmallows on sticks over at the Sweet Sailin' Candy Company shop.
Pumpkin Fish!!!
I found two great spots for getting a chance to see some Pumpkin Fish in their natural habitats! There was a whole bunch of orange ones in a Pumpkin Fish patch near Dolphin Cove. You first had to walk though a giant pumpkin.
And then there was an entire Pumpkin Fish garden! They're so fun to take pictures with, and they all have their own personalities.
At the other end of the trail (and not really marked on the Trick-or-Treat map), I found some very rare Mexican Pumpkin Fish!
Dance Party
There is a Scarecrow Halloween Dance Party at the end of the trail (or at the beginning, depending on where you start). I missed the actual "party" by a couple of minutes, but I'm told there are tall dancing Scarecrows! How cool!!!
The Dance Party area is decorated with more of a "autumn hayride hoedown" feel, and the DJ's stay out all the time spinning some pretty great tunes.
There's A Mermaid Too!
The "mermaid photo area" is a little more… "contrived" that the other character meet and greets along the way… so… more like getting a photo with Santa or the Easter Bunny. There's a big set, and a line, and photo purchasing opportunities.
Street Characters and Environment
Honestly though (no offense to Miss Blue Mermaid), the Street Characters that you get to meet and take photos with along the way were a real surprise for me. There were more of them that I was expecting to see... and these random, low pressure meet and greets can be so much more memorable than a posed photo.
What I mean by "low pressure" is — that while you do still have to wait your turn, there's no "photo selling" cast members around. It's just, cool looking dressed up characters that are all playing up their roles.
Let's face it, everyone has a camera in their phone and getting a random, un-staged, candid shot can be more meaningful than a fully posed photo sometimes.
When there wasn't anyone near the cute little spider house lady, she started having conversations with her spiders!
The hardest working character was the Spider Pirate though. This guy was in full-sun the entire time and never broke character, constantly rousing guests as only a pirate can — as everyone stopped by to take photos with him, and his giant spider.
There's even a Pumpkin Princess over near the Pumpkin Fish Patch!!!! She's so pretty and sparkly and covered with leaves!!!
SeaWorld's Spooktacular
I'm an annual passholder at Disney and SeaWorld. To go to Mickey's Not So Scary Halloween Party on a discount night, it would have cost around $100.00. Yes, there's fireworks and a parade, and even chocolate candy — but it is $100.00.
As an annual passholder at SeaWorld, the Spooktacular event cost me $2.64.
Did I have $97 less fun??? No I did not. Getting to walk around and see the decorations, interact with the characters, and get a little candy is, honesty, all the Halloween you really need. I hope it's not just me that feels that way — because SeaWorld is really doing something here that's accessible to the people that live and work here in the Central Florida area.
Now ... if I could only wake up early enough in the morning to go to that Count von Count's Spooktacular Breakfast. Hey SeaWorld — any chance we could make that a "brunch" next year?
If you want to check out all the offerings at Spooktacular or any of the other Halloween activities at SeaWorld… here's a
direct link to the Spooktacular event page on the official SeaWorld, Orlando site
.