Pam Smith, RDN
Chili Lime Rubbed Chicken Breasts with Tomato, Black Bean and Corn Sauté and Tomatillo Salsa
Original Event Date, Friday, October 17, 2014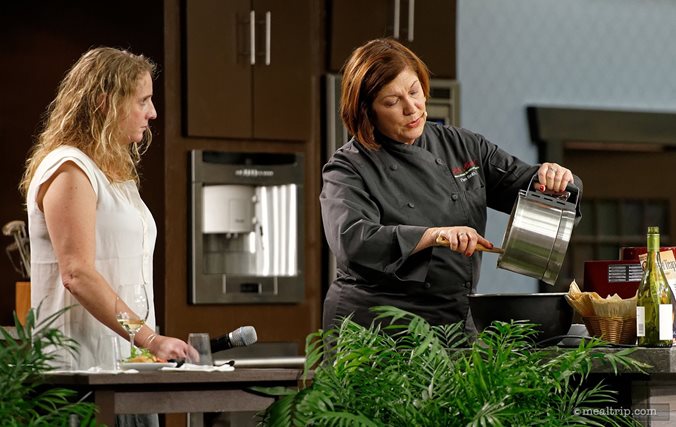 Guests that attended this Friday Culinary Demo in 2014 got to sample some of
Pam Smith's
Chili Lime Rub on what originally was named the "Chile Lime Chicken" (note the spelling of Chile), because of the dish's South American origins... i.e. Tomatillo Salsa with Tomato, Black Bean and Corn Sauté.
Alas, the cute play on words was causing a bit of confusion (Pam's Chile Lime Chicken made with Chili Lime Rub)... and so it appears this amazing restaurant worthy signature dish's name has been changed to "Chili Lime Rubbed Chicken".
It doesn't matter what it's called, this was one amazing chicken! Chef Smith always seems to have a complete small plate for each guest at her demos and this was no exception. Love seeing those asparagus stalks on there! I mean really... most dining locations up-charge those... and the Grilled Corn Sauté was a worthy side-dish that could be made on it's own!
If you want to make your own
Chili Lime Rubbed Chicken
with the original
P.S. Flavor! Chili Lime Rub
... you can purchase a supply by visiting the PamSmith.com website! You can also get the recipe for this new twist on a "south of the border" classic entrée from the
P.S. Flavor Blog
(
click here
).
Pam Smith, RDN

Festival Emcee, Nutritionist, Author and Creator of P.S. Flavor! Wholesome Blends
Friday, October 17, 2014 | 3:00pm