Pam Smith, RDN
Adobo Roasted Pork Tenderloin with Root Vegetable Mash, Carrot Ginger Sauce and Mango Chutney
Original Event Date, Thursday, October 23, 2014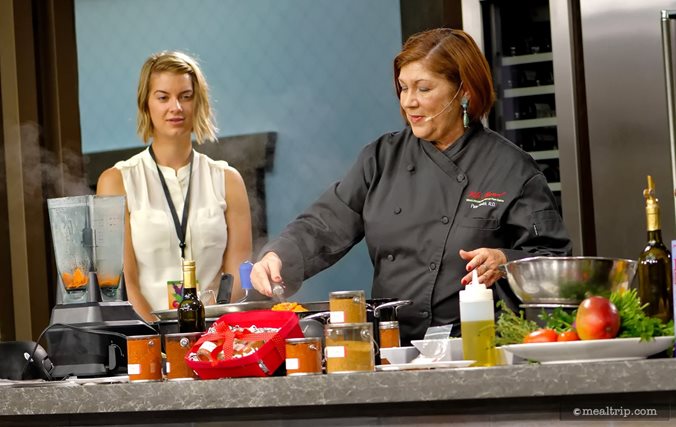 Guests that attended this Thursday Culinary Demo in late October 2014 got to sample a fairly complex dish from one of our favorite chefs Pam Smith. Her
Adobo Roasted Pork Tenderloin with Root Vegetable Mash, Carrot Ginger Sauce and Mango Chutney
was comprised of four different components, and contained just a dash of her own seasoning blends.
The demo also featured an amazing wine and one of my all time favorite wine representatives, McKenna McKee. McKenna brought the
Pacific Rim Selenium Vineyard Dry Riesling from the Columbia Valley region of Washington
. Pairing a wine with something like a Carrot Ginger Sauce can sometimes be a challenge, but the Dry Riesling was up to the task!
This was a really beautiful (and yummy) dish and the really neat thing about this one... is that the four different components that were on our recipe sheet are each amazing in their own right. The Mango Crasin Chutney (for example) could be used on a number of different proteins or in a vegetarian entrée. Same goes for that delicious Root Vegetable Mash!
If you would like to check out the recipes for any of these four components and the complete dish, they are available directly on the
P.S. Flavor Blog (click here)
.
Pam Smith, RDN
Festival Emcee, Nutritionist, Author and Creator of P.S. Flavor! Wholesome Blends
Friday, October 23, 2014 | 3:00pm
THE DISH : Adobo Roasted Pork Tenderloin with Root Vegetable Mash, Carrot Ginger Sauce and Mango Chutney
WINE PAIRING : Pacific Rim Selenium Vineyard Dry Riesling | Pacific Rim, Columbia Valley, Washington

THE RECIPE : CLICK HERE - Direct from the P.S. Flavor! Blog.